When a New Jersey police officer rescued an injured pit bull puppy, it was love at first sight.
Officer Matthew O'Hanlon with the Mount Laurel Police Department was in a business district of Mount Laurel when he and his colleague found an injured puppy wandering around.
The 14-week-old dog, which they rescued on Jan. 2, had neither identification tags nor a microchip.
"When we typically find a dog, usually they have tags on them or a chip," Officer O'Hanlon told ABC. "We can take them to the local animal hospital and have the owner found pretty fast."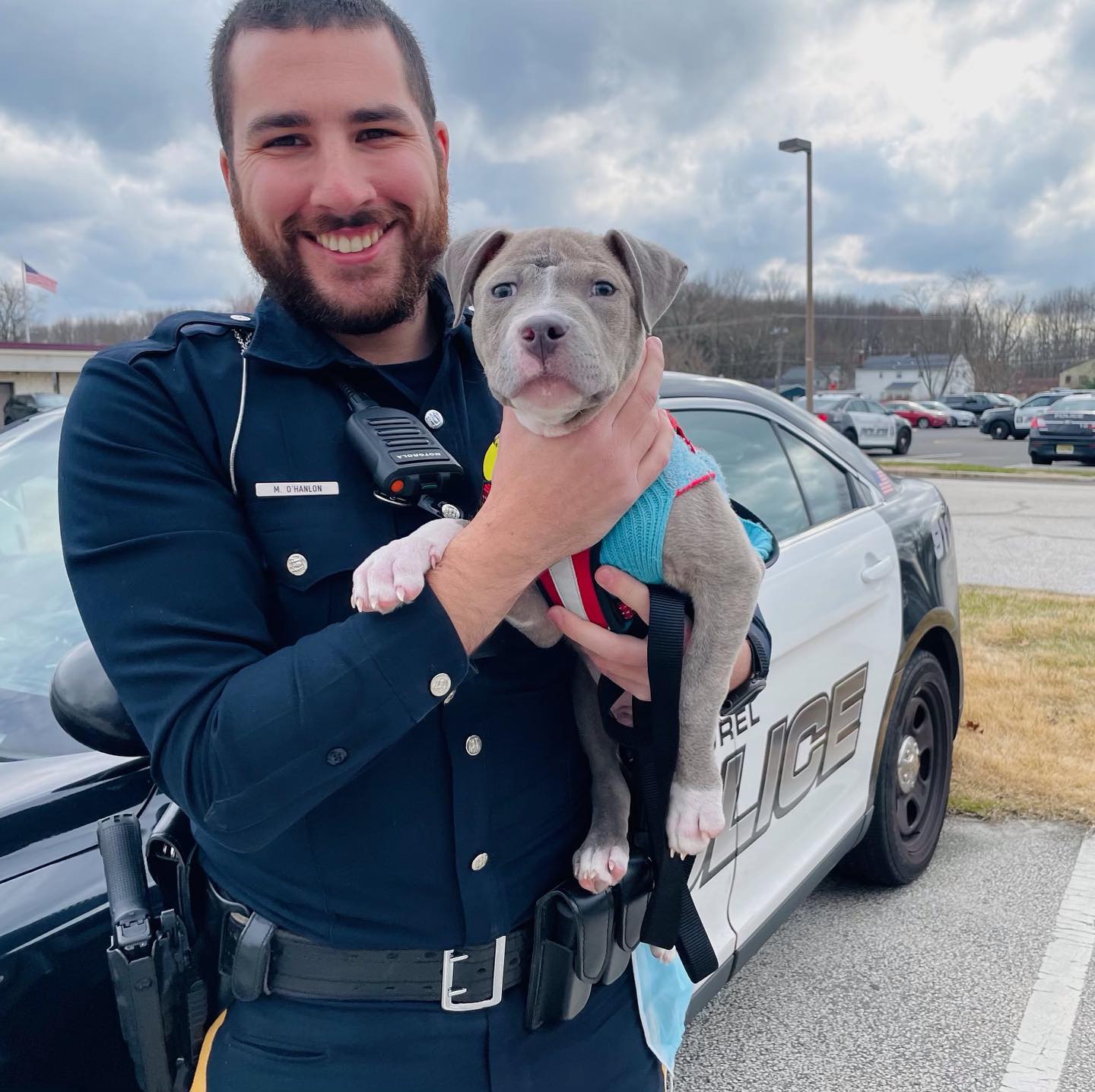 However, the pooch did have a nasty cut on his forehead, and the officers knew he needed medical attention. So they sent the tiny pit bull to the Burlington County Animal Shelter in Westampton, where he received treatment.
The wound on the puppy's head turned out to be a bite mark from another animal, and a tooth was even lodged inside his head.
Officer O'Hanlon was glad the puppy had received help, but he couldn't stop thinking about the little guy.
"My fiancé and I were looking to get a pit bull, and when you see a pit bull puppy with an injury, it's hard to pass up on," said the 26-year-old officer.
In an interview with Good Morning America, he revealed that he'd called the shelter 20 minutes after dropping the puppy off, saying he wanted to go forward with the adoption.
Once the puppy had recovered, O'Hanlon was able to bring him to his new forever home. He and his fiancé named the dog Thor, after their favorite Marvel character.
On Jan. 17, the Mount Laurel Police Department shared an update on Facebook.
"Everyone keeps asking what happened to the puppy we found," they wrote. "Well, he has a new home with one of the officers who rescued him. Officer O'Hanlon adopted him right away and has been making sure he gets lots of attention and treats. Little Thor is healing up nicely and has found his forever loving home!"
O'Hanlon hopes that the media attention will help dissolve the stigma surrounding the pit bull breed, which he described to GMA as "the most loving, affectionate, dogs I've ever had."
"It's [unfortunate] to see them get bad reputations when it's really the way they're raised," he said. He also recommends adoption instead of buying from breeders.
"Adopt don't shop," he said.
Share your stories with us at emg.inspired@epochtimes.com, and continue to get your daily dose of inspiration by signing up for the Epoch Inspired newsletter at TheEpochTimes.com/newsletter