NEW YORK—When Danny Fratta was growing up in Little Italy, a neighborhood in Lower Manhattan, there was a community feast every weekend in the summer.
"The Neapolitans settled here on Mulberry Street; the Sicilians were on Elizabeth Street; the Calabreses were on Mott Street … and everyone had a saint," Fratta told The Epoch Times.
Today, the Feast of San Gennaro is one of the last to remain. The Feast started as a block party thrown by Neapolitan immigrants 92 years ago to honor the patron saint and protector of Naples. Now it's a nearly two-week street festival held every September.
"This Feast, it meant everything to me. When I was a kid, like in August when they would come and start putting up the lights and everything, I used to be so excited," Fratta said.
During the Feast, stands selling Italian food line Mulberry Street, one of which is Fratta's.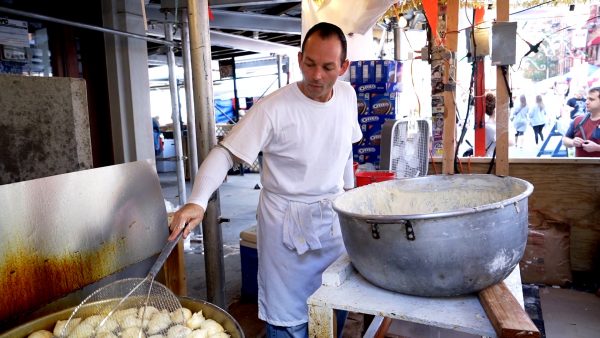 "Originally it was my great-grandmothers; I'm the fourth generation," he said.
"When the Feast was actually on, I would be right here on this corner, running around my uncle's stand over here," he said, pointing to the intersection of Mulberry and Grand Street.
"I was 12, 13 years old, and he would chase me away because he wouldn't want my friends hanging out there and everything," Fratta recalled with a smile.
Eventually, he started working on his uncle's Italian doughnut (zeppole) and pastry stand. His friends would gallivant throughout the Feast, but he always wanted to work. As Fratta got older, he took over the zeppole operation.
His uncle continues to run the candy and biscotti stand next door, but there have been changes. Nevertheless, Fratta tries to stay true to the origins of the Feast.
Evolving Traditions
Fratta's family used to sell sun-dried hazelnuts and chestnuts hung in bunches from a string, but the old folks in the neighborhood aren't around anymore to buy them, so Fratta focuses on his zeppoles.
The Feast itself has changed too. Restaurants used to close for two weeks but now capitalize on the event and operate alongside vendors like Fratta. There also used to be three times as many vendors, bazaars, games, and gambling—and it would go on until 3 or 4 a.m.

But not all change is bad.
"It is a little bit better in terms of the curfew time [now]," Fratta said with a smile, "because after a while, enough is enough, you know."
There are variety of events such as cannoli and meatball eating contests, a grand parade, and live music. However, the most important event, especially for Fratta, happens on Sept. 19: The Feast Day of San Gennaro.
The day begins with a High Mass at the local Catholic church, followed by a procession where residents carry the statue of San Gennaro, dressed in a cape clad with money, throughout the entire neighborhood of Little Italy.
Changing Neighborhood
Fratta was born and raised in Little Italy—he's one of the last of the generations of original Italian immigrants to have grown up in the neighborhood.
He remembers what the neighborhood was like when he was a kid, and how it has changed across generations.
"It was so different," Fratta said. "You knew everyone. I always used to say, I didn't have to be in my apartment to say I'm home. Once you hit the block that you lived on, you were home because you were greeted by everyone."
Fratta remembers the neighborhood as communal and safe. Older women leaning out of the windows, older men congregating on the street corners, and kids playing in the street was a common scene.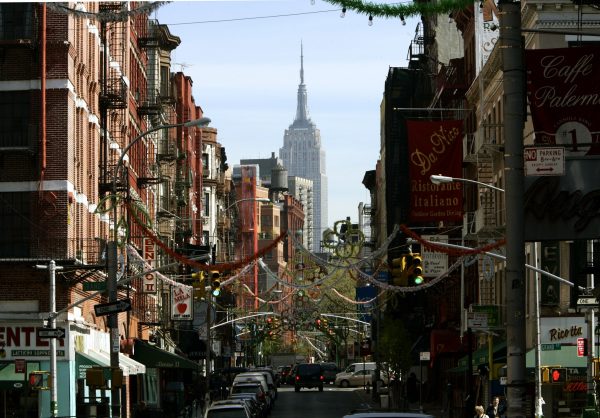 He and his friends used to make their own fun, whether it was a simple game of stickball or building skateboard ramps on the stoops. They could stay out late into the night without worry—there was always someone out and about to keep an eye on them.
"You could never do anything bad though because my mother would always find out," he said with a chuckle. "Everybody knew everything, but the neighborhood was always very safe. It was very nice to grow up here."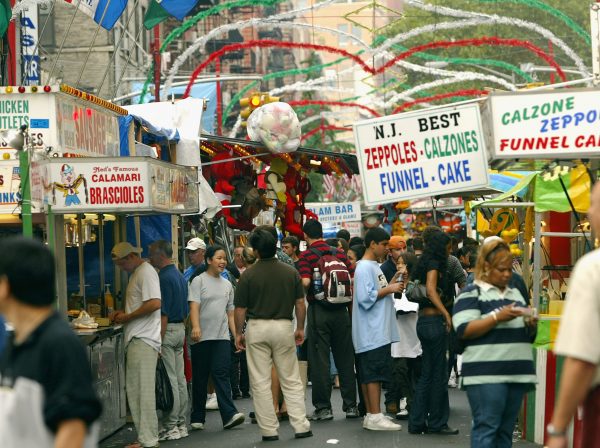 The neighborhood and the city as a whole began to change in the mid 1990s, according to Fratta. Little Italy had its name for a reason, as nearly all of the residents were Italian immigrants. Now, the older residents have passed away or left, and college students and millennials are moving in.
"The immigrants came here like all the other immigrants come, and then after a while you made it and then you leave and you move on, and then more people come," Fratta said, accepting that change is inevitable. "There're really no more neighborhoods like they used to be [in New York]."
However, Fratta is glad the tradition of The Feast of San Gennaro still remains.
Preserving Culture
Through being involved with the Feast, Fratta is trying to preserve as much of his Italian culture as possible, particularly the religious origins of the festival.
"I mean, listen, I'm a vendor, it is business here, but you know what, if you could just forget about the sausage and peppers, and zeppoles, and cannolis for one second, it's about this one saint that is worshiped. I mean, in Naples Sept. 19 is a holiday. Businesses are closed. Schools are closed," Fratta explained.
Fratta visited the chapel of San Gennaro in Naples once, and got chills. He feels like the Feast is a tradition that should be respected, and he's proud to represent the Feast of San Gennaro in New York as a member of the board.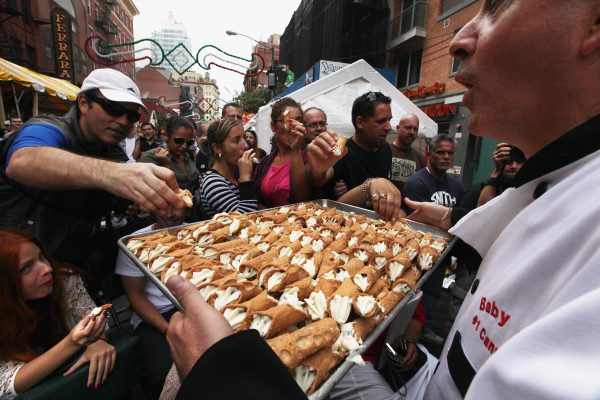 "For me personally, it's definitely part of who I am. I mean my blood is in this Feast. From my great-grandmother, to her sons, to my uncles, my mother, and now me; it's definitely a part of who I am. Even with all the stress and everything that it entails, this is where I belong for these two weeks, and I wouldn't have it any other way," Fratta said.
The Feast is not just for Italians, though, says Fratta.
"This is really all about family. We want the families to come down, we want people to come and enjoy themselves, because Italians, we're very big family people. It doesn't matter if you're Italian or not, we welcome everyone."
If you have a human interest story you'd like to share, write to Andrew Thomas at andrew.thomas@epochtimes.nyc