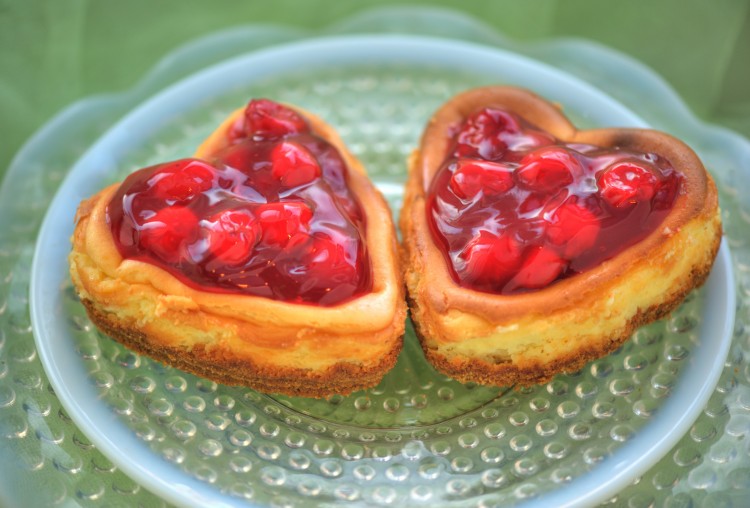 This Valentine's Day take a family favourite and give it a new presentation. This is an easy and delicious cheesecake recipe which is my family's first choice for special desserts. It can be baked in a regular sized or individual mini heart-shaped spring-form pans.
The secret to a successful cheesecake is ingredients. Use the freshest when possible, such as fresh organic eggs or fresh farm eggs. Start with the eggs and cream cheese at almost room temperature which reduces the lumps in the batter considerably. The colder the ingredients when mixing, the larger and more lumps in the batter, impacting the texture and taste of the cheesecake.
I have played with this recipe for years, tried all kinds of brands of cream cheese, used alternative sugars, and I found these ingredients keep the cheesecake tasting the richest and fullest. Not too sweet either, but sweet lovers wouldn't know if you reduce the sugar.
Makes 1 – 23 cm (9-inch) cheesecake or 5 – 10 cm (4-inch) cheesecakes
3 227 g (8 oz) Philadelphia original-brand cream cheese
175 to 250 mL (3/4 to 1 cup) sugar
3 eggs
2 mL (1/2 tsp) vanilla
Mix together all ingredients and beat well. Pour into graham cracker crust (recipe below).
Graham cracker crust: 300 mL (1 1/4 cup) graham cracker crumbs, 40 mL (3 tbsp) sugar and 75 mL (1/3 cup) melted butter or margarine. Mix all ingredients together with a fork. Press into a 23 cm (9-inch) round spring-form pan or 5 mini heart-shaped spring-form pans along the bottom and up about 1/4 to 1/2 of the sides of the pans. Make it even particularly where the side and pan meet. Optional: line the top of the graham cracker crust after pressed into the pan with broken pieces of a favourite chocolate bar or chocolate chips.
Bake for 1 hour at 180º C (350º F).
Cool 1 hour to room temperature. Remove from spring-form pan after it has dropped and pulled from sides, but still warm. Chill 1 hour, and then add topping. This cheesecake is good plain or with a favourite topping, such as cherry pie or blueberry pie filling, sour cream or chocolate topping. Store in the refrigerator.