New York Artist Captures Detail With Plain White Paper
September 18, 2013 6:00 am Last Updated: September 18, 2013 11:13 am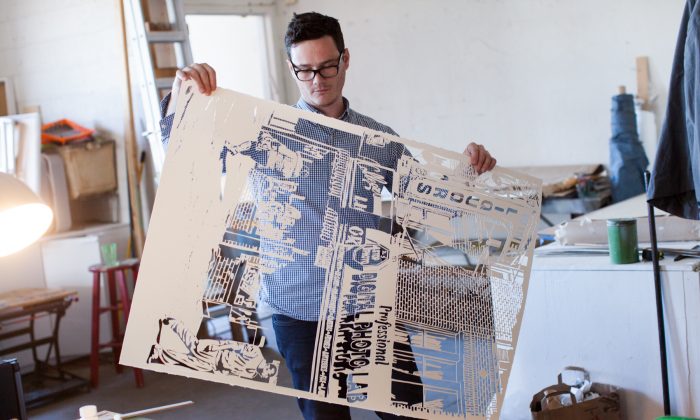 NEW YORK—Thomas Witte loves the challenge of depicting detail in his art. Some 10 years ago the artist embarked on a journey, etching out the scenes of busy streets and detailed architecture by cutting into one piece of white paper at a time.
At a discussion on Monday at the Mid-Manhattan Library, Witte talked about his intricate and demanding artwork.
"The process is very stressful and taxing physically," he said, describing how he hunches over in his Brooklyn Navy Yard studio for hours in front of a piece of paper, applying pressure with one finger the whole time.
He said he uses slides from photos, projects the image onto paper and adjusts the size. While sitting in the dark, he draws over the projection. He then goes back and adjusts any details. When he's pleased with the result, he starts cutting.
The satisfaction he gets from his work comes after he finishes a piece. He said it's like meditation.
"It's an amazing feeling, it's so incredibly relaxing," he said.
He sometimes picks images to reproduce based on the challenge alone. He said, the more intricate the piece, the better. Sometimes his drawings are so complex, he's unsure the audience will understand what the piece is about. Once the piece is successful, however, he's reassured that there really is nothing he can't depict.
"I rely completely on my drawing," he said.
The challenge lies in keeping the paper whole and not having any floating pieces. Everything is in blocks and every line is complete.
Although he's primarily working with white paper, he said he can still depict the shininess of a car windshield or the dullness of a brick wall.
Growing up, Witte's strongest subject in school was arts and crafts and he always wanted to pursue a career in the arts.
Everyone in his family pursued a creative career. His grandfather, whose slides were the inspiration for Witte's earlier work, was an amateur photographer. His grandfather shot photos obsessively.
"He shot like he was shooting digital," Witte said.
Witte was attracted to the physical work of making art. In college he studied glass sculpture. He feels he wouldn't make a good photographer because the photos of the scenes that he produces are not that interesting.
"A photo of a muni meter is not interesting," he said. For him, paper cutting is essentially about reducing the world into white and cutout negative space.
After Witte finished one of his early pieces showing a courtyard where dozens of pigeons litter the foreground, he started seeing pigeons in a different light. "When I look at them now, I see it's just this and this and this," he said, gesturing to the exact shapes he would cut out to depict the birds on paper.
When he's not in his studio, the 32-year-old is at home taking care of his two small children. His wife works as a teacher and they split babysitting responsibilities with his parents.
Along with three other local artists, Witte was commissioned to produce paper-cut work for the On Paper series, an event proposed by the MTA Arts for Transit that will celebrate the Centennial of Grand Central Terminal. Their work will be displayed in light-box windows in the Dining Concourse starting on Sept. 27.