Graduation from high school is a momentous occasion. It's the beginning of a new chapter in a young person's life, paving the way for years spent in college or out in the workforce.
Yet graduation isn't guaranteed and a number of Americans don't graduate on time. According to government statistics, 16 percent (almost one out of five) of students do not graduate within four years of starting 9th grade.
These numbers fluctuate between states and demographics. For instance, American Indian and Alaska Native youth in Washington state had only around a 60 percent graduation rate in 2016–2017 and those in foster care had only around a 43 percent rate, according to KNKX News.
Erika Ann Ramirez is both a foster kid and a member of the Muckleshoot Indian Tribe. Yet, despite the odds being stacked against her, she not only graduated, she went many steps beyond.
Erika Ann Ramirez grew up in foster care.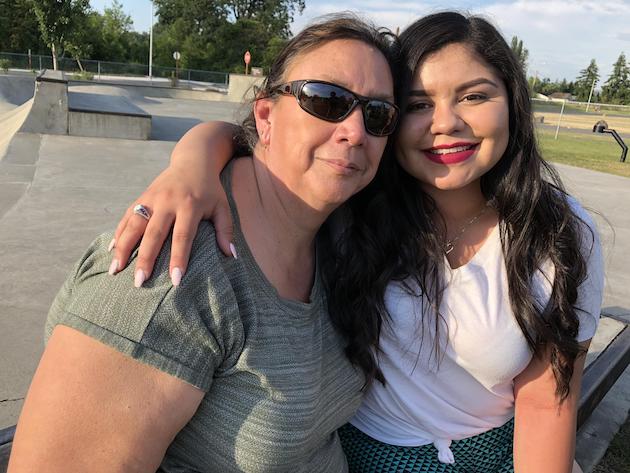 Erika was put into foster care when she was just 2 years old because of her mother's drug and alcohol problems.
By the time she was 8, she realized that the people taking care of her weren't her biological parents. The questions about her birth family ran constantly through her mind.
"Do they even want me? Do they know who I am? … Are they still alive?" Erika recalled to KNKX.
While it was a difficult time for her, she didn't let it stop her from focusing on achieving success.
Her goal was to graduate high school at the top of her class.

Erika's goal was to graduate from high school with straight A's and at the top of her class. Yet, when she learned that every graduate of Muckleshoot Tribal School had to give a speech, she started having second thoughts.
"Right then and there, I had a meltdown in the hallway and I'm like, 'I am never going to graduate,'" she said. "If you have to give a speech, I'm not going to walk, I'm not going to walk with my friends. This is not going to happen for me."
Yet she ended up facing her fear. Over the years she took public speaking classes, made a video about herself for a health conference, and even traveled to Washington, D.C. to speak to the Senate Indian Affairs Committee.
She also received mentoring and encouragement from Kateri Joe, who works for a nonprofit group called Treehouse that supports kids in foster care.
Erika met her goal thanks to a supportive foster family and school.

Erika's foster mother, Sharon Curley, has supported Erika for the past almost 11 years, and was proud to see her foster daughter do so well.
"You can't be prouder to stand there and watch her graduate and be valedictorian," Curley told KNKX.
Curley also takes care of four other kids, and she constantly tells them about how important school is, a message that Erika has reinforced.
"I kept telling [my siblings],`You got to get good grades. You have to do this, because when you graduate, you're going to be valedictorian, okay?" Erika said.

As Erika made her way up to the podium, she wore a graduation cap that she designed. It had her name and 2018 woven in and it was trimmed with fur.
"I had to be poppin'," she said. "I'm graduating. I gotta look nice!"
It should therefore come as no surprise that Erika hopes for a career in the fashion industry. She will be heading to Central Washington University in the fall in pursuit of those dreams.
Best of luck, Erika! We know you can do it!
Special Thanks to Erika Ann Ramirez, Ashley Gross, and Jesse R. Colman