Due to Demand, NAC Makes Rare Exception for Shen Yun
January 10, 2010 2:08 am Last Updated: October 1, 2015 8:59 pm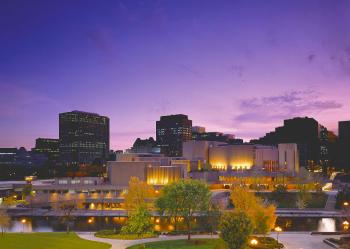 OTTAWA, Canada—In a rare occurrence over the National Arts Centre's 40-year history, the theatre complex has opened "standing room" tickets for sale one day in advance of the opening of Shen Yun Performing Arts.
Shen Yun is scheduled to play at the NAC on Jan. 10 and 11. But the tickets have already sold out for all three shows.
The NAC typically begins selling tickets to the standing-room space at the back of Southam Hall about half an hour before a show starts if there are people waiting outside, according to the centre's policy.
However, the NAC decided to make an exception after tickets to Shen Yun sold out and its box office continued to receive requests from the public, with some people expressing that they had already waited several years to see the show.
According to Simone Deneau, Producer of Variety and Community Programming at the NAC, the centre has only rarely opened standing-room tickets for sale since it began operating in June 1969.
"Although we tried from the beginning to communicate with the NAC hoping to add more shows, due to various constraints we regret that this year Shen Yun can only perform three shows in Ottawa," event organizer Jean Zhi told the Chinese-language edition of The Epoch Times in an interview.
"Many people were unable to buy tickets, and the NAC can only sell about 10 to 12 standing-room tickets. So we hope interested viewers can go to Montreal to see the show," she said.
In February 2007 when Shen Yun—then known as the Chinese New Year Spectacular—came to Ottawa for the first time, tickets for the single show sold out five weeks in advance and the NAC began selling standing tickets half an hour before the show.
For the 2009−2010 season, by Christmas Eve, two weeks before the first show this Sunday, tickets were 99 percent sold out to see the premier classical Chinese dance and music company perform in Southam Hall, the centre's largest performance space that seats 2,323 people.
By early December the show had already sold out all top-priced tickets at $129 and $159.
Tickets are also selling fast for the Montreal shows, said Ms. Zhi.
"Don't miss this good opportunity to enjoy this show that displays the authentic pure beauty, pure compassion, and pure truthfulness of classical Chinese performing arts, because there are not many tickets left in Montreal."
Shen Yun will play three shows at the National Arts Centre in Ottawa: 2:30 p.m. and 7: 30 p.m. on Sunday, Jan. 10, and 7:30 p.m. on Monday, Jan. 11. The show will play at Place Des Arts in Montreal Jan. 15-17.
For more information, please visit ShenYunPerformingArts.org.