Artist and Music Teacher Moved After Seeing Shen Yun Performing Arts
April 9, 2009 8:48 am Last Updated: October 1, 2015 9:56 pm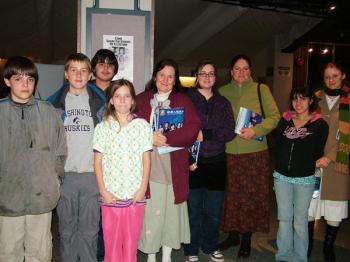 VANCOUVER, British Columbia—Audience members in Vancouver bid farewell to Shen Yun Performing Arts at their grand finale on Wednesday evening and gave a standing ovation to show their enthusiasm and appreciation for an evening of cultural revival.
Ms. Paymen, a music teacher, attended and said she enjoyed the "varied performance," which provided "a good idea of … traditional Chinese art."
She was impressed with the energy the performers were able to express in each of their dances.
"It was a very beautiful performance. … We were really impressed by the innocence, the joyfulness, and the lightness of the performers."
She said she also appreciated the traditional Chinese instruments featured in the performance such as the erhu, a melodic two-stringed instrument known for its deeply soulful sound.
Ms.MacDonald, a visual artist who has attended Shen Yun for second time in two years on Monday evening, wrote to the Epoch Times later to express her feelings after watching the show:
"I loved the show. It is opulent and lush filled with wonderful colors, textures, sounds, and performances. The costumes are exquisite, and the performers of the highest quality. The backdrops were exquisitely done and full of ingenuity. They brilliantly and beautifully conveyed what is extremely difficult to convey, going up to the heavens and the descent to earth as well as how ascended masters convey to us their wisdom and are here with us.
"The show also showed the beauty of devotion and practice and how truth overcomes all things. There is so much that it will take days to savour and be with all the images."
Shen Yun will now continue on to Calgary, Edmonton, and Regina.
The Epoch Times is a proud sponsor of the Shen Yun Performing Arts 2009 World Tour. For more information please visit ShenYunPerformingArts.org