Mozzarella & Vino: The Magic of Mozzarella
May 8, 2014 9:05 am Last Updated: May 7, 2014 7:47 pm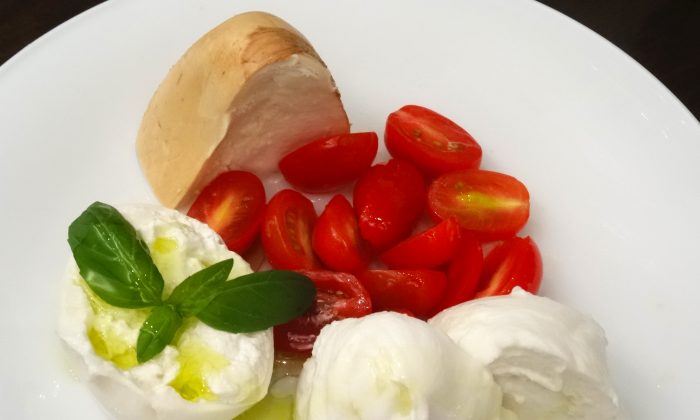 On "Millionaire's Row," just a few steps from its older brother Il Gattopardo, a small and rustic restaurant, Mozzarella & Vino, was recently born.
At the front of the townhouse is a small dining room and a bar that showcases carefully selected wines from Italian family estates and independent winemakers. But the back room is where you want to dine; through the glass roof you can see the wonderful backdrop of Manhattan's secret backyards and balconies.
At the kitchen's helm is chef Antonio Savino. He is only 22 years old. After graduating from cooking school in Italy at age 16, he worked in kitchens in Naples, Italy, London, Athens, and for the last eight months at Mozzarella & Vino. He is very talented and I believe the world should keep an eye on him. 
Savino comes from a family that is passionate about food, and both his mother and grandmother influenced his cooking greatly. "I am in love with my cooking, and I cook with love, without manipulating the ingredients," he said confidently, with a smile.
While the emphasis is on traditional buffalo mozzarella, which is imported twice a week from southern Italy, as well as Italian cheeses and affettati (or cold cuts), the menu offers traditional dishes marked by seasonal simplicity and a strong accent on quality. The dishes I had were scrumptious, with desserts to match.
There are many tempting starters, for example the luscious Burrata Pugliese ($13) scented with basil oil served with cherry tomatoes and toasted bread. The buffalo mozzarella is served with imported cured meats such as speck, prosciutto di San Daniele, and even in paninis. Even the arancini (fried rice balls) are prepared with mozzarella. 
But like a magnet, I was attracted to the classic tasting of buffalo mozzarella, smoked mozzarella, and burrata ($16), drizzled with olive oil. This buttery and creamy cheese, burrata, has a dizzying effect on me. It should be savored one bite at a time. Upon the first bite, all I wanted to do was to close my eyes and allow myself a pause to experience bliss. The smoked mozzarella has fuller body, with an earthy flavor and a smooth skin I wanted to chew on endlessly. 
The meatballs can be served as appetizers ($13) or as a main course ($19). They arrived in a brilliant pool of tomato sauce. A mixture of pork and veal, they were light and well-balanced. You can actually taste each of the meats. 
The vegetable lasagna ($16) was a masterpiece. It was very light, and each of the vegetables was gently stacked over the others so I could taste each ingredient separately. The slow-cooked Rustic Beef Stew ($18), cooked in red wine with a mix of vegetables over a bed of soft homemade polenta was a good choice, next time I am here, I will try the all-natural beef burger with smoked provolone and green zucchini fries.
For the finale, and I am sure they will implant unforgettable memories in your mind, you'll want to try all of these desserts: the espresso mascarpone semifreddo that came in many layers, and topped with tiny crispy rice bubbles; the light and fluffy ricotta cheesecake, with mixed berries sauce and a hint of lemon; and the vanilla panna cotta with mixed berries (each dessert, $9).
Mozzarella & Vino is fun and vibrant. The service is great and friendly and I will definitely go back again.
Mozzarella & Vino 
33 W. 54th St.
646-692-8894 
mozzarellaevino.com 
Daily 11 a.m.–10 p.m.