Morgan Library J.D. Salinger's Letters Add to His Mystery
September 13, 2013 2:02 pm Last Updated: September 13, 2013 6:28 pm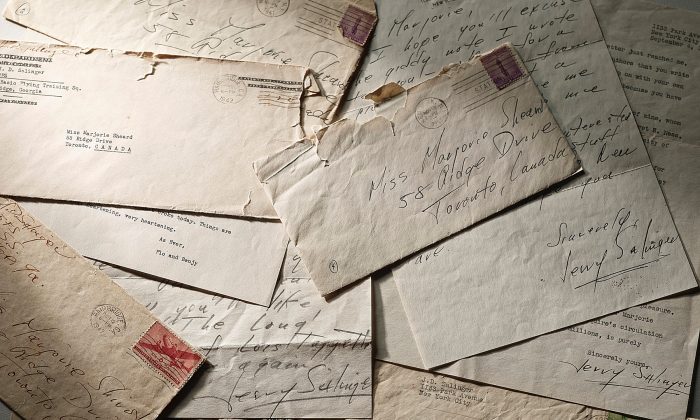 NEW YORK—In an inconspicuous glass case at the Morgan Library & Museum lie nine letters representing where the paths of two writers briefly crossed. One writer's career eventually earned him international fame and the other's barely started.
These letters are from J.D. Salinger to Marjorie Sheard from 1941 to 1943.
The letters were acquired by the Morgan from Sheard, who at the time was a young aspiring novelist living in Toronto. Sheard is now 95 and living in a retirement home. She sold the letters to the museum to pay for her medical care.
The exchanges took place at the early parts of Salinger's career. At age 22, he was enjoying small successes, such as getting his "Heart of a Broken Story" published in Esquire magazine, which at the time was a smaller publication.
We don't know if Sheard asked for a lot of advice, but Salinger certainly gave it.
"Try writing for Mademoiselle or one of the other feminine magazines? Seems to me you have the instincts to avoid the Vassar-girl tripe those mags publish," he typed in the first of the letters, dated Sept. 4, 1941.
The next letter was scrawled loosely in pencil.
"What do you look like? Send a huge photo."
In a subsequent letter he apologized for being so forward, but she sent one anyway.
"Sneaky girl. You're pretty," he wrote back.
Next letter: a big paragraph about his writing projects, a small one with reading recommendations. Signed "Fitzdudley."
The following letters became friendlier. He ran into a mutual acquaintance, saw a lousy movie, looked for a job in the war.
Then, he got drafted in the spring of 1942. He still sent postcards and letters to Sheard, but it was evident that he was emotionally breaking down. We read hints of alcoholism and a reference to an aborted marriage.
Sheard never did make it as a writer; she eventually married and became a housewife. Salinger died in reclusion three years ago. The two never met.
Reading these letters feels like listening to one end of a phone call—we understand a little about Salinger but next to nothing about Sheard, apart from some references to her attempts at getting published and a break-up with a man named George.
While they might not fully satisfy our curiosity about an enigmatic figure, these letters allow us to appreciate Salinger's wit and crafty use of language outside of his published writing.
"Lose not heart": J. D. Salinger's Letters to an Aspiring Writer
Through January 12, 2014
The Morgan Library & Museum
225 Madison Avenue at 36th Street
212-685-0008
www.themorgan.org