Many know Japanese artist Katsushika Hokusai from his famous "Great Wave off Kanagawa" print. Yet Hokusai was "a man mad about painting," as he proclaimed in one of his signatures, the Japan Foundation assistant curator of Japanese art, Frank Feltens, said in a phone interview. 


Hokusai was very compulsive in his urge to paint, Feltens explained. Hokusai's paintings over six decades are one part of the year-long exhibition Feltens curated: "Hokusai: Mad About Painting" at the Smithsonian's National Museum of Asian Art (the Freer Gallery of Art and Arthur M. Sackler Gallery). The exhibition shows Hokusai's immense love for painting.
The exhibition opened in November 2019, commemorating the centenary of the Freer Gallery's founder Charles Lang Freer's death. And it will be one of the first shows that visitors will be able to see when the museum reopens, the date of which is yet to be announced.
The exhibition focuses on 120 of Hokusai's works from the Freer collection, the world's largest collection of Hokusai's sketches, paintings, and drawings. Freer stipulated in his will that his collection should never leave the gallery. 
Hokusai (1760–1849) lived in Japan's Edo period (1603–1867), when the country was largely closed to the outside world and Japanese traditional culture flourished. 
Feltens shares information about traditional Japanese art and how Hokusai became a painter. He also gives a few examples of Hokusai's remarkably varied and delightful paintings. 
The Epoch Times: Hokusai was such a prolific artist right up until he died. Please tell us how Hokusai became an artist.
Frank Feltens: Hokusai was born in Edo, today's Tokyo. As a young boy, he apprenticed in the workshop of a printmaker. So rather than learning to be a painter, he apprenticed in how to carve the woodblock plates, how to print, and then later he eventually segued into being a print designer. In the beginning, in his teens and 20s, those illustrations were mainly for kibyoshi, which are called "yellow covers"; these are basically cheap novels. 
Then he moved up the ladder, displaying extraordinary talent from the beginning, so he was in touch with making more complex prints. Eventually, in his 30s, he decided to diversify his output and also work as a painter. 
In his late 60s or early 70s, Hokusai decided to become a painter exclusively, which to him was a nobler profession and a more direct manifestation of his artistic skill than the labor-intensive and somewhat commercial aspect of printmaking.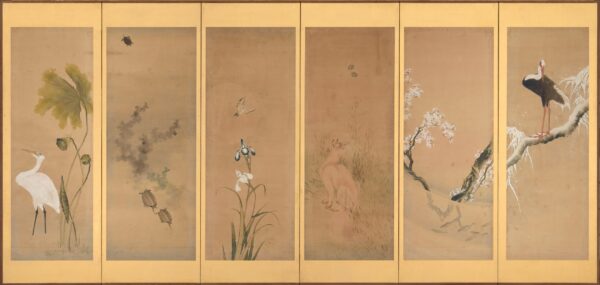 The Epoch Times: Why do you think Hokusai waited so long to become a painter when he believed it was such a noble tradition?
Mr. Feltens: Simply because of his humble upbringing. In the traditional Japanese apprentice system, the most important thing is to learn and learn to observe, rather than to produce or be creative on your own. 
Thirty is a relatively late start for a painter, but it's not unheard of in Japan. Lots of painters who segued from another profession usually did so in their 30s. 
Directly apprenticing as a painter from early childhood and adolescence generally happened if you were born or adopted into one of the big painting ateliers such as the Kano or the Tosa, the hereditary ateliers that operated throughout Japan. Hokusai was not part of such an atelier, but rather in the woodblock painting industry, so he first and foremost focused on that path as his training.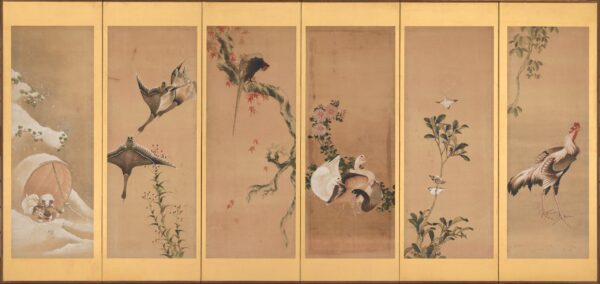 The Epoch Times: Please tell us about Hokusai's artistic influences. For example, was he inspired by the different cultures coming to Edo, present-day Tokyo?
Mr. Feltens: Yes he was. Japan was extensively cut off from the outside world in the Edo period. The Tokugawa shogunate, the feudal military rulers, allowed only very limited imports and had directives for strictly curated items from the outside world, but that is just in theory. The borders of the island nation of Japan were much more porous than one would think. A lot of objects from the outside world came in: for example, Western science books, Western pictures, and pictures from China and similar places. 
China at the time had much more exposure to Western painting and absorbed those aspects of Western painting that were from the Renaissance, like one-point perspective, and chiaroscuro (dramatic contrasts between light and shade).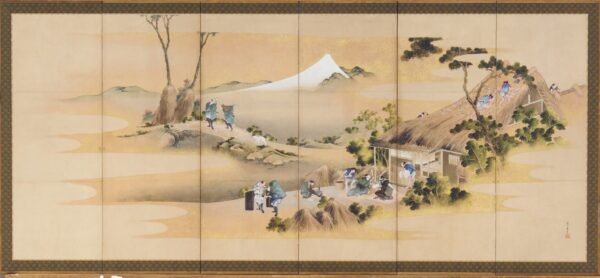 I always think of Hokusai as somebody who was one of the best of his time, if not of the entire Edo period. He unites the best of all those different worlds. And that is one of the reasons, I think, that his work is still so popular today, because it looks Japanese but it also appeals to the preconceived notions that people in the West usually have when it comes to what art is supposed to be: objects' recession in space, perspective, and then also naturalism, attention to physiognomy, attention to representation, and correct proportions. All those kinds of aspects do not play that role in traditional Japanese painting, actually, because aesthetics worked in a different way then. But Hokusai fused all of this into his artworks and created something that, for his time, was very striking and still does look incredibly striking today.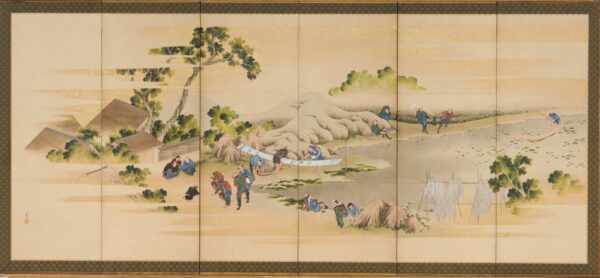 Generally speaking, the measure of excellence in traditional Japanese painting (that's written by commentators from the late 17th up until the 19th century) is always to learn from the past and channel that knowledge into something new. 
The Epoch Times: One of Hokusai's striking images is "Suikoden." Please tell us about that painting.
Mr. Feltens: That's one of my favorites. "Suikoden" is essentially a moral tale in which good deeds will be rewarded. It depicts a famous Chinese tale about a band of 100 bandits. The tale is traditionally known as "The Water Margin" in China. Outlaws of course lived on the fringes of society, but eventually these bandits helped the emperor win a battle, so he pardoned them and welcomed them back into proper society. 
It's a rather complex Chinese story, very popular in Japanese theater, especially Kabuki theater, and so there are multiple plays that focus on the tale. Hokusai created several works in print using "Suikoden" as a subject. Clearly, he did not read the actual tale but watched the theater instead, which was a common way of consuming literature in certain times.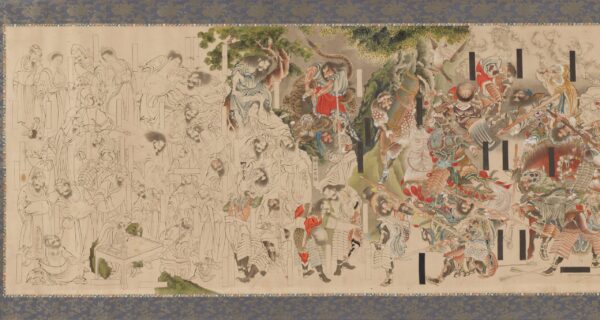 The painting is an unfinished work; we don't know if it was intentionally unfinished or if Hokusai didn't get around to finishing it. If it was purposely left unfinished, it could have been a guide for students on how to paint. For example, in traditional Japanese painting, this kind of polychromatic work required quite a bit of labor, so usually they were not painted by a single artist but by a master and his pupils, so very much in the spirit of the Renaissance workshop. There is a lot of overlap in Renaissance and Japanese works, without them being directly influenced by each other.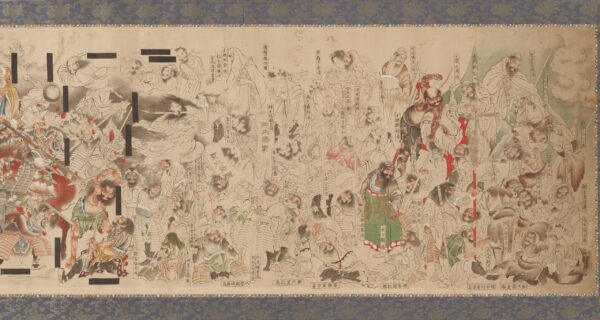 In traditional Japanese painting, the master painter would paint the outline, create the compositions, and everything that you see here that is black-and-white. Then the pupils would be asked to fill in the clothing and the patterns on the garments, all the accoutrements that these figures have. The master painter would then return to paint the figures' faces at the very last. 
But Hokusai kind of reversed that process here, because you can see that some of the unfinished figures' faces are already painted, and so Hokusai moved away from the traditional process. And to me, this shows Hokusai in a nutshell, because he pays such incredible attention to the physiognomy and the character of things, the individuality of his subject—and that's not just human beings but also divine figures, or even just waves of the sea. 
If you think of "The Great Wave," he's looking at the essence of what the wave is. And so Hokusai's "Suikoden" is a manifesto to me, an unintentional manifesto, telling the viewers that Hokusai put the character (the essence of something) first and foremost and then moved to its physical characteristics. 
Just a word of clarification about those black bars that you see here. Those are cartouches that would carry a gold inscription of each bandit's name. If the painting had been finished, it would've been an incredibly lavish handscroll.
A lavish painting such as this, painted in sumptuous colors on silk, would've been quite pricey at the time, and so this would've been a commission by somebody with quite a bit of means. When he made the handscroll, and pretty much throughout his career as a painter, he was an incredibly sought-after artist, one of the most sought-after painters of his time. 
The Epoch Times: Please tell us about the pair of hanging scrolls of the woodcutter and the fisherman.
Mr. Feltens: Those were produced in the last six months of his life. If you look closely at the paintings, and if you have a chance you can do so on our website, you will notice that the lines in the signature and the outlines in the painting, in particular, are not the steady lines that you would find in Hokusai's earlier paintings, even those made just a year or two prior. You can see the trembling hand of an ailing, elderly man not entirely in command of his physical capabilities anymore. 




The fisherman and the woodcutter are subjects that carry a lot of cultural meaning in Japan. They are subjects in the Noh theater, which is the medieval form of Japanese theater that still continues to be practiced. But they are also embodiments of Hokusai in later life. Both characters' faces are satisfied, and they have their bounty at their feet. The woodcutter and the fisherman are shown at the end of a day of hard labor, and they are displaying the fruits of that labor. And in a way, it's a little bit of a metaphor for Hokusai's own life coming to a close. 
This interview has been edited for clarity and brevity.
To find out more about the "Hokusai: Mad about Painting" exhibition at the Smithsonian National Museum of Asian Art, in Washington, including the reopening date, visit Asia.si.edu