This is the 14th installment in our McGuffey Readers series, in which we reproduce some of the best moral tales from these classic 1800s schoolbooks, which sold an estimated 122 million copies by 1960, the largest circulation of any book in the world next to the Bible and Webster's Dictionary. McGuffey's Readers played an important role in American history, offering children not only lessons in reading, grammar, and spelling, but also in moral conduct and character. Enjoy, and share with your children!
True Courage
One cold winter's day, three boys were passing by a schoolhouse. The oldest was a bad boy. always in trouble himself, and trying to get others into trouble. The youngest, whose name was George, was a very good boy.
George wished to do right, but was very much wanting in courage. The other boys were named Henry and James. As they walked along, they talked as follows:
Henry. What fun it would be to throw a snowball against the schoolroom door, and make the teacher and scholars all
jump!
James. You would jump, if you should. If the teacher did not catch you and whip you, he would tell your father, and you would get a whipping then; and that would make you jump higher than the scholars, I think.
Henry. Why, we would get so far off, before the teacher could come to the door, that he could not tell who we are. Here is a snowball just as hard as ice, and George would as soon throw it against the door as not.
James. Give it to him, and see. He would not dare to throw it.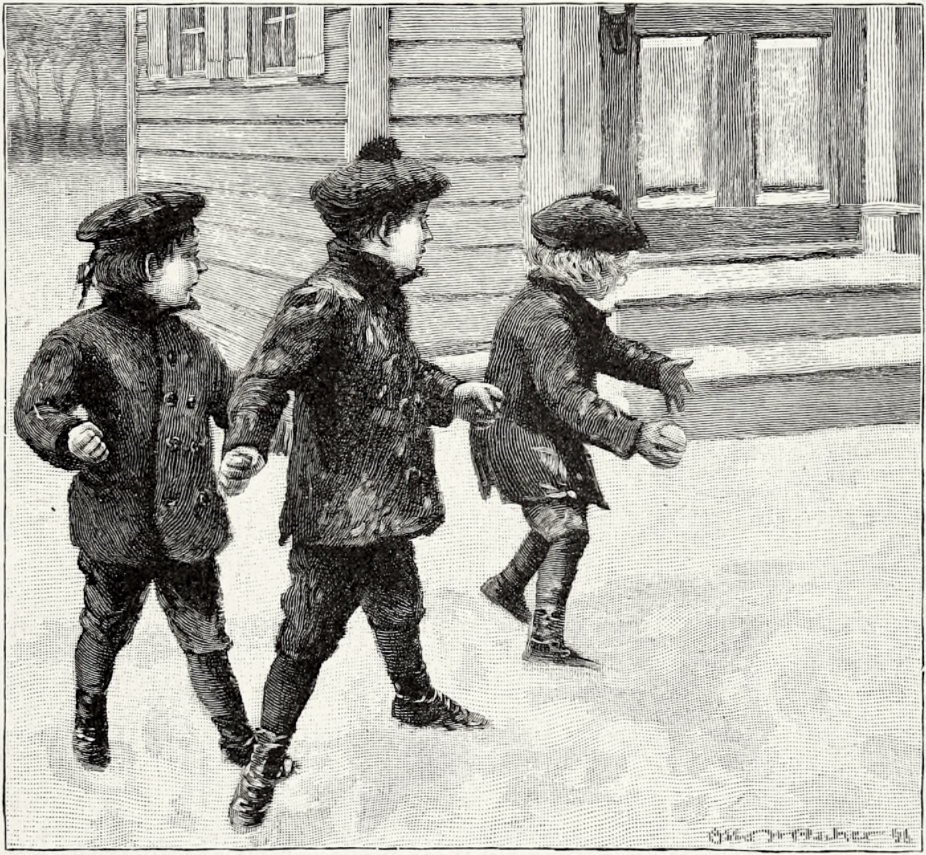 Henry. Do you think George is a coward? You do not know him as well as I do. Here, George, take this snowball, and show James that you are not such a coward as he thinks you are.
George. I am not afraid to throw it; but I do not want to. I do not see that it will do any good, or that there will be any fun in it.
James. There! I told you he would not dare to throw it.
Henry. Why, George, are you turning coward? I thought you did not fear anything. Come, save your credit, and throw it. I know you are not afraid.
George. Well, I am not afraid to throw. Give me the snowball. I would as soon throw it as not.
Whack! went the snowball against the door; and the boys took to their heels. Henry was laughing as heartily as he could, to think what a fool he had made of George.
George had a whipping for his folly, as he ought to have had. He was such a coward, that he was afraid of being called a coward. He did not dare refuse to do as Henry told him, for fear that he would be laughed at.
If he had been really a brave boy, he would have said, "Henry, do you suppose that I am so foolish as to throw that
snowball, just because you want to have me? You may throw your own snowballs, if you please!"
Henry would, perhaps, have laughed at him, and called him a coward.
But George would have said, "Do you think that I care for your laughing? I do not think it right to throw the snowball. I
will not do that which 1 think to be wrong, if the whole town should join with you in laughing."
This would have been real courage. Henry would have seen, at once, that it would do no good to laugh at a boy who had so bold a heart. You must have this fearless spirit, or you will get into trouble, and will be, and ought to be, disliked by all.
This story is reproduced from McGuffey's Third Eclectic Reader, Revised Edition, published in 1879.
The McGuffey Readers, first published in the 1830s, were a series of illustrated readers for elementary schoolchildren written by U.S. educator and clergyman William Holmes McGuffey (1800–1873). They were widely used as textbooks in U.S. schools from the mid-1800s up until the early 20th century. They are still used by some schools today, especially homeschools focused on nurturing and raising children with a classical education and moral character development.