MOBILE, Alabama—Residents of Mobile love a good party, and Mardi Gras is the granddaddy of them all. While New Orleans is better known, the Carnival season with Mardi Gras actually had its roots here more than 300 years ago. It takes place this year from Feb. 15 to March 5.
The celebratory spirit builds all year long, and as the event gets closer, the sales of festive foods like beignets and king cakes skyrocket among visitors. This year, I was just one of the thousands who lined the streets in anticipation of the first parade, which started at dusk. The excitement was at a fever pitch as all of us waited for that glimpse of the first float rolling along Royal Street. As it passed, beaded necklaces and even Moon Pies (wrapped, thankfully) flew in all directions in a kaleidoscope of light, color, and sound. Let the fun begin!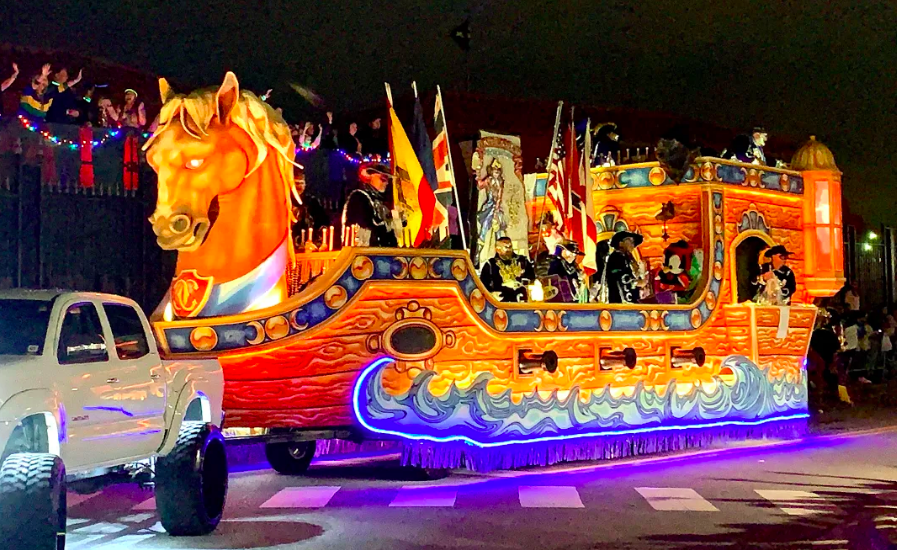 History
I found the history of this tradition goes all the way back to the early 18th century when French-Canadians celebrated the first Mardi Gras in an area called Twenty-Seven Mile Bluff, the first settlement of present-day Mobile. The early years of Carnival are shrouded in myth. Carnival is, after all, an evolving tradition.
The two defining events of the Carnival season, the celebratory parade and grand ball, were fully established by the 1830s when mystic groups such as the Cowbellion de Rankin Society were formed.
Today, these groups are comprised of private organizations and non-profits who spend all year preparing for Mardi Gras. Here in the Mobile area, there are about 68 societies, including 38 who parade through the streets with colorful floats and zany outfits.
Wanting to get a closer look at some of the beautiful and ornate costumes used, I headed to the Mobile Carnival Museum on Government Street. It featured a fashion extravaganza, with beautiful gowns and trains worn by the king and queen who are chosen each year. Much of the clothing is quite elaborate—and expensive—with design elements such as imported silk and gold fabrics, Swarovski crystals, and gemstones for the crowns.
Each parading society chooses a theme for their float, and construction typically takes a full year to complete. The parades kick off on a Friday evening with the Conde Cavaliers, named after Fort Conde, which guarded the city in former days.
Hospitality
One thing I had to quickly get used to here was how friendly and polite everyone seems to be. Young and old alike refer to people as "sir" and "ma'am," a gracious habit I vowed to continue once I returned home. Longtime resident Mark Trenier expressed it best: "I love Mobile for the climate, food, and friendliness of the people."
Since I was in town for a few days, I was told by a local that I simply had to sample some of the city's best celebratory traditions—beignets from Panini Pete's. As I walked into the eatery, a TV screen was replaying a segment from the Food Network featuring Pete's beignets. Glowing reviews adorned the walls, including one from Tyler Florence, who said, "No joke, the best beignets I've ever tasted," and boy, was he right!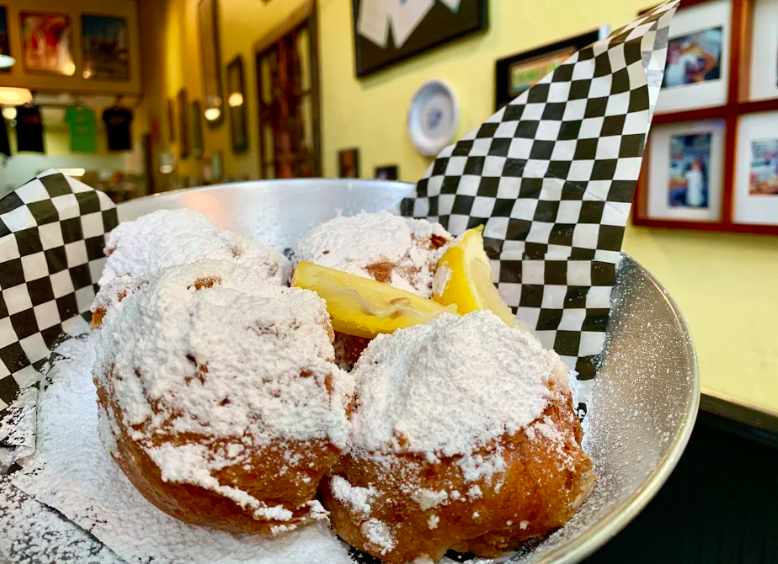 The secret is that they use a wet egg dough resulting in perfectly fried, little-powdered dollops of heaven with a moist inside, and served with a twist of lemon. I downed about five of these before I regained my self-control.
Moon Pies
One of the other things I discovered is how crazy Mobile residents are for Moon Pies—a confection made of graham crackers and marshmallow, dipped in a flavored coating like chocolate. Even though the company is headquartered in Chattanooga, Tennessee, it seems this sweet snack has been adopted by Mobile as their own.
During the parade, "throws" refer to the trinkets, stuffed toys, doubloons, and colorful beads that those on floats toss to the eager crowds. But, unlike other places, here they also throw Moon Pies! Apparently, these were a replacement for their predecessor, Cracker Jacks—molasses-coated popcorn and peanuts—which opened up when they missed their targets—creating quite a mess.
While New Yorkers are used to a ball dropping on New Year's Eve, in Mobile they do a 600-pound electronic Moon Pie version down the side of the RSA Trustmark building. They also use the confections in various desserts. One of the best I have ever had was the Moon Pie Banana Pudding at Spot of Tea. Trust me, you won't want to leave town without experiencing this local favorite.
It seemed I couldn't go anywhere in town without seeing purple and gold, the official colors of Mobile's Mardi Gras, which represent justice and power, respectively.
As Friday evening approached, I made my way to a prime viewing spot along Royal Street near Mobile's welcome center. Each year, more than a million visitors crowd the streets for this family-friendly event, which directly and indirectly employs around 12,000 people.
I could hear the pounding music from the marching bands as the first float made its way around the corner and headed in my direction. Many in the crowd were dressed in wacky attire that included colorful flashing lights. As the float got closer, spectators started cheering and waving their arms, eagerly trying to be noticed by the riders. The sound was deafening, as people shouted, "Throw me something, mister!" and "Moon Pie!" The bling flew off the float fast and furious, and made its way into large trash bags carried by the revelers to collect their treasures.
I was in awe of the entire spectacle. As the parade passed me by, I felt a sense of loss that it was over all too quickly. I consoled myself, however, with the few beaded necklaces and Moon Pies that were now all mine. Always in the mood for a good party, I could see why this city's slogan is "Born to celebrate Mobile."
Where to Stay
Malaga Inn is a historic hotel located in the heart of the city, within walking distance of most of the main attractions. Many celebrities, including Bob Hope and Michael Landon, and even a former president—Ronald Reagan—have stayed here over the years. Each room has all of the modern conveniences, and they go out of their way to make your stay comfortable.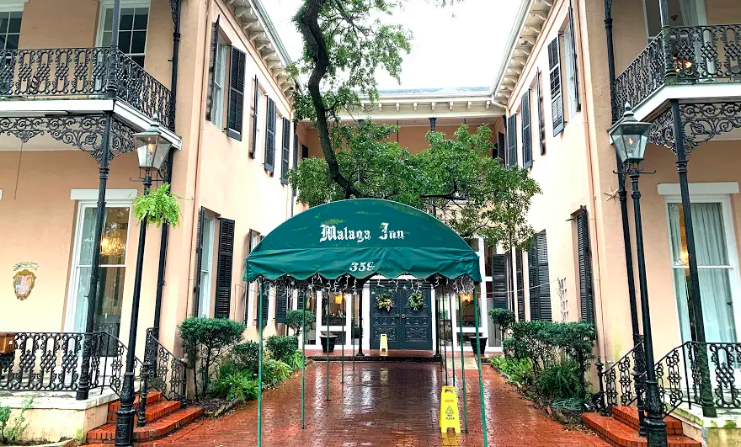 The writer was a guest of Gulf Shores & Orange Beach Tourism.
Photojournalist Ron Stern, aka "The Global Gumshoe," has covered travel for over 18 years. He is a frequent public speaker and teacher on the subject of travel.