Russian lacquerware developed in rural villages and formed a legacy of artists adapting local traditions to a new artistic medium. 
The ornate papier-mâché treasures are decorated with detailed paintings of folk stories and fairy tales. Then they are lacquered and polished to a high sheen, giving them a charming, lifelike glow.
The Museum of Russian Icons has opened an exhibition showcasing over 100 of these colorful gems: "Miniature Masterpieces: Russian Lacquer Boxes." It's open until March 28.
The art of Russian lacquer ranks among Russia's most beautiful artistic achievements of the 20th century. It's a medium rooted in the religious art of icon painting, according to the museum's website. Before the Bolshevik Revolution of 1917, many icon painters were employed creating beautiful religious works for churches and private homes. 
Workshops in the countryside produced icons for centuries. By the mid-18th century, the economies of these villages were reliant on this religious artform. After the revolution, artists were no longer allowed to work as iconographers. They were forced to find a new way to make a living. 
In 1924, an iconographer from Palekh, Ivan Golikov, helped establish the Artel of Old Painting. He and other artists began crafting paper-mâché decorative boxes and panels. With the same intricate hand-drawn beauty of iconography, they painted secular themes, such as fairy tales, poems, country life, troikas (a three-horse-led carriage), landscapes, battle scenes, and popular classical artworks.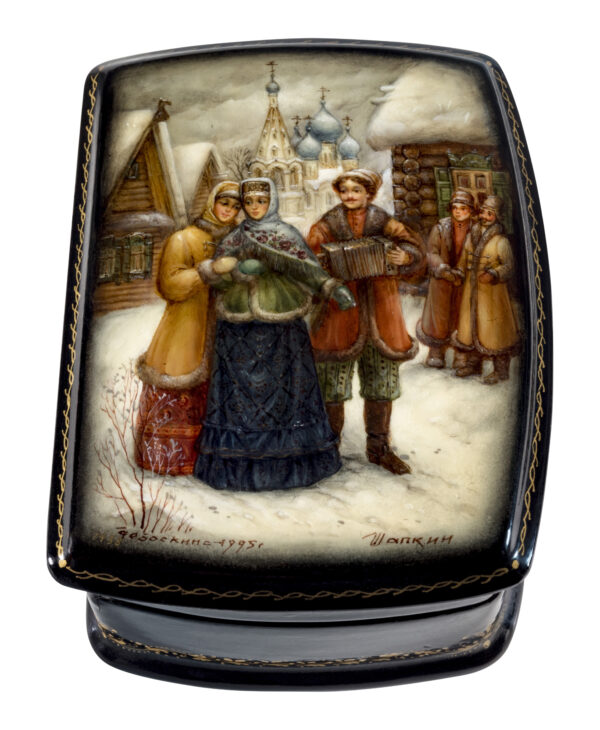 These miniature cultural gems were described as lacquer boxes due to the many layers of lacquer—typically, black and red—applied to the inside and outside of the boxes. The combination of the detailed iconography painting techniques and the lacquered shine give them a special spirit. Similar workshops then opened in Mstyora and Kholuy.
The history of Russian lacquer boxes showcases artists' ingenuity, by integrating and adapting local traditions. This medium first appeared in the 18th century when Peter the Great commissioned Russian iconographers to decorate a room at his Monplaisir Palace with lacquered panels. Like many other decorative arts born during his reign, lacquerware manufacturing was gradually taken over by private companies. 
Four villages spearheaded the development of this new lacquered art form. Each village established a workshop and produced its own distinct, artistic style. 
Heritage and Style of the 4 Villages
All located near Moscow, these four villages gave birth to workshops that created Russia's most beautiful lacquered boxes. 
Fedoskino
Fedoskino is the oldest, lacquer-box manufacturer in Russia. It was the first to work with papier-mâché. Lacquer painting began in the 18th century when Ivan Korobov opened a factory—later called the Lukutin Factory—specializing in papier-mâché objects. Fedoskino artists painted in a realistic style, using oil paints instead of egg-based temperas. They often  used gold, silver, or mother-of-pearl to add richness to their exquisite boxes.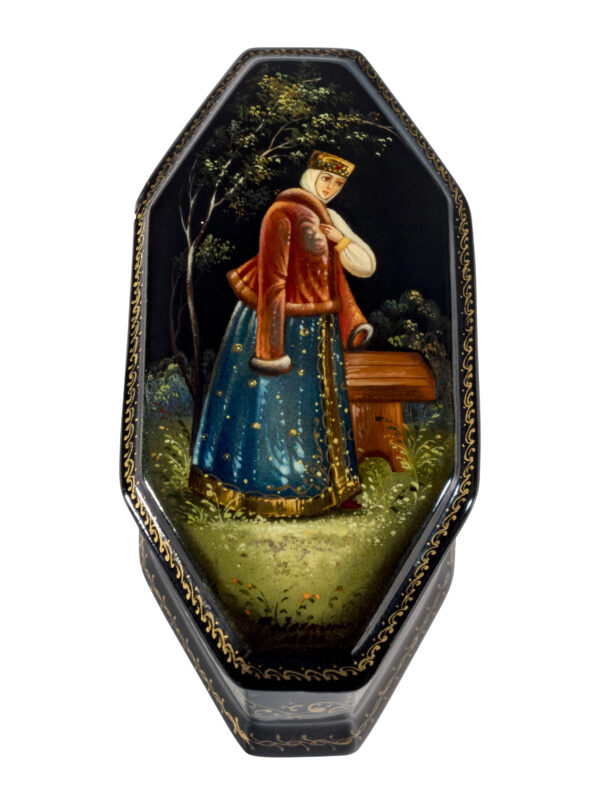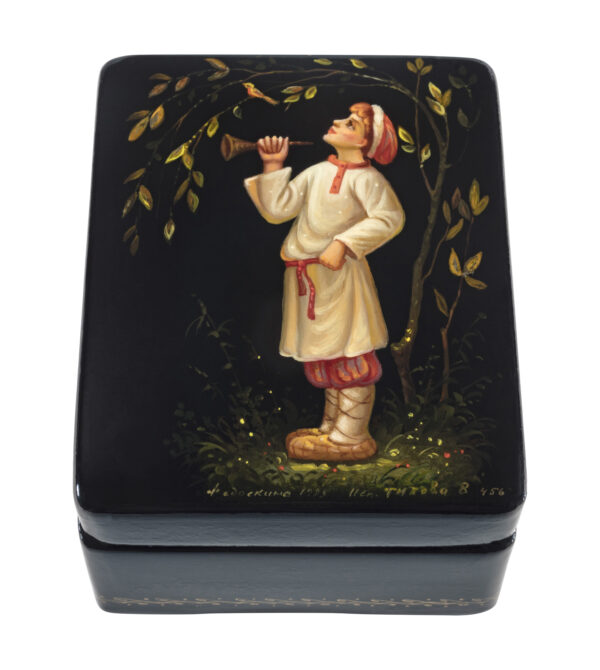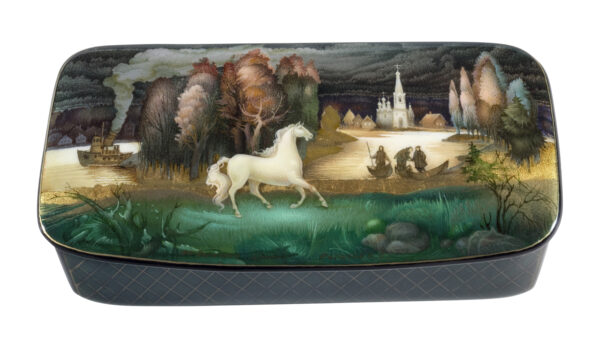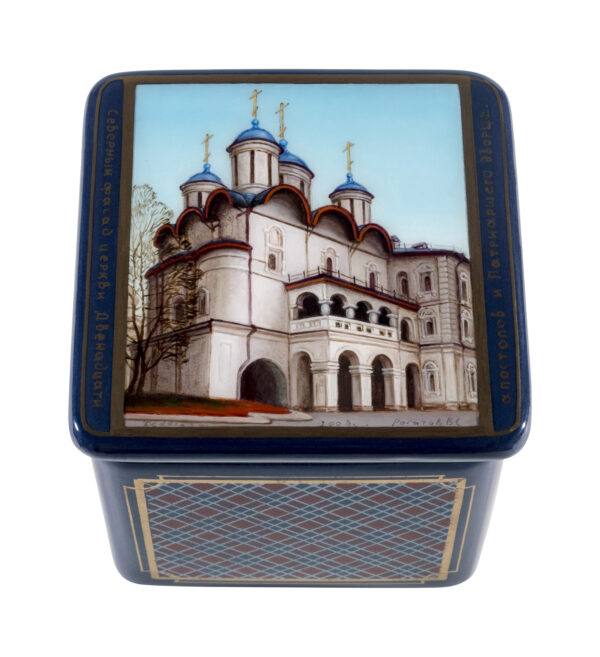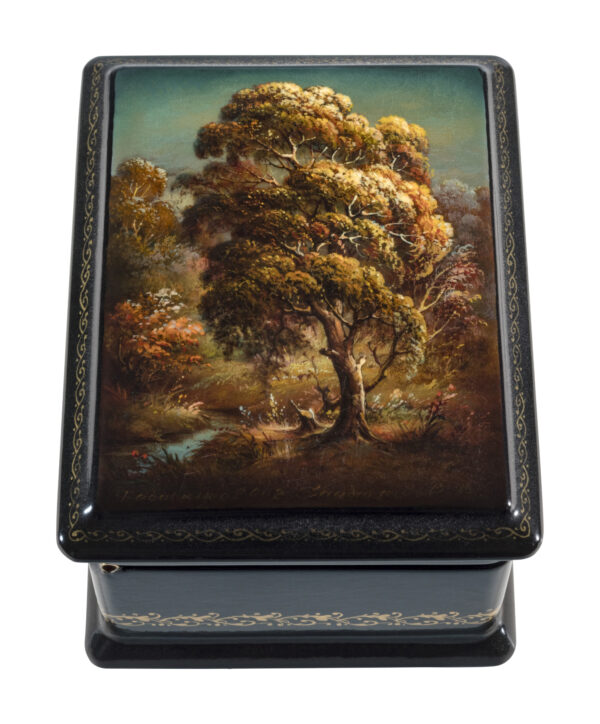 Palekh
Palekh was known for its religious icon painters. After the Bolshevik Revolution, master iconographers began painting papier-mâché boxes with techniques learned from painting icons. These miniature boxes soon became renowned as Palekh icons.
Artists layered bright tempera paint over lacquered black backgrounds, depicting themes of daily life, fairy tales, literary works, and folk songs. 
Palekh artists continue the tradition today. Their exquisite iconography skills are elegantly applied to lacquer boxes detailed with gold- and silver-leaf ornamentation. Admirers fondly call these treasures "small miracles." 
Mstyora
Mstyora grew as a settlement around the Theophany Monastery, which likely influenced the birth of icon workshops. Like other regions, artists from Mstyora tailored their painting skills to other decorative arts, such as lacquer boxes.  
This village's boxes are famed for their multicolored base coats, commitment to realism, and a minimal use of gold leaf. Artists avoided black backgrounds and preferred colorful ones, such as light blue, pink, gold, or ivory colors.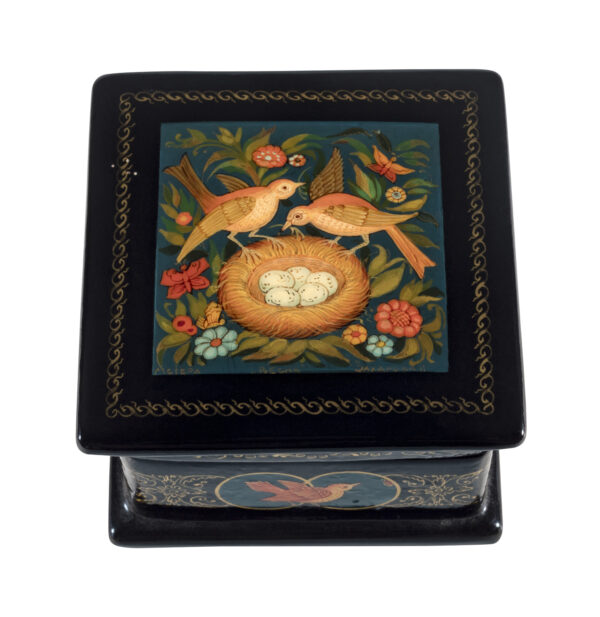 Kholuy
Kholuy's economy thrives on artisanal crafts, such as textiles, woodworking, and, famously, its lacquer boxes. Icon painting in this region began as early as the 13th century. 
Following the revolution, Kholuy artists shifted focus to the new medium of lacquer boxes, as well as other crafts. Although its iconography is centuries old, the Kholuy style is the newest lacquer-box style of the four villages. It's best defined by a warm color palette of deep yellows, browns, and reds.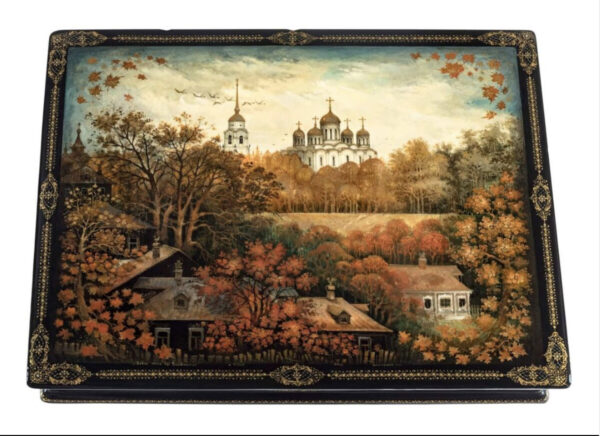 Religious Renaissance
Under the communist rule of the Soviet Union, factories and workshops were tightly regulated. When communism collapsed, there was an influx of inexpensive imitations. Cheap ripoffs in tandem with a struggling economy dropped the value of these ornate lacquer boxes. 
However, these four villages have preserved this rich lacquer art form. Not only have these Russian artists kept this charming medium alive, but as spirituality revived in Russia after the fall of communism, artists are now returning to iconography, the original art form that inspired these miniature masterpieces. 
For more information on these miniature masterpieces, visit MuseumOfRussianIcons.org
J.H. White is an arts, culture, and men's fashion journalist living in New York.