NEW YORK—Millennials are willing to spend more on vegetables compared to their parents and grandparents. At the same time, ironically, millennials are also the ones spending more on sweets than their predecessors, according to a USDA study.
Why did the study also find an increasing preference for sugar and sweets as millennial income rises?
It is not just the simple or common dessert that they are interested in either. Millennials typically wait in long lines to get a multi-colored bagel, unicorn-decorated "taiyaki" ice cream, or cookies 'n cream supreme oreo milkshake.
Upon obtaining their treat, instead of eating it right away, they immediately pull out their phones and take photos to post on social media platforms like Instagram.
To keep this group of customers coming back to their stores, business owners cater to millennials with this trend in mind.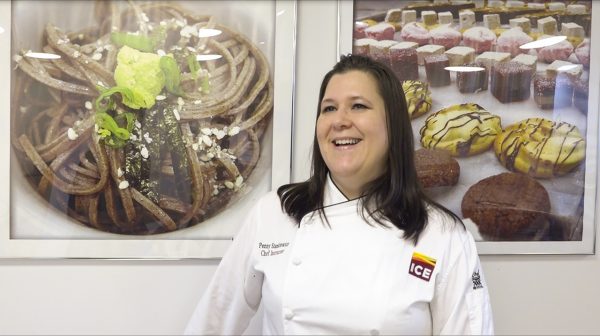 Social Media Enhances Sweet Trend
In general, millennials enjoy "things that are showy" to post on social media, according to Chef Penny Stankiewicz from Institute of Culinary Education.
"They like things that give them a certain level of social credibility, so that when they get that rainbow bagel, or they get that crazy milkshake, whatever it is, and then they photograph it and put it on their Instagram, it's a certain level of achievement," said Stankiewicz.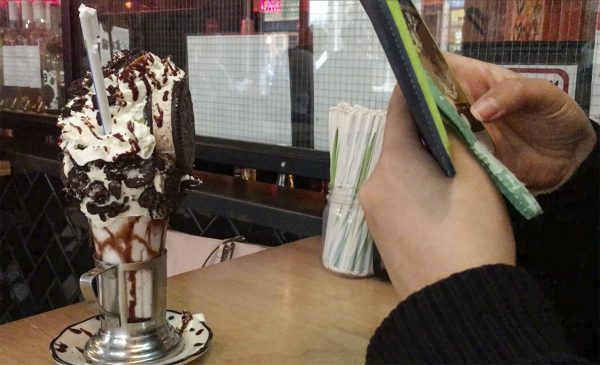 First it was the cronut, a cross between a croissant and a donut. Next was rolled ice cream, followed by miniature donuts and cupcakes. Then it was matcha-flavored everything. Suddenly, unicorn-themed desserts started popping up. The trends go on.
Stankiewicz said businesses have to pay attention to these trends because they need to offer the next innovative products to keep their customers coming back through their doors.
"We offer decadent milkshakes and hot chocolate that are larger than life with layers of sweets, cotton candy, dry ice, and surprising ingredients. The end result is an amazing visual, and our customers love to share the creations on social media," wrote Abel Horner, head of retail at Dylan's Candy Bar, in an email.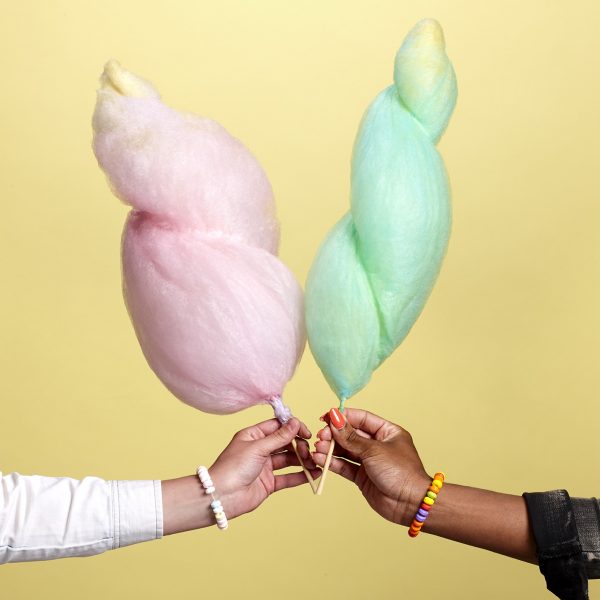 As of 2015, millennials are the largest living generation in the United States. It is important to understand this group's consumption behaviors because they drive retailers to follow certain trends through their decision-making, according to the USDA study.
For some retailers, sometimes that means going elsewhere for new ideas.
"This past summer, Dylan traveled to Japan and was inspired by the wildly colorful and eccentric Japanese markets. She [Dylan] was particularly drawn to cotton candy art and brought that to our stores," said Horner.
When The Epoch Times asked other customers what they liked about their Japanese fish-shaped waffle sweets, 28-year-old Stephanie Owens replied: "Weird flavors I think. Like black sesame, like why would you not want to try that as an ice cream?"
"Something that's fun and colorful, something that makes me happy," said her 29-year-old friend, Sarah Guzzo. "It doesn't necessarily have to be the weirdest thing out there. It just has to be bright and cheerful."
"Obviously it's fun to take pictures, but I feel like it's an experience," said Ciara Johnson, 21, after taking photos of her colorful birthday cake-topped milkshake.
Healthy and Conscious Eating on the Rise
The USDA study found that as millennials' income increases, they tend to allocate their expenses for food at home on vegetables rather than meats and grains.
The study compared food consumption among four groups of people: traditionalists (born before 1946), baby boomers (between 1946 and 1964), Gen X'ers (between 1965 and 1980), and millennials (between 1981 and the mid-2000s).
Researchers found that millennials spend more on vegetables than baby boomers and Gen X'ers, and can equal those of traditionalists. In addition, as millennials become wealthier, they prefer to allocate more of their food at home income on vegetables, suggesting that they are more likely to spend on fruit and vegetables than older generations.
A recent University of Kentucky report that studied buzzwords in millennial food buying preferences found that words that came up the most on Twitter posts included local, fresh, Kroger, organic, and farmers.
On a daily basis, millennials care more about the quality and transparency of their food. They want a combination of enjoying and feeling good about their purchases, according to Stankiewicz.
"They want to know that the coffee was organic or humanely purchased and humanely procured. They want to know that the farmers were paid properly for the beans and their efforts. They want to know that the sugar comes from a high quality place," said Stankiewicz.
She adds that the trending sweets are made to be visually desirable, not necessarily to be good for their health. They are more like weekend cheat-day desserts.
Amy Scott, 24, confirmed the trend. Asked if she eats fancy sweets all the time. "No, no, only for treats."