Melbourne Opera Production Director Says 'Come and See' Shen Yun
April 1, 2014 9:09 pm Last Updated: April 2, 2014 12:54 am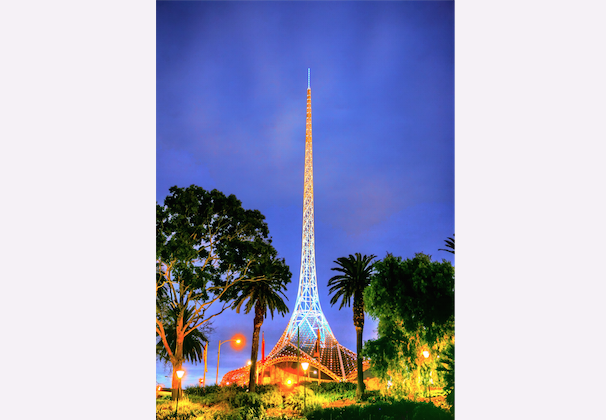 MELBOURNE, Australia—The world-renowned Shen Yun Performing Arts International Company enthralled audiences with their performances at the Melbourne Arts Centre, State Theatre on March 29.
Enjoying the Saturday matinee performance was Hugh Halliday, director of Productions for Melbourne Opera and has lectured for over twenty years at Victorian College of the Arts.
"I'm totally enjoying it. I find it absolutely charming. Mythological scenes are always interesting, especially from a culture that's fairly unknown here. They're all extremely good," he said.
Mr. Halliday liked the combination of different moves, acknowledging they were "very strong." He was impressed with the use of vibrant color to enhance the story of China's ancient culture up to the present day.
"Love the color. They're very bright, strong colours that they use which to me denote mood, feeling, positive, negative, all of that, by using the strong colors."
"Every costume in a Shen Yun performance is presented with brilliant colors, displaying a splendid spectacle. … Every detail is given meticulous attention and is a result of artistic inspiration and careful polishing. The designers stress harmonic balance and contrast," the non-profit company's website explains.
"You've got a peasant dance and it's multi-colored. If you go to the royal palace, you've got the strong colors of the yellows, greens and reds," he said.
Shen Yun's animated digital backdrops complement the dance storylines. The dancers sometimes appear to take a magic leap into or out of this colorful background screen, fly away or do battle with mythical creatures.
"The projections are fantastic—wonderfully staged! Beautiful thought out," said Mr. Halliday.
Principles such as benevolence and justice, propriety and wisdom, respect for the heavens, and divine retribution, all come to life, washing over the audience, the website tells us.
Mr. Halliday felt throughout the New York based Shen Yun's performance there was a message of "the whole idea of truth, reality, feelings," he said.
Shen Yun has become a worldwide phenomenon.
"It's colorful, it's interesting, there's some wonderful choreography and I think you'll come out with a good feeling. People should certainly come and see it."
Mr. Halliday has had an illustrious career as an actor, dancer and choreographer.
He worked for seven years with the English National Opera at the Coliseum Theatre, London as Staff Director. He was also artistic director of Fulham Music Theatre, where he directed and choreographed a variety of popular musicals.
Reporting by NTD Television and Christine Ford
New York-based Shen Yun Performing Arts has four touring companies that perform simultaneously around the world. For more information, visit Shen Yun Performing Arts.
The Epoch Times considers Shen Yun Performing Arts the significant cultural event of our time. We have proudly covered audience reactions since Shen Yun's inception in 2006