Born in 1941 in Argentina, of Argentine and Swiss parentage, Martha Argerich ranks as one of the great pianists of the era.
She began her piano studies at age 3 and performed her first concert at age 8; it was all uphill after that. She went on to win numerous international competitions and awards and embarked on a remarkable performing and recording career.
Some of the major composers whose works she has performed and recorded over the years include Chopin, Beethoven, Bach, Brahms, Liszt, Schumann, and Prokofiev.
Ranking among her finest achievements is a recording of the Chopin Concerto No. 1 in E minor, Opus 11, in which she displays her multiple pianistic gifts.
Needless to say, her technique is impeccable, her clarity phenomenal. Each note is distinct, whether executed in a lightning-fast run or in an almost-vibrating trill. Such is often not the case, even with some major players.
Her attack is powerful; one critic has remarked that when he first heard her play, without seeing her, he assumed that it was a man playing, as there was such force in her sound.
And on seeing her, as I did recently via YouTube, walking onstage demurely, her longer-than-shoulder-length mane of gray hair flowing behind her, I was not prepared for the powerhouse performance I was about to hear.
A brilliant interpretation is apparently second nature to her. Her fingers skim seemingly effortlessly over the keyboard, as she segues from a delicate legato to a fiery and impassioned ferocity. Her tone resounds as if of spun gold.
In physical appearance, she exudes a powerful presence yet is wholly feminine. However, camera closeups of her hands and arms suggest something more: Although her hands seem unremarkable in appearance, her forearms (just partially revealed beyond her near-wrist-length sleeves) are well-developed and somewhat muscular—from decades of practice and performing.
She has repeatedly said, according to the Independent: "I love very much to play the piano. But I don't like to be a pianist." Because she has chosen to avoid the press and publicity, she has been out of the limelight for most of her career.
She has eschewed solo performing in favor of her preferred soloist-with-orchestra work, having remarked that she felt lonely when alone onstage.
Numerous recordings exist of her various achievements, including several of the Chopin Concerto No. 1 in E Minor. One such notable disc has her performing this work with the Symphony Orchestra of Montreal with conductor Charles Dutoit (Argerich's then-husband) at the podium. This recording also includes her performance of the Chopin Concerto No. 2.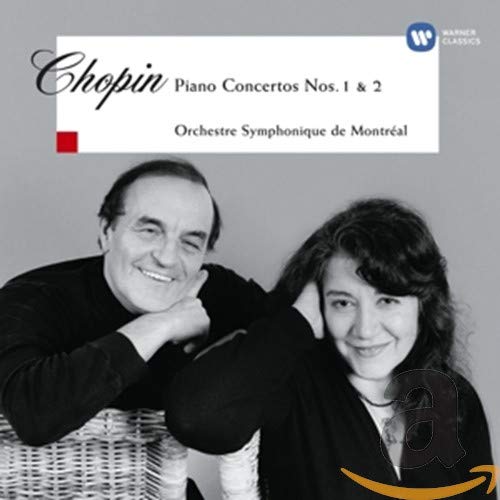 When at age 75, she performed the Liszt Concerto No. 1 with the West-East Divan Orchestra (Proms project) under the baton of Daniel Barenboim, The Guardian wrote: "It was an unforgettable experience."
Just last year, at age 78, when she performed the Tchaikovsky First Concerto, again with the East-West Divan orchestra, The Guardian wrote that her performance "bristled with intensity and intent from the first bar." Conductor Daniel Barenboim was again at the podium.
Music remains at the center of her life. She serves as "president of honor" of the International Piano Academy Lake Como (Italy), and with the Argerich Music Festival in Beppu, Japan.
Fortunately, her pianistic genius has been preserved via numerous recordings and the magic of YouTube.
Diana Barth writes for several theater publications, including New Millennium. She may be contacted at diabarth99@gmail.com