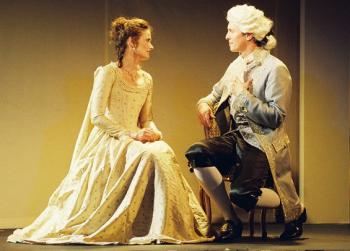 A queen caught in a love triangle
NEW YORK—Playwright Joel Gross has imagined a provocative love triangle between doomed Queen of France Marie Antoinette (Amanda Jones), her court painter Elizabeth Louise Vigee le Brun (Samantha Ives), and an attractive but dangerous courtier named Count Alexis de Ligne (Jonathan Kells Phillips).
The time frame begins 20 years before the French Revolution. At the outset, Antoinette is portrayed as rather naïve, and thus the possible prey of a pair of sophisticates more experienced than she. Because Toinette, as she is known to the pair, is not French-born but rather from Germany, she is thus at a disadvantage. Elizabeth, a highly skilled painter, after only mild conflict manipulates Antoinette into utilizing her skills exclusively—both as court painter and as her confidante.
Elizabeth is a renowned beauty and it's not difficult for the attractive Count to become entangled with her. How does Toinette figure in this? The other two must deceive her, although with affection, for they both genuinely come to care for the basically sweet-natured queen.
As the politics of the period become more dire and the Revolution approaches, pressure mounts on all, but Elizabeth and the Count—both wily survivors—manage to evade the encroaching turmoil. Antoinette, however, is not so fortunate. The final scene shows her, now dressed in a drab gown and stripped of her former confidence and elegance, awaiting execution.
The success of this production lies in its consistently elegant style and fine acting. Director Robert Kalfin has concerned himself with every possible detail that will add to the overall effect of the period and to the effectiveness of the portrayals.

Amanda Jones creates a luscious picture of a ruler, sometimes haughty and imperious as befits her station but at the same time warm and appealing. Samantha Ives combines the attractiveness of a model with excellent acting. Her sometimes cat-and-mouse approach to the queen is always compelling and believable.
As the Count, Jonathan Kells Phillips is that rarity—a handsome leading man who can act. He imbues his character with charm, sexuality, and a somehow appealing deceit. A Footman is also present in the person of Hugo Salazar Jr. Almost never speaking, he theatrically introduces each scene with distinctly different physical flourishes—aided no doubt by the services of Cailin Heffernan, credited for Stage Movement. In fact, the movement and gestures of all the actors are superior and consistent, in a manner not often seen even in Broadway productions.
Beautiful costumes by T. Michael Hall and the simple but apt scene design by Kevin Judge complete the picture.
An unusual, thoughtful, and winning production.
Marie Antoinette: The Color of Flesh
St. Luke's Theatre
308 West 46 Street
Tickets: (212) 239-6200 or
www.telecharge.com
Open run
Diana Barth writes and publishes "New Millennium," an arts newsletter. For information: diabarth@juno.com