Katherine Manning was a graduate student when she began taking in refugees. She had a degree in sociology, but left a career in social work due to dissatisfaction with what she saw as the government's wasteful habits. An Iowa-born Miami transplant, she had hosted Vietnamese friends in her Miami home before, but in 1975, when she saw on TV the plight of refugees fleeing Vietnam after the fall of Saigon, she was moved to take action.
"I didn't know the culture," Manning said. "I didn't know the class makeup. I learned it all on the job." She hosted 14 refugees in her home over the years, but her connection with one of them—Tung Nguyen—was special.
If Manning had listened to one Vietnamese friend from university, who told her not to talk to Nguyen because she didn't understand English well enough, their story of the power of friendship and food may never have unfolded.
"That is part of the culture, because Tung comes from the country," Manning said. "She would be called a farmer, a peasant. She didn't have a lot of opportunities that other people had."
On top of that, the 27-year-old Nguyen arrived at Manning's house pregnant and alone. Still, that didn't faze Manning. She didn't heed that friend's advice, and she found that, in fact, Nguyen understood everything she said.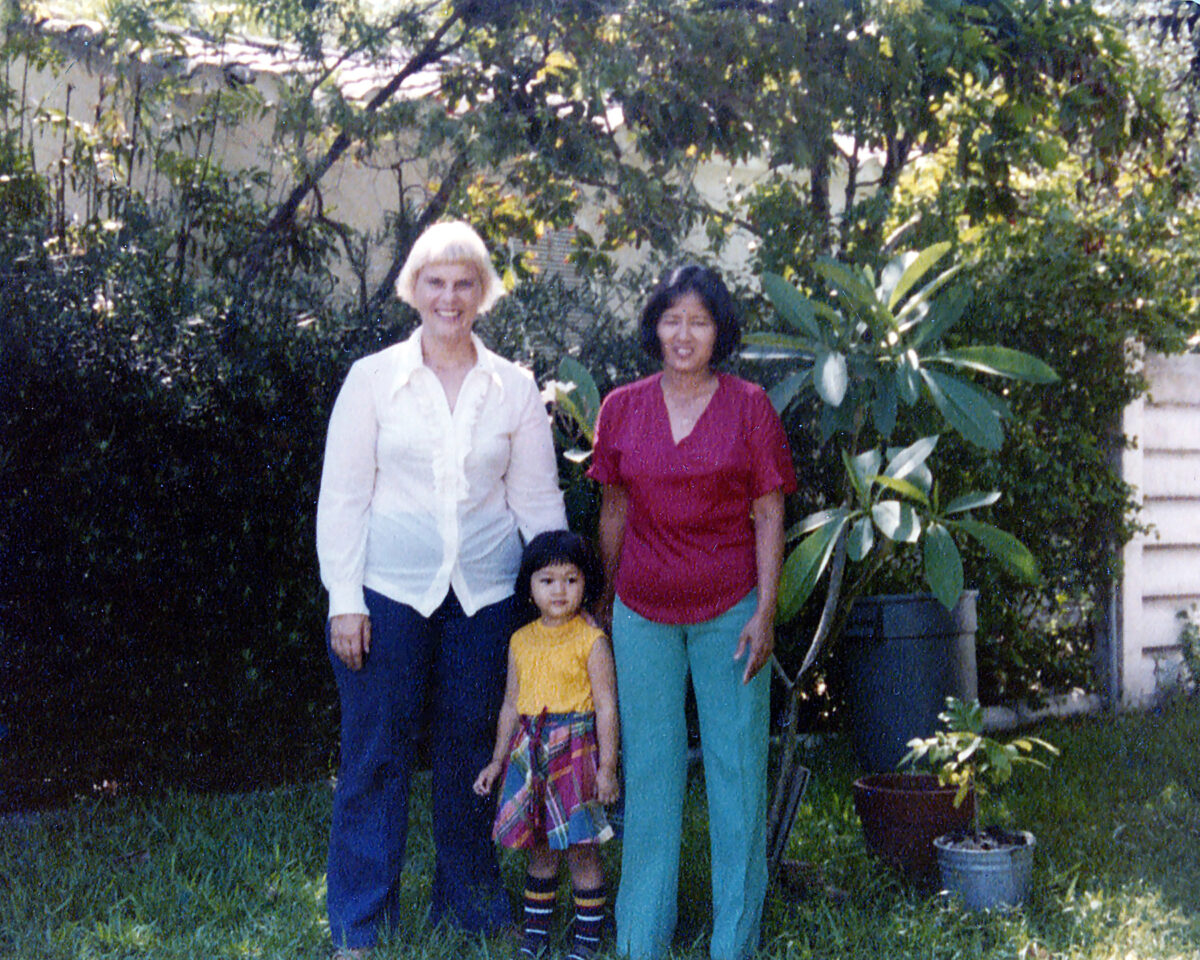 Despite the odds, the two hit it off—and have worked in tandem ever since, not only to raise Nguyen's daughter, Lyn Nguyen, but also to open and run a restaurant, Hy Vong, which means "hope" in Vietnamese. The venture began when neighbors requested regular deliveries of Nguyen's fabulous homemade pho, and eventually grew into one of Miami's most celebrated restaurants, attracting foodies, celebrities, and a devoted local following.
Their story—and a selection of their recipes—is now captured in full in a part-memoir, part-cookbook published by Chronicle Books. "Mango and Peppercorns: A Memoir of Food, an Unlikely Family, and the American Dream" was written by Tung Nguyen, Manning, Lyn Nguyen, and writer and editor Elisa Ung.
"It's a story of two countries mixing, and two people from different religions, different educations, different languages, different countries, how they can mix," Manning said. "It's not all easy, but it's worth it."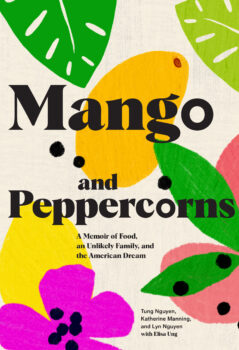 Building a New Life
Upon Tung Nguyen's arrival in America, she needed work, and it soon became obvious that she was a natural in the kitchen. "She came into my house and she took over the kitchen," Manning said. "I had a taste of her food and I said, 'Wow, I have tasted Vietnamese food before, but I never tasted anything like this.' I began to see her talent. She has a knack for it that's unbelievable."
Nguyen worked in back-of-the-house roles at restaurants while selling her beloved pots of pho on the side—until fate intervened.
"One day, on the way over, the pot spilled," Manning said. "It spilled all over the car. It went everywhere. And that was Tung's money for the day." In that moment, Nguyen knew she needed a spot of her own: a simple, stationary place from which she could sell her soup. She and Manning found a cheap spot on 8th Street in Little Havana and, over the next few years, transformed it from its prior life as a clothing store into a bustling restaurant.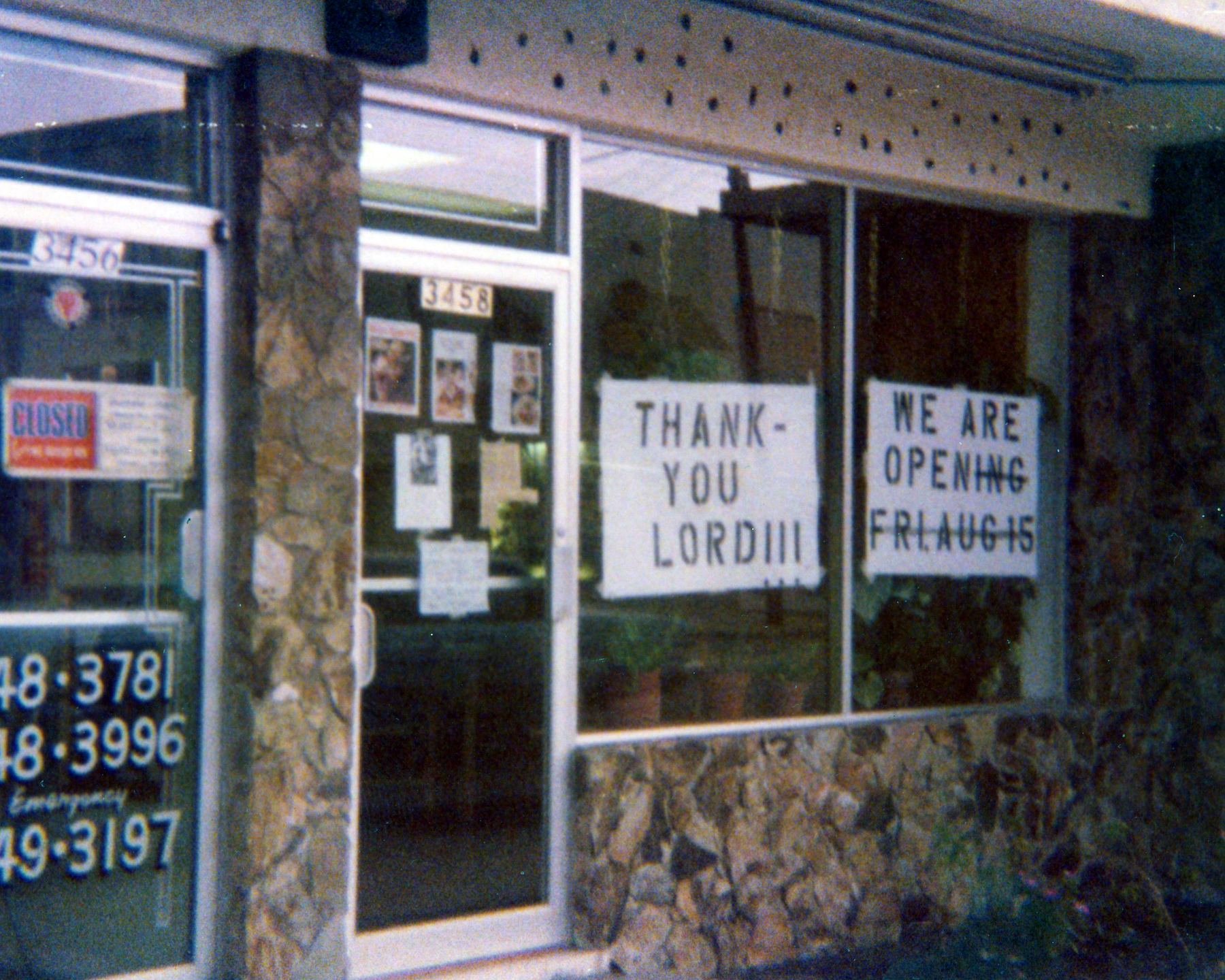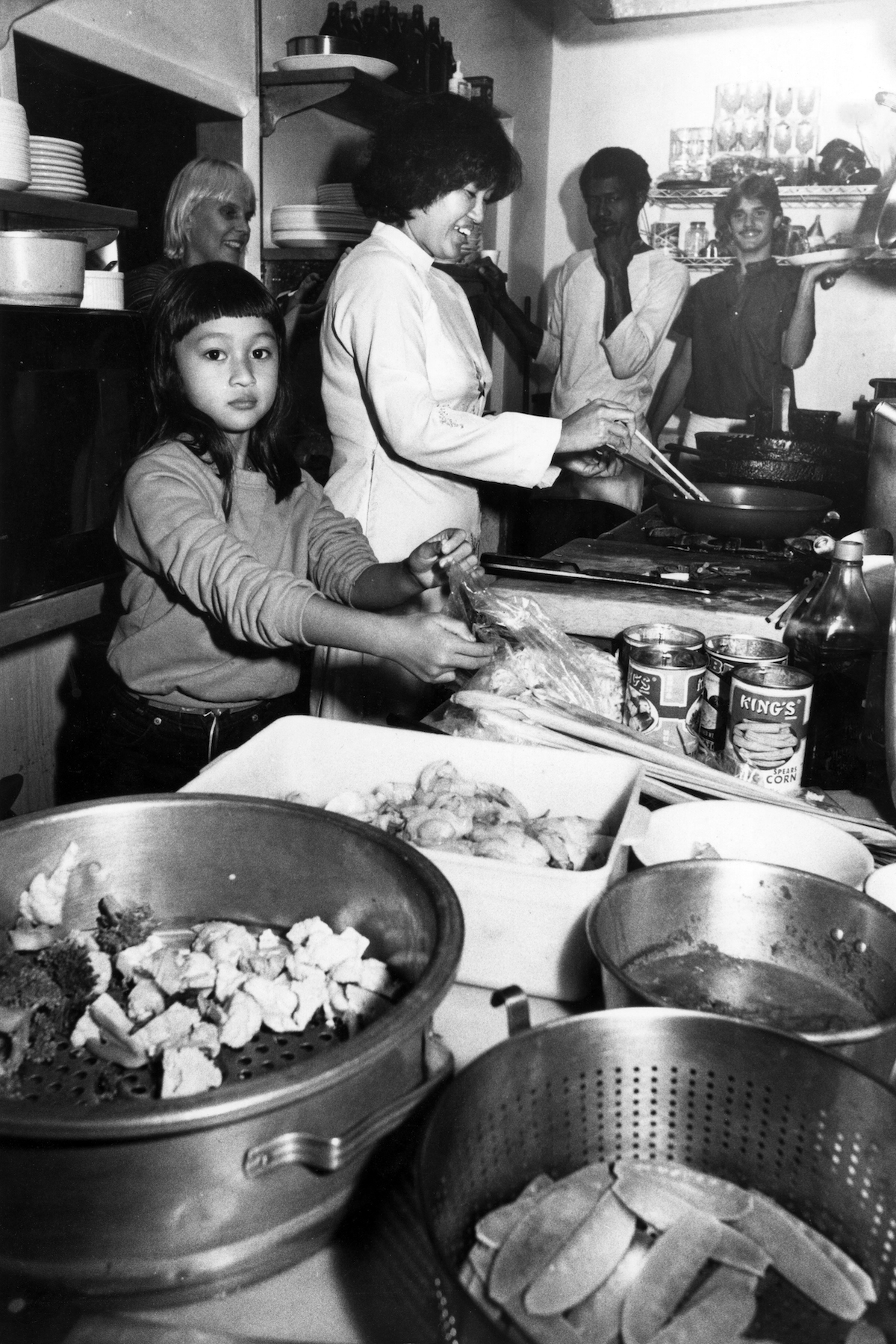 Soon after opening, Hy Vong received a positive review from the Miami Herald. From there, the restaurant went on to enjoy a 36-year run with brilliant success, during which beloved dishes like steamed pork rolling cakes (banh cuon), spring rolls, and chicken with sweet potato developed a cult following, thanks to Nguyen and Manning's hard work and uncompromising dedication to quality.
Their beautiful harmony is perhaps best symbolized by Hy Vong's signature mango and peppercorn sauce, which they often served over fish. Nguyen and Manning came up with the sauce together—a combination of elements that seem to contrast, but, in fact, create a flavor richer than the sum of its parts.
A Lasting Legacy
While thousands got to enjoy the tasty results of Nguyen and Manning's synergy over the years, none received an experience quite so holistic and personal as did Nguyen's daughter, Lyn.
"I had everything I needed from a family unit in Kathy and my mother," Lyn Nguyen said. "They balanced each other out [and] I had very strong role models. I was able to look up to two women and say, 'I want to be like that.' … We didn't have a lot of money, but we had a lot of love."
The values that Lyn Nguyen learned from her mother and Manning, especially her mother's bold individualism and entrepreneurial spirit, shaped her path in many ways; perhaps unsurprisingly, Lyn grew up to start her own business, an artificial intelligence firm.
"It takes a lot to be your own boss and to run a company, and to have the confidence and the drive to say, 'I can do it' when the world is against you—and to keep pushing," she said. "And I think that's a very strong value that I got from them."
Another is the beauty of being true to yourself. "My mother would never compromise," she said. "Even when they first opened the restaurant and people didn't know what fish sauce was and what lemongrass was and what ginger was—things we take for granted today—she still cooked with that and still made her food spicy, because that's who she was."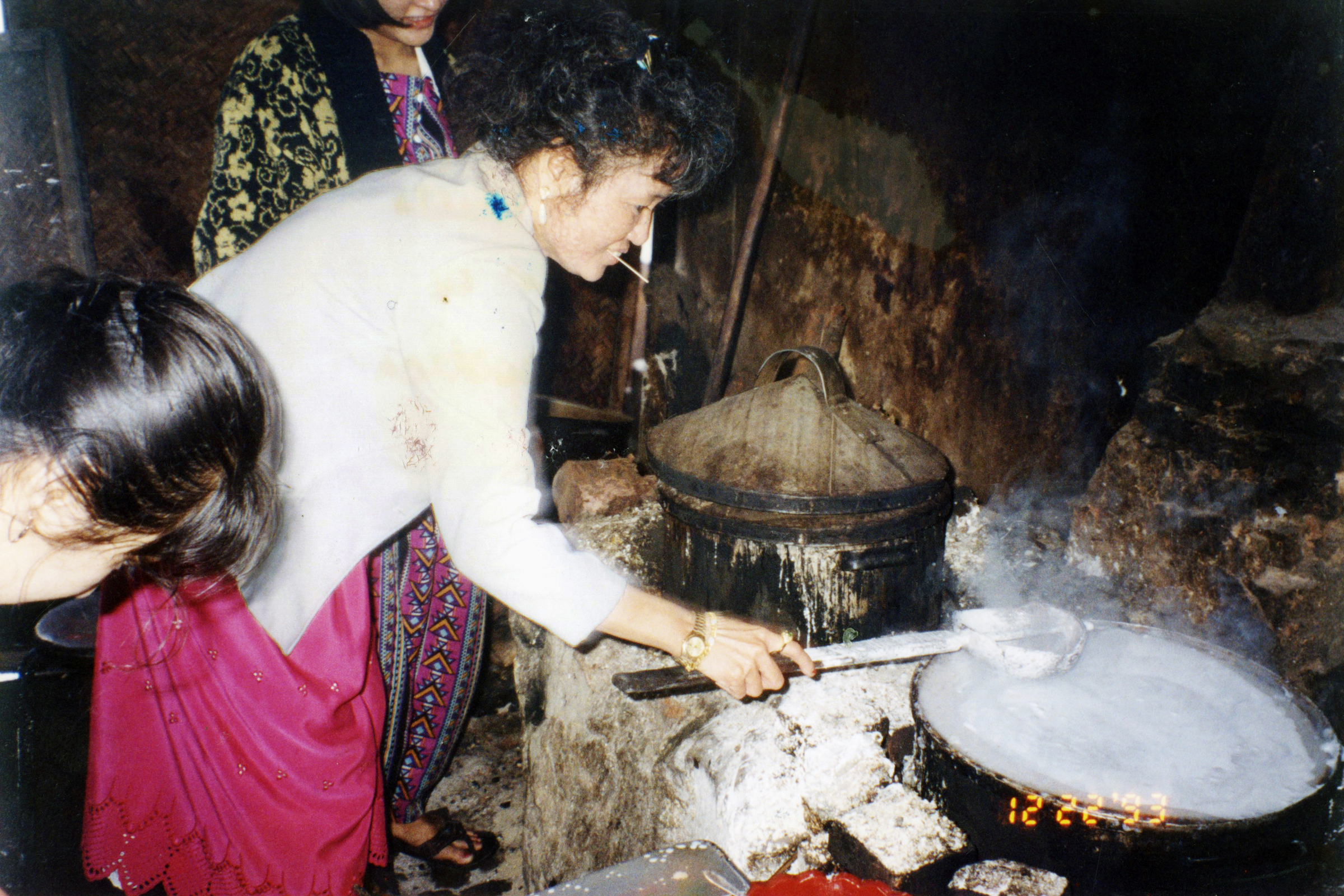 The Nguyens and Manning's story is an inspiring portrait of resilience, entrepreneurship, love, perseverance, and the sort of unlikely harmonies that weave the colorful tapestry of the American Dream. In her cooking and its power to draw all walks of life together, Tung Nguyen found belonging in a country that became her own.
"I think of it similar to a lotus lily pad that is floating in the water and has finally found ground," Tung said of her perspective on the American Dream. "In America, I was able to put down my roots and become a respected part of society. I was able to build a successful business and be appreciated for my talents and my contributions, not on where I came from. It was about having unlimited opportunities for me and my child."
While Hy Vong closed in 2015, that doesn't mean Tung stopped cooking. Occasional pickups of her culinary creations are available in the Miami area, and people anywhere have connected virtually with her flavors via online cooking classes.
"What we're really trying to do is teach people how to cook," Lyn Nguyen said. "Our restaurant was very much about the democratization of Vietnamese food. Anybody could eat there; everybody was welcome. And so we really want to show people that they can cook Vietnamese food in their homes, and it's not difficult. It's not way out there. You can get ingredients in your normal grocery store today."
It seems the best spot to settle in with a copy of "Mango and Peppercorns" is not a cozy reading nook but at your very own stovetop, where you can make their recipes your own and draw faces both familiar and foreign to your dinner table.
RECIPE: Hy Vong's Spring Rolls (Cha Gio) With Nuoc Cham
RECIPE: Hy Vong's Fish With Mango Sauce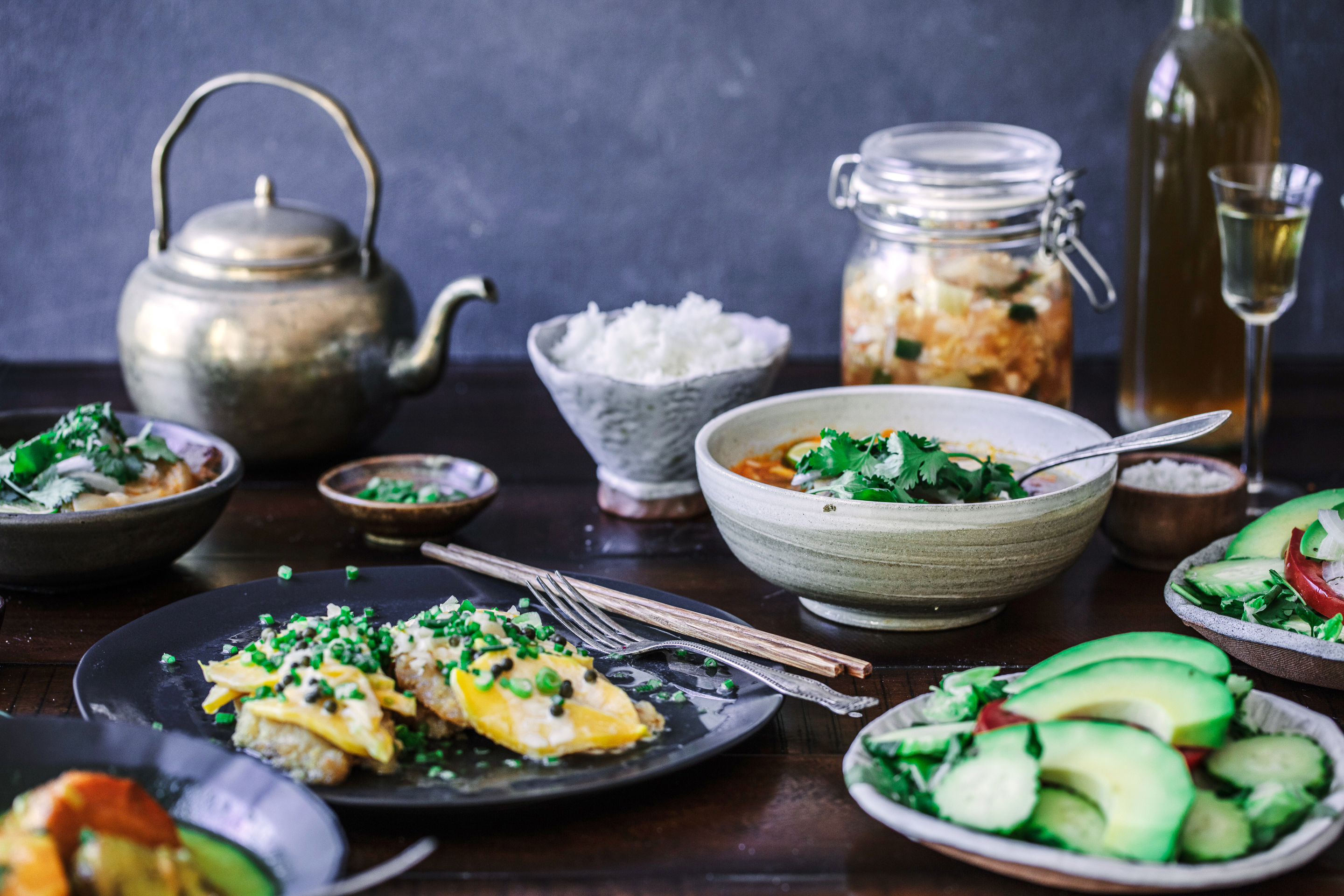 Skye Sherman is a freelance travel writer based in West Palm Beach, Fla. She covers news, transit, and international destinations for a variety of outlets. You can follow her adventures on Instagram and Twitter @skyesherman