At 80 years old, Ted Dreier, of Franklin, Tennessee, displays the same passion for sharing the universal benefits of courtesy as he did at 60, when he began using a unique tool to teach children about kindness.
In 1998, Dreier began his nonprofit organization, Children's Kindness Network (CKN), to help kids from ages 3 to 8 learn methods for exhibiting graciousness to themselves, other people, animals, and the earth.
He handcrafted a lovable icon specifically to help deter bullying in young children.
Dreier, also known as "Farmer Ted," continues to speak to kids at schools, churches, community events, and hospitals throughout the United States.
He teams up with Moozie the Cow, the robotic character he created. Moozie recites lessons he has been programmed to speak, and emphatically spreads the organization's motto: "Always be kind."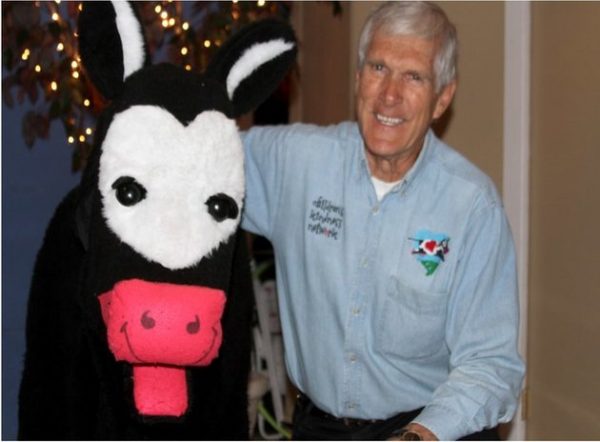 Today, the nonprofit also shares uplifting materials with children facing difficulties, such as poverty, a new foster home, or the loss of a loved one. Through the use of books, activities, and music, the kids are encouraged to remain positive and goodwill is fostered among children globally.
A Memorable Experience
Two decades ago, Dreier was conversing with an incarcerated individual as part of a prison ministry, and was struck by how contrasting this youthful life could be had someone taught him positive social behavior during his earliest years.
"This young man was up for murder," Dreier sadly recalled to The Epoch Times. "The choices he made could have been different had someone just encouraged him as a young child to choose compassion over intimidation."
Based on that exchange inside the jail, Dreier decided to start "paying rent for being on the planet," as he put it.
"God had been so good to me, and it was time for me do something good while I was still here on earth," he said.
Inventing a Cow
Dreier, who was working as a nationally-known speaker on customer relations at the time, enjoyed tinkering in his garage. After meeting with the young man in jail, he began making his own mechanical farm animal in his spare time.
"For some strange reason, I decided to see if I could build a robotic cow, and that is how my talking Moozie was born," he said.
At first, Dreier was uncertain how to best utilize Moozie.
The inventor decided to use the mascot to do a lighthearted bit for adults, and went on to appear with it at a few community events.
Shortly after, a Head Start school providing early childhood education in Denton, Texas, heard about Farmer Ted and Moozie the Cow and contacted Dreier, requesting he and his sidekick travel there to educate preschoolers on agriculture.
He had already considered having Moozie teach farming facts to youngsters, and since he did grow up on a farm in Kansas, Dreier said yes.
Based on that powerful conversation with the prisoner, however, the then 60-year-old determined he should have his robotic creature teach the class a valuable life lesson on character, as well.
"I went to the school and used Moozie to encourage the kids to spread the milk of human kindness," Dreier said. "These wiggly kids were glued to the cow."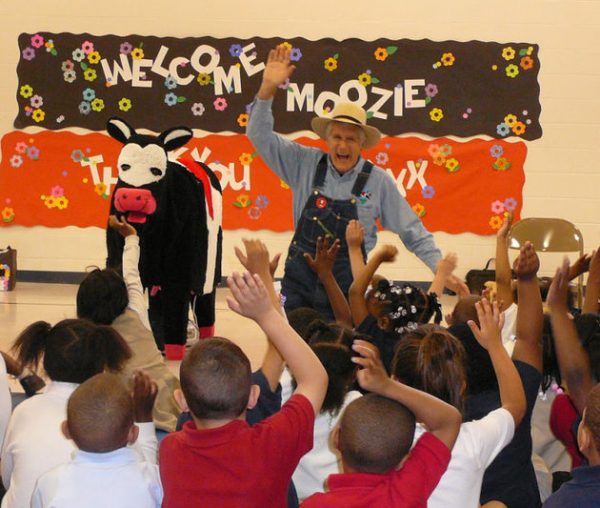 Connecting to Moozie
Quickly following that first appearance before a preschool audience, Dreier established CKN in 1998 to initiate thoughtfulness in little ones, with the young man in prison in mind.
"I had visited him for 18 months, every week, and thought how if he would have had Moozie in his life as a child, it might have influenced his choices," he said of the prisoner.
"It was that thought that gave me the push to step back from the corporate world and dedicate this chapter of my life to Moozie and reducing violence among children," said Dreier.
He then assigned Moozie to serve as the organization's official ambassador for kindness.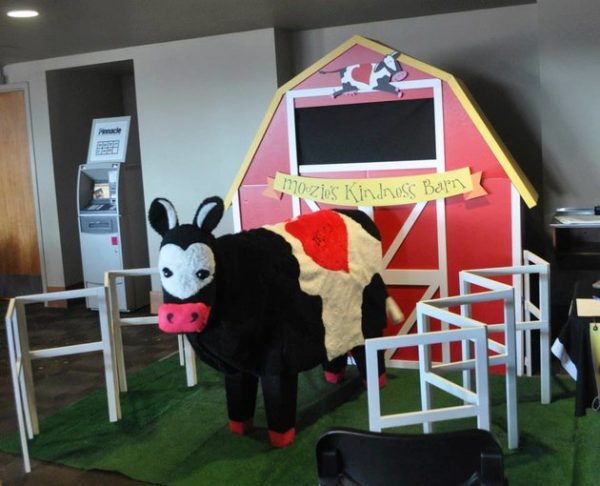 CKN's mission was being shared through the Nashville, Tennessee, area, and Farmer Ted and his cow were frequently being requested at events and schools by 2000.
"Kids at a young age really were connecting to us," he said. "All I had to do was introduce Moozie as a role model and the lessons began to stick."
Once word began to spread on the impact the kind cow was having on minors, Farmer Ted's schedule began to fill up even faster.
"Teachers were hearing students use Moozie's name on the playground for weeks after our 25-minute presentation," he said.
Dreier would often receive correspondents from early childhood educators, following an appearance, to let him know they were catching their students saying things like, "Moozie wouldn't like you to say that," and "Moozie wouldn't want you to do that."
The buzz surrounding Farmer Ted and his cow led CKN to seek ways to connect with kids who may not be able to hear a presentation in person.
Stories and Music
In 1999, the nonprofit unveiled its first hardcover children's book, "Moozie's Kind Adventure," written by award-winning author Jane Morton, and illustrated by Jane Royse.
In this tale, Moozie rescues three ducklings from a stampeding herd, displaying care for those with differences.
In 2008, on the 10th anniversary of CKN, Dreier commissioned Kim Scharnberg, an acclaimed composer and conductor, to produce music to accompany the organization's second book, "Moozie's Orchestra Adventure."
Dreier particularly loves this fictional account of a triangle wishing to join the orchestra but afraid his sound and size could keep him from fitting in. Moozie encourages the triangle, helping him find his niche in the percussion section.
"Moozie's Orchestra Adventure" is available on CD and features Arizona State University's 80-piece orchestra, with then professor Dr. Timothy Russell conducting, and the voices of Wynonna Judd, Kathie Lee Gifford, Ben Vereen, and other celebrities.
"The fabulous scores by American composer Kim Scharnberg, as coupled with the wonderful messages of kindness, touch the heart and ennoble the spirit," said Russell, now with the ProMusica Chamber Orchestra of Columbus, Ohio. "Children of all ages experience how music can transform lives in positive ways."
The tale of sweetness and diversity has been done by different orchestras during the past decade, with the Atlanta Symphony Orchestra performing it before a young audience 12 times.
"A dream of mine is that 'Moozie's Orchestra Adventure' will be as popular one day as 'Peter and the Wolf,'" said Dreier.
Encouraging Empathy
CKN remains dedicated to using Moozie, who also appears at functions in puppet form or as a costumed character, to help children discern between gentle and aggressive behavior.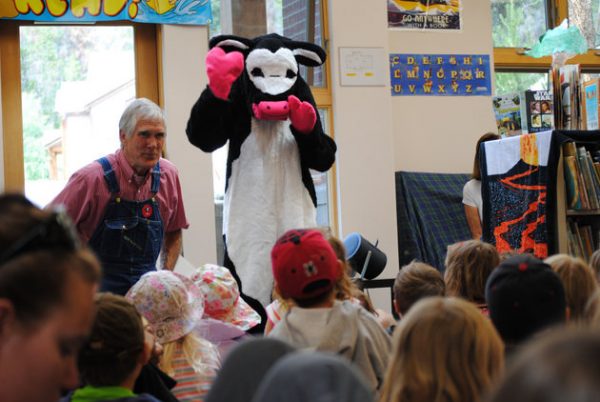 The Tennessee-based nonprofit continues to promote its educational materials available for use in classrooms, libraries and by civic groups, including the Girl Scouts.
Farmer Ted and Moozie still visit very young children to instill nice behavior.
"Working with the early stages of brain wiring and helping them develop empathy is critical in stopping bullying before meanness gets on the playground," Dreier said.
CKN is devoted to combating aggression at the foundation level and replacing it with ethical character traits.
The charity urges little ones to be kind to themselves through exercise and learning; to be kind to others by making new friends; to be kind to animals by petting, feeding and protecting them; and to be kind to the earth by recycling and planting trees.
The success of the program has been examined by Nashville's Lipscomb University.
The college's study on CKN concluded Moozie is effective in addressing bullying in young children, and after introducing the courtesy cow, children begin to use words to express their emotions instead of through crying, kicking or hitting.
Graciousness is not weakness, retired United States Air Force General Ronald Yost has said. The nonprofit features the words of Yost on its website.
"Kindness requires strong character and is important to us as a society," the retired general said. "Teaching and encouraging kindness to young children is the foundation for reducing violence and bullying among children."
Packs from Moozie
Now moving into 21 years of existence, CKN also is focused on its work with the military.
The nonprofit partners in an event called Yellow Ribbon Day, held for children whose parents are being deployed overseas. Bags are also given to young ones who have an incarcerated parent, or children just placed in a new foster home.
Children at the event each are given a free "kindness pack," courtesy of Moozie, containing the organization's books, CDs, coloring sheets, crayons, and other items.
Each backpack costs CKN $48 to put together. The organization relies solely on donations to provide these backpacks to youngsters going through transition in their lives.
"We may need a 1,000 more kits to pass out this year, so financial contributions are very important," he said.
Dreier has never taken a salary through his program; 100 percent of all financial gifts are used to help children.
Donations may be made on CKN's site at moozie.org.
Moozie's Future
Dreier hopes young children one day automatically associate kindness to Moozie, as they do fire prevention to Smokey the Bear.
The golden-aged man who also has authored four books and served as a teacher for a portion of his life in Africa, has no intentions of slowing down anytime soon.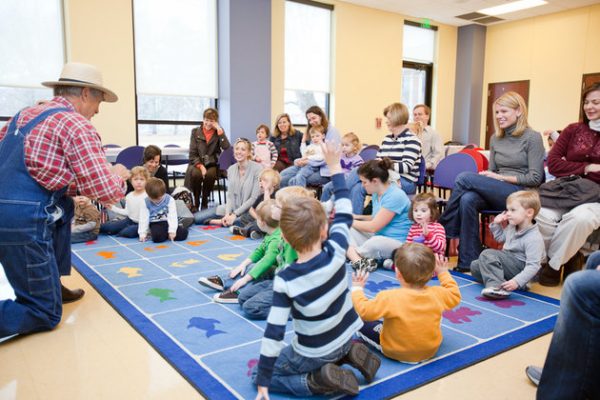 "People my age often become depressed, but it is critical to keep young at heart," he said. "We need to find a way to reach out beyond ourselves."
Dreier said his nonprofit is structured to go on indefinitely after his passing one day.
"The importance of spreading the milk of human kindness remains relevant in 2018, and it will for decades to come," he said.