There is a sound in Switzerland unlike any other, and one that rarely crosses the country's borders. No, I'm not talking about the ticking of millions of timepieces or the jingle of cowbells, but the musical tones created by the Örgeli. The Schwyzerörgeli, as it is properly called, is a type of diatonic button accordion used in Swiss folk music. Örgeli is the diminutive form of the word Orgel (organ). In a country of only 8.5 million people, very few still know how to build the delicate instrument, which consists of about 3,500 separate parts.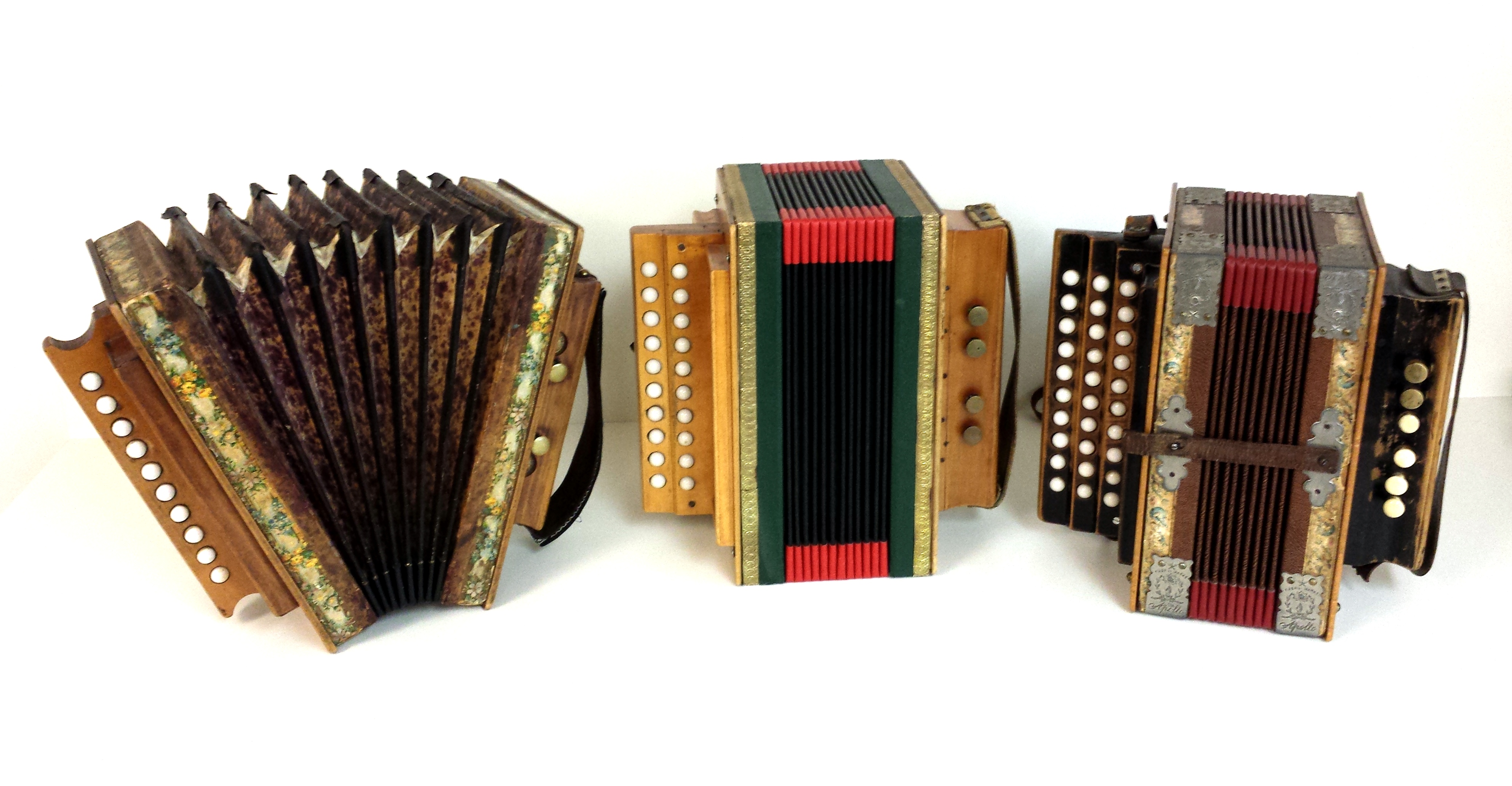 To learn more about the rare workmanship, I traveled to the remote Emmental Valley, where the renowned örgeli manufacturer Hansruedi Reist followed his father Rudolf into the trade 35 years ago. The unassuming window in Wasen's main street belies the treasures hiding behind in the studio and basement underneath. Every year, thousands of minuscule pieces laid out on long tables and taken from countless shelves are assembled here with meticulous precision to make about 150 örgeli.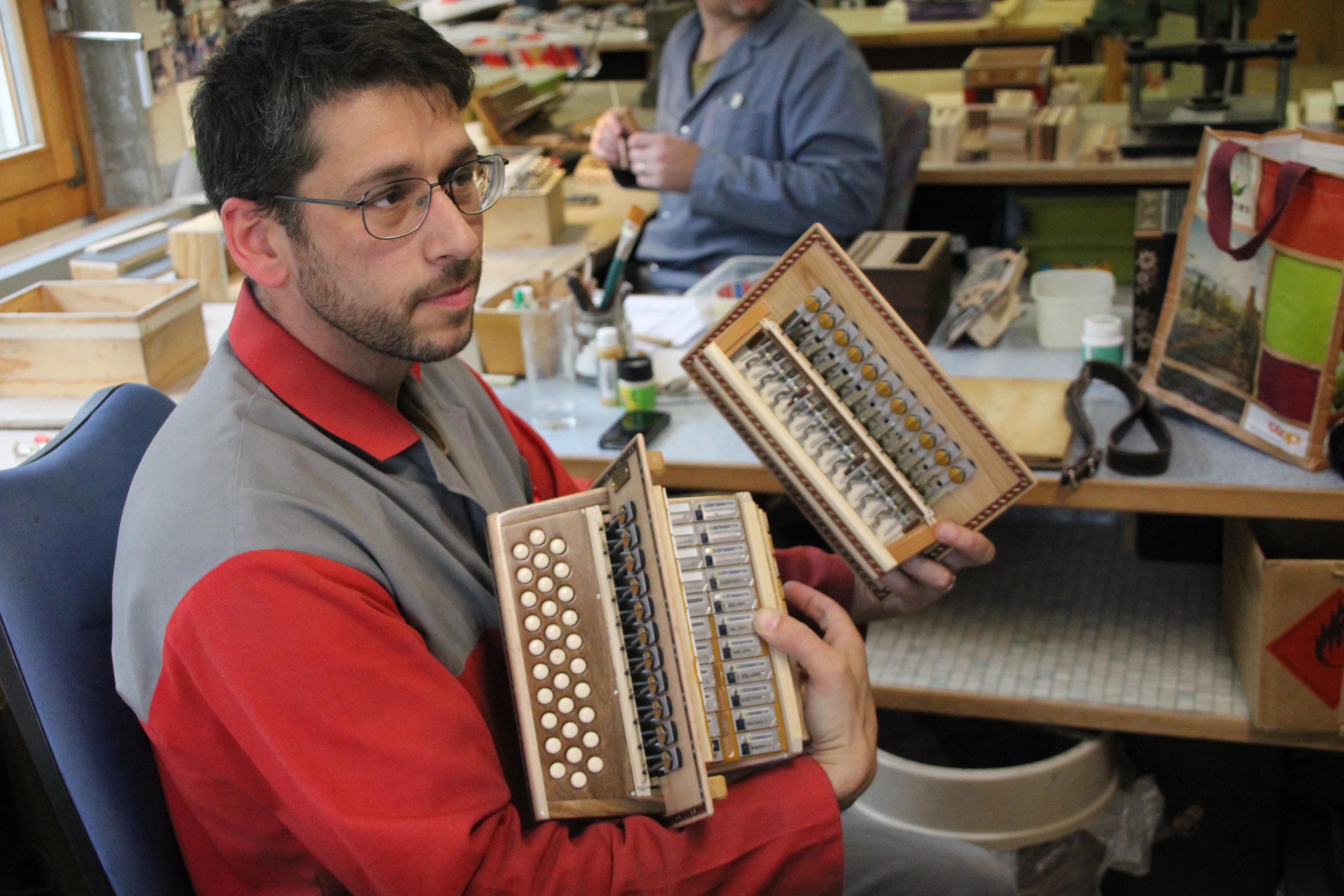 The accordion was brought originally to Switzerland in the 1830s, soon after its invention in Vienna. The earliest versions were typically one- or two-row diatonic button instruments. A typical Schwyzerörgeli today has 18 bass buttons arranged in two rows (one for bass notes and one for major chords), and 31 treble buttons arranged in three rows. The difference between a normal accordion and the Schwyzerörgeli is that the direction of the air, in or out, produces two different tones. The unique tone is called "Schwyzerton," and it was this sound that fascinated Rudolf Reist early on.
"I've always been captivated by how such beautiful music comes into existence," said Rudolf. "When I was in third grade, I dismantled my first örgerli and had to borrow the six francs for it from our servant." The son of a farmer, he learned to play the instrument without ever taking classes, and when he fell on financial hardship in 1966, he began building örgelis in his spare time.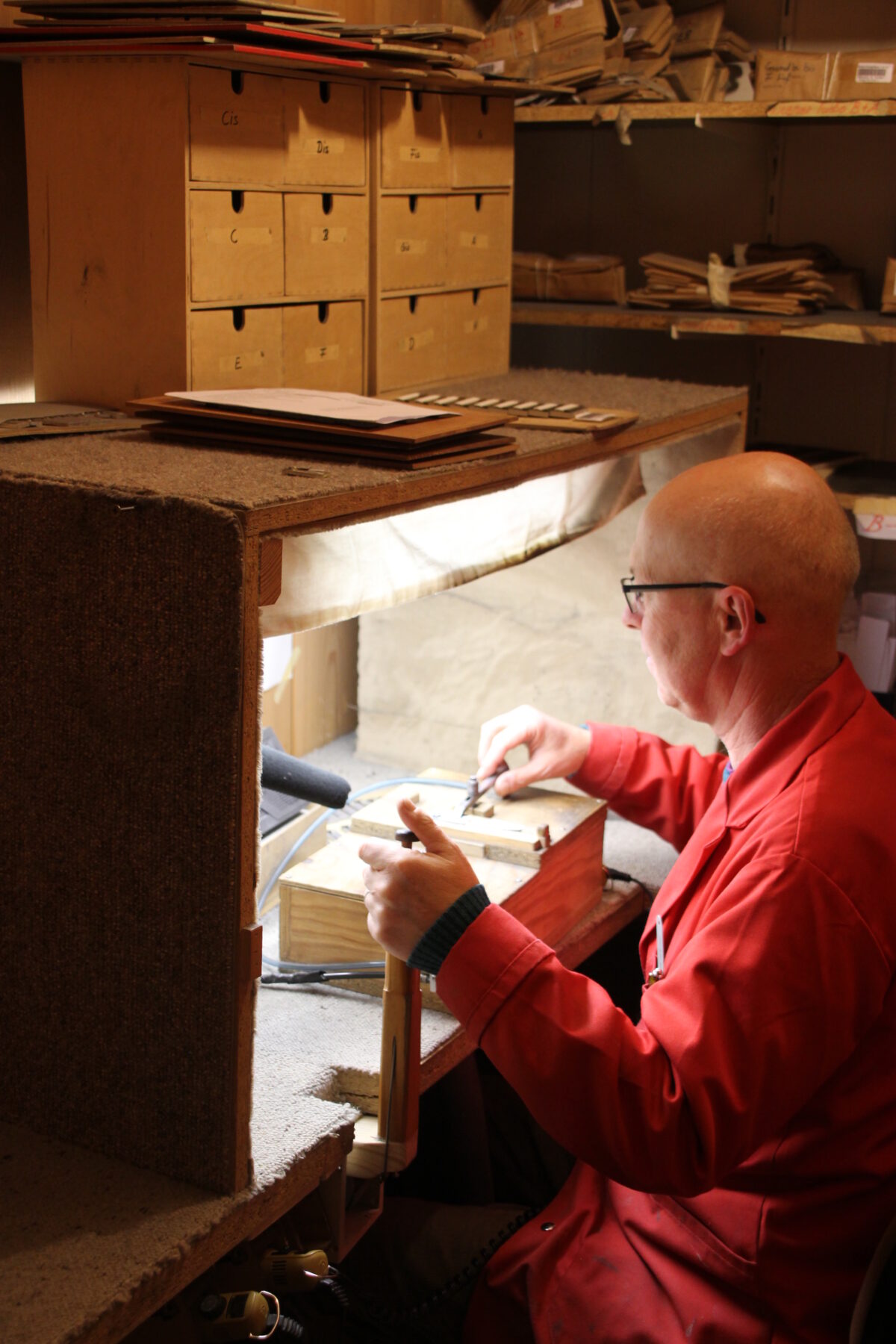 A Brilliant Difference
But how could he make his instrument different from all the others that were already available? Rudolf Reist had the brilliant idea to make the treble key arms, which control the air flow, of metal instead of wood. The difference was significant, as the metal parts guaranteed a consistent sound effect in humid conditions. A good friend of his, a truck driver, took the first Reist örgelis on his travel routes, and soon the elegant craftsmanship and beautiful sound of the instrument gained a reputation beyond the Emmental Valley.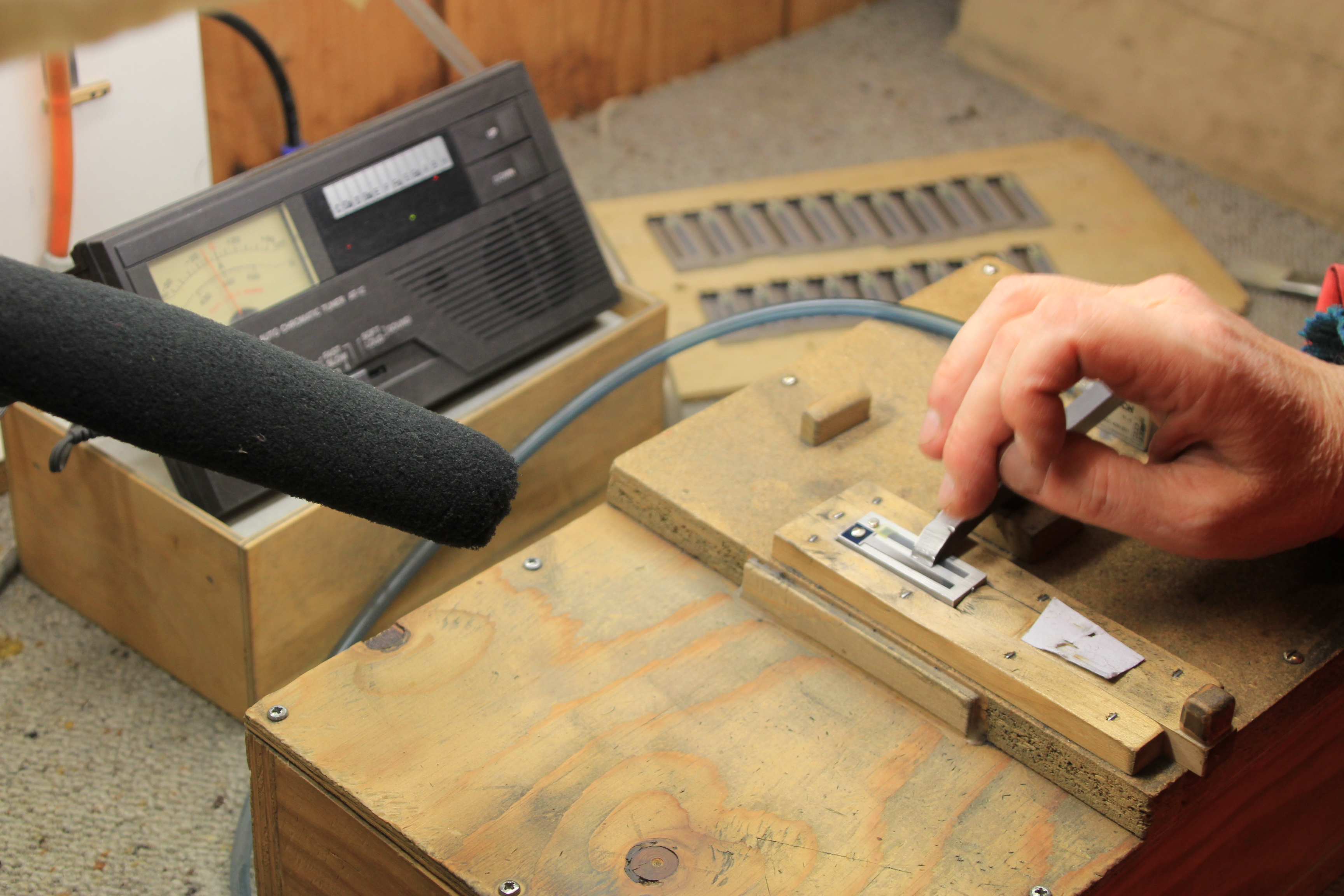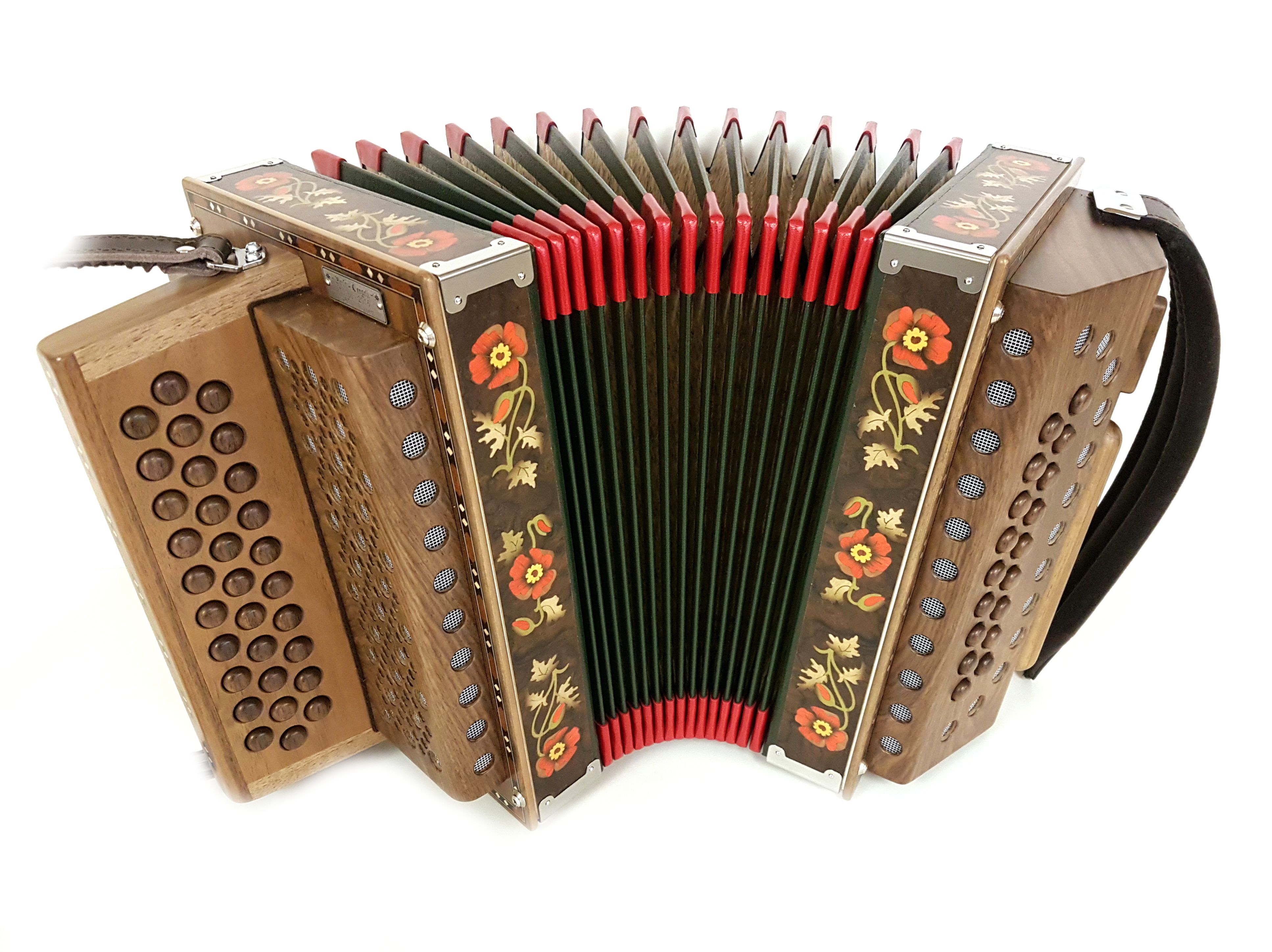 The örgelis were soon in high demand, and after founding his own business in 1974, helped by his wife and oldest son Fritz, Rudolf managed to build 35 instruments in the first year, followed by 70 the following year. In the late 1970s, the waiting list had extended to six years. Originally, it took about 250 hours for one örgeli to be built, though this has been reduced to about 150 hours these days, as a few pieces can now be produced mechanically.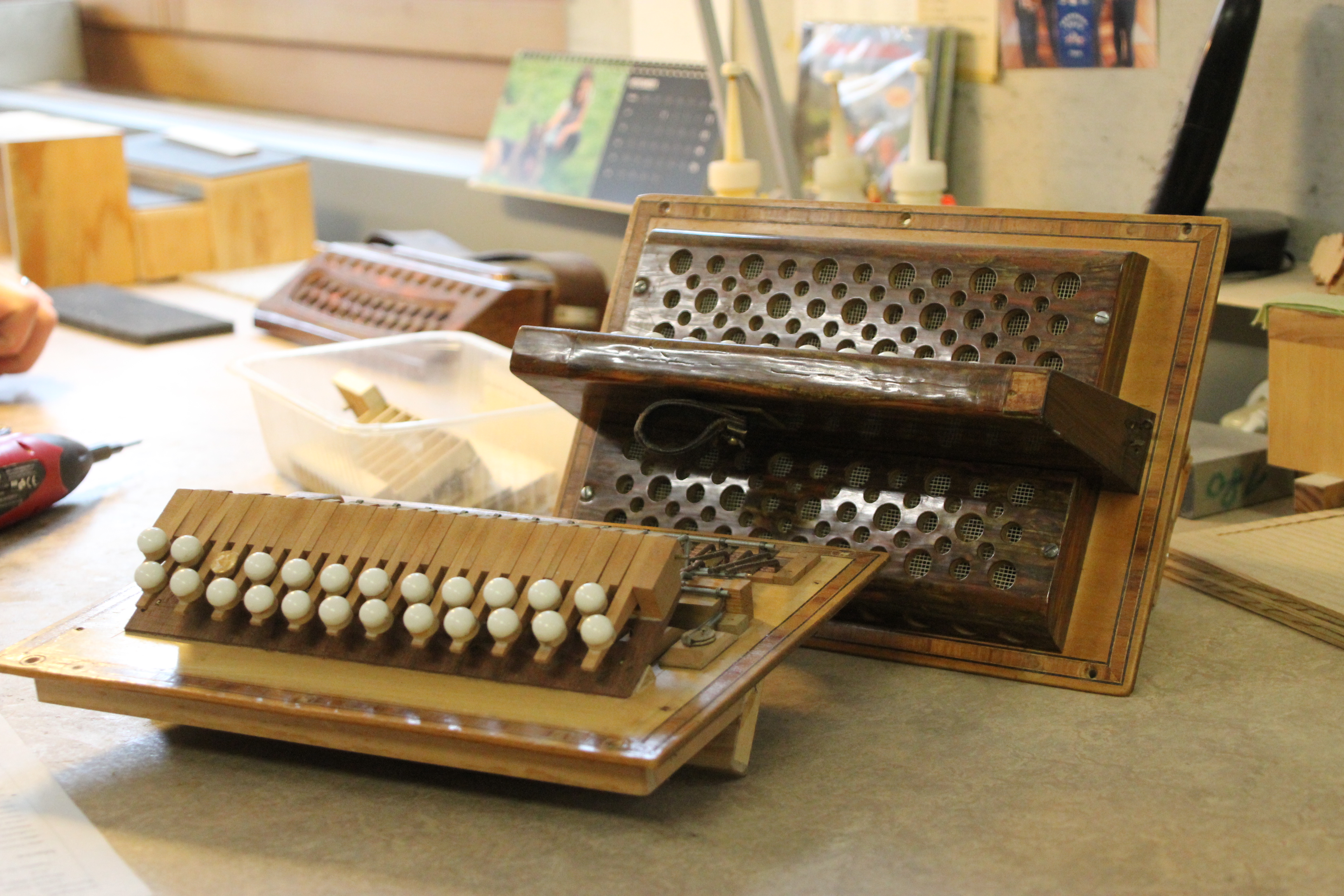 "Every instrument is unique and personalized," said Hansruedi Reist, who founded his own business in 1986 to look after the "special models" his father and older brother didn't want to work on.
"Our customers still need to wait about two years for their örgeli, though once they have it they tend to keep it forever," he said.
The oldest örgeli in existence is more than 130 years old and still playable.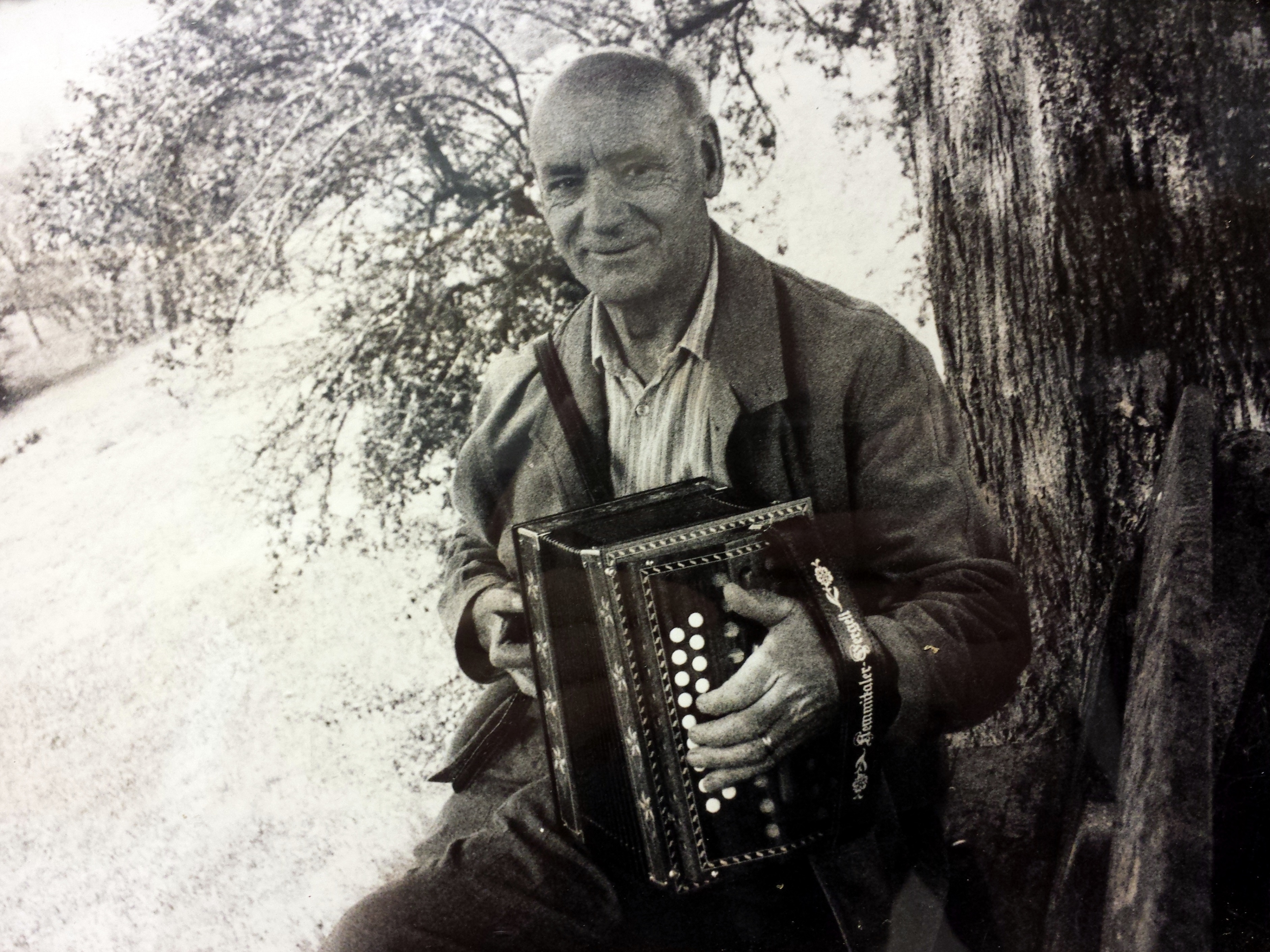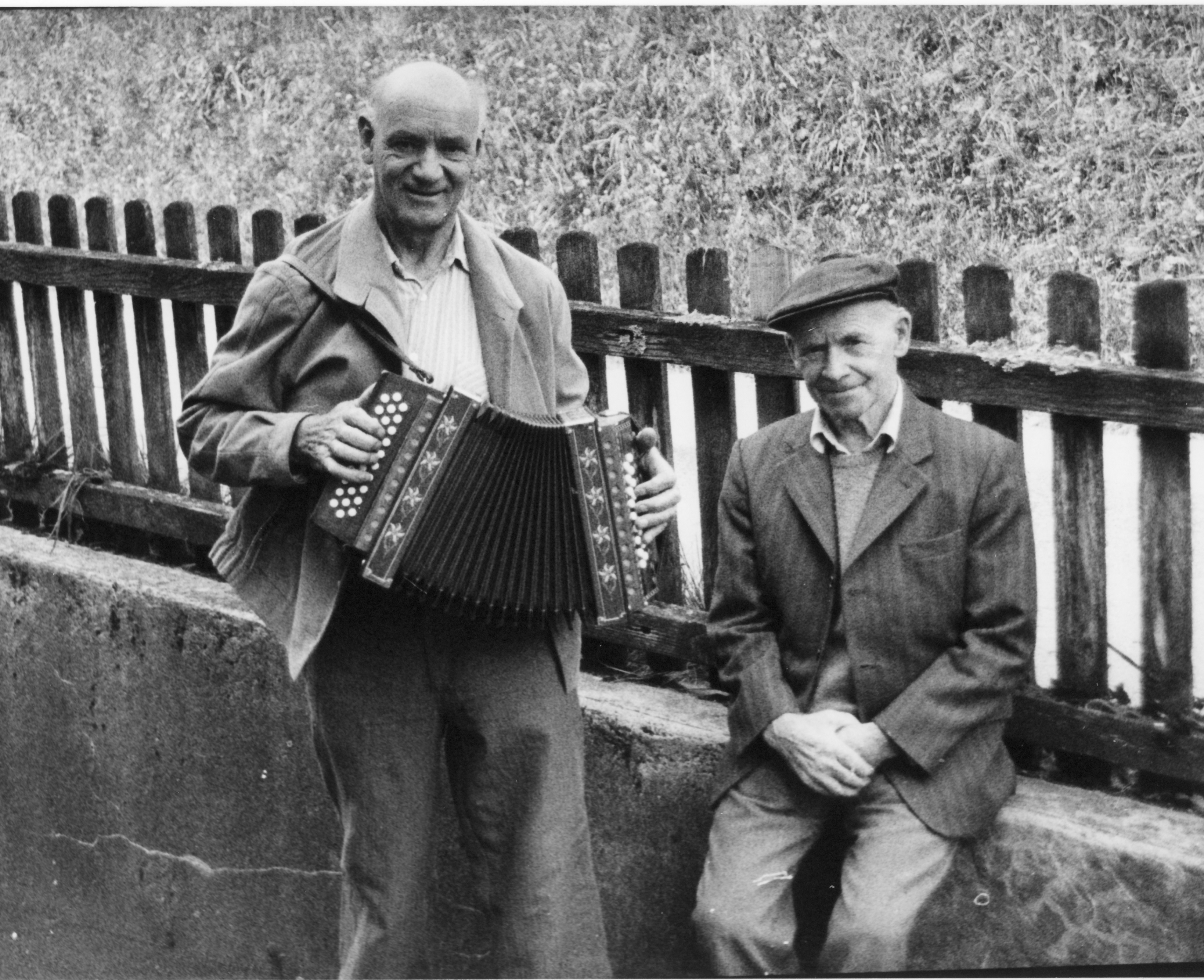 Besides sales in Switzerland, a few pieces are exported to Canada, the United States—and South Korea, where Swiss folk music is surprisingly popular. "We once welcomed a young man who had traveled from Seoul to pick up his örgeli. And when he tried it out, he played beautifully. The whole team was flabbergasted," laughed Hansruedi.
Possessing such a personal instrument, of course, has its price. The cheapest örgelis start at around $3,700, and the most expensive can cost up to $15,000. Customers can choose between various components, such as size, color, wood, buttons, ornaments, and tone.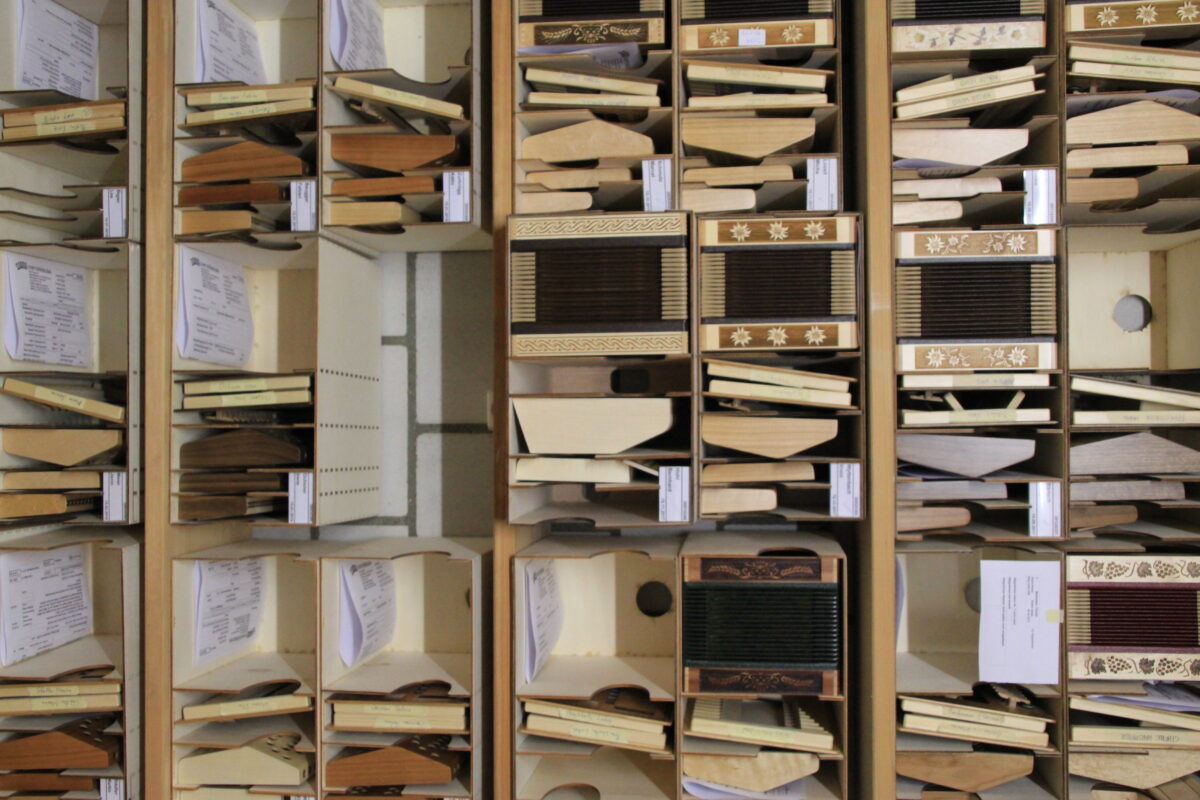 Today's örgelis are a lot more complex, but also lighter and prettier, as they have become more popular with women over the past few decades. Örgelis keep their value not only because Hansruedi Reist buys them back to give them to new interested customers, but also because they are quality products that last a long time if serviced regularly. Sometimes the Emmental native finds pieces built by his father, or even older ones end up in his antique collection.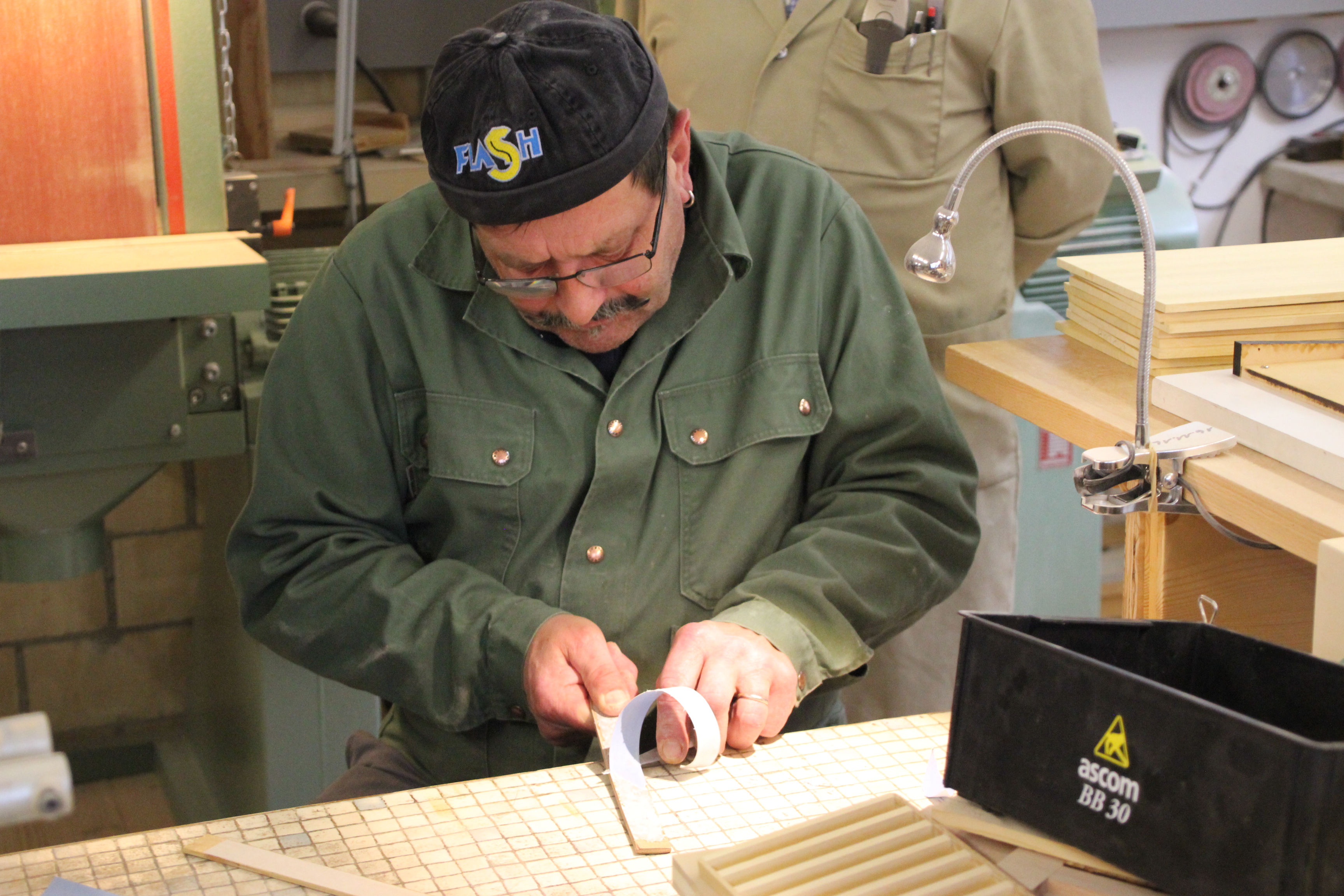 The Production Process
The story of an örgeli begins several years before its production as the most important raw material is wood. Hansruedi Reist wanders in the woods in search of perfectly grained trees, mostly maple or spruce. The milled wood is then put into warehouses for 10 years, and then smaller parts are cut and kept in depots maintained at 55 percent humidity and at temperatures of 64 to 68 degrees Fahrenheit. Once the pre-cut wooden parts are fully dried, the six-month-long production of the instrument finally begins with the fine-tuning in the joinery. Parts are polished, designs are lasered, and holes are drilled for valves and buttons.
At this stage of the production process, many pieces are glued and pre-assembled. Once all the metal tone tongues with plates and leather pieces for the vents are set up, the tuning stage begins in a special room until the perfect sound is achieved. This rather cumbersome process is split evenly between the Reist team members. And then, finally, the whole örgeli can be pieced together, which sounds easier than it is because a lot of personalized parts are specific to each particular instrument and cannot be mixed up.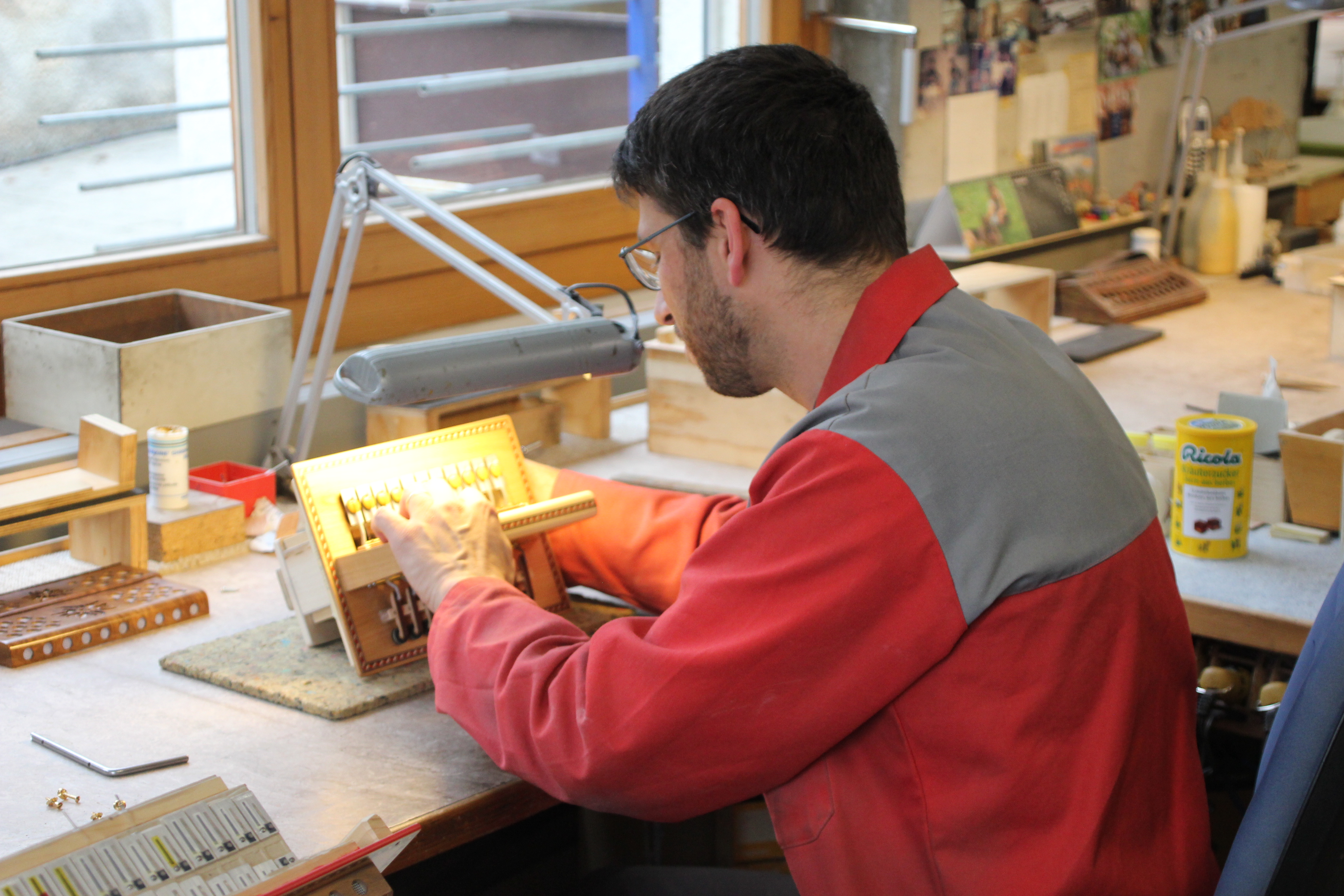 "Unfortunately, the job of the accordion builder doesn't exist anymore," said staff member Roland Gerber, who has worked for Reist for nearly 20 years.
"It takes about 1.5 years to be able to build an örgeli by yourself and it never gets boring. There's always the ambition to build a better accordion next time," he said.
In 1989, Hansruedi completed the invention of his "Turbo-Örgeli," followed by the models "One," "Junior," and "Light." The model "Little" is the smallest Schwyzerörgeli available. While offering the full tune scale of a normal instrument, it fits into a backpack.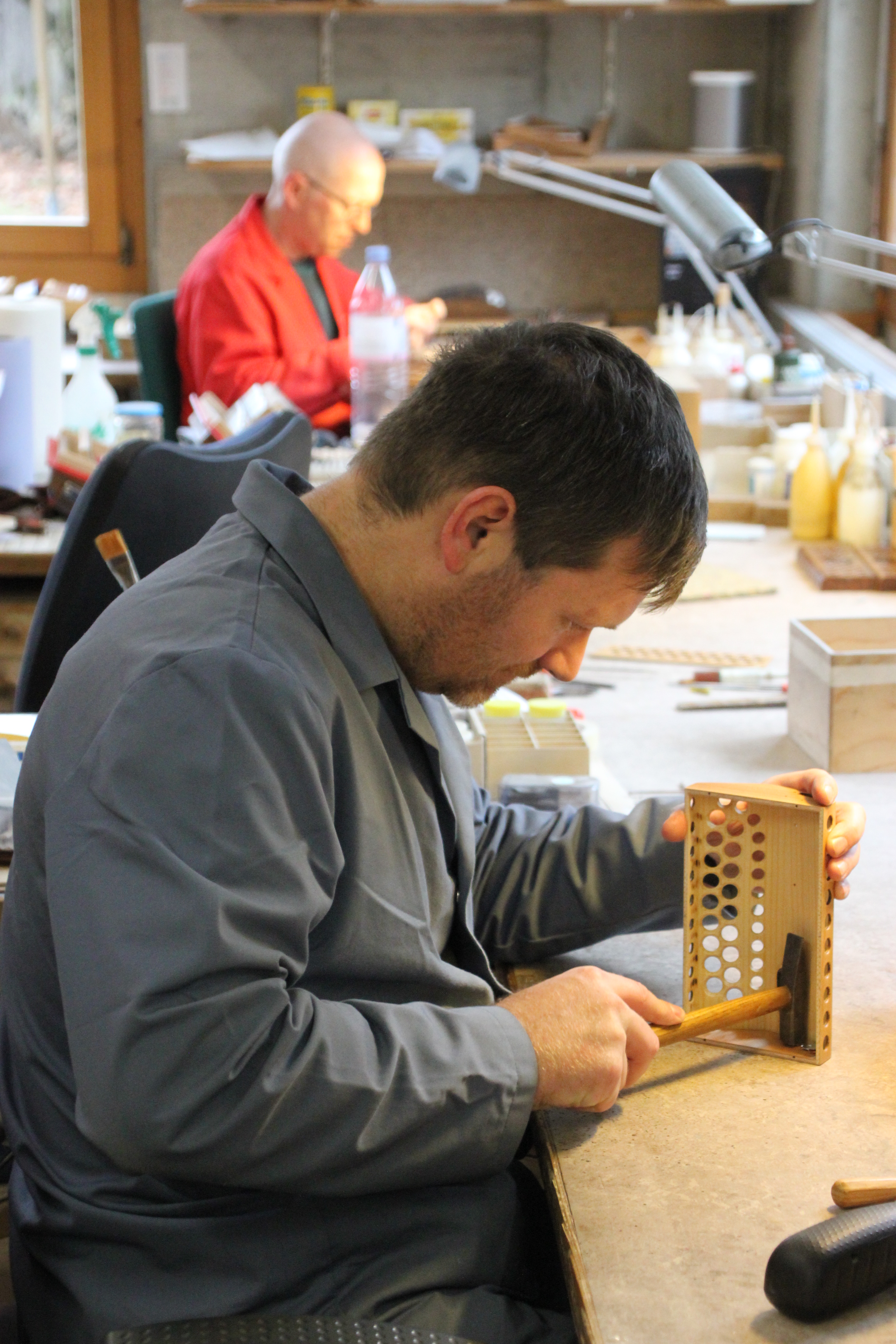 Hansruedi Reist has no plans of slowing down or stopping improvements on his beloved örgelis, but a weight was lifted off his shoulder when both of his twin sons, Samuel and Richard, joined the business a few years ago to continue the family tradition. And with Rudolf dropping into the workshop every other day, for "a bit of supervision, a funny joke, or some fine-tuning," he said, three generations of the Reist family will carry the sound of the Emmental Valley into the world for years to come.
Wibke Carter is a travel writer who hails from Germany. She has lived in New Zealand and New York, and presently enjoys life in London. Her website is WibkeCarter.com.