A survey has found that only 18 percent of Americans believe their tax dollars are spent effectively.
One thousand adults were surveyed across the United States, according to an article published by GOBankingRates, a personal finance publication and the conductor of the survey.
Respondents ages 18 and older were asked whether they believe their tax dollars are being spent effectively. They were also asked where they would like the money to be spent.
"About 63% of adults 65 and older and nearly 64% of adults ages 55 to 64 said they didn't believe their tax dollars were being spent effectively. However, less than half of adults ages 18 to 24 think their tax dollars are being wasted," the article stated.
Federal payroll taxes generated roughly 35 percent of all federal revenue in 2018, according to the Center on Budget and Policy Priority. The government levies payroll taxes on wages and self-employment income and uses these taxes to fund Social Security, Medicare, and other social insurance benefits.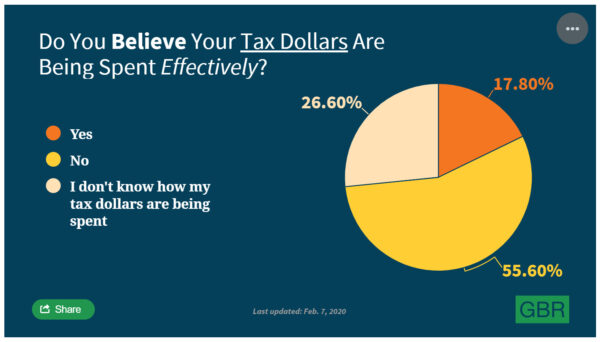 "The federal government gathers most of their revenue from income taxes, which is reported on your income tax return. Income taxes make up the majority of the government revenue, along with payroll taxes. Of the income taxes, individuals by far generate the most revenue when comparing them to corporations," said Kyle Crocket, tax supervisor at the public accounting firm BPM.
"I think most Americans tend to focus on the income tax portion because that is the most visible to them," Crocket said.
Between older and younger adults, older adults were more likely to say that social insurance is of top importance, the survey found.
"That's likely because adults 65 and older benefit from programs such as Social Security and Medicare," GOBankingRates stated. "Young adults ages 18 to 24, on the other hand, said overwhelmingly—71%—that education would be a priority if they could choose how their tax dollars were spent."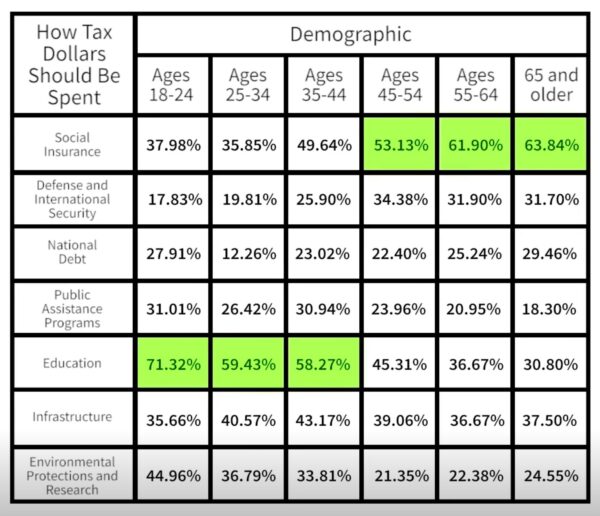 Preferred Spending Categories by Age
The top two preferred spending categories for the different age groups were as follows:
Ages 18–24: Education, environmental
Ages 25–34: Education, infrastructure
Ages 35–44: Education, social insurance
Ages 45–54: Social insurance, education
Ages 55–64: Social insurance, education/infrastructure
Ages 65+: Social insurance, infrastructure
"Men are slightly more likely than women to believe their tax dollars aren't being spent effectively—58% versus 53%," GOBankingRates stated. "Republicans are more likely than Democrats to think their tax dollars aren't being used in the right way—60% versus 55%."
Vanessa Garcia, a university student in Northern California, told The Epoch Times that she would like to see the money go toward students and the homeless.
"Those are still Americans. It's important to make this place livable. Invest in that," Garcia said.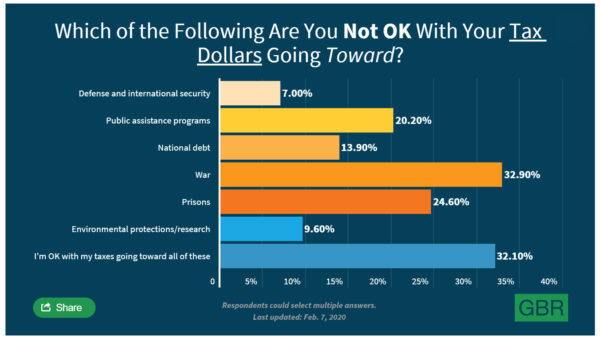 Unpopular Spending Categories
"When asked what they weren't OK with their tax dollars paying for, respondents' top response was war—with one third choosing this option," GOBankingRates stated, adding that war was also the top category that respondents in all age groups, regardless of gender, said they didn't want their tax dollars paying for.
"I'd rather it just be no war [funding], rather than put any supplies towards it," Garcia said.
She also doesn't want her money funding a border wall.
Roughly one fourth of the respondents indicated that they didn't want their money to fund prisons.
Garcia said that she's OK with money going to prisons, in the area of mental health programs.
Per the bar graph above, 32 percent said they did not mind their taxes going into any of the categories.
"About one third [of government spending] goes toward what is called discretionary spending—programs with spending levels that are voted on by Congress. About half of discretionary spending goes toward national defense, and the rest is divided among transportation, education, employment training, healthcare, veterans' benefits, and income security programs. … About 7% of government spending goes toward paying down the national debt," GOBankingRates stated.
"National debt is important too, because we keep holding that off," Garcia said.
Crocket said that it's important to distinguish among the tax jurisdictions and that many of the governmental taxes and services are funded by state and local governments.
"I think in general, the more local the taxes, the more obvious it is to see the benefit in your day to day life," Crocket said.