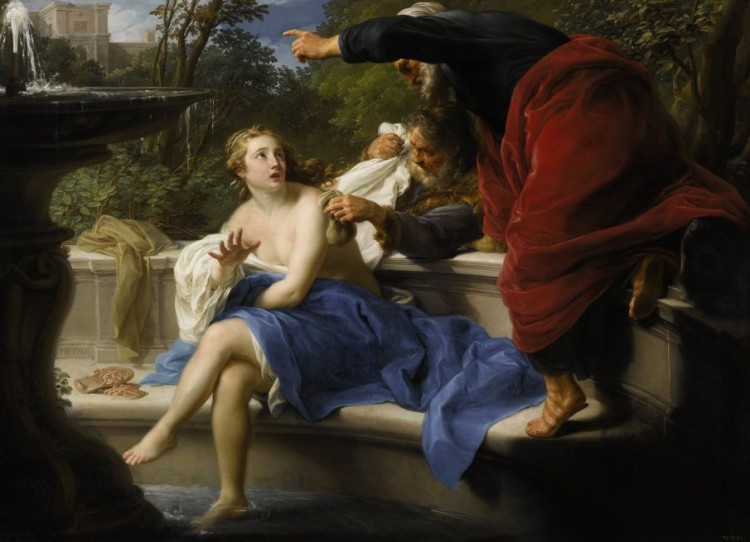 NEW YORK—Leading Sotheby's Old Masters Paintings and Sculpture sale in New York on Jan. 31 is "Susanna and the Elders," a major work by Pompeo Girolamo Batoni from 1751. Its presale estimate is $6 million to $9 million.
The monumental canvas (39 by 53.5 inches) has not been seen publicly in over 40 years and is currently on view in Sotheby's London galleries through Dec. 6, before it returns to New York for exhibition early next year.
"Pompeo Batoni's 'Susanna and the Elders' is a rare and beautiful picture. In the years I have been working for Sotheby's, there have been few pictures like this that have come to the market—gallery pictures (of a certain grand size), painted in the grand manner with such amazing provenance and in such beautiful condition," said Christopher Apostle, Sotheby's senior vice president and the head of the Old Master paintings department, in an email.
After hanging is the same family's private collection for 250 years, this is the perfect example of why New Yorkers should take advantage of the transient museums of art that constantly flow through the auction houses. When incredible works of art remain in private collections, often the only chance to view them is when they come to auction.
Collections are usually on exhibit to the public for a week before sales, as is this one, beginning on Jan. 25. Two other collections will also be on view during this time: the entire collection from the estate of Giancarlo Baroni—a renowned old-master connoisseur, collector, and dealer—to be sold on Jan. 29 and 30, and the collection offered in the Old Master and 19th Century Fine Arts sale on Feb. 1.
Rome's Favorite
Born in Lucca to a goldsmith, Batoni (1708–1787) was the foremost portrait painter of 18th-century Rome from 1740 to the end of his life. He made an international name for himself with his grand-tour portraits.
"He invented the type of 'grand tourist' portrait, very popular among the English, which shows the sitter at his ease among the ruins of antiquity," according to the Encyclopedia Britannica.
His portraits revealed influences from "Rococo, Bolognese classicism, and emergent Neoclassicism," according to the encyclopedia.
But it was Batoni's elaborate mythological allegories that first gained him renown.
"'Susanna and the Elders' clearly shows not only an awareness of the great Baroque painters of a century before, but even of Raphael himself, particularly in the perfection of the figure of the heroine herself," Apostle said in The Art Newspaper (theartnewspaper.com).
"Batoni was very much competing with these earlier artists and in this painting, very much saying that he was their equal."
The Story of Susanna
"Batoni captures the terror on Susanna's face as she desperately tries to cover her naked flesh after she is caught bathing in her garden by two leering elders, who threaten to accuse her of infidelity unless she has sex with them," Apostle said in The Art Newspaper report.
The story, included only in some versions of the Bible, tells how Susanna, a Hebrew wife, is blackmailed by the two lecherous old voyeurs. She refuses to comply and is arrested on infidelity charges. She is about to be put to death when Daniel interrupts saying the elders should be questioned to save an innocent lady's life.
During questioning, the men's stories don't match up, proving her innocence. The men are put to death and justice triumphs.
Description From Sotheby's
Following his arrival in Rome in 1727, Batoni immersed himself in the classical traditions of Raphael, Domenichino, and Annibale Carracci. At the time he painted the present work, he was the most celebrated painter working in the city.
"Susanna and the Elders" was commissioned by Count Ernst Guido von Harrach of Vienna, one of the most important collectors of the day known for acquiring works by the best modern masters working in Rome.
This painting remained in the Harrach family collection for nearly 250 years until it was purchased by the present owner in 1992.
Inspired by Domenichino's two well-known interpretations of the subject, Batoni executed a far more daring and sensual depiction of the story, creating what is arguably one of his finest history pictures and one of his very few treatments of an Old Testament subject.
In this painting, Batoni employed the full range of artistic talents at his disposal: his mastery of drawing, his lush and precise use of color, his simultaneously controlled but free application of pigment, his complete mastery of composition.
All of these remarkable artistic achievements are used in "Susanna" to serve Batoni's keen sense of dramatic narrative, allowing him to create in the painting an image not only of great beauty, but also of astounding visual impact.
The Epoch Times publishes in 35 countries and in 19 languages. Subscribe to our e-newsletter.