A Magnificat is a canticle, a Latin word that means "magnify," and in this context "My soul magnifies the Lord." It is also known as the Song of Mary, because this portion of scriptures taken for hymns is of Mary praising the Lord.
On March 17, 15 choirs from across the country join to perform a program of seven works centered around the theme of Saint Mary. The concert will be held at Carnegie Hall.
It's not every day that there is a performance solely of works for women's choirs, much less something of this scale—260 individual voices coming together as one.
Distinguished Concerts International New York (DCINY) is presenting this concert of magnificent scale and welcoming guest conductor Nancy Menk of Saint Mary's College to present a program based around the Magnificat with eight choirs of all-female voices.
The second act of the performance will be led by DCINY artistic director and principal conductor Jonathan Griffith, with seven choirs coming together to perform John Rutter's "Magnificat."
Saint Mary's
Nancy Menk leads the 40-voice Women's Choir at Saint Mary's College, Notre Dame, in Indiana. This year is the 175th anniversary of Saint Mary's College, and the performance also brings together alumnae from the college women's choir for a commemorative event.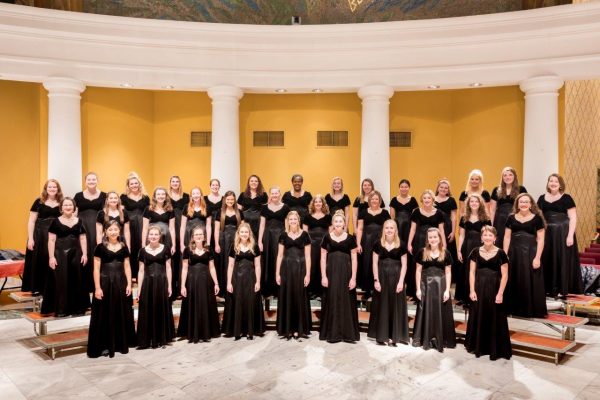 To celebrate the milestone, Menk has taken the theme of Saint Mary and selected a wide range of music to showcase these women's voices. 
"[These pieces] are really varied in style from size to orchestration, to the language, either English or Latin," Menk said. "Usually, you hear mixed choirs. "This is a whole different sound, and some people might not know there is such a large range."
"There are three 'Magnificat' pieces, but they're all so different," Menk said by phone. From Michael Haydn there is a "Magnificat" with a distinct Baroque flavor. Vaughan Williams's take is a large orchestral piece with a lovely mezzo-soprano soloist. 
Libby Larsen's "Canticle of Mary" is a joyful work that was actually premiered by Menk and the Saint Mary's College Women's Choir 25 years ago for its 150th anniversary.
Then there is Brahms's brief "Ave Maria," and a lively "Gloria" by contemporary composer Ola Gjeilo.
From profound moments of serenity to spirited, almost triumphal moments, the program is filled with music that uplifts.
The performance ends with Zachary Moore's "Always Keep This Close," which has already brought some rehearsing choir members to tears. The song is about the shared experience of singing in a choir.
Menk shared a bit of the text: "No notes are as connected as the souls that sing them." Though the alumnae have been scattered around the country, song still brings them close, she said.
"There is a closeness there," Menk said of the members and alumnae of the Saint Mary's choir she has conducted for 30 years. "There's really a legacy here in this choir."
The choirs will perform at Carnegie Hall at 2 p.m. on Sunday, March 17, 2019.