My wife Nancy and I had anticipated this relaxing cruise along the Rhône River to the south of France for months, and for Francophiles such as us, this would be a trip to remember.
What's not to love? You only unpack once, glide past idyllic scenery, enjoy great food and wine, and visit memorable destinations. While we had sailed before with other companies, this trip on Scenic Cruise Lines promised a level of luxury that would make any passenger feel like a celebrity.
Personal Butler Service
Let's start with what Scenic does differently than most other river cruise lines. First, there are no upcharges; everything from alcohol to beverages to snacks is included, even tipping and gratuities. You'll also have your own private step-out balcony with electronically operated windows, a pillow menu (choose from soft to firm) and personal butler.
These butlers provide a variety of services, most notably, bringing your morning coffee to your room. They take care of other things of course, such as a concierge laundry service (one complimentary load per sailing) and in-room dining. Even with all the food available on board, I found myself ordering a late-night cheeseburger just to try out the service. It arrived in short order, brought by a smiling butler who set out everything on our counter. The burger was as good as any from a quality burger joint on land.
Our seven-day trip on the Scenic Sapphire took us on a northerly route from Tarascon in the south to Chalon-sur-Saône, with major stops in Avignon and Lyon. Our suite came with two very comfortable beds, a large flat-screen TV with complimentary movies and Wi-Fi, a complimentary mini-bar, and L'Occitane toiletries.
Breakfast was a casual affair with a large buffet and omelet station. We could sit anywhere we liked, allowing us to mingle with Aussies, Scots, Europeans, and Canadians. Lunch and dinner were served in the Crystal Dining Room. One of our chefs had worked in a Michelin-starred restaurant, and this was reflected in the quality and artistry of the cuisine. 
The chef goes on shore in the mornings to the local markets to gather what he needs for the meal service. One of the excursions allows you to go with him and see some of that process. 
If we were feeling hungry between meals, we could order room service or visit the River Cafe for pastries, sandwiches, olives, cheese, or fruit. Located in the Panorama Lounge Bar, the café's floor-to-ceiling windows afforded grand views of the countryside as we made our way up the river. 
Tarascon
Our first mooring was Tarascon on the banks of the Rhône. Several tours were available, and we chose Saint-Rémy-de-Provence. Like many areas of France, vestiges of the earlier inhabitants are found hiding in plain sight. A triumphal arch on the southern tip of Saint-Rémy was once the gateway to the Roman city of Glanum and provided a glimpse of its former glory. 
We meandered through winding cobblestone streets past boulangeries, retails shops (including a fragrant one selling a variety of locally made soaps), bistros, and cheese shops. One of the town's most notable residents, Nostradamus, was born here in 1503, and you can still see the exterior of the reconstructed home where he was born.
Avignon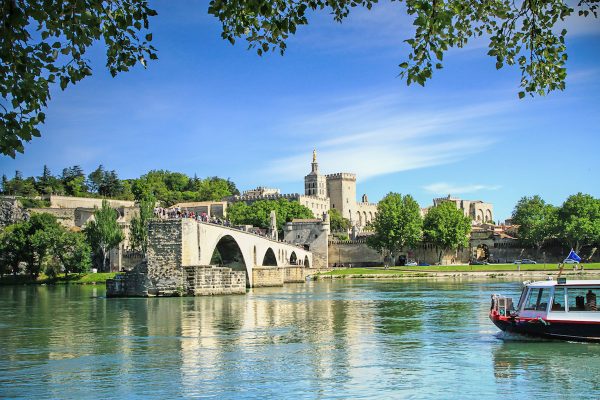 Our afternoon sailing brought us to Avignon on the banks of the Rhône. During the 14th century, Avignon was the ruling center of the Catholic papacy. Visually, Avignon is stunning, with a massive 2.7-mile–long limestone rampart surrounding the city. The Palais des Papes (Pope's Palace) in the historic center was once the official residence of the popes and is a UNESCO World Heritage Site. 
The city is quite cosmopolitan, with high-end retailers lining Rue de la République, but among the most prevalent sights, however, were the many gelato shops, with each seemingly trying to outdo the other. Flavors such as licorice, salted caramel, and lollipop were hard to resist … so I didn't, much to the chagrin of Nancy who reminded me of the calories I was consuming on board. I had to remind her that I was doing this for the children, so I'd have tales of not only adventures but of delicious foods with which to regale them.
Concert at the Pope's Palace
After another delightful dinner, Scenic arranged for the passengers to return to the Pope's Palace for an evening of entertainment by an instrumental trio. The sound of the music echoing in this chamber with its high wooden ceiling was enough to command a standing ovation.
Continuing north, we docked at other cities, including Viviers, Tournon, and Vienne, with its beautiful cathedral and grandiose Roman amphitheater.
Lyon
Situated at the confluence of the Saône and Rhône rivers, Lyon was our next port. The third largest city in France, Lyon was once a large Roman colony and a hub for industrialization and silk production. During its heyday, there were as many as 13,000 silk workers and 10,000 warehouses full of precious fabrics. The residents also created hundreds of hidden passageways between buildings known as traboules, making it easier to transport goods from street to street.
During World War II, Lyon became a stronghold for the French resistance fighters who also used these passages to escape the Nazis. To quell any insurrections, the Germans sent the infamous Nicolaus "Klaus" Barbie to Lyon. Known as the "Butcher of Lyon," he tortured and deported hundreds of Jews and resistance fighters to the concentration camps. The Centre d'Histoire de la Résistance et de la Déportation de Lyon, a museum dedicated to the resistance of the occupation, houses displays, testimonies of survivors, and a 45-minute movie about Barbie's trial.
Today, happier times prevail, and Lyon is a major tourism hub, with 40 art and history museums, important landmarks, and pedestrian-friendly shopping as well as abundant food and wine. In fact, there are no fewer than 20 Michelin-starred restaurants in the city, one of the reasons why Lyon is considered by many to be the gastronomical capital of France.
Of course, we had our share of special meals on board the Sapphire. We received an invitation to L'Amour, where we enjoyed a five-course tasting menu featuring regional cuisine and fine wines. Every passenger has an opportunity to dine here once during the cruise. 
With several available ship excursions, we opted to take a walk through Vieux Lyon (Old Lyon). This well-preserved section of the city is one of the largest Renaissance neighborhoods in Europe. The little shops that line the narrow, cobblestone streets offer some of the city's culinary treats, such as candied pralines, cheeses, chocolates and local wines. 
We grabbed a last view of the sun-splashed banks of the Saône as we headed toward Chalon-sur-Saône, our last port of call. Fellow traveler Paul Dobb of Sydney shared sentiments similar to many I had spoken to about the cruise.
"I didn't have any expectations when I arrived," he said, "but when I stepped on board, I was taken aback by the opulence and the service of the staff that continued throughout the cruise—it was just stunning." Our thoughts exactly.
Photojournalist Ron Stern, aka "The Global Gumshoe," has covered travel for over 18 years. He is a frequent public speaker and teacher on the subject of travel.
He was a guest of Scenic Cruises.