Wine in the Grand Duchy of Luxembourg is hardly new.
In fact, viticulture dates back more than 2,000 years to the Romans, who planted the first vines on the steep slopes of the Moselle River that today forms the country's border with Germany. The tradition and sense of place one finds here are equal with Europe's top wine regions.
As with other lesser-known winemaking countries, most Luxembourgish wine is consumed domestically. What Luxembourg lacks in size—at 998 square miles the grand duchy is about half the size of Delaware—it makes up for in wine consumption. The country's average of 14.6 gallons of wine drunk per person puts it in second place, behind Portugal and ahead of France and Italy, according to data from the American Association of Wine Economists.
Luxembourg's under-the-radar wine industry is primarily centered in and around the small town of Remich, a popular cross-border destination for Germans thanks to the considerably lower prices for gas, cigarettes, alcohol, and, of all things, coffee. Most wineries and vineyards can be found off the Route du Vin or the Wine Route, which parallels the Moselle's left bank for 26 miles and terminates at where the borders of France, Germany, and Luxembourg converge in Schengen.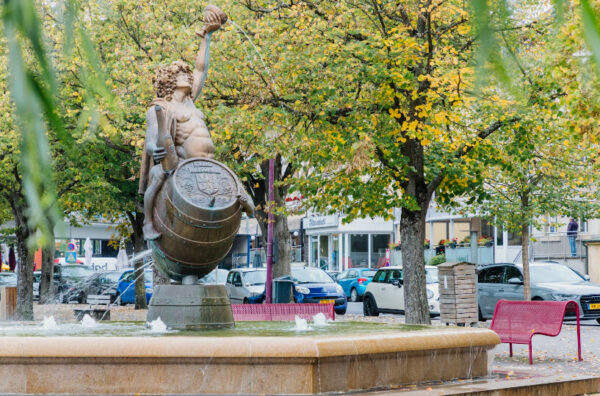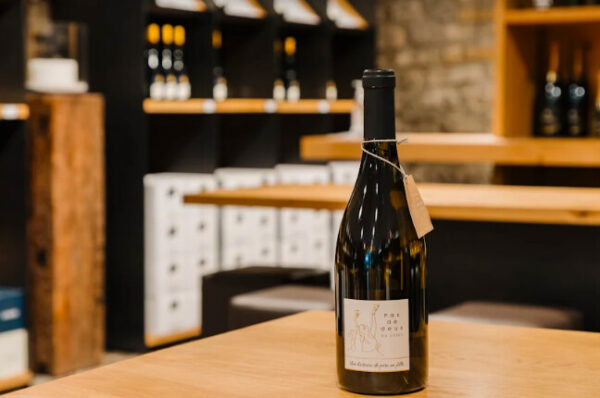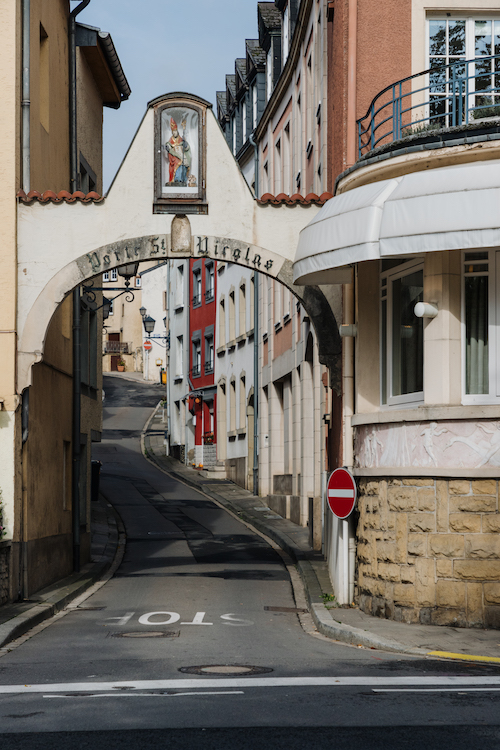 While wines from the big international grape varietals like chardonnay and pinot noir are produced within the 3,187-acre appellation, known by its abbreviated French name of AOP Moselle Luxembourgeoise, more interesting selections come by way of the white grapes auxerrois, pinot blanc, pinot gris, gewürztraminer, and elbling. Given the proximity to Germany—you could throw a baseball across the river into vineyards on the other side of the border—riesling is also ubiquitous.
The real star, however, is the sparkling wine made from the exact same traditional method as champagne from Champagne in France.
Because champagne can only come from Champagne, Luxembourg's take on bubbles is called crémant (officially crémant de Luxembourg). The sparkling wines from Alsace and Burgundy, two other French wine regions, are also called crémant.
A leading producer is fourth-generation family-owned Caves Gales, whose portfolio includes the Caves St. Martin brand.
Here the bottles age in an old-school cellar carved deep into the limestone cliffs for as long as 30 months before being released. One such crémant is the centenary offering of Crémant St. Martin Brut, a blend of 40 percent pinot noir, 30 percent pinot gris, 15 percent riesling, 10 percent auxerrois, and 5 percent chardonnay.
Not only are the wines seriously made, but the prices are superb.
Think bottles of grand premier cru, the highest quality classification, for under $20. At these prices, the wine can be cheaper than the fancy bottle of water served over lunch or dinner in one of Luxembourg's nine Michelin-starred restaurants. It is little wonder, then, that Luxembourgers drink so much wine. Just ask Jean-Claude Juncker, a former European Commission president and prime minister of Luxembourg, who was known for having wine with a side of lunch.
What Luxembourgish wine lacks in marketing cachet is more than made up for where it counts most. The wines of the compact country's even more compact AOP Moselle Luxembourgeoise appellation can more than hold their own.
What to Drink
Caves Gales, Crémant G by Gales, 17.78 euros (around $21).
Caves Gales, Auxerrois 2019 Remich Hopersbour Grand Premier Cru, 8.32 euros ($10).
Domaine Alice Hartmann, Brut Rose, 21 euros ($24).
Domaine Alice Hartmann, Série Sélection du Château 2018 Riesling, 29 euros ($34).
Domaine Cep d'Or, Pinot Blanc 2018 Stadtbredums Goldberg Signature, 12.20 euros ($14).
Caves Gales, Riesling 2019 Wellenstein Kurschels Grand Premier Cru, 9.92 euros ($11).
When You Go
While there are no direct flights, Luxembourg is just one stop away from major U.S. cities. Several European airlines that fly transatlantic routes also serve the grand duchy's airport. From New York, round-trip airfares on select dates in November and January are as low as $373 on Tap Air Portugal via Lisbon.
Unlike other wine regions, the big buses and touristy tours of wineries and vineyards are nonexistent. Getting around is logistically easier with a rental car, although public transportation throughout the country is free.
Guided tours at Caves St. Martin run Wednesday through Sunday with the prestige tour costing about $23 per adult. Reservations, which are required, can be made through the winery's website (CavesStMartin.lu/en).
In Remich, consider staying at either the Hotel Saint-Nicolas & Spa (Saint-Nicolas.lu) with its prime location along the Route du Vin or the 16-room Domaine La Forêt (Foret.lu/en). Alternatively, book the Hotel Parc Beaux-Arts (Goereshotels.com) by the Grand Ducal Palace in Luxembourg's capital city.
Wine Cheese Enjoy, an annual festival in the appellation, is scheduled for Feb. 5 and 6, 2022.
Full trip planning resources are available through the websites of Visit Luxembourg (VisitLuxembourg.com) and Visit Moselle (VisitMoselle.lu).