For young people on the autism spectrum, it can be incredibly difficult to find gainful employment. Furthermore, the negative stigma associated with the condition only exacerbates the issue. However, one young man and his parents are helping to address the problem through their non-profit granola company, Luv Michael.
Michael Kessaris is 21 years old, and is a native of Port Washington, New York. Ever since he was a teenager, he would help his mother, Lisa Liberatore, with prep work for family dinners and entertaining guests.
Even though he had developed an interest in the culinary arts, he wasn't able to go to culinary school because he was unable to receive a high school diploma.
Nevertheless, Liberatore and Michael were determined to pursue his passion for cooking and baking. The culinary schools suggested that they hire a culinary school graduate to nurture and hone Michael's skills in the kitchen.
Hands-on Learning
Liberatore contacted chef Sarah Chaminade, who had graduated from the Culinary Institute of America, to help Michael develop his technique starting in 2016. Chaminade set up a commercial kitchen in their home and worked with Michael two days a week.
Chaminade derived her curriculum for Michael from her own experience in culinary school and taught Michael the essentials of working in a professional kitchen.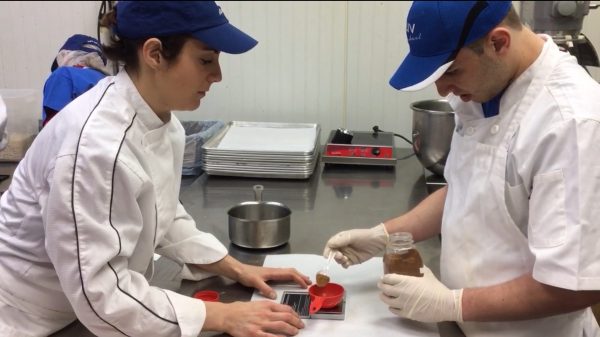 Liberatore couldn't visualize Michael being able to work in a commercial kitchen, so they decided to start a home business. After honing his culinary skills, they settled on building a granola business.
They chose granola for a couple of reasons: First, some research suggests that a gluten-free and dairy-free diet may be beneficial to people on the autism spectrum; and second, they wanted to be able to make a product that didn't require knives, especially if Michael had friends who also wanted to get involved.
Luv Michael
Luv Michael was founded in the summer of 2017 as a non-profit organization. People on the autism spectrum may have trouble understanding others people's feelings, which was the motivation behind the name of the business. The idea is that the granola is a way for Michael to connect with other people on a personal level.
"The whole concept of Luv Michael, it's giving a present. It's from Michael, and it's a present to somebody else," Liberatore told The Epoch Times.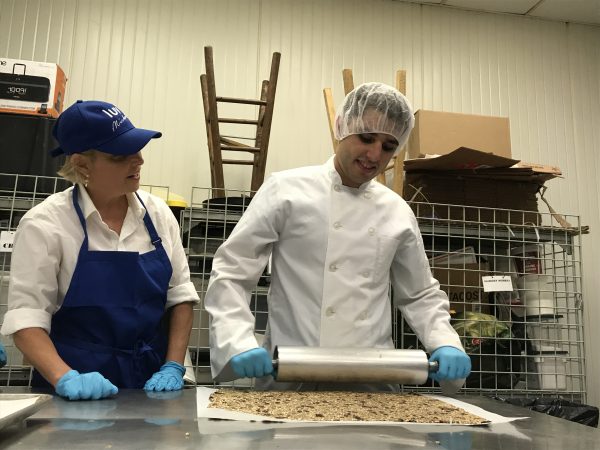 The company operates out of The Entrepreneur Space in Long Island City, which Liberatore discovered in October 2016. The incubator provided Liberatore and Michael mentorship and a kitchen to help them further develop their business.
The business soon began to attract more and more people on the autism spectrum.
One of Michael's classmates, Jonathan, had just graduated high school and was unable to find employment in the culinary field. Jonathan had an interest in the culinary arts and joined the team in September 2018. After training, he became a certified "granologist" in March 2019.
"Very, very soon, other families started Googling opportunities, and since there are so few opportunities, we very quickly started getting emails asking if we were taking more people to join our operation," Liberatore said. Now, Luv Michael employs 20 individuals.
Curriculum and Process
Liberatore also hired Sara Kull, a special education teacher, to help their employees. She wanted to make sure there was a commitment to education and learning, in addition to growing the business.
Liberatore and Kull created a five-prong curriculum to achieve their goal, consisting of food handling license and safety, communications and sales, information technology, wellness and employability, and the creative arts.
The objective is for the employees to learn what it takes to be successful in the business, and in the workforce on a broader scale.
Everyone who has been hired so far has stayed on the team, with the exception of one employee who found a full-time job in the kitchen at a nursing home.
The employees are responsible for all aspects of the granola production process: weighing all of the wet and dry ingredients, mixing them, making sure they're accurately measured, rolling out the granola, baking it, cracking it, packaging, and labeling the bags. They also participate during in-store tastings and solicit monthly subscription orders.
Employees are paid $15 an hour, whether they're working in the kitchen or at a tasting. They also get a bonus if they secure a subscription account.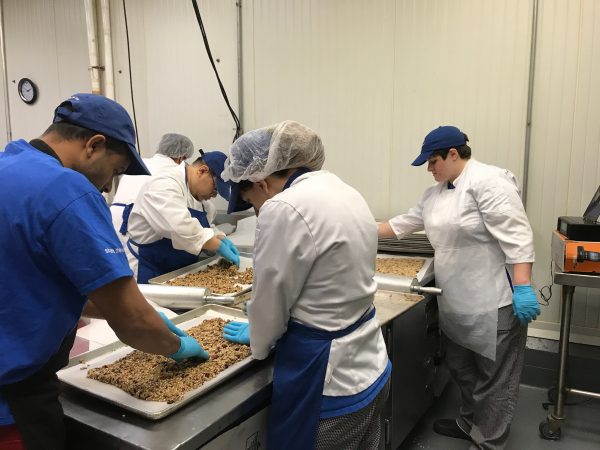 Passionate Employees
Luv Michael supplies their original and mocha-flavored granola, made with all organic, gluten-free, and dairy-free ingredients, to Starbucks, Jet Blue Airlines, and over 60 other retailers.
But most importantly, the employees have responded well to the environment.
An employee named Jenna said that she has the best job ever. "I finally found a place that understands my autism," Liberatore recalled her saying. Jenna has also passed the New York City food handler's license exam.
"Working with Michael—he's a lot of fun," an employee named Steven said when Liberatore asked him about his favorite part of working at Luv Michael. He has also passed the food handler's license exam and is now a manager who mentors new employees in the kitchen.
Luv Michael's long term goal is to open a flagship location in Tribeca by September 2019, which will feature a commercial kitchen, classroom, and retail shop. Their mission is to train the employees so they can stay at Luv Michael full-time, or develop the skills necessary to find gainful employment elsewhere.
For Liberatore, the company is like one big family.
"I feel that these are like 20 of [my] own children," she said.