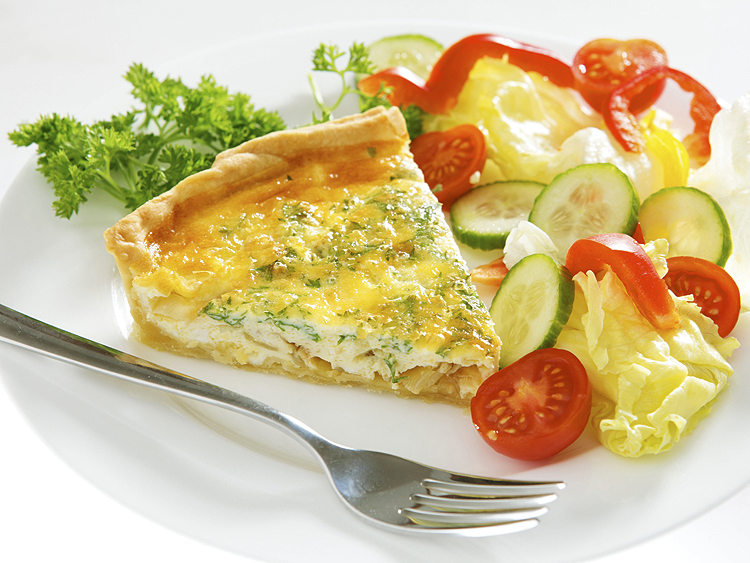 What makes quiche a good breakfast food?
— It can be prepared a day or a few days beforehand.
— You can stay in bed until 10 minutes before breakfast as it takes only 10 minutes in the toaster oven—much less time in the microwave.
— All the dishes were washed when the quiche was made, hopefully.
— It contains eggs, cream or milk, cheese, and a meat or vegetable, common breakfast ingredients containing low-carb protein and fat.
— A piece about 1/6 of the quiche can last 4 hours before hunger strikes if you don't bicycle 10 miles to work.
— It is easy to make.
This quiche has no crust per se, but the way it is made, by the laws of physics, a crust appears. It's not really a crusty crust but more like a soft lining on the bottom of the dish.
Quiche Recipe
Preheat oven to 360 degrees F.
Cooking time: 40 minutes
1 1/2 to 2 cups grated Gruyere, Swiss, or aged cheddar cheese
2 tablespoons coconut or olive oil
1 onion (medium size), diced and sautéed in coconut or olive oil for 5 minutes
1 cup chopped mushrooms, broccoli, cauliflower, or celery
1/2 cup chopped ham or bacon pieces (optional)
Sauté onion in oil for 5 minutes. Add vegetables and meat and sauté for another 5 minutes. Put mixture into a deep-dish pie pan and top with cheese.
Egg Mixture:
5 eggs, beaten
1/2 pint cream
1/4 teaspoon salt
Freshly ground pepper to taste
3 tablespoons cornmeal
Mix together all ingredients and pour over cheese, vegetable, and meat mix.
Bake in oven for 40 minutes. Let cool for at least 10 minutes before cutting.
The cornmeal sinks to the bottom making the faux crust.