About a week before Johana Patricia's wedding, everyone across the country was asked to practice "social distancing" and not gather in groups larger than 50 people, and then no more than 10 people. A wedding seemed impossible, but her then-fiancé, now husband, Miguel Delgado was confident they could overcome the logistics. And they did.
Instead of having a ceremony with family and then a larger reception party, the couple got married on a public access cliffside near Redondo Beach in California with eight guests—as luck would have it, just before public parks and beaches were closed. Their siblings were able to attend, as well as their friend who officiated, a photographer, and videographer. Although their parents all live close by, Patricia and Delgado worried about their health. So Delgado's sister streamed the ceremony so their parents and family, who would have attended the private ceremony, could still participate.
"It was very emotional for them," Patricia said. They are both close with their families, she said, and their families' happiness must have been mingled with sadness that they were apart. For her, that thought was a little heartbreaking.
"He got ready in one room, I got ready in another room. He left first so that he wouldn't see me and then I made my way there, and we all met there," Patricia said. With fortuitous timing, they got married on March 21.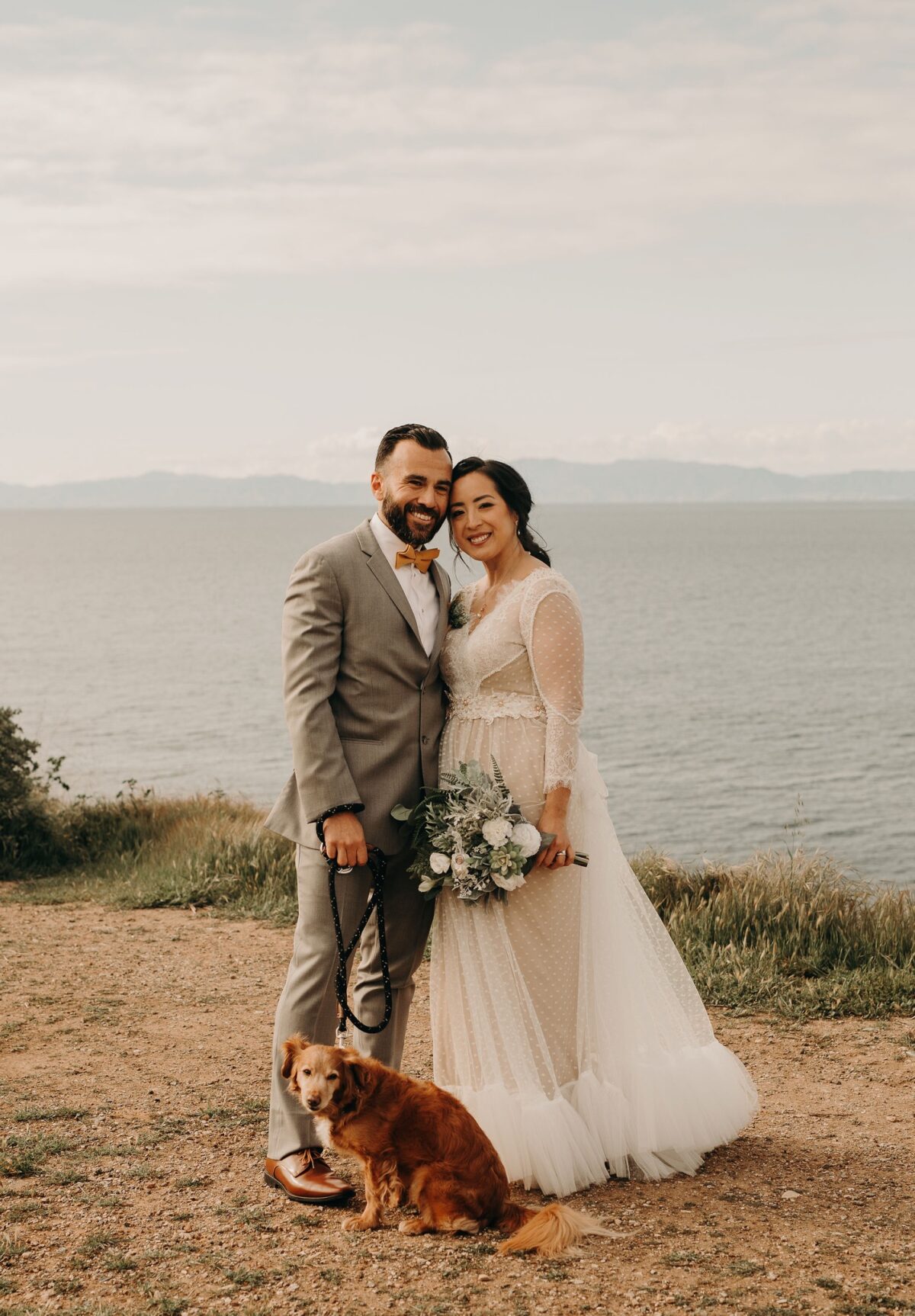 Patricia is grateful they opted for their quick ceremony because looking back, they wouldn't be able to do now what they did less than a month ago. They also got their marriage license a month ago—and now they aren't being issued. They plan to have a reception sometime down the road when more people can gather again, but are reluctant to set a date.
After the ceremony, they went straight home. Patricia's sister dropped off pizza, they toasted with whiskey, and had their first dance in the living room.
They considered redoing the ceremony for others once people could gather again, but realized what they had that day couldn't be recreated.
"It was just so special how it all unfolded," Patricia said. "It turned out perfectly imperfect for us."
Why Not?
In Iowa, Brooke Van Sickle had been planning a wedding for 15 months that could now no longer take place. Over 250 people were going to meet out of town at a large venue with all the bells and whistles.
"Instead, we did it in our house with just three other couples, so it was only 10 people total including the person who married us and a photographer," Van Sickle said. "We had been engaged for 15 months, and … we were ready to be married. Our state hadn't done one of those lockdowns yet, so we were still able to at least have a couple people over."
The decorations were already at their house, and they figured, "Why not?" They ran to the grocery store to pick up a random cake they were able to find and a bouquet of flowers.
It turned out to be a relief, Van Sickle said. In the days leading up to the wedding, things were in flux and they didn't know if people could travel, but then once they decided they had to pare down the ceremony, the pressure was off.
"It's just really relaxed, which is nice," Van Sickle said. Their vendors were fantastic and agreed to refund them in full. "It was more of what we were wanting, so for us it was really nice. Planning a wedding is so much drama and stress, and so when you actually came to the day of and have no stress and just be really relaxed and just get to enjoy time together, and share love with those that we love was really nice."
The couple will also host a reception sometime later, as well as a photoshoot of them getting married and having their first dance in empty spaces to remember the event, and Van Sickle will get the opportunity to wear the wedding dress her mother made for her.
"I feel like I need to wear it!" she said. "It might be more of a party instead of a traditional-style reception."
As social distancing extended past March, couples and businesses have had to quickly adapt. Wedding planner Ivy Summer had live-streamed her own wedding several years ago and had been working on a book with case studies and advice when the pandemic erupted. Weddings are all about being social—as much for the guests as for the couple—and people are scared right now, Summer said. Most couples are working to reschedule their weddings after fall, and vendors have been working to keep up. Not all businesses have been able to, though; Summer said she's heard from many couples who found out their venues have closed and filed for bankruptcy.
Event planner Aimee Palifroni has also had clients cancel because of job and financial losses, and said the situations really run the gamut. Many people are rescheduling or going forward with a small ceremony and later reception, but the majority of her clients with summer weddings are going to move forward as planned.
Life Goes On
In the UK, which announced a lockdown on March 23, Enakeno Ogbo still found a way to celebrate her 50th birthday.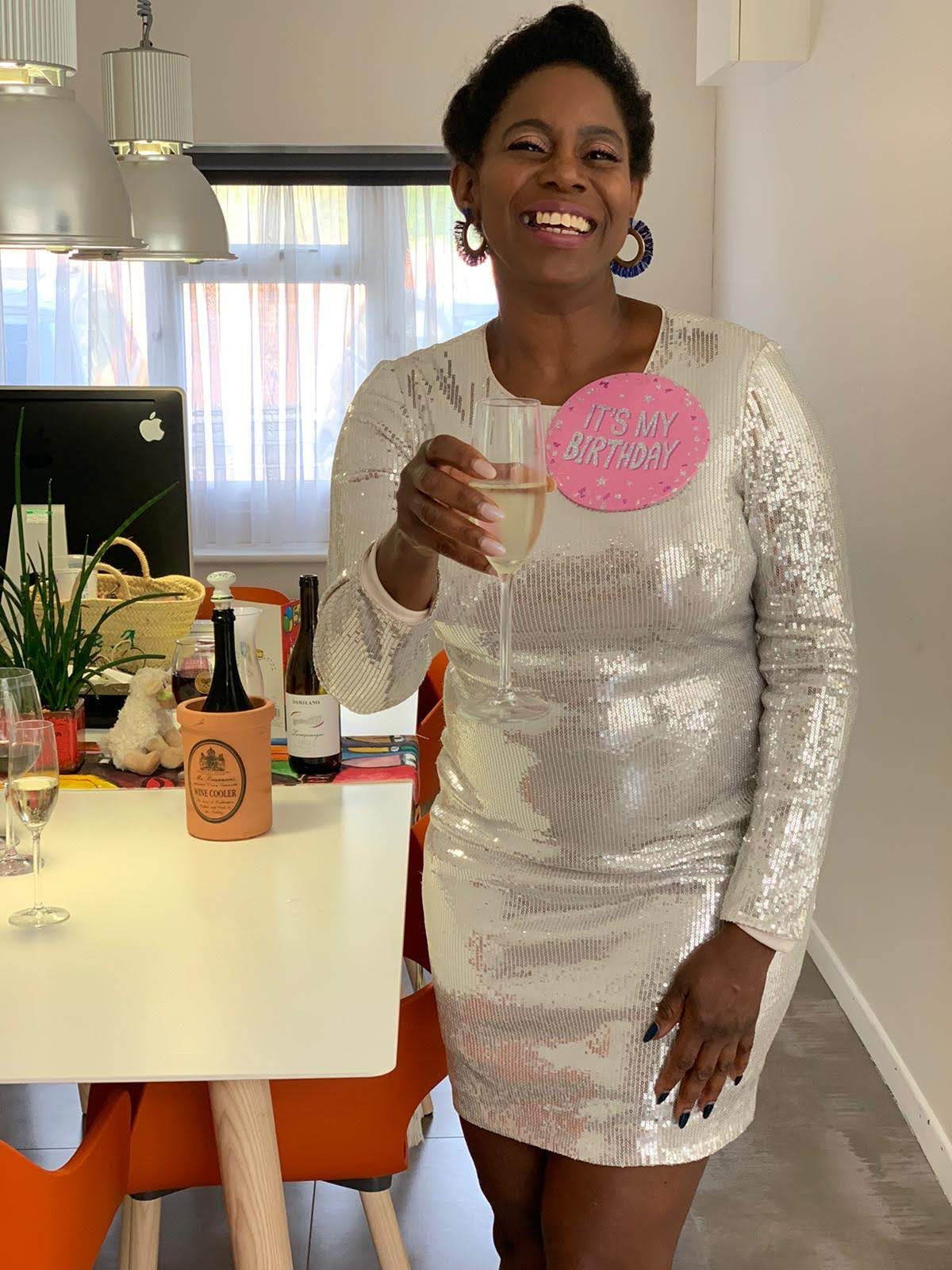 Her original plans were a classical concert with her mother and friends, some afternoon tea, and a party with family in the evening. With the lockdown, she was stuck at home instead, but her sister planned not one but six virtual parties so different circles could participate.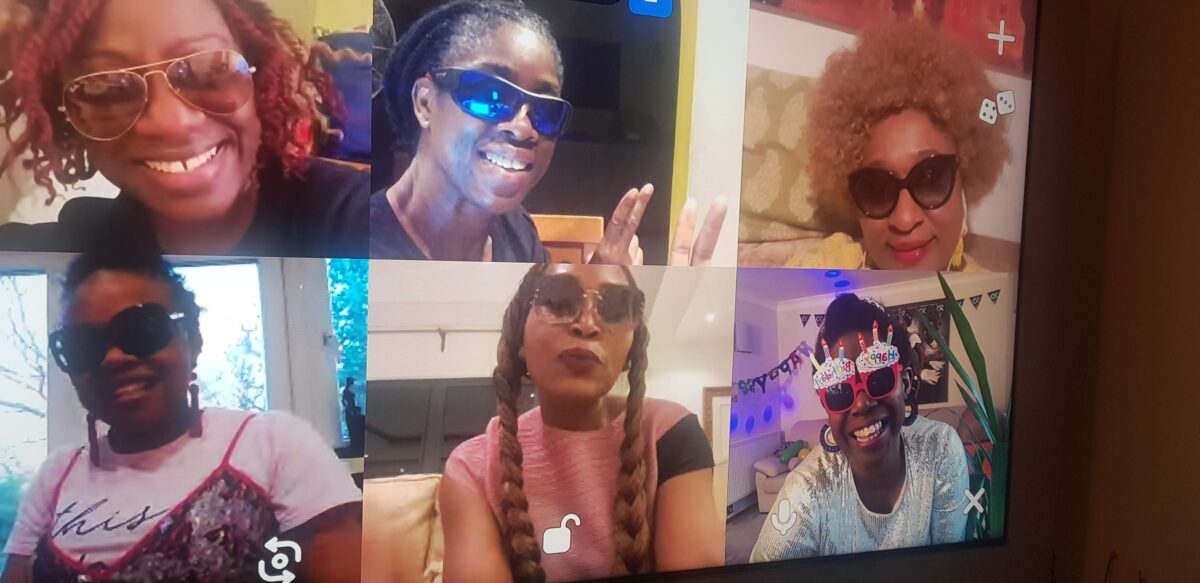 "It was awesome," she said. "Lots of dancing. We brought in the same cake six times, and I blew the candles six times, and [we sang] happy birthday six times."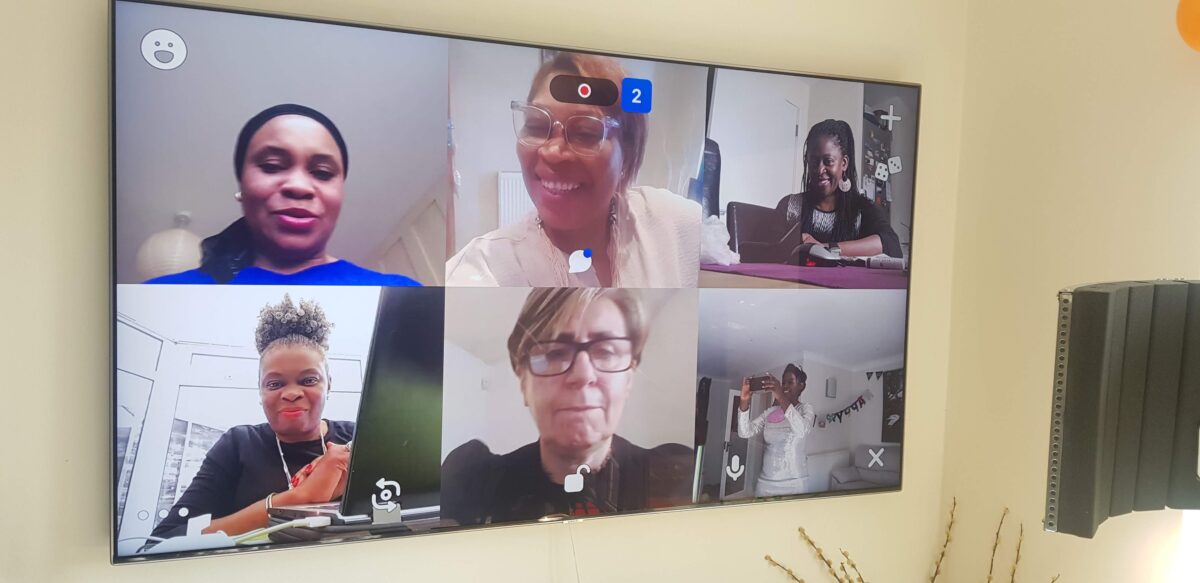 "Much better than my original plans," she said, "although my mum was not able to be with me."
In the Virgin Islands, life went on amid a lockdown, and Asya and Matt got engaged on March 15. On the 29th, they contacted photographer Anne Bequette, who had been self-quarantined at home on St. John. Bequette started receiving cancellations since March 17, when her first bride who was coming by cruise said she would not be going.
The islands are not unaccustomed to disaster: summer is hurricane season, and things close down until it becomes a ghost town. But it was six weeks too early, and the pandemic had taken all of Bequette's business with it.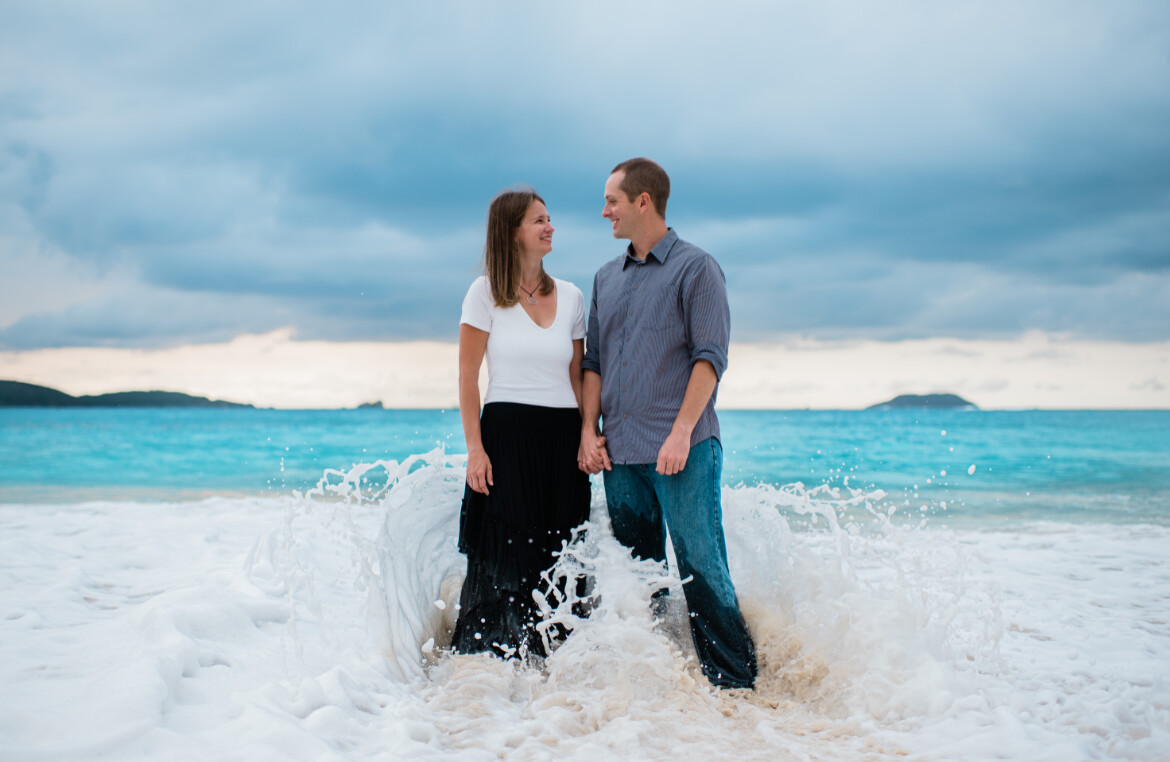 "I got really excited to actually have a reason to use my camera, because that's my go-to tool when I'm dealing with something traumatic like this," Bequette said. The islands, whose economies rely on tourism, have only just recovered from the Category 5 Hurricanes Irma and Maria. In the aftermath of that trauma, Bequette channeled her grief into a photo series, a project she learned helped other residents heal as well.
"Using a camera, I think it's such a fascinating tool. It's a universal language that speaks to the heart, and there's no language barrier in photography," Bequette said.
From that experience, she learned that not just life but love also goes on, even during a disaster.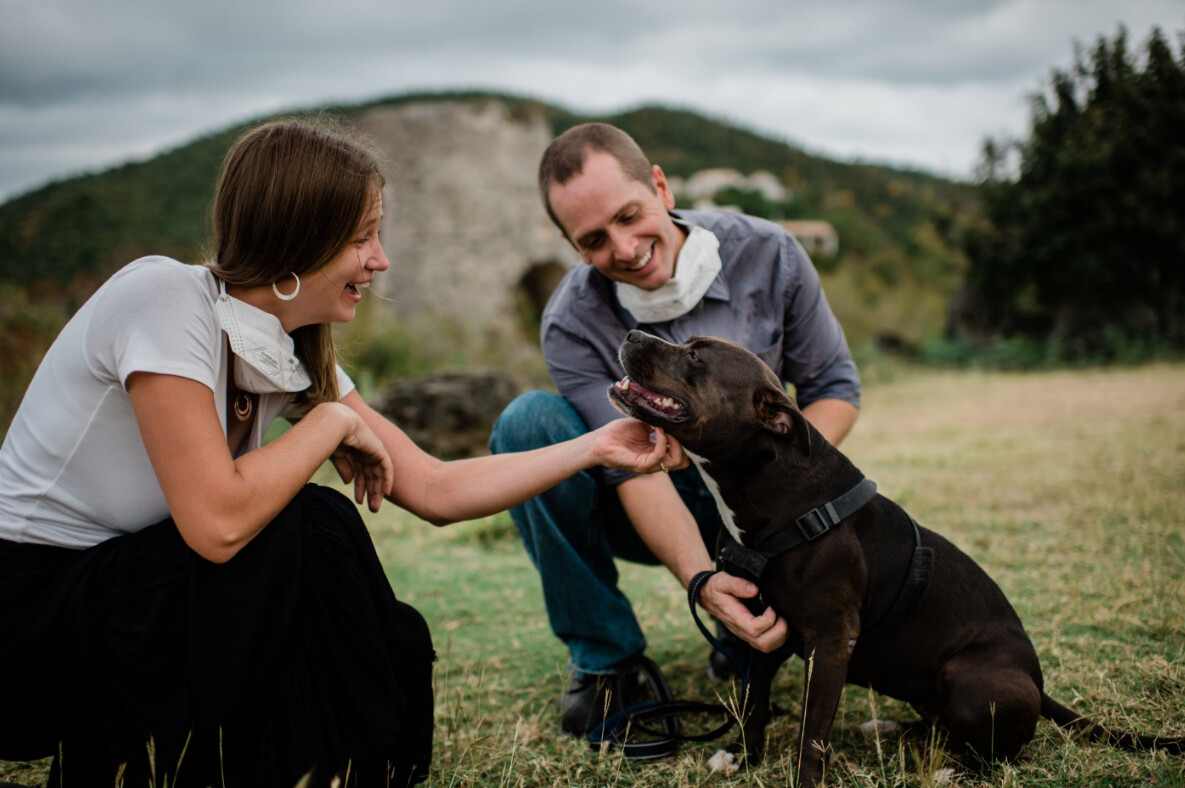 Asya and Matt met during disaster relief after Hurricanes Irma and Maria, and they both work at the local no-kill shelter, St. John Animal Care Center, where they adopted their rescue dog Calichi.
Bequette, armed with Lysol and other disinfecting agents for the photoshoot she would do from at least six feet away, asked about their story.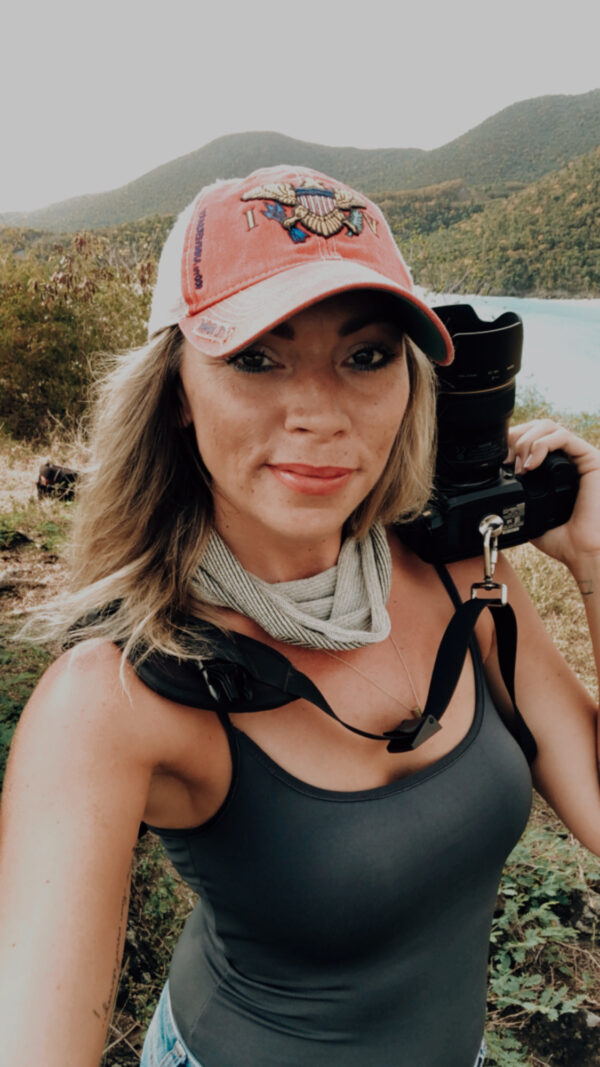 "He said it was planned and in the works before the pandemic started making news in China," Bequette said. "The spread of the virus was a reminder to him of how quickly things can change in life and the importance of treasuring those you love. They'd already gone through one apocalypse together, and this one looming was just affirmation that he wouldn't want to go through with it or life in general with anyone else other than Asya."
"They wanted to continue on with what every newly engaged couple would normally want, which is engagement photos. So we made it happen and we got lucky. The day after our shoot, unbeknownst to us, the entire national park, the beaches, all the trails were closed," Bequette said.

"I think it's really important to remember that amidst this worldwide pandemic that life has not halted. Albeit it must go on in limited and extremely different ways, we have to remember now more than ever to remind ourselves of the little things that we often overlook in the hustle and bustle of everyday life," Bequette said.
"We're all so caught up in the news and social media that we forget what we have right in front of us. Love isn't canceled, nor is hope, and for many, this quarantine time highlighted that, and for me, this photoshoot highlighted and reminded me as well. I love documenting love, and the raw beauty of a moment. It was extra special to capture this photoshoot because it did give me hope."