NEW YORK—The French Romantic composer Gabriel Urbain Fauré (1845–1924), though he achieved fame late in his career, was highly influential on French music thereafter. His music is known for its refinement, sensitivity, and intimacy.
Fauré bridged the Romantic and modern periods; atonality and serialism (in which sets of fixed notes are used to create a structure rather than the chromatic scale) arose near the end of his career, though Fauré did not compose in these styles. Instead, he expanded tonality without breaking from the traditional structure of classical music. 
He studied under Camille Saint-Saëns and later taught Maurice Ravel, Georges Enesco, and Nadia Boulanger, among others.
About a hundred of Fauré's works are frequently performed in France, and outside the country some of his most popular works are his well-known works Requiem (Op. 48), Pavane (Op. 50), "Claire de Lune" ("Moonlight", Op. 46, No. 2), and his first sonata for violin and piano.
Many of his best-known pieces were composed, at least partially, during 1877, a whirlwind of a year for Fauré both personally and professionally.
"During that year he fell in love, he got engaged to this girl, and within the same period of time, inexplicably—she didn't make her reasons clear to him—she broke off the engagement with him, and he was heartbroken," said Luke Fleming, artistic director of Manhattan Chamber Players.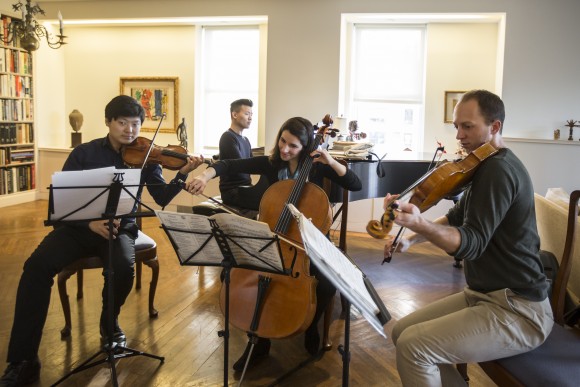 "But during that time period, he wrote some of his most gorgeous and often-performed music as well," said Fleming, who has programmed a pre-Valentine's concert full of music written from this one year. Drawing from the collective roster of Manhattan Chamber Players, comprising musicians who all have their own separate careers, Fleming arranged for a pianist, violinist, violist, and cellist to perform at (Le) Poisson Rouge on Feb. 7.
"[The program] goes from hopeful young love, to heartbreak and tragedy, to resignation and calm acceptance," he said. "Even [in] the piece he wrote after the breakup, there is tragedy, but there's triumph over the tragedy."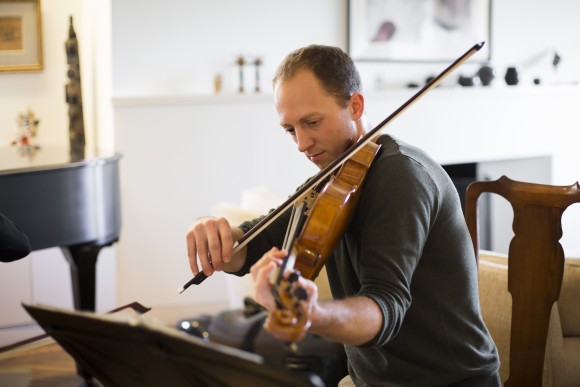 The Program
The program opens with Fauré's Berceuse (Op. 16) and "Après un Rêve" ("After a Dream", Op. 7, No. 1). The Berceuse, melodic and colorful, is one of his best-known pieces and has been arranged many times. "Après un Rêve" was composed to an Italian poem, adapted into French by Romain Bussine, about a man who dreams of his beloved and, once awake, wishes he could return to the dream, though it is a lie.
Both pieces were published in 1878, though Fauré likely had been working on the pieces for years before that.
For many years, Fauré was only able to compose during summer vacations, between working as a teacher and choirmaster. During the summer of 1876, he began his Sonata No. 1 (Op. 13) for violin and piano, which he dedicated to violinist and composer Paul Viardot, the son of great mezzo-soprano Pauline Viardot. It premiered in 1877 and was considered by some to be his first masterpiece.
Fauré was introduced to the Viardots in 1872 and fell in love with Pauline's daughter Marianne. He courted her for five years, and in 1877, they were engaged. Alas, three months later, she broke it off.
During that time, he had also been working on his Piano Quartet No. 1 in C minor (Op. 15), which he did not complete until 1879 due to personal and professional troubles, though the piece is predominantly positive. It premiered on Valentine's Day the following year, in 1880, and will also be performed at the Feb. 7 concert.