A museum in South London is hoping its new colorful bee garden will attract visitors as well as solitary bees when it reopens its doors on July 30.
The Horniman Museum and Gardens has been closed for four and a half months due to the lockdown to curb the spread of the CCP (Chinese Communist Party) virus. Each month costs the museum 150,000 pounds ($200,000) in income, the museum said.
When the museum opens to the public on Thursday, visitors will be greeted by the now-in-full-bloom installation called the Bee Garden.
The hexagonal raised beds are planted with flowers that attract and provide food for bees, such as sunflowers and Viper's Bugloss, which are surrounded by "an area of wildflower turf for maximum plant diversity." In each wildflower area, bee hotels made from reclaimed pallets will provide shelter and nesting sites for solitary bees.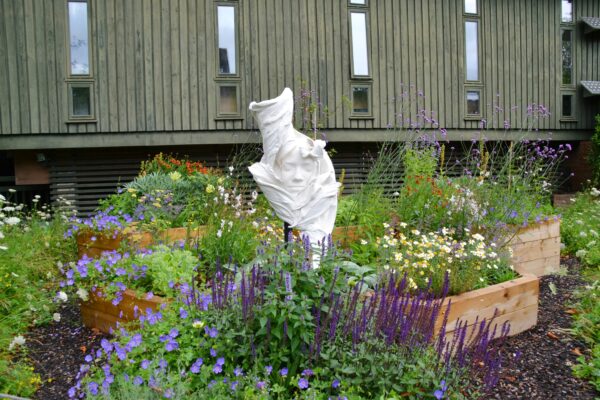 The central attraction is a new sculpture by artist and physicist Jasmine Pradissitto called "Flower Girl," which is made from NoxTek™, a material that absorbs the air pollutant nitrogen dioxide. The gas has been found to mask the smell of flowers and prevent bees from finding food, the museum said.
Rain will wash away the pollution safely, allowing more gas to be absorbed.
The museum is located close to one of London's busiest roads, the South Circular, where levels of nitrogen dioxide pollution released by traffic can exceed government air quality limits, according the London Air Quality Network.
'[Bees are] our most important pollinators, vital to gardeners and to the environment as whole, so it makes sense to design with them in mind," Wes Shaw, Head of Horticulture at the Horniman Museum and Gardens, said in a statement.
This latest addition to the garden's display forms part of a wider effort to protect the bee population, which has seen a decline in recent years.
A House of Commons library document from 2017 (pdf) states that there are over 250 species of bees in the UK, 224 of which are solitary bee species.
"There has been an overall decline in wild and honey bees over the past 50 years," the document states. A government review in 2014 (pdf) identified habitat loss as one of the pressures pollinators face.
Last year Brent Council in North London planted a 7-mile-long "bee corridor" of wildflowers in its parks to encourage bees, the BBC reported.