At the Kruger National Park in South Africa, nature photographer Lyle McCabe managed to capture a series of fascinating and eye-catching photographs of a young lion cub with a rare condition called leucism, playing with his siblings while his parents watch on nearby.
Leucism is found in animals and results in a partial loss of pigmentation, causing either patchy or white skin, fur, or feathers. Similar to albinism, leucism causes animals to stand out starkly in among their kind—and while leucism is more common than albinism (which is the total loss of pigmentation), it's still incredibly unique, making McCabe's photographs rare and special.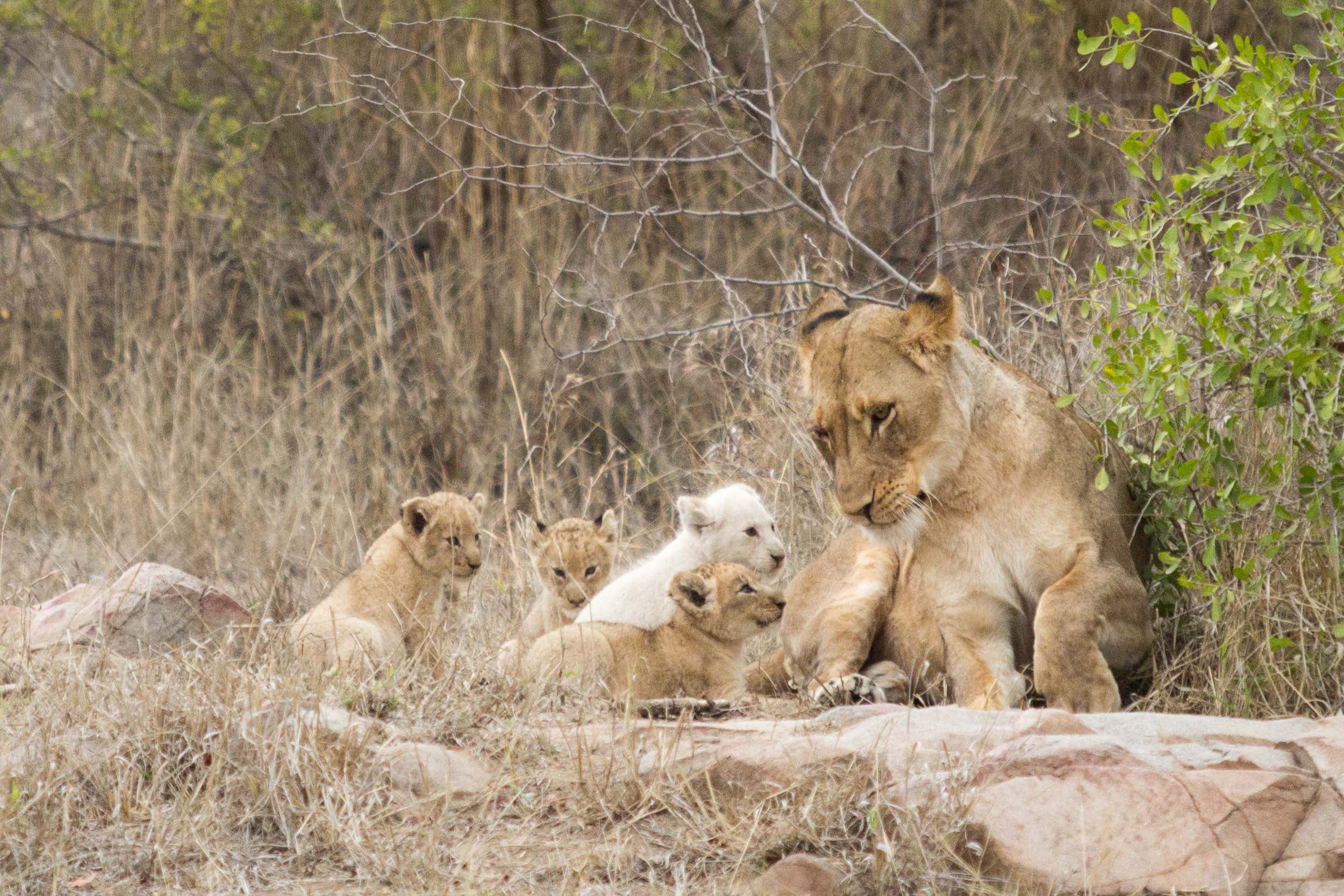 The 30-year-old photographer explained in an interview with Caters News Agency that while the arrival of the lion cubs was known at the national park, the leucistic cub was an extremely exciting discovery.
"I was absolutely mind blown with this sighting," said McCabe.
"We had known the cubs had been born about a month before but as per company protocol we had moved away from the area for walking, tracking and driving off-road in order to ensure the safety of the animals," he added. "I arrived at the spot and waited about 10 minutes before we saw movement in the thicket, and out came the mother with a tawny youngster in her mouth followed closely behind by the pale youngster.
"My family and friends have been overwhelmed by what I saw. The other guides I work with felt a mixture of excitement and deep jealousy."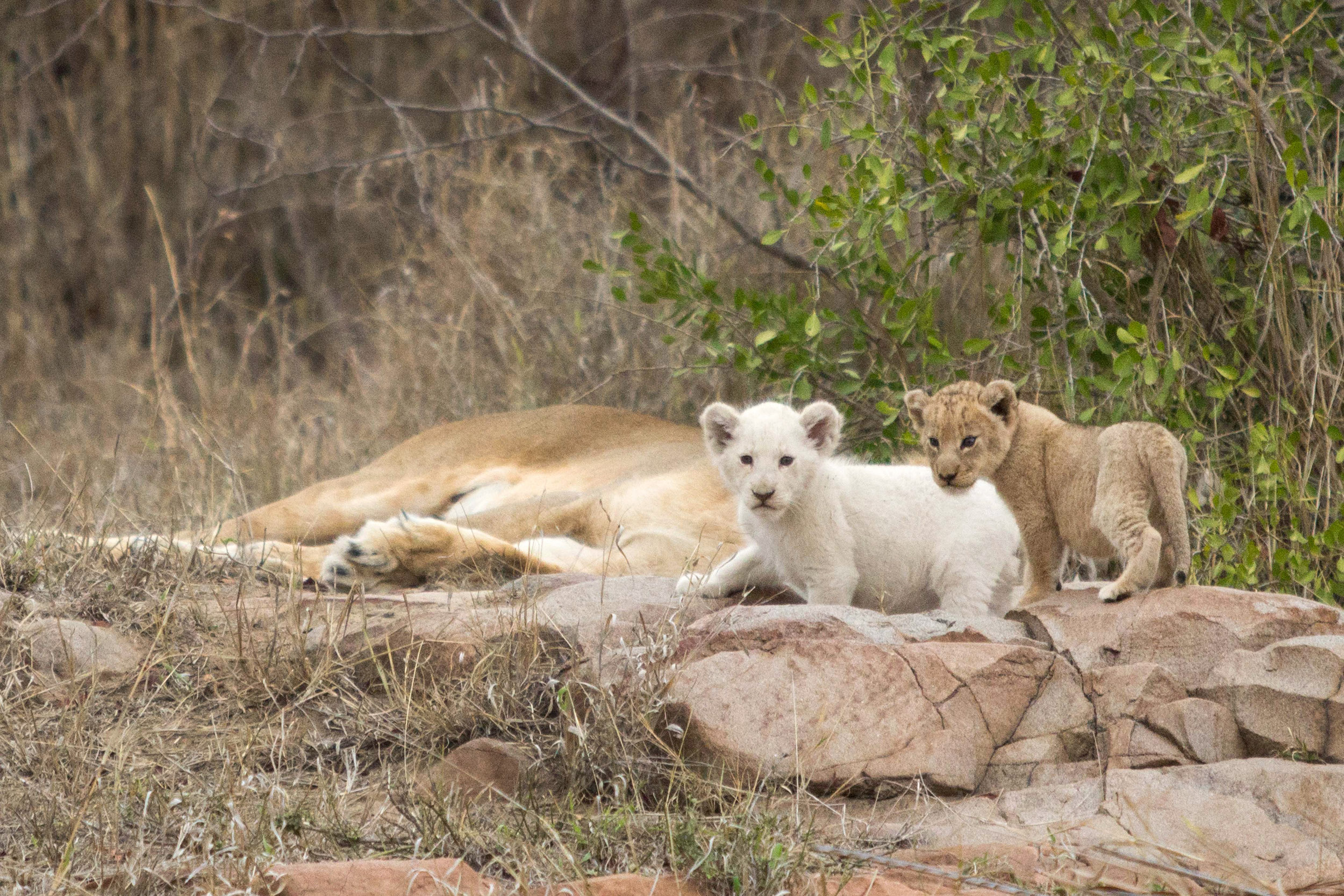 The leucistic lion cub would have had the necessary genetic material for his condition passed down from both parents, as leucism is recessive. But he's the only one of his siblings to have his stark unique coloring, which makes him stand out—good for photographs, though unfortunately there are risks associated with the condition.
As McCabe went on to state, the road to survival for all of the cubs can be perilous, but the leucistic cub will have an especially tough time because he stands out so clearly.

"We are all hopeful that all of the cubs will make it past the critical two-year mark which will increase their percentage of survival greatly," he said. "Hopefully we will have many more sightings of this very rare genetic change. The road ahead will be a tough one for all the cubs but especially for this bright white youngster."
The problem, explained McCabe, is that the bright contrast of the pigment-less coat on the leucistic cub makes it difficult for him to blend in, both with his siblings and with his surroundings. This can make it hard for him to hunt and can also make it easy for his den to be spotted by those looking to harm them.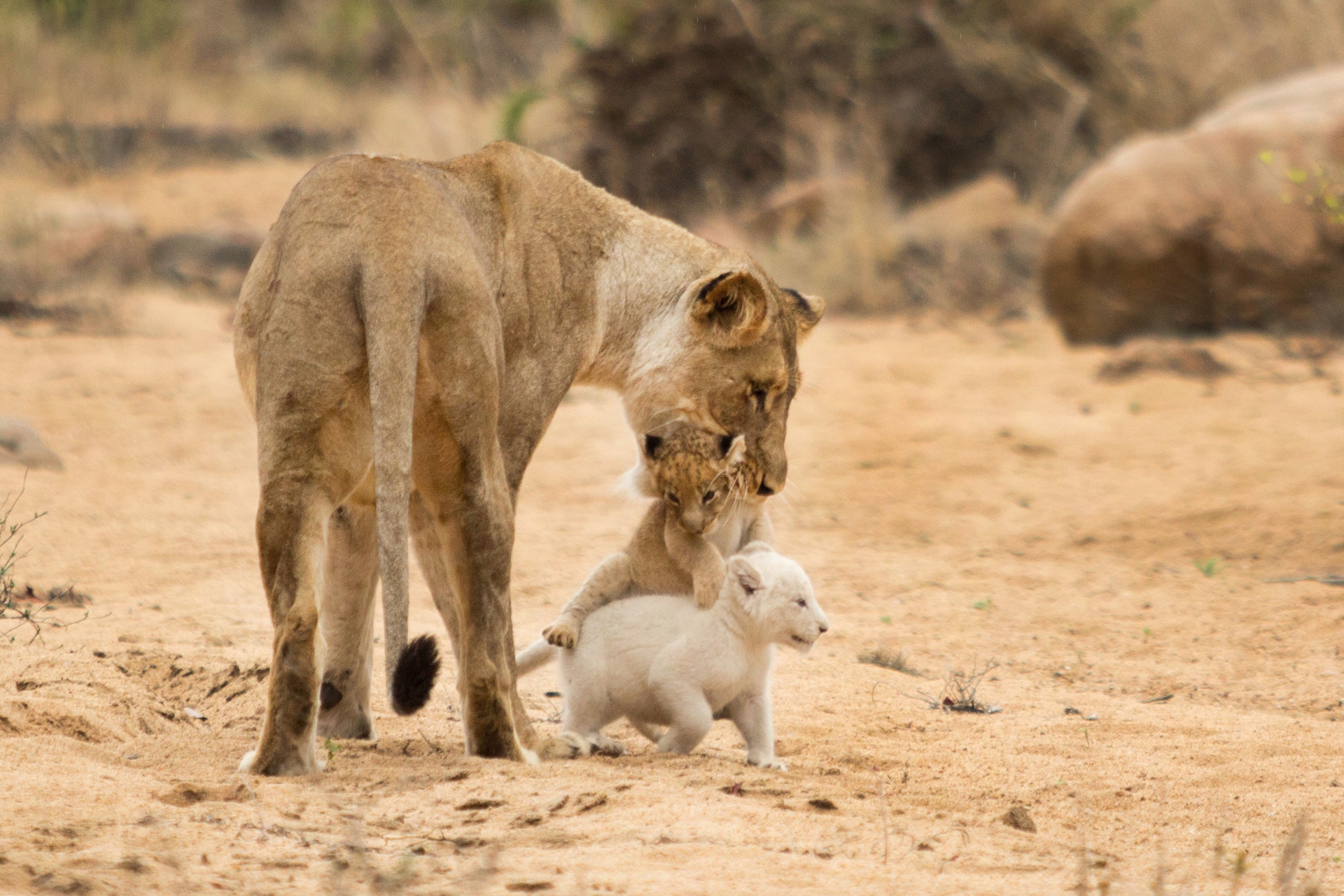 "He will not only make things hard on himself when it comes to hunting in his white coat, but there is also the chance that he may hinder his siblings' chances of survival by giving their position away, either at the den sight or hunting alongside the rest of the pride," McCabe said.