Shen Yun Opening Performance Sold Out in New York
April 20, 2013 5:16 pm Last Updated: December 24, 2013 7:53 pm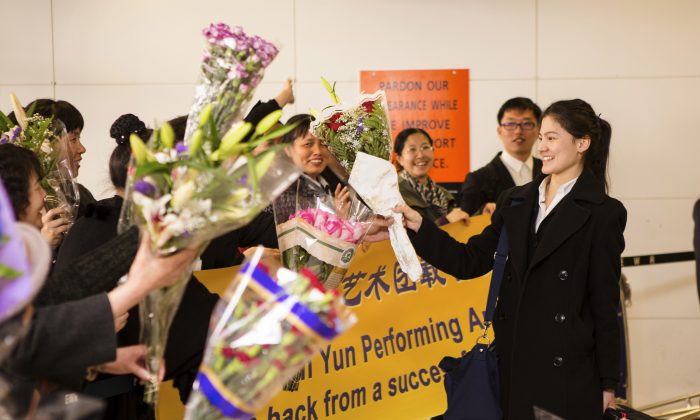 NEW YORK—The Lincoln Center sold out Saturday afternoon to welcome home Shen Yun Performing Arts New York Company after a successful European tour.
In seven years, Shen Yun went from a local performance to a global touring sensation. "That speaks to the power Shen Yun has to touch people's hearts with its unique beauty," Pia-Maria Norris, Shen Yun Promotions International spokeswoman, told the Epoch Times.
In 2013, Shen Yun has performed in over 100 cities across the globe. "My friends in many other cities are telling me about the standing ovations from the audience after their performances. It is wonderful to see how warmly people have been responding to Shen Yun," said Mrs. Norris.
Some audience members on Saturday afternoon drove from hundreds of miles away to the Lincoln Center's David H. Koch Theater to watch Shen Yun.
"As organizers, naturally we want to share this wonderful experience with all of the people in New York," Mrs. Norris said.
Shen Yun presents storytelling through dance and music. The company's mission is to revive 5,000 years of Chinese civilization. At its core is classical Chinese dance, with its demanding techniques, synchronized movements, and expressive beauty, describes Mrs. Norris.
The development of classical Chinese dance has taken thousands of years, evolving to have unique dance movements, inner meaning, forms, postures, and rhythms, according to Shen Yun's website.
Shen Yun has been delighting audiences in New York City since its 2006 debut under the name "Holiday Wonders."
"What I loved about the show was the authenticity of it … from a spiritual level. It was so beautiful to see," said Donna Karan, creator of DKNY, after seeing a past performance.
New York-based Shen Yun Performing Arts has three touring companies that perform simultaneously around the world. Shen Yun Performing Arts will perform at the David H. Koch Theater at Lincoln Center from April 20 to 28. For more information, visit ShenYunPerformingArts.org.
The Epoch Times publishes in 35 countries and in 21 languages. Subscribe to our e-newsletter.