In the first half of the 20th century, the rest of the world learned much of what it knew about America from motion pictures. The cameras of Hollywood captured the American spirit and shipped those images around the globe—our respect for liberty and self-reliance, our love for the underdog, our sentimental attachments to everything from our country to children, our generosity, and our sense of humor.
In these films were iconic actors who came to represent our country. Here, for example, is what actress Maureen O'Hara once said before Congress: "To the people of the world, John Wayne is not just an actor, and a very fine actor, John Wayne is the United States of America. He is what they believe it to be. He is what they hope it will be. And he is what they hope it always will be." Other performers—Humphrey Bogart, Jimmy Stewart, Clark Gable, Elizabeth Taylor, Katharine Hepburn, and more—also seemed, both to their fellow citizens and to foreigners, quintessentially American.
And most of the films written and produced in those days celebrated our country, albeit often unintentionally. From the glamorous characters found in "The Thin Man" to the beaten-down souls in "The Grapes of Wrath," Americans recognized themselves or their neighbors, and took joy and solace from that recognition.
In our own disquieting time of pandemic and division, let's look back at some of these films and remember the American Dream.
'A Tree Grows in Brooklyn'
Released in 1945, and based on Betty Smith's novel by the same name, this movie about an immigrant family living in Brooklyn, New York, at the beginning of the 20th century reminds us of several American values: self-reliance, the importance of work, and the freedom we have to pursue our dreams.

Though "A Tree Grows in Brooklyn" offers an excellent cast, the performances of Peggy Ann Garner as Francie Nolan and Dorothy McGuire as her mother, Katie, make this movie one of the best films of its time.
Francie is a young girl with big dreams, different from those around her because she so highly values books and learning; she is "the tree" growing in Brooklyn. Stouthearted Katie carries the family financially by her penny pinching and hard work. The interplay between mother and daughter, and between Francie and her father (James Dunn), is moving and beautiful. It's a movie that touches me every time I see it.
Once, when Katie questions the value of reading the Bible and Shakespeare nightly with her children, her mother interrupts her to say: "This reading will not stop … In that old country, a child can rise no higher than this father's state. But here in this place, each one is free to go as far as he's good to make of himself. This way, the child can be better than the parent, and this is the true way things grow better."
Grandma understood the importance of education.
'On the Waterfront'
Elia Kazan's hard-hitting film about union corruption on the shipping docks finds workers, a priest, and a young woman (Eva Marie Saint) battling an evil boss and his cronies.
In one scene, one of the dockworkers, Kayo Dugan (Pat Henning), who is willing to testify to the corruption of the union, is murdered while unloading a ship. Father Barry (Karl Malden) has promised to go the last mile for those willing to fight the union bosses, and so he enters the ship's hold, stands over Kayo's corpse, and delivers a speech.

Here is a part of that eulogy that has particular relevance to this present moment in our history:
"Some people think the crucifixion only took place on Cavalry. They better wise up! Taking Joey Doyle's life to stop him from testifying is a crucifixion. And dropping a sling on Kayo Dugan because he was ready to spill his guts tomorrow, that's a crucifixion. And every time the Mob puts the pressure on a good man, tries to stop him from doing his duty as a citizen, that's a crucifixion. And anybody who sits around and lets it happen, keeps silent about something he knows that happened, shares the guilt of it just as much as the Roman soldier who pierced the flesh of our Lord to see if he was dead."
The priest's words inspire Terry Malloy (Marlon Brando), a one-time professional boxer working for the Mob, to take a stand against his immoral employers.
Films like "On the Waterfront" offer that same inspiration to us in our troubled times.
'Mr. Smith Goes to Washington'
A political machine must select a replacement for a recently deceased U.S. Senator. The governor who is a part of that machine selects Jefferson Smith (Jimmy Stewart), head of the Boy Rangers, as someone pleasing to the people, naïve, and therefore easily manipulated.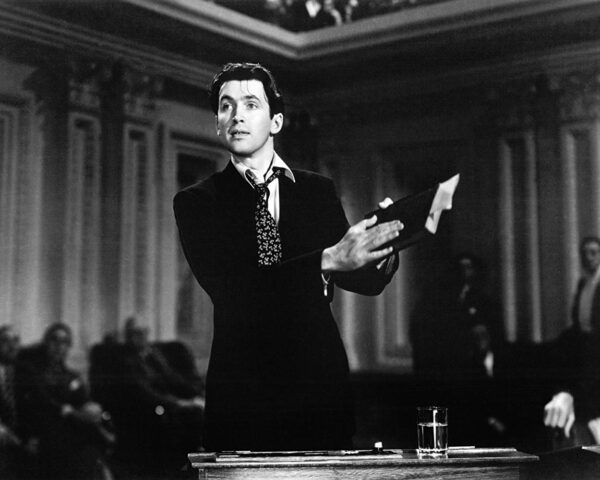 When Smith eventually realizes the level of rot and corruption in his home state and tries to expose it, he finds himself in danger of being expelled from the Senate by means of lies and slander. Following the advice of Clarissa Saunders (Jean Arthur), who knows the ins and outs of politics and law, Smith fights back with a filibuster, speaking for more than 20 hours until he finally collapses. The fellow senator from his state then breaks down from remorse and confesses the fraud that he and others had perpetuated.
At one point in this fine movie, Jefferson Smith states: "And this country is bigger than the Taylors, or you, or me, or anything else. Great principles don't get lost once they come to light; they're right here! You just have to see them again."
As Smith says, our great principles are still right here. The good news today for America is that more and more people are opening their eyes and seeing them again.
And Many More
Many other films, old and new, can give us a sense of pride in our country and its people.
The beloved classic "It's a Wonderful Life," the Westerns of John Wayne, musicals like "Singin' in the Rain" and "South Pacific," "12 Angry Men"—these are just a few of the movies that would make my list, and I'm sure every reader could come up with a dozen more classics.
And though we often hear that liberal and leftist scriptwriters and directors today put out movies denigrating or attacking America, I can think of plenty of more recent films celebrating both our past and our way of life: "The Patriot" and "We Were Soldiers" starring Mel Gibson, and "Hacksaw Ridge," which he directed; Ron Howard's "Cinderella Man" and "Apollo 13"; "The Pursuit of Happyness"; "Tender Mercies"; and that wonderful series about a Founding Father, "John Adams."
My readers, I am certain, could name many more good movies about our country.
The Dream
Hollywood showed the world the American Dream, but it didn't create that dream. That dream was 200 years in the making before Hollywood began producing pictures.
Americans created that Dream. They're the ones—the pioneers, the men who wrote our Constitution, the men and women who raised their families in misery and hardship, the soldiers who fought our wars, and the civilians who fought for rights for all Americans, the great and the insignificant—who built and loved this country.
In "Mr. Smith Goes to Washington," Jefferson Smith declares, "Liberty's too precious a thing to be buried in books … Men should hold it up in front of them every single day of their lives and say: 'I'm free to think and to speak.'"
That's America. That's the Dream.
Jeff Minick has four children and a growing platoon of grandchildren. For 20 years, he taught history, literature, and Latin to seminars of homeschooling students in Asheville, N.C. He is the author of two novels, "Amanda Bell" and "Dust On Their Wings," and two works of non-fiction, "Learning As I Go" and "Movies Make The Man." Today, he lives and writes in Front Royal, Va. See JeffMinick.com to follow his blog.