Zheng Banqiao, a famous artist of China's Qing Dynasty (1644–1911), was well known for his paintings of bamboo. He talked about how he came to master painting bamboo after he was 60.
"When I first started painting bamboo, I was unable to have many bamboos in a painting," he said. "Then, when I reached a stage where I was able to paint many bamboos, I found myself unable to have just a few bamboos in a painting. It was a tough level to attain. I only came to master the skill of having fewer branches and leaves in a painting after I turned 60. To quote Su Jizi [Su Qin, an influential political strategist during the Warring States period of ancient China], being concise is the word. It applies to both writing and painting".
Zheng's words are a summary of the three stages of development in the creation of art and literary works: less, more, less.
In the initial stage of producing pieces of work, a novice usually encounters problems due to lack of experience in life and mediocre skills. As time goes by, he gains experience in life, his horizons are broadened, and his skills are honed. Producing a painting or composing a poem just comes naturally.
However, not every stroke or word is to the point or crisp. This is when the pursuit of simplicity begins, and it is a long and agonizing process.
Indiscriminate felling of trees destroys a forest. Likewise, removing lines or paragraphs from a passage at random kills the art. Therefore, it is not easy to go from less to more, and even harder to go from more back to less.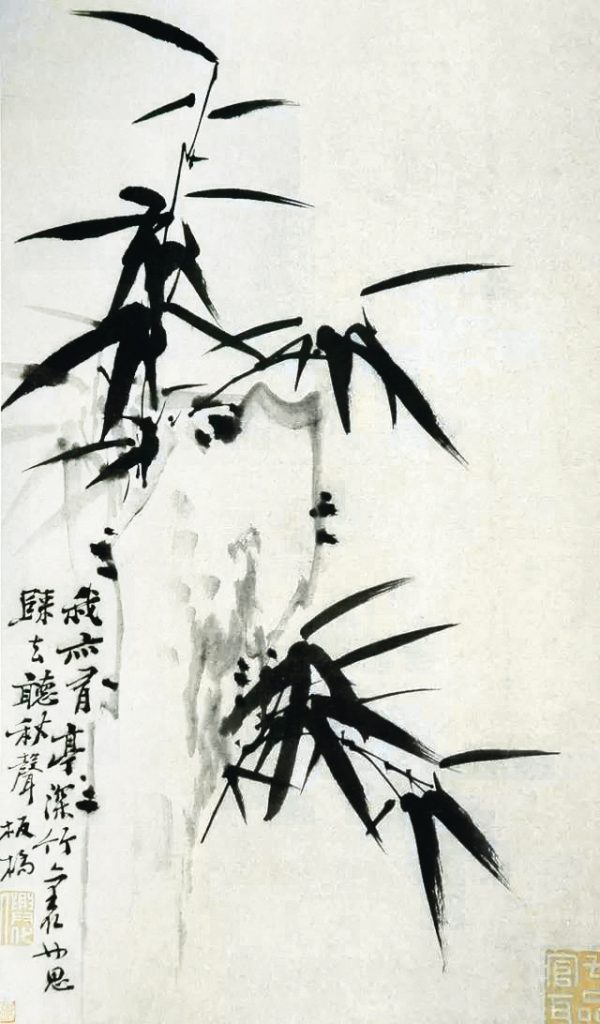 Zheng only mastered the skill after he was 60. How hard he must have worked in his pursuit of art! His effort paid off, and he was finally able to achieve the level of "less is more".
Once, he only painted a bamboo with 15 leaves on it. He wrote a poem on the painting: "Less is more, less is more. The rain drums on the autumn leaves, and they dance before my engraved windows".
Zheng was elated to be successful in his artistic pursuit of "less is more".
A lesson can be drawn from Zheng's experience in painting bamboo: literary works are also not about quantity, but quality. A concise and refined piece of work with a lot of depth beats a lengthy and monotonous production any time.
In the old days, the following couplet was hung outside theatres: "Travel around the world in just a few steps; form a troop of a million with only a few men." Literary works should have more powerful vocabulary than piling on fanciful descriptions.
A poet once said, "Exceptional intellectual power has to do with diligence, while art is about deleting two lines to keep only one".
Lao She, a famous novelist who was persecuted to death by the Chinese Communist Party, used to quote this saying: "Between a mouthful of fresh peach and a basketful of rotten apricots, I would go for the former."
"Less is more" is indeed the acme of literature.
We can see some novelists producing voluminous writings that look great at first glance. Yet when we read carefully, we see that the plot is obscured by frequent digressions.
Going for quantity rather than quality, one can never achieve the pinnacle of success. Perhaps we should draw a lesson from Zheng's bamboo.
Written by Zhuang Jin, translated by Su Lin, and edited by Sally Appert.