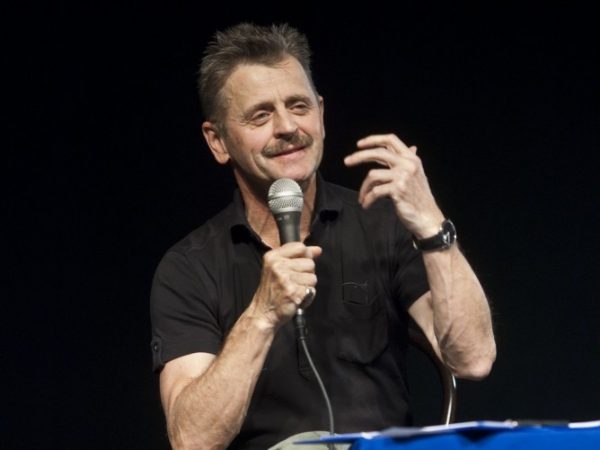 TEL AVIV, Israel—"I'm not that old …" answered the king of classical ballet, Mikhail Baryshnikov, provoking laughter from the crowd. His quip followed a reporter's question asking where he has gotten all the energy to keep performing as long as he has.
Baryshnikov, considered one of the greatest ballet dancers of our time, arrived at a press conference held in November 2011 at the Susan Dellal Centre in Tel Aviv, Israel, on the occasion of the show "In Paris," in which he plays the lead.
The artistic giant and divine dancer, now over 60 years old, emitted warmth and captivating grace. He answered questions patiently and politely, and even humorously.
In the last few years Baryshnikov has diversified his career by performing in movies, on television, and in theater. He says that creating art is the responsibility we have to the future.
Furthermore, he claims that in any artistic forum the artist might engage in, he carries an eternal quality that is not consumed and which continues to create its expression, whether in movement, voice, or tone.
"Everyone has his own signature," he says, "like the great composers who you can identify from the first musical sentence. You immediately know if it's Shostakovich or Mendelssohn. Choreographers bring in those elements, because a dancer's body language creates thousands of images that have never been created before."
Baryshnikov had been invited by the Susan Dellal Centre after having performed there with the dancer Anna Laguna in a show integrating theater and dance.
In the play, "In Paris," alongside the actress Anna Sinyakina, he has been focusing on theater.

'In Paris'
"In Paris" is an adaptation of a story written in 1940 by Ivan Bunin, directed by the Russian director Dmitry Krimov, and produced by the Baryshnikov Arts Center in New York and the Dmitry Krimov Lab. It ran in mid-November 2011 in Russian accompanied by a Hebrew written translation, at the Susan Dellal Centre in Tel Aviv.

"As you know, art, dance, theater, are not far from each other. But this now is not a dance. It's about body language and internal intention. Whoever is familiar with director Krimov's concept knows that movement, dancing, music, and singing constitute a great part of his talent as an artist.
"When on stage, I do not think, 'Am I an actor, a dancer, or who I am,' I let myself be led by my instincts and by my partners on stage," Baryshnikov said.
"In Paris" is a love story about two Russian immigrants in Paris during the '30s. Baryshnikov plays a retired general of the White Army who had fled there from the Bolsheviks, and Anna Sinyakina plays a waitress many years younger than he is, working in a restaurant, where they meet.
Baryshnikov explained that while the playwright, Ivan Bunin, had not been deported and lived in exile by choice, "he was anti-communist and one of the best Russian artists of our time. He died in Paris; maybe this is a reflection of his thoughts. This is not a story about theater; it's a story about people in a typical, classic situation."