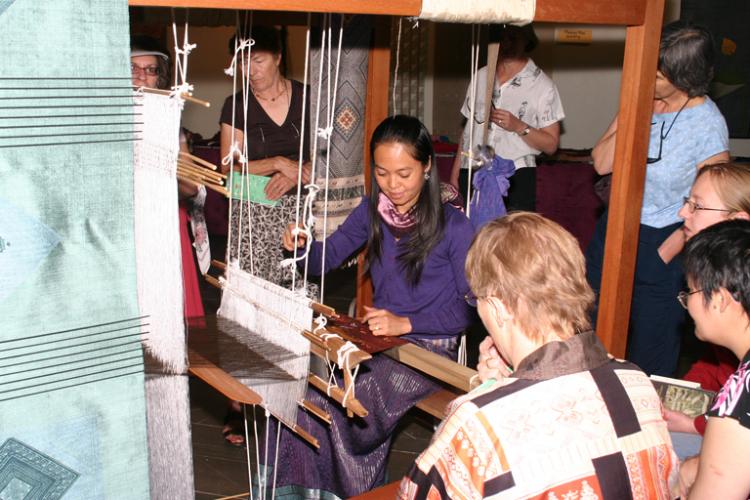 Sebastopol, Calif.—What started out as a trip to Southeast Asia five years ago exploring mid-life career change turned into a new beginning for Janet Rodina, who now owns her own gallery of fine crafts and hand-woven textiles that help both to preserve endangered ancient traditions and to sustain the livelihood of artisans through sustainable trade.
Weavers are considered to be a great asset to a family, and textiles are used for celebrations as well as identity, explained Rodina, at her second annual Lao Festival, where a dozen helpers were busy welcoming visitors to a richly-colored, textile-filled gallery.
Located fifty miles north of San Francisco, the once primarily plum-and-apple-growing town of Sebastopol has become home to a colony of artists. Amidst boutique shops, fine restaurants, and antique stores that line North Main Street, the second annual Lao Festival is burgeoning with silk-extraction and weaving demonstrations, a photo exhibit, and a fashion show in the newly relocated Silk Moon Gallery.
The Lao Festival is a celebration of an ancient culture that had survived the Vietnam War, but urbanization has since endangered the traditional Lao way of life. Young people have largely lost patience to practice the delicate and time-consuming art of weaving. Instead they have been lured by steady incomes to abandon their villages in search of urban jobs.
One of the seven Lao weavers who especially traveled to the Festival, Kongthong Nanthavong-douangsy, came from the remote northeastern province of Houaphan, whose weavers are famous throughout the country. Having learned the art of weaving from her mother, she and her sister now pass the knowledge and skills onto other young women through their own Phaeng Mai Gallery. It provides support to 250 women who, otherwise, have extremely limited options for education, earning money, and raising a family. A dazzling array of hanging pieces, wallets, traditional tube skirts, handkerchiefs, dresses, and hand bags showcase their work.
The woven pieces start with growing silk worms, a labor-intensive job in and of itself. Then there comes the preparation of dyes, which are extracted from such sources as tree barks, seeds, rocks, plants, and insects. Intricate colored patterns begin with the dye process, which involves tying yawn in precise increments with banana leaves (or plastic) that follows a design in the weaver's head. The yawn is then allowed to dry and is unwrapped before another color is applied in the same fashion to different segments of the yawn. According to Rodina, who has taken at least 14 trips to Laos, the dye process can take up to one or two months, and the final weaving can take anywhere between two weeks to six months.
Subtle patterns and motifs vary from community to community. Thus a Laotian who is familiar with the different regions can discern an owner's origin by the cloth he or she wears.
Weaving is not just for clothing, but for the relationships that it keeps. Pointing to a finely woven tube skirt, Rodina explained that when a young Laotian girl is engaged to her future husband, she would weave a signature piece like this for her mother-in-law. "It's a young women's way to say, 'I'm worthy of being in this family.'" The mother-in-law, in turn, acknowledges her by accepting the dress and wearing it at the wedding and at every special occasion thereafter for the rest of her life.
Other representative weavers at the festival came from the Taykeo Gallery and the OckPopTok Gallery. Taykeo is helping to sustain endangered textile arts by bringing promising young weavers from remote villages and hill tribes to apprentice in her studio. Many of them live with her family for six to twelve months, weaving and continuing formal education. Using antique textiles, Taykeo teaches them the same way that mothers, for generations, have taught their daughters to weave prized heirlooms.
OckPopTok, or "east meets west" in English, is a cooperative of about 20 women who share workloads and profits for their work. They derive inspirations from the Lao culture and find creative stimulus in the exchange of Eastern and Western cultures. Three generations span OckPopTok, with younger weavers designing on computers and senior weavers advising them on motifs and techniques.
The ancient art of traditional weaving is helping to sustain the lives of artisans. "All of Lao culture reveals weavers," exclaimed Rodina. It's an intricate part of Lao culture that has endured the challenges of the communist war.
"It's absolutely a thrill for me to be able to offer them this venue to showcase their work as art," said Rodina, who hopes to find a wider market for the weavers.