It wasn't much of a classroom—but where there's a will there's a way.
Under the awning of a bank in Spain, a devoted teacher imparts a lesson to a lone student on the sidewalk. It was this picture of an authentic, intimate street-classroom session that caught our attention after it was posted on social media and went viral.
That teacher's name? César de Miguel Santiago, a retired teacher and IT specialist for Banco de Vizcaya in Bilbao, who first spotted his street pupil, Evans Isibor, 35, two years ago, sleeping on the streets and unable to find work.
Since the day César, 75, took Evans under his wing, the duo became somewhat local celebrities, with passersby on the street occasionally exclaiming, "You are my heroes!" wrote Spanish outlet El País. The said photo of the two was posted on Instagram's Good News Movement; they've also made headlines in Spanish newspapers.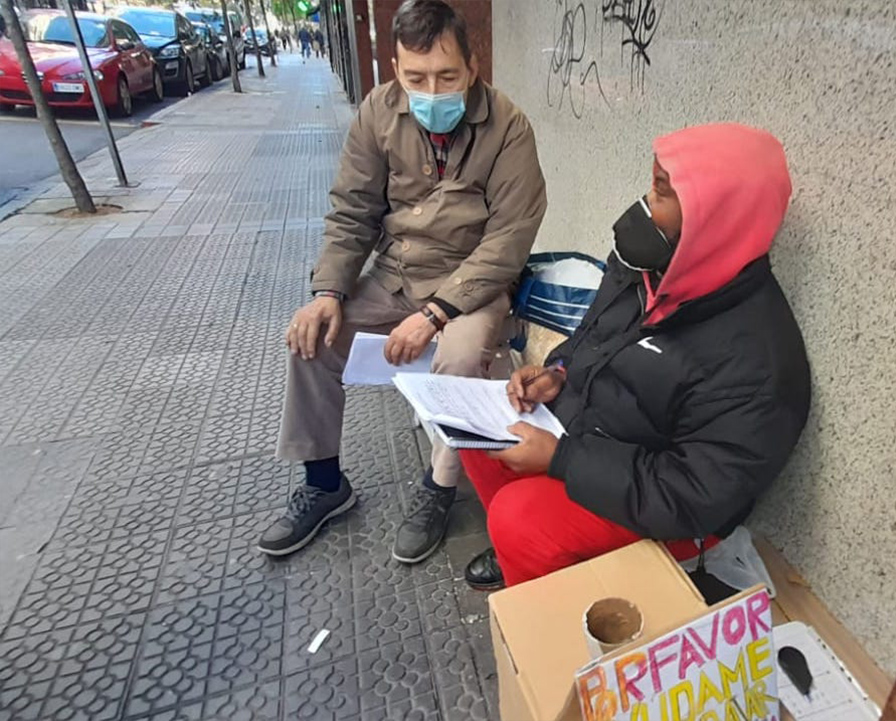 Empathy comes easy for César, an immigrant of religions upbringing, but another reason for helping Evans get on his feet was the young man's own background story.
Hailing from Nigeria, at the age of 15, he trekked across the Sahara Desert, Algeria, and Morocco seeking a better life; then crossing the Mediterranean by boat, he landed in Algeciras. Evans sought work and eventually wound up in Bilbao. The handwritten sign on the sidewalk where he sometimes panhandles, in Spanish, reads, "Please help me get to work."
That's exactly what César hopes to do.
"I told him that I could help him as a teacher who was in love with teaching!" César told The Epoch Times. "The subjects taught in ESO [the Spanish equivalent of a GED], which is the qualification Evans is fighting for at the moment.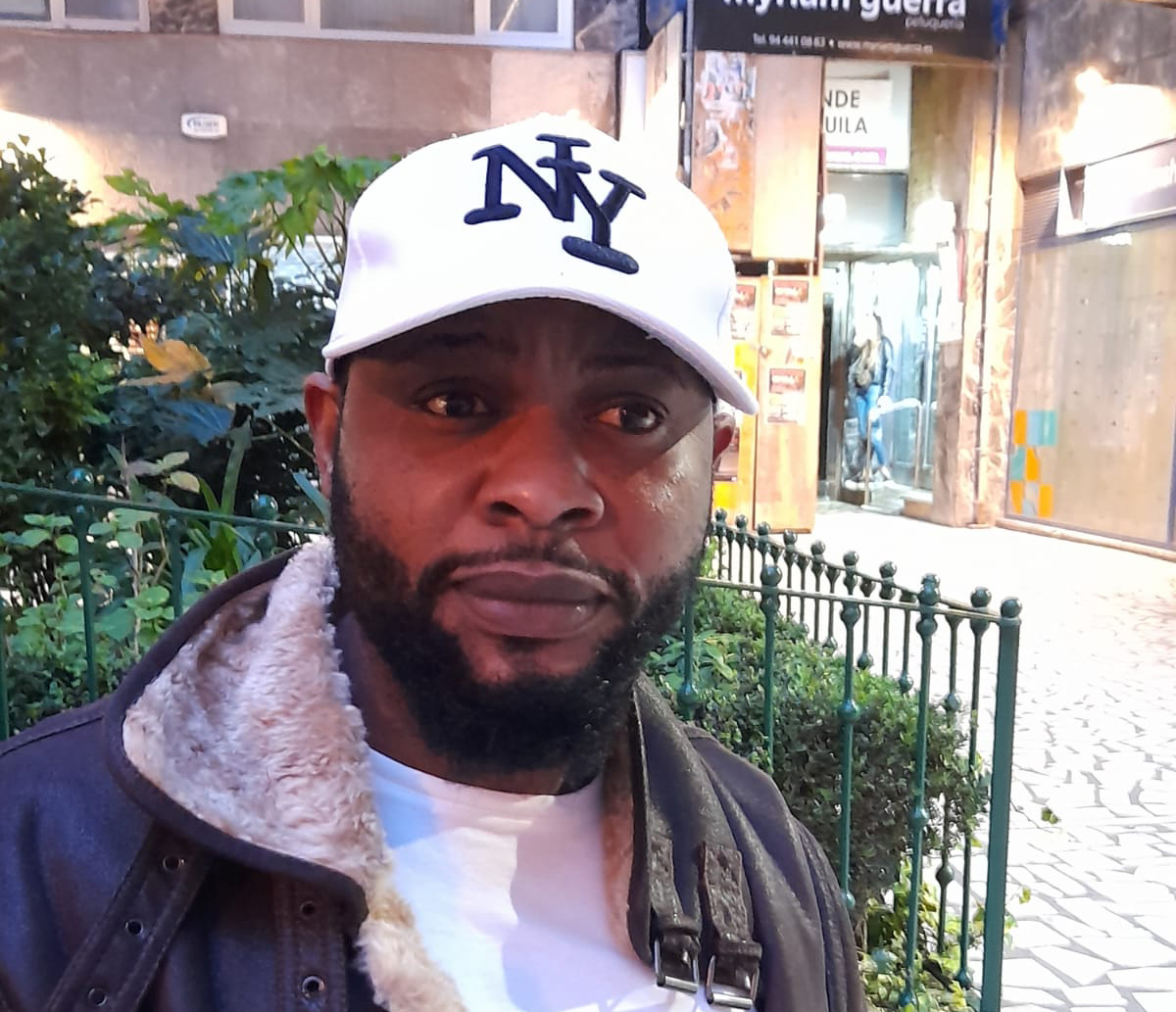 Each day, the pair convene at around 1:30 p.m. outside the bank at 57 Rodríguez Arias Street, next to the Plaza de Campuzano, for a lesson that runs till about 3 p.m. César helps with homework, making sure it's done correctly. They use their knees as desks.
"I come down from home with a stool, my chair!" he shared. "Because if I sit where he does, which is too low a position, my arthritis complains a lot. The special thing about these classes is that people, young and old, look at us, encourage us.
"The biggest challenge may be the [Spanish] language."
Besides Spanish, Evans's next greatest hurdle is Math, and he has not been in a classroom since he was 13. "A long time ago, I left study," he told the newspaper. "I have to go back to school, and everything looked like new to me. … I forgot a lot of things. Now I started again from zero.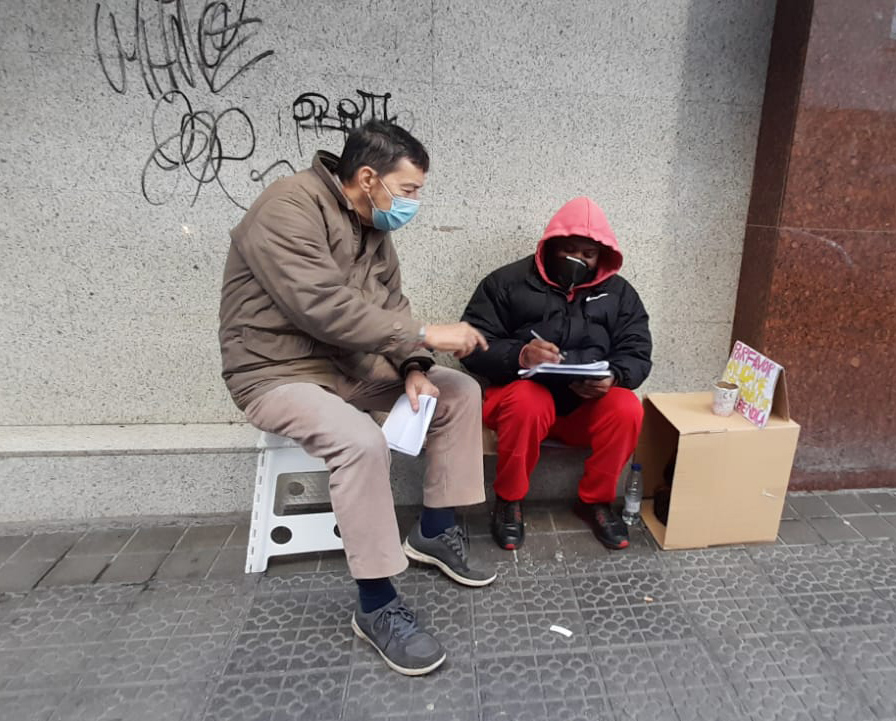 "But now, I'm catching up and I'm going through and understanding how to solve the problem," added Evans. "Prof César, he [is] helping me with my study, so I'm so very grateful for that."
But aside from book smarts, Prof César hopes to drive home another key lesson. "The ambition of every teacher is for the student to understand, rather than for the student to memorize or approve," he said. "Because what you understand today is the foundation of what you will learn tomorrow."
Fortunately, the story behind this touching photo may have a bright ending in store; Evans expects to pass his course and get his certificate next year.
As for down the road? His dream: a good job.
Share your stories with us at emg.inspired@epochtimes.com, and continue to get your daily dose of inspiration by signing up for the Epoch Inspired newsletter at TheEpochTimes.com/newsletter