A Shabbat curry by way of Mumbai. Syrian Passover soup that came to Brooklyn. A 100-year-old rugelach recipe. A cholent pie. Naama Shefi is the Jewish culinary librarian who carefully records these Jewish diaspora foods in her recipe card box that is The Jewish Food Society.
It's a recently conceived organization, incorporated as a nonprofit in 2017, that aims to "preserve, celebrate, and revitalize Jewish food from around the world," its Instagram page reads, through a digital archive and real life pop-ups and events.
Any and every kind of Jewish cook, from home cook to professional, is invited to submit family recipes with strong traditions and delicious results to the site for consideration. Every Friday, the website features one family's history, through the lens of their recipe.
Via public talks and events, they also invite storytellers—a mix of celebrity chefs, writers, entrepreneurs, restaurateurs, and even grandmothers—to share their recipes and stories.
"I believe that every recipe carries within it the marrow of who we are as individuals, as families, and as a culture, so I felt there was this urgency to do something—to create a home for these dishes before it was too late," Shefi said.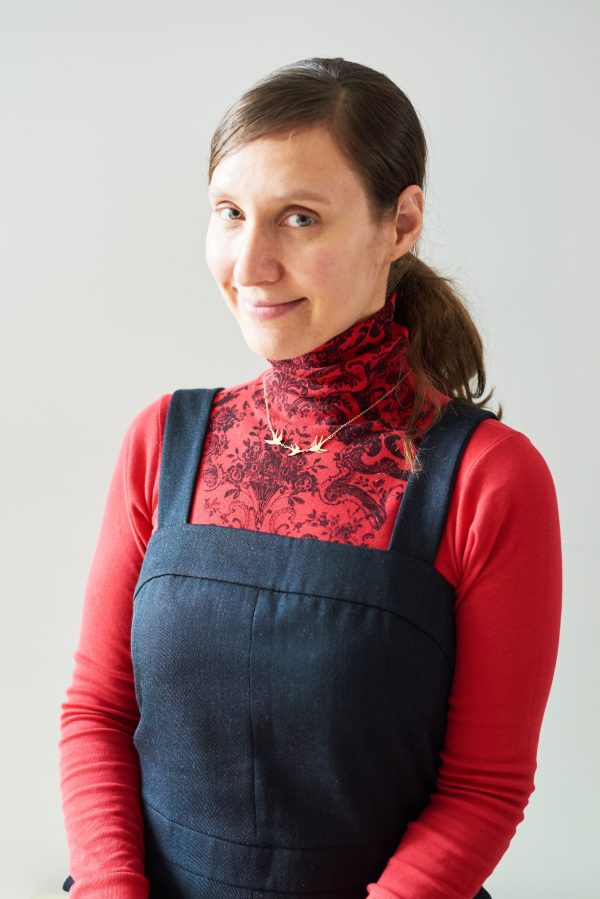 Planting Seeds
Shefi was born and raised on a small kibbutz, a collective community based on agriculture in Israel, near Tel Aviv. She was raised on communal dining food (her 500-person community fed its members army-style, from a rigid, set menu) and her kibbutznik mom's "adventurous" cooking—they lived in a house without a kitchen, so her mother's meals had to be creative due to cooking constraints. However, she was always fascinated by new flavors, and food became her connection to the world outside the kibbutz. It was her "medium for identity exploration," she said.

At a Shabbat dinner at Nona's, her grandma-in-law's, a then 26-year-old Shefi was inspired by not only the array of dishes, but also the stories behind them. They represented Nona's journey from Izmir, a city on Turkey's Aegean coast, to Rhode Island, to Zimbabwe, and finally to Israel.
"Every stop on her immigration path contributed a different dish to the tabletop and brought to life the thrilling chapters of her history—from Turkish agristada to Greek yaprak to Israeli zucchini peel salad, from Israel's age of austerity," Shefi said. "I felt a strong urgency to protect her delicious legacy and preserve her stories."
"Without even knowing it, [Nona] planted the seeds for the Jewish Food Society."
Countryside Kibbutz to New York City
But the Jewish Food Society wouldn't come to fruition until many years later.
Shefi moved to New York City in 2004 for her studies, receiving an MFA in Film and Media at The New School. From there, she got a job with the Israeli Consulate, where she promoted Israeli culture through curating dance performances, films, and art exhibits.
But her interests soon shifted to food as a "more immediate and effective" window into Israeli culture. She created a department focused on Israel's unique food traditions, partnering with Israeli chefs, winemakers, and scholars on high-profile dinners and workshops at the James Beard Foundation, Chelsea Market, the Culinary Institute of America, and more. At the same time, she organized culinary trips to Israel for influential food editors to experience the dining culture first hand.
The events she produced attracted strong public interest. "It became clear to me that food was an important and meaningful medium to help share Israel with the world," Shefi said.
After leaving the consulate, she spent time writing articles about Israeli cuisine and curating Jewish food programs for the Center for Jewish History. In March 2013, she began the Kubbeh Project, an Iraqi-Jewish pop-up restaurant in Manhattan. Shortly after the project's success, she joined Israeli food startup EatWith, a booking website that connects diners with hosts who offer private dinners, supper clubs, food tours, and cooking classes all over the world. She served as a community manager and later led marketing for the company.  
"I was very passionate about EatWith, but felt a strong urgency to focus on Jewish culinary heritage and protect this treasure box for future generations," Shefi said. She received a grant from the Paul E. Singer Foundation, and with that, she started the Jewish Food Society.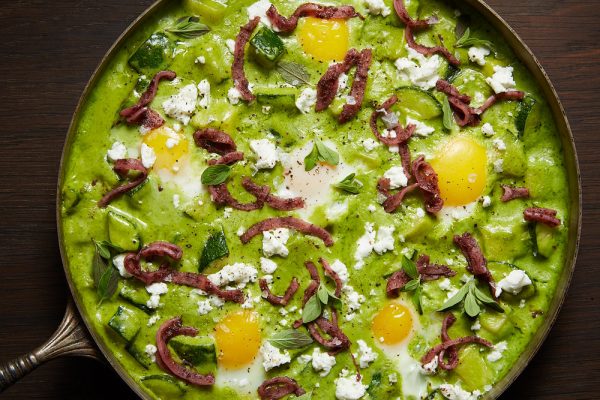 Diaspora Cooking
The core of the Jewish Food Society is a recipe archive of Jewish foods from around the world.
For many people, Jewish food evokes chopped liver, bagels, pastrami, and babka. But such dishes disproportionately represent Ashkenazi Jews, who have roots in Northern and Eastern Europe; the cuisine is much more global and diverse.
Sephardic Jews, who have origins in the Iberian peninsula, bring dishes characterized by ingredients such as chickpeas, fresh or dried fruits, nuts and spices, and lamb. They include pastela, a pastry-topped pie of spiced meat and potatoes; bourekas, baked, filled pastries made of thin flaky phyllo dough; and chraime, fish in a spicy tomato sauce.
Meanwhile, Mizrahi Jews, who have Middle Eastern ancestry, bring us beloved foods like pita, laffa (a Middle Eastern flatbread), and tehina. There's Iraqi sabich (a pita sandwich stuffed with fried eggplant and hard boiled eggs); Persian gondi (meatballs made from chickpea flour and chicken); and Yemenite kubaneh (pull-apart bread to be eaten on Shabbat morning) and sabaya (flaky honey cake similar to baklava).
Such microcuisines were born from Kashrut or kosher laws, a set of Jewish dietary religious principles, along with the local terroir and food traditions that Jews created over thousands of years of migration. Each food carries a story.
"At the Society, we are really trying to communicate a diverse, creative representation of Jewish food," Shefi said. "We want to reintroduce people to Jewish food and go way beyond what they might think."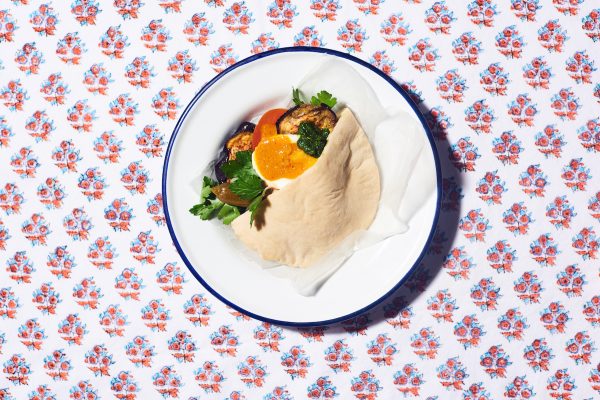 Collaborations
To bring the archive to life, the Jewish Food Society hosts creative events from Shabbat dinners to Passover Seders. In November 2016, they hosted their first program with the lauded chef Mike Solomonov of Zahav in Philadelphia, an Israeli breakfast filled with shakshuka (eggs poached in tomato sauce); za'atar challahs; and bourekas upon bourekas, in flavors like apple and tehina, sweet potato and goat cheese, and porcini and foie gras. The breakfast inspired the organization's popular "challah-grams," small loaves of braided bread to be mailed to friends and guests.
This led to Schmaltzy, a public storytelling and tasting event series that brought together storytellers sharing Jewish "behind-the-recipe" stories from their pasts. (Imagine The Moth, but with sabich.) There have been seven events to date, across New York City and Tel Aviv. Notable collaborations have included Mimi Sheraton; chef Einat Admony of Taim, Balaboosta, and Kish Kash; Jake Dell of Katz's Deli; Jordana Rothman; and Uri Scheft of Breads Bakery. The next Schmaltzy will take place in California this summer.

Beyond Schmaltzy, other events have included "Mexican Passover" celebrations with Fany Gerson, chef and owner of Dough Doughnuts and La Newyorkina; and a Russian Hanukkah Dinner at Casa Publica, all in New York City.
For Passover this year, the Jewish Food Society is collaborating with the James Beard Foundation on their second Seder, the feast that marks the beginning of the Jewish holiday. They will also co-host an event for Mimouna, a North African Jewish celebration held the day after Passover, with restaurateur Gabe Stulman.
"In short, we aim to collaborate with unexpected partners to expand the public's perception of what Jewish food is and can be," Shefi said.
The influential chefs and culinary figures among her partners share her vision.
"Naama Shefi preserves not just recipes but traditions, stories, and memories of the past and future," said chef Einat Admony. "I believe [her work] is important because of the fear of the extinction [of Jewish food] … especially in America, where the perception of Jewish food was only as an Ashkenazi food (bagels, gefilte fish, borscht). It is important and even crucial to present the Sephardic and Mizrahi Jewish food traditions, too, as they are rich with their own colors, flavors, and stories."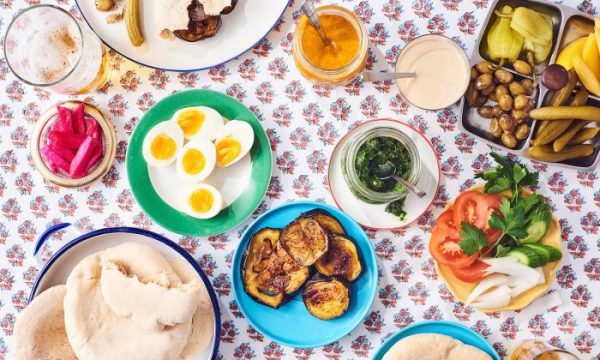 In the Kitchen
The hands-on preservation continues on to where it all beings: the kitchen.
Each week, Shefi and the Jewish Food Society join a family in their kitchen for a private cooking session with their traditional family recipes. This process goes beyond just recipe development, it also provides a rare opportunity to explore the family's Jewish immigration story, as told by their cuisine.
"We receive lots of moving emails from participants," Shefi said. "We also are thrilled to witness the fast growing online community [on Instagram and the website's story submissions platform], and are touched when so many folks from around the world are curious to learn about Jewish history and culture through food," Shefi said.
"I realized there is an urgency in capturing these stories, because the older generation is about to leave the world, and many of these recipes are labor- and time-consuming in a way that we should really protect them," she said. "These are techniques that would just disappear if no one would capture them in a methodical way."
RECIPE: Janette's T'bit
Marisel Salazar is a New York City-based food and travel writer by way of Panama, Washington, D.C., Hawaii, and Japan. Follow her on Instagram @MariselMSalazar, for behind-the-scenes eats and travels.