A law enforcement career can put significant strain on a family's life. Sometimes, it has to do with unpredictable schedules, while at other times, it could be that the child worries about whether their parent is on a dangerous call. However, just like any other family in the world, they don't miss any opportunity to hold on to their near and dear ones whenever they can, and this heartwarming video proves just that.
A video of a toddler not wanting to say goodbye to his dad, an Illinois State Police officer, posted on the department Facebook's page has tugged social media users' hearts. While the family is not identified by the department, the little guy just can't bear to see his dad go and runs out on the wet driveway begging for "one more kiss." Since its posting in June, the video has racked up almost 50,000 reactions and lots of comments from users.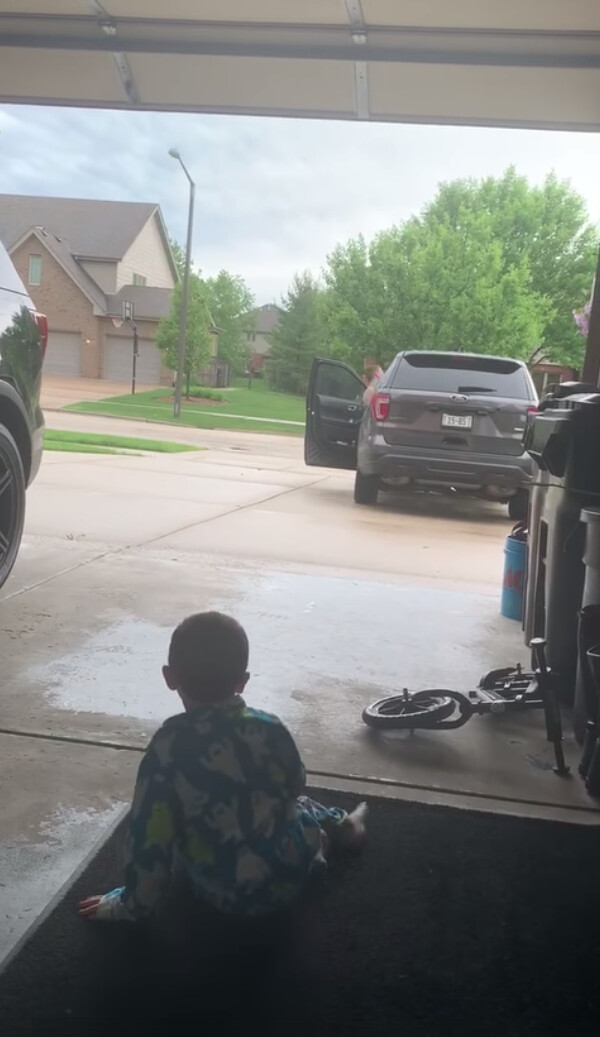 The video begins with the cute toddler sitting by the family's garage watching his dad head off to his shift. "Oh, goodbye Daddy!" says the boy from a rug on the floor. While his dad asks him to wait inside the garage, as the driveway appears to be wet from recent rain, the little tyke just can't leave it at that.
His dad reminds his son that he loves him, but the toddler begs that he wants one more kiss. Upon witnessing his adorable request, the woman who is filming the goodbye interaction between the father-son duo tells him to run and promises to wipe his wet feet.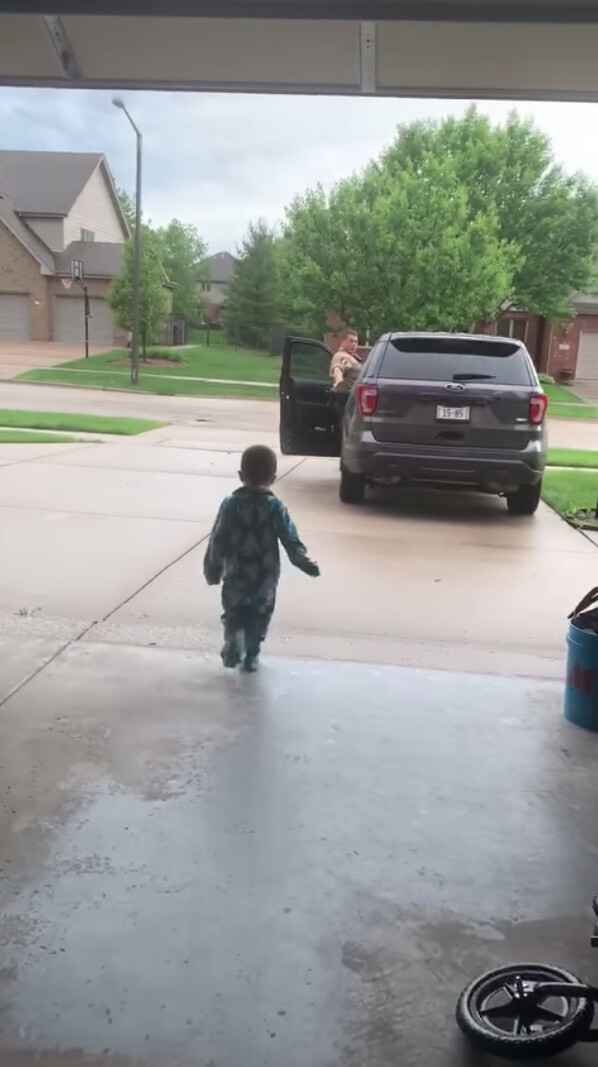 The little guy clearly needs no further encouragement and runs out as fast as he can to his dad, who is in uniform. His father bends down, and as the toddler gives him a peck, the officer reciprocates it.
Satisfied with the extra love from his dad, the toddler finally runs back into the safety of the garage, while his dad gets to work.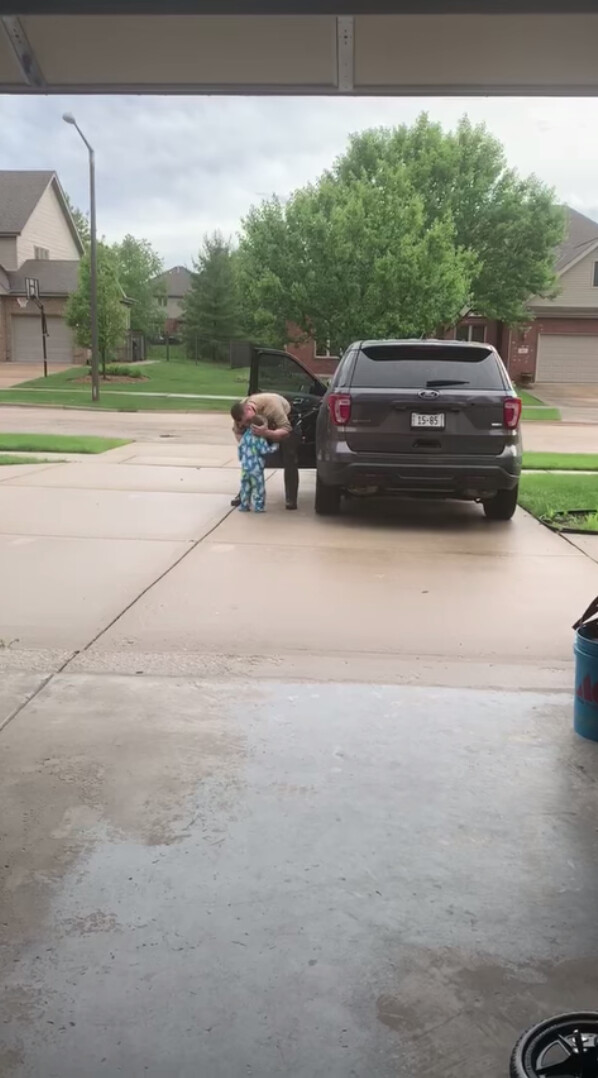 Naturally, many of those who viewed the video were touched by this fleeting moment, especially in light of the real risks that police officers face on the beat.
"Most police officers are so brave and deserve our respect!!" one social media user wrote. "As for this precious boy, who knows if it's the last time he sees his daddy !!"
While another took to the comments section explaining that it is a portrait of police officers we rarely see in the media. "What! Cops have loving families too? Of course, they do! Please see them as someone's son, husband, father, friend," a commenter added.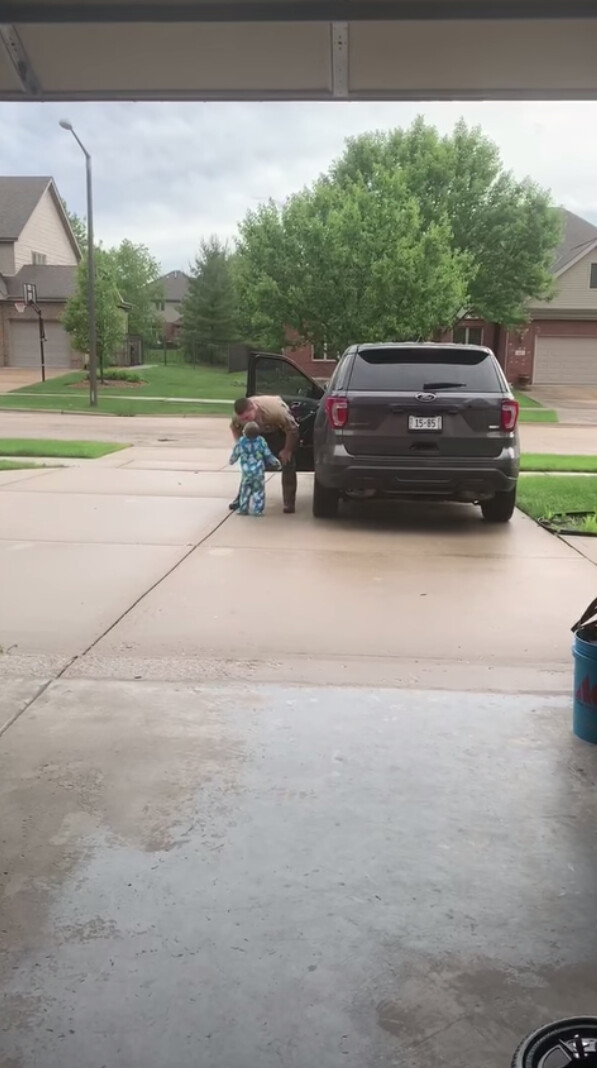 Despite the simple content of the video showing a human side of law enforcement personnel, some commenters were quick to note that the same video could be made of the victims of police shootings.
One commenter started a heated controversy by raising just a point. "Now imagine every brown and black baby wondering if their daddy [will be] coming home tonight safe and sound from work oh from the store oh from across the street."
Regardless of the controversy, there's little doubt that many can appreciate this special moment between father and son, captured on camera. As one commenter wrote, addressing the toddler, "I surely hope your daddy makes it home safe and sound to you every day."
Watch the heartwarming video:
(Courtesy of Illinois State Police)
We would love to hear your stories! You can share them with us at emg.inspired@epochtimes.nyc