Judy Collins: A Lifetime of Music
'I owe a lot to the Canadians,' says famed folk singer
May 26, 2014 10:01 pm Last Updated: June 26, 2015 3:25 pm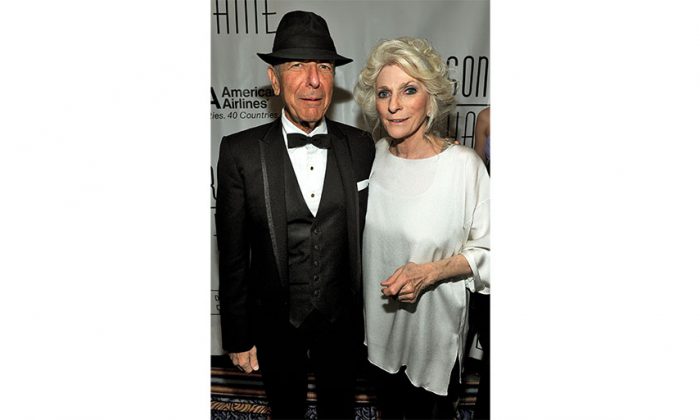 When Judy Collins takes the stage her crystal-clear voice soars and weaves through the music the way it has over 55 years of gifted performances. 
This vocal agility is no accident. "Though I've had a lot of good luck, I've had a lot of terrific training," Collins explains. 
"I've learned to use [my voice] and I've learned to take care of it, and that's truly what you have to do. So you don't scream, you don't smoke, you don't drink, you don't stay up late—you have to take care of it."
As part of her current tour, Collins will perform in five Canadian cities starting June 4.
Canadian Connection
The singer-songwriter has a special connection with Canada. Her paternal grandmother moved from England to the U.S. via Canada in the 1840s. "There's something about the Canadians," she says. "Now I have Canadian blood so to speak. It's English-Irish, but there were Canadian immigrants on my father's side."
Then there's her association with Canadian songwriters. Collins's signature hit "Both Sides Now" was penned by Joni Mitchell and won a Grammy for Best Folk Performance in 1969. It is now a Grammy Hall of Famer. She has recorded other Mitchell songs like "Someday Soon" and "Chelsea Morning." 
She also put Leonard Cohen on stage for his first public appearance as a singer. Before that he was an author and poet but not a performer. Due to her persuasion and encouragement, Cohen became a world-renowned composer and singer.
Cohen in turn encouraged Collins to write her own songs, and her lyrics touched audiences with their honesty.
"Leonard got me to start writing my own songs so I owe a lot to the Canadians—not only wonderful material that I've learned and sung over 55 years, but also a very deep and profound effect on my own writing," she says.

"He's very generous to me, and we owe each other a lot because I sang his songs but he told me I should be writing mine." 
Collins still loves Cohen's music and lyrics and in 2004 released "Democracy," an album comprised only of Cohen songs.
Folk Music Today
With the advent of the recent folk revival, Collins's music has found its way to a younger audience. 
"[Folk music] has always been quite a force. It's still been very much a part of the culture," she says of the genre.
"I think, as usual, a lot of us were inspired by Woody [Guthrie] and Pete [Seeger] and a lot of these young kids are inspired by us," she adds.
"People are talking about the same things—love and war. What else is there? You know, joy and tragedy. There's not much more to talk about or sing about."
Although she is associated with the anti-war music scene of the 60s, Collins has a broader view of the power of songs to tell a story or to inspire hope. 
"The real songs that have really lasted, other than things like 'We Shall Overcome' or 'This Little Light of Mine,' many of them are not political at all. They're about human life, they're about love, and about war, and about feelings," she says.
Known for her activism during the Vietnam war, Collins continues striving to bring about change through speaking out about the use of landmines and working with UNICEF and other causes.
Current Projects
Never one to rest, Collins's energy is boundless and it seems there's no single thing that is "next" for her. 
In addition to touring annually, she lectures on mental health and suicide survival. Suicide hit close to home when her son Clark took his life in 1992. Her song Wings of Angels for her only son after the tragedy of his death.
Collins has been talking about alcohol addiction since she embraced sobriety in 1970.
"I do a number of speaking engagements a year around mental health and suicide survival, recovery from alcoholism and drug addiction. That's very much a part of my life," she explains.
Also an author, she is working on her tenth book, and plans to start writing a biography of her childhood piano teacher Antonio Brico.
In 1974 Collins made a movie about Brico that was nominated for an Academy Award. The movie will be shown on PBS in the latter part of this year to commemorate its 40th anniversary. Her label will be issuing a DVD of the movie and Collins will write liner notes to go with "a beautiful package."
To add to her impressive 50-album discography, Collins is working on a CD with Stephen Stills for release in 2015, and is planning a CD of "duets with guys," as she calls it, that could be ready for release at the end of this year. 
"Then there's also a work in progress which is my new PBS Sondheim special which will come out in the coming 6-18 months. There will be a big tour with orchestras with the Sondheim [special]," she says. 
Collins's version of Stephen Sondheim's "Send in the Clowns," written for the 1973 musical "A Little Night Music," garnered Song of the Year for him at the Grammy Awards in 1975.
Having her own record label, Wildflower, means Collins is constantly meeting and helping new talent. She also plays her wide repertoire of music at festivals year-round. 
With timeless grace, caring, and commitment, Collins continues to live a life of music and emotions as she records her own compositions and the music of a truly diverse group of songwriters who inspire or move her. The quality of her vocals and variety of songs make her shows a welcome addition to the modern music scene.
The following are the dates and locations of the Canadian arm of Collins's tour. For details and ticket information, visit the venue websites.
Wed. June 4 – Aeolian Performing Arts Centre, London, Ontario
Fri. June 6 – Virgin Mobile Corona Theatre, Montreal
Sat. June 7 – Southminster United Church, Ottawa 
Sun. June 8 – The Grand Theatre, Kingston
Mon. June 9 – Hugh's Room, Toronto