Joy Villa is, at her very core, a performer.
She has lived the creative process through and through in her lifelong journey of transformation. Some of her most vivid and affirming memories from childhood are those of being alone in her room, writing songs that she could then share with the world.
Now, the chart-topping singer-songwriter, model, actress, and fashionista is currently starring in a romantic comedy, and feels the need to add: "[Many of the cast are] pro-America. They know I'm a conservative, they know I'm a Trump supporter, and they love that about me."
That's because being a conservative in Hollywood tends to raise eyebrows—and also sometimes attracts death threats.
Villa has had a front-row seat in witnessing the upending of values in recent decades, having gone from being a conservative preacher's daughter to a left-leaning liberal to one of President Donald Trump's most vocal supporters and realizing many things she once believed were lies.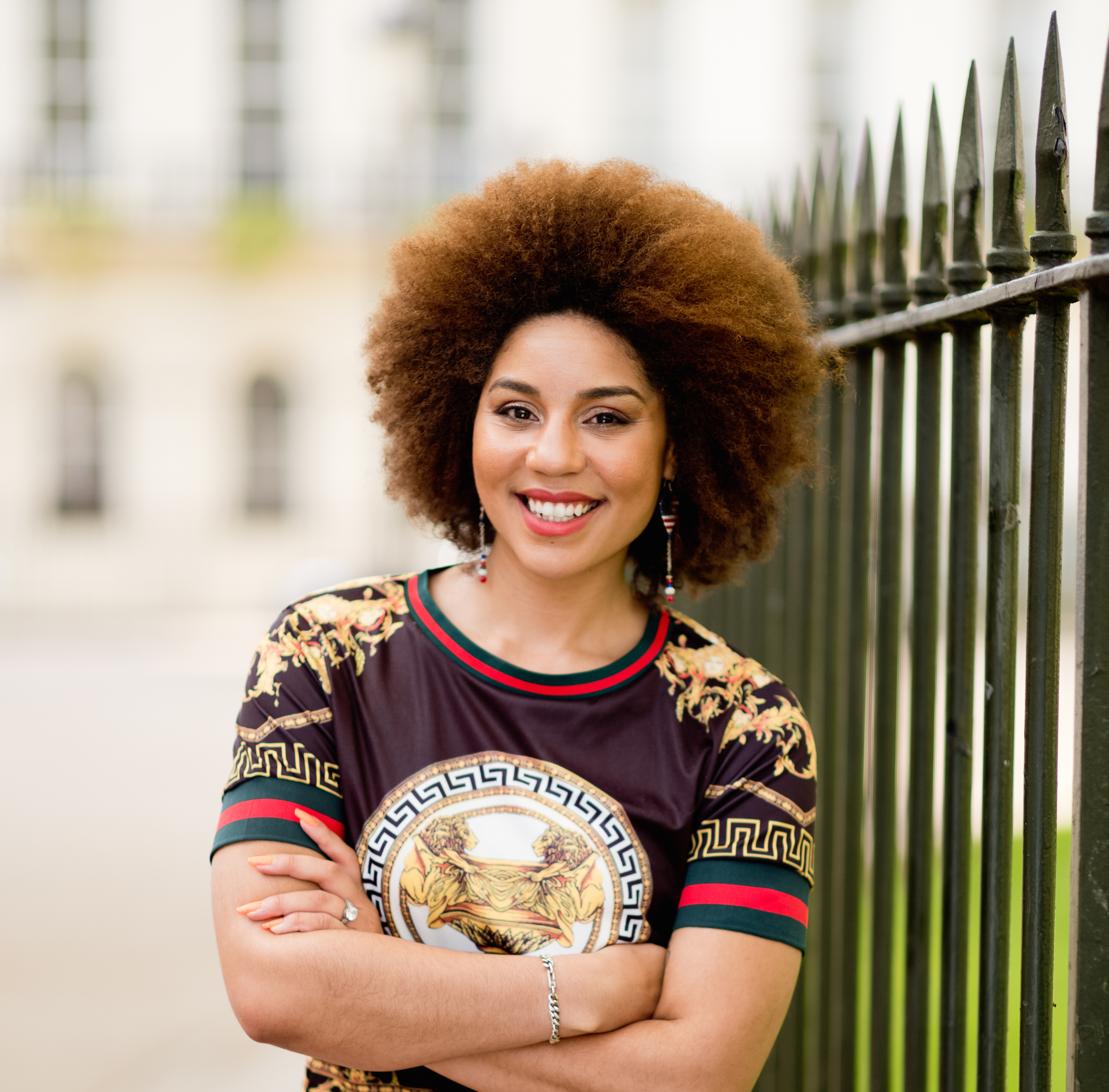 She experiences the irony of the current cultural landscape daily and adds that she just recently released a single, "Freedom (Fight for It)," a song about freedom of speech, and fans are flooding her inbox with messages and screenshots of how it's being censored on iTunes.
"I'm fighting every day to say 'Let me be who I am. Just respect me—I'm not even saying believe in what I say,'" she said. "Just don't try to shut me up. Don't limit my speech because you don't like it or you disagree with it."
"It's funny, conservatives are really the free speech fighters," Villa said.
Long Way From Home
Villa said she grew up with very conservative, American values, although she didn't make much of it at the time. Her father was a preacher, fundraiser, and a salesman, and very much a Republican. Her mother was apolitical, but had many relatives who were Democrats.
"My dad was my best friend. My mom was a stay-at-home mom, church singer, writer, artist; my mom would create rugs and needlepoint and knit. A very old-fashioned African American lady," Villa said.
Life was idyllic in Santa Barbara, California, where she joined musical theater from a young age, and sat on the student council, and had many friends from military families. Politics was not a divisive thing back then, Villa remembers.
She graduated high school at 16 and by then, had already had nearly a year of producing television for the local youth network with Comcast Cablevision.
"I was like, one day I'm going to move to New York, I'm going to move to LA, I'm going to make movies, I want to be in TV. I always knew this is what I was going to do; have a hit album, touring the world," Villa said.
Around 2009, Villa moved to Los Angeles and got her first taste of "this Hollywood brand of liberalism," where everyone churned out the same social justice rhetoric. As an African American-Latina woman, Villa was supposed to be part of this oppressed minority meant to rebel—and she rebelled.
"Hashtag feminism, hashtag this and that," Villa said. "And I'm picking up the lingo and I wanted to be liked, I wanted to get more roles, meetings with producers and directors."
Adopting the vernacular was her ticket into that culture, and Villa didn't know what a dark place that would lead to.
"I was fresh into Hollywood and trying to make my mark," she said. "I started drinking a lot. … I used to say I'd never touch drugs—and that just went out the window."
"And I would just try anything at that point, I didn't care, MDMA, drinking every day—not just drinking but partying, going out to clubs," Villa said. "I just became wild, became promiscuous. I really lost respect for myself."
This was the ideology she learned was acceptable from the year she spent steeped in the left-leaning culture, yet she was miserable. Villa was expending all of her energy on this wildness, and draining her creative energy so there was nothing left for art. She was performing for people who ultimately wouldn't appreciate who she was as a person.
Then she got pregnant.
Respite
Villa says she has always believed life begins at conception.
During her time on the Hollywood scene, everyone around her was pro-choice, because that was the only option acceptable to the left. As an artist and an individualist, Villa knew she wouldn't want an abortion but also knew she didn't want to force anything on other women. She started calling herself pro-choice too.
She would be tested in her belief at the most-trying time.
Villa had been in a tenuous relationship. It was "drug-fueled, party-filled," and would begin with screaming matches and end with shoving and her being thrown into a wall.
"I thought this was crazy love," Villa said. "And I'm very stubborn, like once I'm in something, I stay the course. And I just thought this is what I deserved."
While Villa was in this relationship, her mother had a stroke and suffered a debilitating fall. Villa was by her mother's side in the hospital for three days while her mother was in a coma and ultimately passed away.
Not long after her loss, Villa went to her clinic appointment where a nurse confirmed she was pregnant.
Villa's first reaction was happiness. Reality set in a moment later and she remembered the violent arguments she had with the man who fathered the child—Villa didn't want to bring a baby into that.
"I didn't say that out loud, but I guess she [the nurse] saw my face. Immediately, she went into, 'You're so young, who's the father, what are you doing, you need to get an abortion. It's easy, it's fast, it's safe. I've had several abortions, my daughters have had several abortions,' and she just kept going on," Villa said.
What the nurse was saying sounded like a way out, and she sounded comforting. But something within Villa rejected her.
"I looked at her and said, 'No, I'm not getting an abortion,' and I walked out of that clinic," Villa said.
Villa still had no idea what to do, but it was a mixed blessing. She pulled back from Hollywood, crashed at a friend's place, and started doing odd jobs. She prayed constantly. She tried to fix her relationship. She became sober.
Then, at four months pregnant, she had another fight with her boyfriend, and once again, he threw her against the wall. This time, she had another life to protect. The police came, and because he already had warrants out for his arrest, he went to jail.
"I was extremely brokenhearted. I said, 'OK, now that's the father out of the picture, there's no way I'm going to make this happy family,'" Villa said.
"I am at the end of my rope, and that's when God gave me adoption. I looked down and there was the newspaper. It said, 'Loving homes looking to adopt,'" Villa said.
She called the number and spoke to a woman who had been adopted herself, and learned all about the process. The organization helped connect her to a loving family, helped Villa financially, and get back on her feet.
"My daughter deserved everything. I had had a lot of issues I had not confronted," Villa said. "I wanted her to have the best life."
It was an open adoption, and Villa maintains a relationship with her birth daughter to this day, often with Skype calls.
"Adoption is something that's being left out of the pro-life/pro-choice argument," Villa said.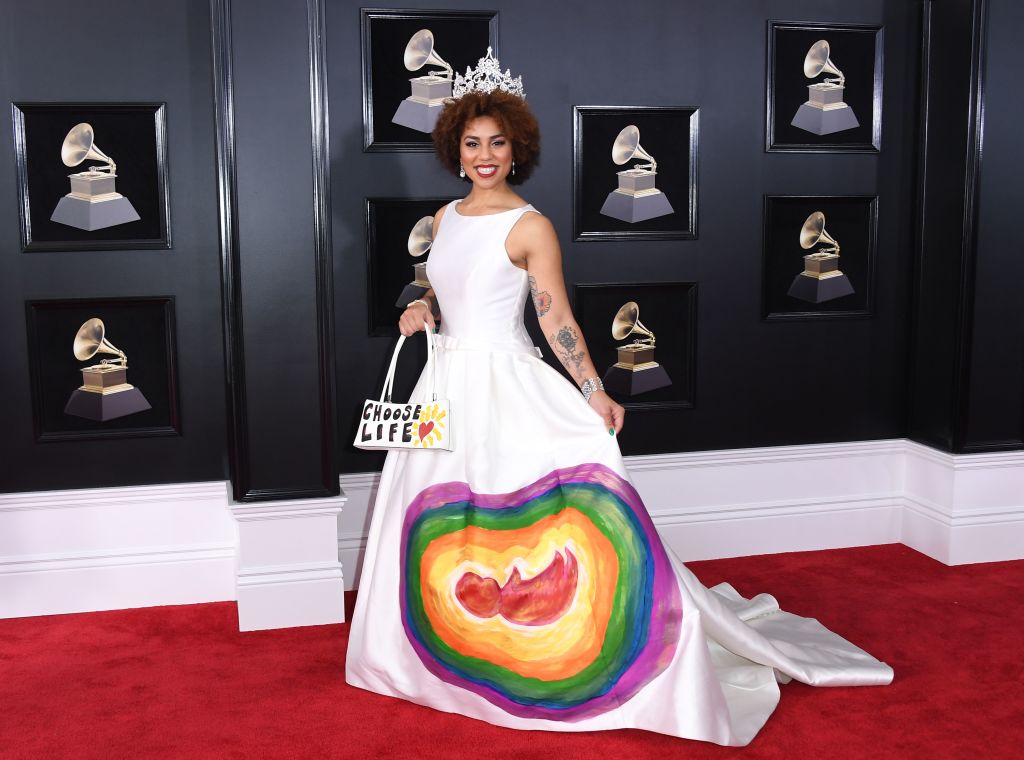 A Renaissance
Things would get worse before they got better.
Villa said she got sober and clearheaded while staying with her dad during the pregnancy, but at that point, she still hadn't dealt with the death of her mother, or her terrible relationship. And now that she had handed off her baby girl, there were three losses she wanted to avoid.
She took to what she knew—drugs, alcohol, and partying—once again to fill the void.
"Now I got into just dark days. I didn't care what club I went to, what I looked like. It was just dancing on tabletops, taking off my top," she said. "I hit rock bottom. I was drinking every day, hated myself. To everybody else, I was happy and smiling."
She was still auditioning for roles in film and TV and booked a role on the show "Heroes," but was aware she wasn't really creating anymore.
Villa ended up hospitalized from all her alcohol consumption.
At the bottom of the barrel, Villa reached out to God.
"Lord, I can't do this anymore. I'm not creating anymore," Villa said. At some point, she turned to the person next to her in the hospital, who she learned used to be alcoholic but was now sober, and a light bulb went off in her head.
"That's it, I don't need to drink," Villa said. "God brought me to my bottom, He let me go to my bottom so that I could go, 'OK, this is not the life I need.'"
She made a major decision to turn her life around. She moved back in with her dad, cut off the phone or social media, and disconnected from the culture she had been addicted to.
"I just started doing music, just started playing guitar," Villa said.
"No alcohol, no drugs, no parties, just work; just getting up early, getting in the gym, helping people my dad was ministering, going to church, trusting in God, being back into my art, painting every day," she said. "I was reading the Bible every day, I was reading books on personal growth and health."
She was learning, healing, and finally dealing with the grief and loss she had buried.
"It was a pure Renaissance moment," Villa said. "And I was happy."
With a clear head on her shoulders and music in her heart, Villa started volunteering at church, where she met Mr. Skip a Beat, a producer.
"He said, 'When I see you, I hear music,'" Villa said. He turned out to be a music producer, and together they created her first single, "Cold Wind."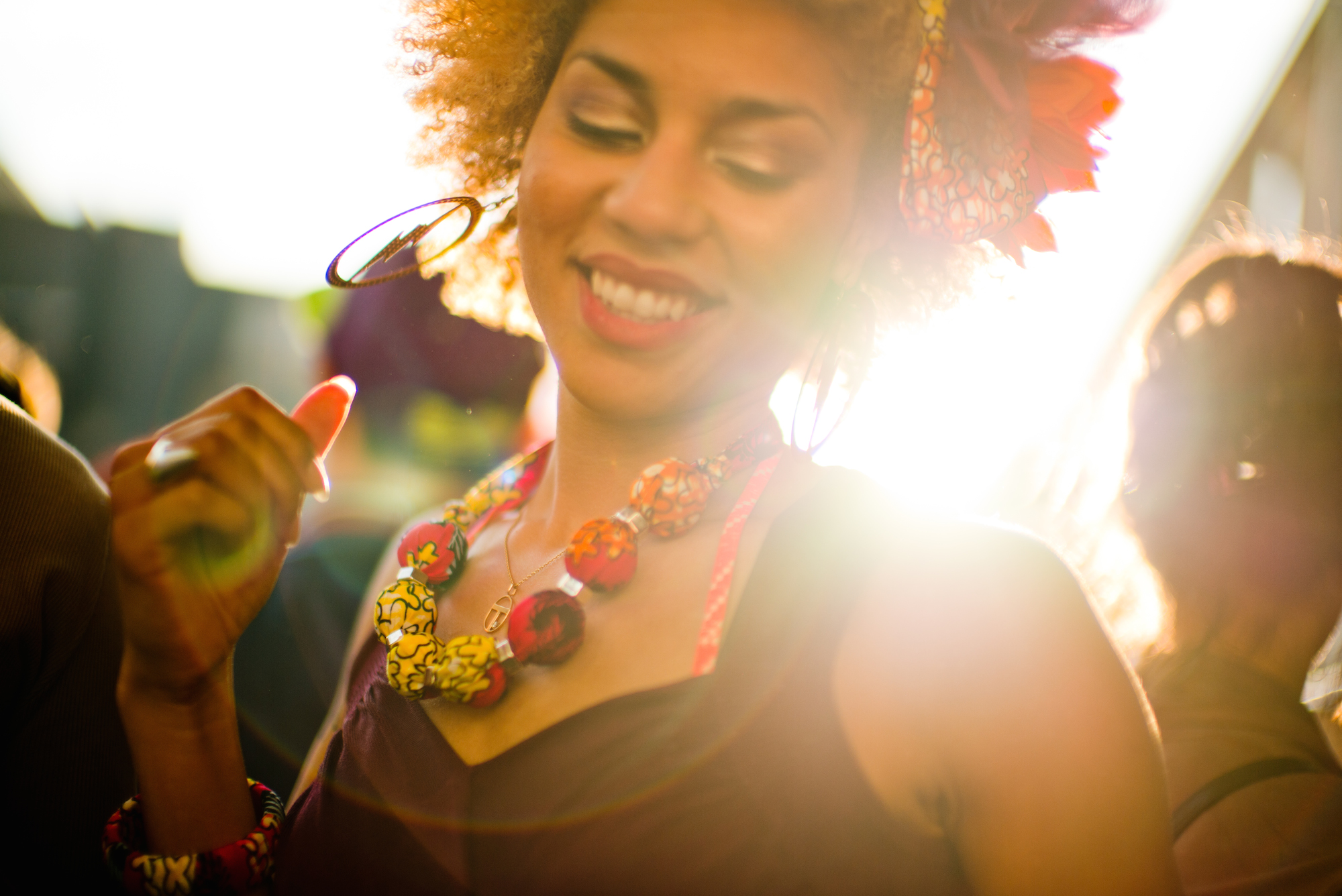 That Trump Dress
During the 2008 elections, Villa voted for Barack Obama. He was racially mixed—like Villa—he was charismatic, and he promised change.
Villa hadn't been interested in politics at the time and didn't look too deeply into the issues. When the promised changes didn't materialize, she became jaded and lost interest in politics.
When candidates starting campaigning for the 2016 elections, Villa had been working on a colleague's music video. She asked who everyone was voting for, and everyone enthusiastically responded with Bernie Sanders.
So she hopped on the bandwagon too, as she skimmed headlines that didn't reveal the full story. A week or two later, she decided she would actually read this time—and discovered supporting Sanders was supporting socialism.
"I knew enough that I knew socialism was bad, communism is bad," Villa said. She dropped Sanders too.
Villa was then touring Europe and Asia, busy living out a whirlwind romance as a newlywed with her husband, photographer Thorsten Overgaard.
Only vaguely keeping up with the elections, she remembers that all of a sudden, Trump started dominating the headlines. Each story was crazier than the next, even purporting he was a plant to make Hillary Clinton win the election.
"I'm reading all these scare-tactic headlines and listening to my family members, listening who my friends who are just anti-Trump and all offended," Villa said. Then at the end of the 2016 summer, Villa landed back in the United States and a close friend told her to look into Trump.
"You would like him, actually," Villa remembers her saying. She was baffled but trusted this friend, and started doing her research. It ended up being a deep dive, and she watched interviews going back decades. She learned about Trump, his background, his family, and she educated herself on the policy issues so she could better weigh his promises.
"I'm going, 'Wait, this is the stuff they did not show,'" Villa said.
Very secretly, Villa became a Trump supporter. Still registered as Independent, she voted for Trump, then went on social media and said she voted, but not who for, and used hashtags for every candidate. The year was winding down, and Villa was still researching, and her tentative support became more and more enthusiastic.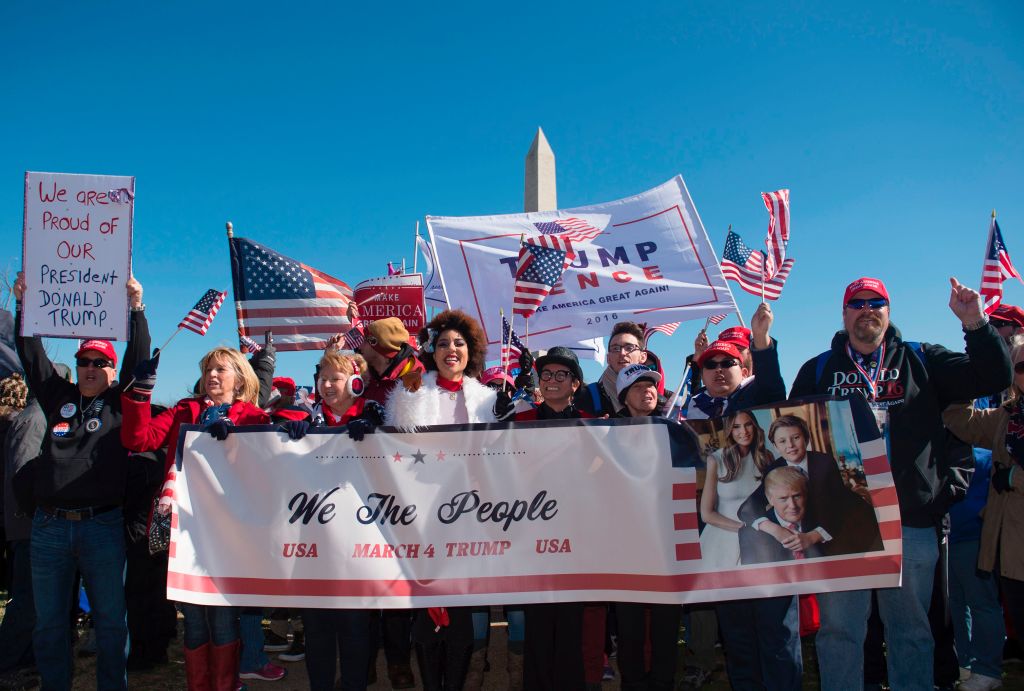 She was 100 percent behind "Make America Great Again."
People often throw this back at her: "When was America great?" She says it reminds her of 9/11. When the tragedy of 9/11 struck the nation, people banded together in the aftermath.
"I remember the spirit of America," Villa said. "Terrorists may have attacked us and hurt our people, but we were not going to be scared to be American. There was this fight back against the fear—because that's what terrorism does, it makes everyone scared."
People fought back then and proudly stood for America, Villa said. Fifteen years later, she realized she was being scared into silence by the left—and Trump was speaking up for her.
"It's to be yourself, to be proud of who you are. We should never be ashamed of being Americans," Villa said. People were decrying America everywhere on social media, and Villa, who had just spent a good part of the year traveling the world, knew they were wrong. There was no other nation founded on the principles of the liberty and individual rights that Trump was defending.
"Trump really woke me up," Villa said.
Villa's career and fan base had been steadily climbing, and she was afraid to risk it all just to talk about politics.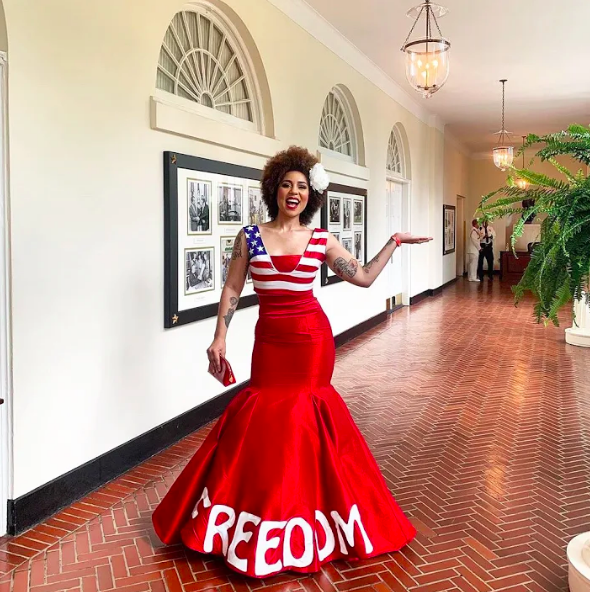 But as President Trump took office and started fulfilling his promises, she saw the echo chamber of anti-Trump rhetoric grow to ridiculous levels. Villa realized all the hate she saw was coming from one side: the left.
"I'm going, 'This is disgusting,'" Villa said of the careless mudslinging she was seeing. She was angry.
"I can't be closeted as a conservative when they're not closeted," Villa said. She wanted to publicly support the president and make a statement. The Grammys were right around the corner and a designer she'd worked with joked that he could make her a Trump dress.
"Andre Soriano, he's a gay Filipino immigrant," Villa said. "And we started getting hyped together about this dress."
She held the phone for a moment to ask her husband what he thought, and he looked at her like she was crazy.
"I put the phone back to my ear, I said, 'Let's do it,'" Villa said. "I was like, I like that reaction."
Villa thought it'd be a big deal for a small moment; her biggest fear was that someone would rip off the dress, but there were cameras everywhere and that was unlikely. She and Soriano devised a white gown to go over the dress, and she made it past the media interviews and to the cameras all in white. Then she revealed the dress, and there were exclamations as she was on the red carpet. Reactions to her face were mixed, and largely passive-aggressive.
Villa thought that was that.
Full Circle
It was only the beginning: afterward, her publicist informed her that her sales were charting. Villa checked, and saw her 4-year-old album was selling by the thousands.
Friends called: "You just passed Drake [on iTunes]."
"I was blown away," Villa said. It didn't stop there; she topped the Billboard charts, and she found her photo plastered all over the media.
"All my music videos explode, all my social media explodes. I get something like 20,000 Twitter followers overnight, 50,000 Instagram followers overnight," Villa said.
Not all of them were fans; death and assault threats poured in too, and Villa didn't leave the house for three days because she knew she would be recognized and it was all too much for the moment.
Still, the good outweighed the bad. Attention was something Villa was used to, and something she knew from her Hollywood days was easy to gain. But this time the spotlight was on her for standing up for what was right.
"It was such a humbling, beautiful moment. It was a life-changing moment," Villa said. This album she wrote all by herself, with a tiny team and shoestring budget, was reaching so many people. And they were supporting her because she took a chance and supported the president.
"In supporting the president, I actually have gone back to my roots and my values, the pro-America conservative values I was raised with," Villa said. "And I knew in that moment, my dad would be so proud of me."
Villa has since appeared in the media commenting on politics and policy, been invited to the White House several times and met the First Family and members of the administration. She's joined the Walk Away movement and the Save the Storks charity, which provides pregnant women with free ultrasounds.
"I love being American and I will never apologize for that, ever again," Villa said. "You don't have to think the same way as I am, but you're not going to shut me down."
Villa continues to support the president and policies she believes in via fashion. Past red carpet looks including a bridal gown with a hand-painted picture of her unborn daughter, a "build the wall" dress reminiscent of the Statue of Liberty commenting on the president's border policies, a red, white, and blue "Freedom" dress, and many others.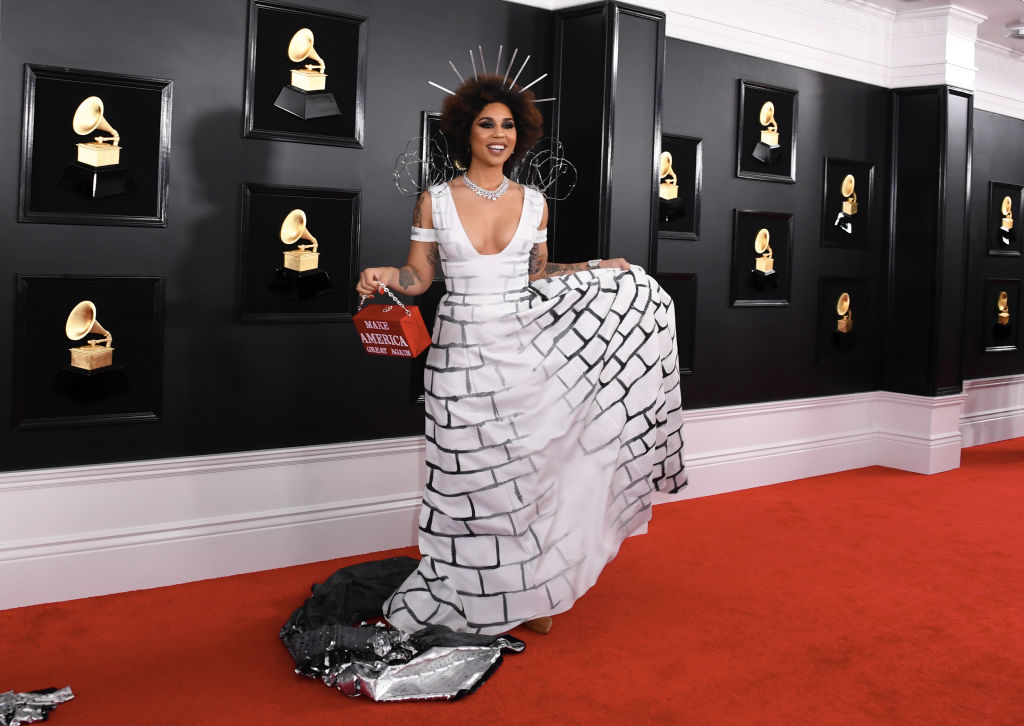 "The hate has gotten really worse, I get more death threats," Villa said. "This year, when I wore my wall dress, I actually got screamed at by the photographers."
Villa says she's done being silenced. Her latest single is about freedom of speech and it's been something she's wanted to produce since she started supporting the president back in 2016. In the past several months, she's seen so many conservative voices be silenced on social media, and feels it's her responsibility as someone who does have a voice to continue to speak the truth.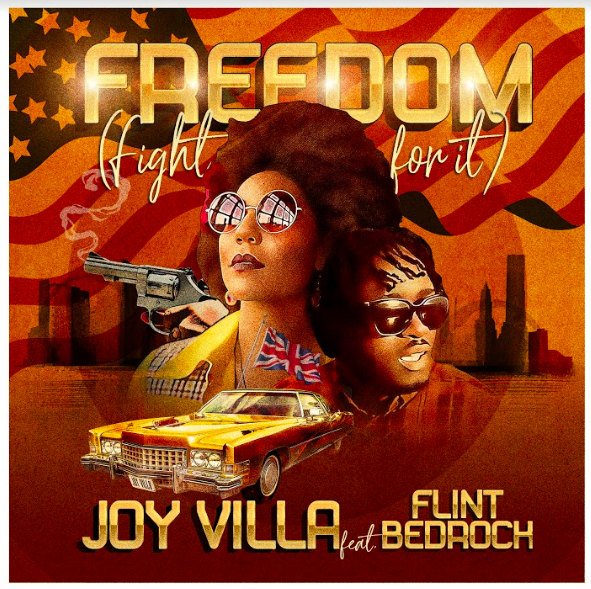 "We have to wake up the youth," she said. "To say, listen, I'm not going to tell you what to do but you need to do your research."
"Black unemployment is down, Latino unemployment is down, the economy is booming, jobs are flourishing, America is better than ever," Villa said. She points to the Opportunity and Revitalization Council expected to bring $100 billion in private investment to 8,000 communities, and the First Step Act that's taken effect.
"This First Step Act is something the Democrats fought against, but in essence, this is what they've been waiting for," Villa said. "The President has proven time and time again he's for the people."
Villa sees more and more young people coming to events—and they're revitalizing the conservative movement.
"It's invigorating young conservatives to come out," she said. "There's a fresh wind."
She tells people if they want to "come out" as a conservative or publicly "walk away," they don't have to do it in as bold a manner as she did.
"But do something to rid this feeling of being closeted and quieted, because I remember how ugly that felt, to deny who you are," Villa said.
More often than not, the stories are encouraging, and the 17-, 18-, 20-year-olds are the people Villa sees will lead the future. It's what keeps her going despite the craziness of it all some days. Villa has long set aside the goal of fame for fame's sake but feels it's her mission to use her art and platform to, as in her latest piece, fight for freedom.
"There's not really any conservative singers out there that have the platform I do, I might as well put it out there—I think I just became more responsible with caring about other people," Villa said. "I'm always growing and learning, I've made mistakes, but I feel like today I'm a much more caring and more empathetic person even compared to two years ago. Even a year ago!"
"It really did start with this walking away," she said.
Her journey has been one of coming into empathy and honesty, of shedding lies and shame as she grows.
"I have no regrets," Villa said. "Who I am today is based on the choices I made yesterday, and my past is part of my life. It's my testimony."