NEW YORK—Jonas Kaufmann is generally accompanied by a pianist at his concerts, and the program concentrates on Schubert songs or other classics of German lieder. By contrast, in his latest appearance at Carnegie Hall on Oct. 5, he was accompanied by the Orchestra of St. Luke's, conducted by Jochen Rieder, and performed German songs from operettas and films of the 1920s and 1930s.
Most of the songs were made famous by three tenors: Richard Tauber, Joseph Schmidt, and Jan Kiepura. The composers were Franz Lehár, Emmerich Kálmán, Robert Stolz, Hans May, and Mischa Spoliansky.
At the beginning of the concert, Kaufmann addressed the audience in flawless English and explained that he was using a microphone not because he was getting old and no longer able to fill the hall, but to stabilize the sound, some of which included soft singing.
The program was one of nostalgia for a period when lighter music reigned supreme, before the Nazis took over and swept it all away. The three singers and some of the composers had to emigrate to other countries because they were partly or all Jewish.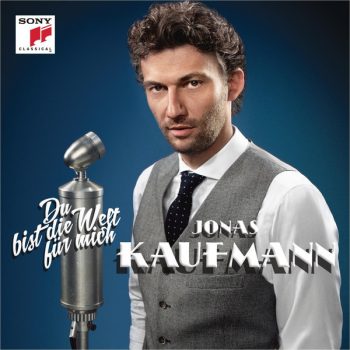 Kaufmann explained that he had performed some of these songs previously as encores, but thought they merited a full concert and made a recording of them in 2014.
The numbers alternated between songs sung by Kaufmann and instrumental pieces, of which the most recognizable was the waltz from "Die lustige Witwe" ("The Merry Widow"), one of the few operettas still performed at The Metropolitan Opera.
Richard Tauber
The concert was titled, as was the album, "Du bist die Welt für mich" ("You Mean the World to Me"), which was originally sung and written by Tauber. It is a lilting, hummable tune, and Kaufmann sang it with great charm.
Tauber (1891–1948) was hugely popular, first on the opera stage and then in operettas. He moved back and forth between the two musical forms and was considered by many the leading Mozart tenor of the era.
The year before his death from cancer, he gave his last public appearance as Don Ottavio in London. He had become a British citizen.
Tauber's most popular song was "Dein ist mein ganzes Herz" ("You are my Heart's Delight") from Lehár's "Das Land des Lächelns" ("The Land of Smiles"), which Kaufmann sang in German and later, as one of the encores, in English.
Marlene Dietrich is quoted in program notes as saying that Bing Crosby learned his technique from listening to Tauber, and the quieter numbers show some similarity.
Joseph Schmidt
Joseph Schmidt (1904–1942) started as a cantor and then became famous as a concert, recording, and film star. He was considered too short to appear on the opera stage. The program notes state that he was 5 foot 1, but most authorities claim that he was under 5 feet.
Vocally, Schmidt was able to sing the most demanding heroic roles and was especially notable for his ability to hit high notes. In movies, he often stood on a platform. "Ein Song geht um die Welt" ("A Song Goes Around the World") was the title song from a film that Schmidt made.
He escaped from Germany, but died at age 38 in a Swiss internment camp.
Jan Kiepura
Polish tenor Jan Kiepura (1902–1966) was luckier. He had matinee idol looks and was married to operetta star Marta Eggerth. The two frequently performed together, and they emigrated to the United States.
Kaufmann sang one of Kiepura's biggest hits, Spoliansky's "Heute Nacht oder nie" ("Tonight or Never") from "Das Lied einer Nacht" ("The Song of Night"), which was also recorded by Schmidt.
The Performance
Kaufmann has a different sort of voice than the three tenors he was honoring. He has more of a baritonal sound with more vocal power, sometimes overdoing it, especially with the microphone. He was most effective when he was crooning softly.
The Orchestra of St. Luke's conducted by Jochen Rieder played all the pieces with flair.
The words translated into English were projected above the stage and were mostly insipid lyrics about romance, such as "Girls were made to love and kiss" or "I really like kissing."
Kaufmann and the orchestra seemed to have as much fun as the audience, and the concert ended with four encores and a standing ovation.
Upcoming Performances
Kaufmann is making his long awaited return to The Metropolitan Opera in Puccini's "La Fanciulla del West" from Oct. 17 to 27.
The Orchestra of St. Luke's will return to Carnegie Hall for its 32nd annual series of concerts, beginning on Oct. 25. This will be the official start of Bernard Labadie's tenure as principal conductor of the orchestra. The concert will feature La Chapelle de Québec, and the program pairs Haydn's Mass in D Minor, Hob. XXII: 11, "Nelson Mass," in Haydn's original orchestration with Mozart's Requiem, K. 626, in the version completed by Robert Levin. Soloists will include American soprano Lauren Snouffer, the superb mezzo-soprano Susan Graham, German tenor Lothar Odinius, and Canadian bass-baritone Philippe Sly.
Barry Bassis has been a music, theater, and travel writer for over a decade for various publications.