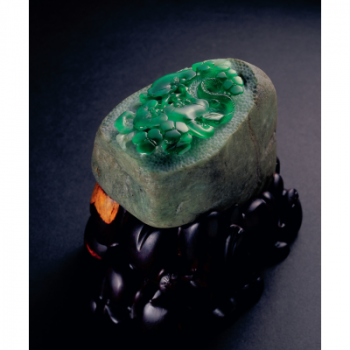 "If your heart is like a pool of clear water, every moment in your life can serve as inspiration," says Ying-Hsiang Hsu. In his 40 years of working with jade and diamonds, the Taiwan-based metal processing expert, jade jewelry artist, and founder of jewelry company Art Jade has stood steadfastly by this philosophy, remaining true to himself and his art in his designs. From jade collecting to metalworking to design, he has integrated his personal life experiences into every step of creating his works of art.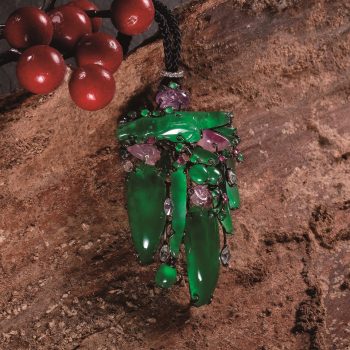 Inherited Persistence
Along the way, his father's wise words have guided him in perfecting his craft, while also inspiring him to cultivate his character. When Ying-Hsiang was young, his father pushed him to begin studying jade art and instilled in him the life motto that "perfection comes from long-term practice." When Ying-Hsiang was in first grade, his father would leave him many written notes, telling him to "restrain your selfishness and treat people around you well" or "always be content and thankful," and told him stories of heroic figures in history.
Forty persistent years later, Ying-Hsiang is now an expert renowned not only in Taiwan but also in mainland China and Hong Kong. At this stage in his life and career, Ying-Hsiang often reflects on his family tradition of perseverance. The artist remains grateful for his father's experiences and advice, which have fostered his growth and artistry in creating jade jewelry.
Inspiration From Life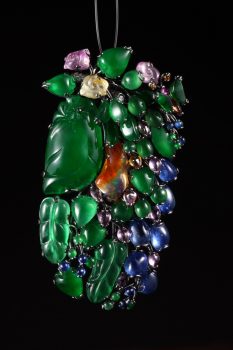 According to Ying-Hsiang, the most challenging step in the jade design process is instilling emotions into lifeless blocks of jade. In order to "extract expressive art from raw jade stones," he often draws on his decades of life experiences. In particular, Ying-Hsiang's childhood memories are his favorite sources of inspiration, and they are well represented in many of his works of art.
For instance, one of his most impressive pieces is inspired by an old fig tree that stood near his grandfather's house in Su'ao, a small town located in Yilan County, Taiwan. Fondly, he recalls how the sun shone through the tree's leaves to rest on delicate butterfly cocoons. "It was a miracle of life that multiplied endlessly," Ying-Hsiang explains. This memory inspired him to design "Butterfly Cocoons Among Fruits and Leaves," a nostalgic piece that is remarkable not only for its exquisite craftsmanship and creative design, but also for its use of multiple kinds of rare jade that took him four decades to collect.
Ying-Hsiang's childhood memories hold a dear place in his heart. As a jewelry designer, he is able to transform these memories into pieces of jade jewelry. As a result, audiences can relate to his life experiences and emotionally connect with his works. To Ying-Hsiang, being able to express his life experiences through jade jewelry renders the art a boundless space for creative exploration and human communication.
Learning From Jade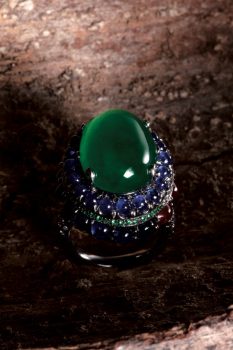 In the words of Confucius, "A gentleman's character is like the quality of jade, which shall be temperate, kind, courteous, restrained, and magnanimous." In his day-to-day life, Ying-Hsiang uses these characteristics of a gentleman as a standard to improve and stay true to himself. This mindfulness is reflected in the designs, colors, and craftsmanship of his jewelry, through which he manifests his understandings of life and nature.
Ultimately, Ying-Hsiang sees himself not only as a craftsman but also as a communicator and ambassador of Chinese culture through showcasing his works of jade art. When asked what he hopes his audience can gain from his artwork, Ying-Hsiang responded with "love, kindness, and meaningful reflection."
Published with permission by Elite Lifestyle Magazine.