A little more than a generation ago, in the days of classic TV, comic books, and ping-pong tables, it was still fairly common for a kid's weekly regimen to include a piano lesson with a private teacher. That required their homes to have a piano. Inexpensive electronic keyboards did not find their way into toy departments and common usage until the 1980s, when the first Casio was invented, and even then many homes still proudly displayed an acoustic upright piano as their nicest, well-polished piece of furniture.
At that time, the number of new pianos sold each year in America was roughly halfway between the peak of over 360,000 sold in 1909 and around 50,000 sold in 2007. However, that does not include private sales of used pianos, which presumably could be even greater in number.
It is impossible to know how many acoustic pianos are sitting untouched in homes today, gathering dust, or out of tune. I like to think, though, that many of those noble instruments retain their pride of place in living rooms and are still lovingly played by those kids, now grown, or by their own progeny.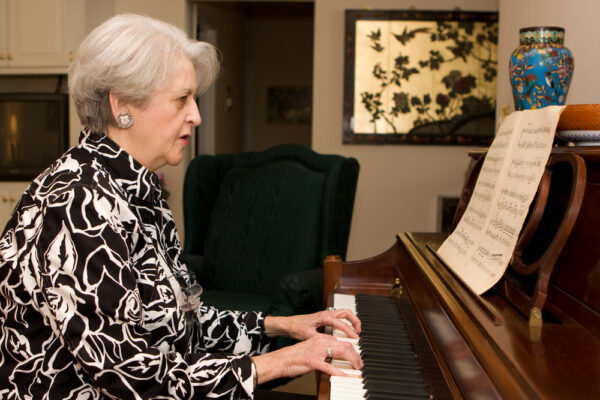 Enter the Piano Tuner
A regularly played piano in good working condition needs to be tuned at least once a year to hold its tuning. If a piano sits for 10 years without being tuned, it will not hold its pitch for long after it is finally tuned. However, after a few more tunings done more frequently, it can begin to hold its pitch again. And that is where the piano tuner comes in.
Piano tuners are now, more correctly, called "piano technicians," because they are qualified to do more than just tune. They can, for example, get nonworking keys working again, and adjust the felt hammers as well as the harshness or brightness of the tone.
Depending on the piano, the bottom octave or two of bass notes has only one thick string per piano key, while in the middle register there can be two thinner strings for each pitch, and then three even thinner strings for each pitch in the higher octaves. The main reason for having more of the thinner strings on the higher pitches is that they are not as loud, so it takes more of them to match the volume of the lower, thicker strings played with the same touch.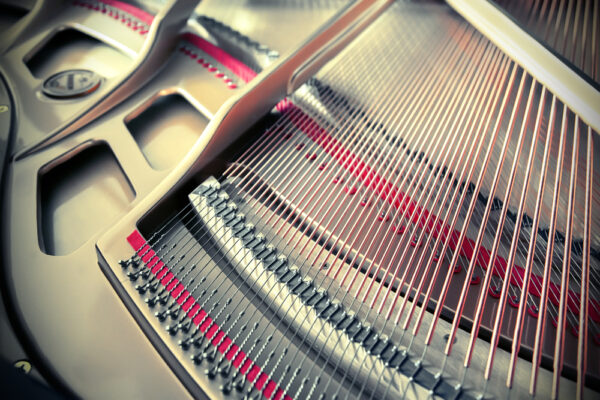 Every string must be individually tuned. Where there are three strings for the same piano key, they need to match each other not only perfectly in pitch but also in tone, and this requires a keen ear.
I paid $85 for the most recent basic tuning of my piano, which was not far out of tune. It took under an hour, but in some places you can expect to pay from $100 to $120, and you will pay even more if any repairs or adjustments to key action are needed.
To ensure quality, it is important to hire a tuner who is officially registered with the Piano Technicians Guild, based in Kansas City, Kansas. The guild require tuners to pass a series of rigorous tests, both on paper and under live observation, in order to be certified. The medieval word "guild" implies, rightly in this case, a voluntary and self-regulated association of true artisans who take pride in their noble craft.
From the time I was a small child, I was always fascinated to watch our family's piano tuner remove various wood panels to expose the mysterious inner workings of the instrument. He then very methodically moved his tools from one string to another. At last, he rewarded my patience by demonstrating his work with a ragtime piece by Scott Joplin or a popular classic like "Stardust," fully decorated with flamboyant arpeggios.
Back then, tuners often used only tuning forks to test the pitches, or even perfect-pitch perception. Now, although they still use their ears a great deal, most also have electronic tuning devices or even phone apps to indicate the precise frequency (pitch) of the strings.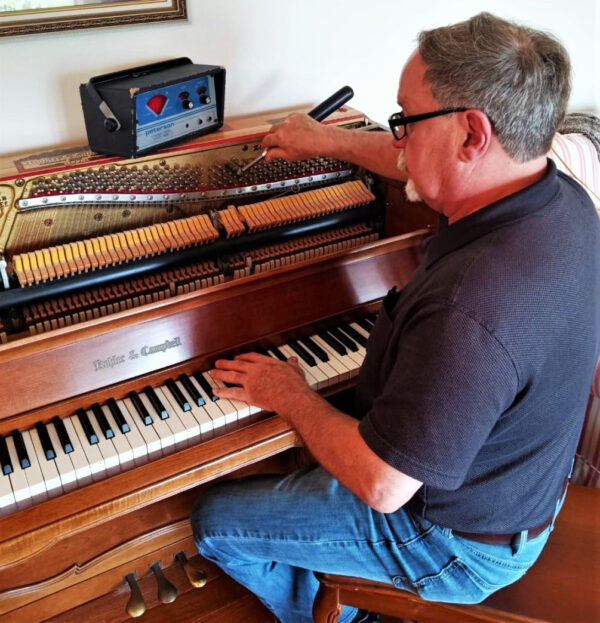 According to the guild's website, the basic skills of tuning can be learned in 50 to 100 hours, usually over two to six months, but truly mastering those skills can take up to two years. A good set of the exotic-looking tools of their trade can typically cost $1,000.
A full-time freelance piano technician can earn from $50,000 to over $100,000 per year. In university music departments, there are also many full-time positions with benefits, having so many pianos in constant need of maintenance.
According to the guild, tuners are in short supply now, so it is not a bad profession to consider, whether full time or part time, for industrious young pianists who may not quite earn a living wage by performing.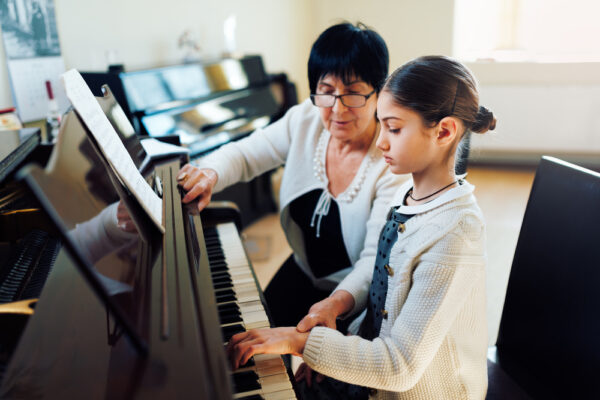 A Former Career Specialty of the Visually Impaired
Piano tuning was once a hallowed and traditional profession of blind and partially sighted persons. They still have, as their professional organization, the ABPT, Association of Blind Piano Tuners, internationally based in the U.K. That tradition, however, appears to be a dying one, as that training and the number of visually impaired students pursuing it has dramatically decreased.
I had the opportunity to interview Judy Denning, a retired member of the music faculty of the Tennessee School for the Blind (TSB), which offered training in this skill until 1985. According to Denning:
"Piano tuning was a part of the TSB curriculum from approximately 1870 until 1985. It was discontinued then, simply because the man who had taught it for decades became ill, and by then no one else could be found to teach it. However, at that time, electronic keyboards had become very popular, anyway, so it might not have been considered as good a job market for the blind as it had been previously. During its viable years, several hundred students were involved in that program, and many became piano tuners, as it was considered a good job for blind people. Only boys were involved in that training."
Mark Newman, a still-working, blind piano tuner referred to me by Denning, confirmed by phone that there are few like him remaining. He received his training from 1983 to 1985 at the E.H. Gentry School in Talladega, Alabama. For many years, accompanied to each home by a driver, he tuned over 500 pianos a year, and he still tunes one or two a week.
Without sight, he never employed an electronic tuner, and he emphasized that the ear should still be a sighted tuner's main tool. "You have to tune the higher end of the keyboard just a tiny bit higher than what the electronic tuning devices tell you, and listen with an experienced ear to the sound, in order for the instrument to really sound bright and good."
Presumably, as long as a demand for great piano music played on great acoustic pianos remains, including grand pianos in concert halls, people will be needed who know how to tune and maintain them. In the digital age, it remains an old-world craft requiring skills that a machine cannot replicate. Thus, it may be said that behind every great artist of piano playing stands, unseen, another artist: the piano tuner.
An earlier version of this article misspelled the brand name Casio. The Epoch Times regrets the error.