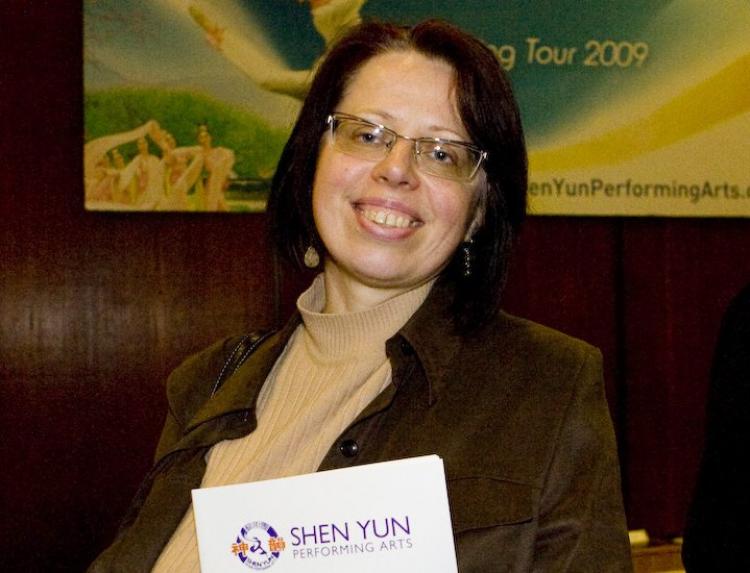 PORTLAND, Ore.—Spring has arrived in the famous "City of Roses," and all of Portland is in bloom. This spring also brought New York-based Shen Yun Performing Arts back to Portland that performed at the Keller Auditorium on May 19.
Genteel and sophisticated theatergoers of Portland were amazed by the grandeur of the spectacle.
The Shen Yun performance touched the heart of a famous opera singer, Anna Kazakova, who has performed leading soprano roles in the national operas of France and Budapest, the Bolshoi Theater in Moscow, and with the Austrian Strauss Orchestra in Spain.
Ms. Kazakova has sung leading roles in more than 19 operas and oratorios all around the world. She was a student of one of the greatest opera singers of the 20th century, Helen Obraztsova.
Ms. Kazakova divides her time between Moscow and Portland, and regularly performs with the Portland and Seattle area orchestras.
She shared that she grew up "as person that never had any strict religious preferences; my true inspiration was art."
"I enjoyed this wonderful performance very much. It opened an unknown page in art and history for me. I am very impressed by the beautiful settings, colorful costumes, dresses, and singers," Ms. Kazakova said
She was impressed by "the inspirational songs performed by highly accomplished opera singers, their strong voices, and excellent technique.
She also highly appreciated "the wonderful pianist" who accompanied the soloists and the erhuist. The erhu is a two-stringed Chinese instrument known for its wide range of notes and compelling, mournful sound.
"The artist who played the unique violin really touched my heart with its incomparable sound and melodies," she said.
Ms. Kazakova enjoyed the way Shen Yun captured "Chinese spirit and joy of fairy tales."
She also "saw the message in this performance plus lessons from history and legends."
Shen Yun's uniqueness lies in story-based dances that portray ancient Chinese myths, legends, and significant events unfolding in China today.
"All the dances were beautiful and in perfect accordance with those true stories about communists repressing Buddha-believers. I was born in communist Russia, and this makes perfect sense to me," she continued.
She was referring Heaven Awaits Us Despite Persecution, a story about a father of a young girl being persecuted in China for his belief in the spiritual practice of Falun Gong that has been persecuted by the communist regime since 1999. The scenes that ultimately unfold in this dance present a message of hope and tell of a longstanding Chinese belief that good people are ultimately rewarded, even if not in this lifetime.
Ms. Kazakova said that she also hoped that "Christians would enjoy this performance too and would be able to see that real art and spiritual calling may unite us all together with love and tolerance.
"I'm happy that this company does exist, and I wish it success and hope they are given the support they deserve," concluded Ms. Kazakova.
The Epoch Times is a proud sponsor of the Shen Yun Performing Arts Spring Tour 2009. For more information please visit ShenYunPerformingArts.org