Having landed that morning in Luang Prabang, an almost-mystical city of temples and palaces cradled high in the mountains, I made my way to the night market. Set close to a big bend of the mighty Mekong River, this famous market features hundreds of vendors, a swirl of color and light under red and blue tents. Walking past rows of sellers, you could pick up everything from hand-painted artwork to pop-up postcards and even jewelry made from bombs dropped on the country in the 1960s and 1970s. A sign next to the stall explained the history, encouraging potential customers to "buy back the bombs."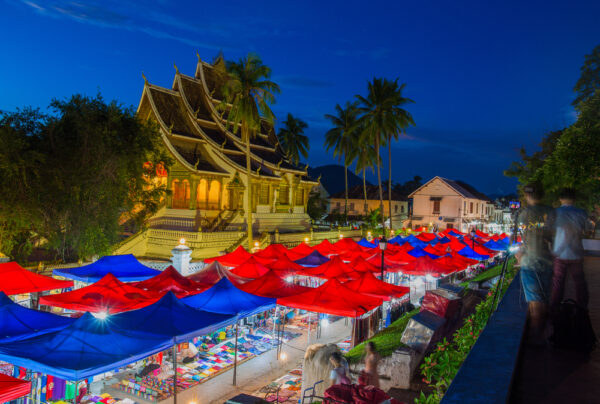 Reaching the end, the clatter and illumination of the night market fading behind me, the street quickly grew quiet, and dark. I debated hopping in the back of a tuk-tuk and making my way to the hotel, but decided to walk a few more blocks, toward the sound of laughter and clinking glasses. I arrived at a small, motorcycle-themed pub, where the bartender/owner explained that she'd ridden all over Laos, and Southeast Asia, and that her happiest times are on the back of a bike.
"I love it so much. Most of the time, I don't have a plan—I'm just gone," she said, while mixing me a cocktail. She introduced me to the rest of the patrons in the bar, and by the end of the night, I felt like I knew half the people in town. And, with that one visit to the bar, my entire time in this ancient capital was transformed.
Sometimes, truly experiencing a place relies on who you know there—or who you meet upon arrival. While guided trips and tours can show you the sights and provide a safe, predictable experience, there's value in arriving in a new destination and making your plans, day by day. Asking locals for recommendations. Just going with the flow, wherever it takes you.
And in Luang Prabang, a compact town and UNESCO World Heritage Site surrounded on three sides by water, that's exactly how I explored. Once, this small city was home to the Laotian royal family, and the handsome French Beaux-Arts palace in the heart of town that stands testament to their wealth and prestige is now a museum. You can walk through to view the pure gold serving vessels, the red throne room, and the ornate bedrooms of the king and queen. It's a spiritual town, too, coursing with monks, who belong to the 33 Buddhist temples here, making their way through the streets to collect alms early every morning. Sprinkling in the main historic sites, I decided to go a little deeper, spending most of my time moving from recommendation to recommendation, and personality to personality.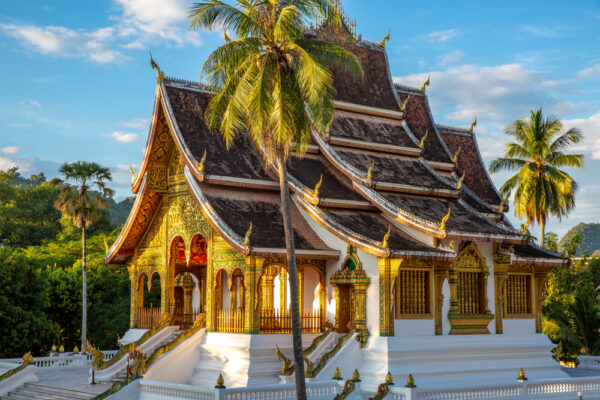 Which was how I ended up at Emmanuelle, a breezy hole-in-the-wall restaurant suggested by one of my new friends at the motorbike bar, chatting with the co-owner, named Julie. Serving up Laotian food with a French twist, she explained that they focus on simple, tasty menu items, reducing a little of the traditional spice and substituting French flavors. She noted that she loves her life in this town.
"You fall in love fast with Luang Prabang," she said. "It's a quiet, easy life. Nobody and nothing rushes here."
She directed me to a few lesser-visited attractions, including an excellent French bakery, and a scattering of smaller temples behind it. "And don't miss Garavek, the storytellers are amazing," she added, directing me to a small theater just a few steps from the river. Arriving for the nightly session, the tiny place is packed, all three rows of hard, straight-backed chairs filled with eager listeners, hanging on every word spoken by the two Laotian men on stage.
One young, and one old, they tell a long and winding tale, with relish, leaning forward to accentuate the important parts, singing and occasionally picking up an instrument to pluck a string, or bang a drum. I quickly lost the plot, but caught up with them afterward, and they told me that everyone in Laos knows these stories—they're an essential part of an upbringing here, and even little kids can recall them.
"The tales from this province, they're about the origins of the rivers and the rocks and the mountains, and the kingdom," one explained. When I mentioned the rapt attention of their audience that night, the other chimed in. "Oh yes, people want to learn. They don't want to just go and see things. They want to know the history behind it. They want to hold it in their hands."
The following days are full, joining some of my pub friends for a fishing trip on the river, catching precious little but soaking up plenty of sun. Another afternoon is spent sampling street food, from pork sausage with sticky rice, to eggs grilled with fish sauce and spring onions. I crossed the river on a footbridge, looking down at the dark flow below me, marveling at the fact that it runs for 3,000 miles. And I spent plenty of time lingering with a local beer on patios all over town, chatting with whomever happened to be close by.
And I took the free tuk-tuk out to Ock Pock Tock. After visiting their small shop in town filled with beautiful pashminas and shirts and robes and neckties, a friendly sales clerk suggested I visit the main crafts village. Hopping in their tuk-tuk, I arrived and walked down a small path, taking in a cluster of open, wooden buildings set among the lush forest, on a gentle hill. They stretch all the way to the Mekong, where noisy little wooden boats putt-putt by. A guide named Somneuk arrived and led me through, noting that 60 percent of their textiles are sourced from more than 400 weavers all over the country, and the remainder made right on site.
We walked through the process, from silkworms creating the base material, to the boiling and fermentation involved in making the dyes, to the weaving itself, an increasingly rare skill, and a painstaking process.
"Kids learn from their mothers, that's how we pass on the knowledge," she told me. "It takes two weeks, full-time, to create two meters of cloth."
She added that this place is about more than just the products, as it offers these tours, free-of-charge, plus in-depth classes for anyone who wants to learn.
"The idea is to bring people together through textiles," she said.
Finishing the tour at a table overlooking the river, I grabbed a cup of tea, as the light of the topical day just began to fade, the cool of the evening creeping in from the corners, till there was just one little boat left out there, in the middle of the vast Mekong.
Toronto-based writer Tim Johnson is always traveling in search of the next great story. Having visited 140 countries across all seven continents, he's tracked lions on foot in Botswana, dug for dinosaur bones in Mongolia, and walked among a half-million penguins on South Georgia Island. He contributes to some of North America's largest publications, including CNN Travel, Bloomberg, and The Globe and Mail.