Indian Holi Festival: Colors Celebrate Spring's Arrival
March 29, 2013 2:52 pm Last Updated: April 3, 2013 6:57 am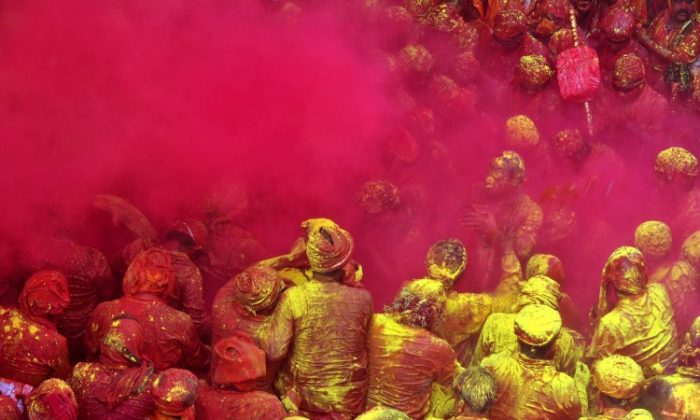 Indians celebrated the spring festival of colors, Holi, on Wednesday across the country. People paint traditional bright, powder colors on each others' faces, dance, and have playful celebrations the whole day.
Holi marks the end of the winter season and is celebrated on the last full moon day of the lunar month "Phagun" (February/March), the twelfth month of the Indian calendar. The festival celebrations usher spring and add colors, making a transition from chilling winter to sunny, warm days.
The festival has regional flavors and different names in diverse Indian languages. In Sanskrit (an ancient Indian language) it's called "Dhuli": It means dust; the festival might be called so as on the day people play with colored dust.
The festival is hugely popular with youth. Children and young start celebrating Holi, almost a week before the actual festival day.
The traditional festival pranks include children often hiding behind the walls on the terrace, to hurl colored-water balloons on the passersby; some take offense while some don't—keeping alive the festival mood!
Markets look extremely lively and colorful with shops selling colored powders, water balloons, and water guns. Originally the water guns were made of bamboo, however these days there come in many attractive shapes, designs and sizes.
The month and its festivities also inspired a plethora of Indian regional literature. The song by famous Indian poet, Rabindranath Tagore, "Oh! The parading colors of the Woods" ("Ore Bhai Phagun Legeche"), beautifully describes the month of Phagun. 
Ore Bhai Phagun Legeche
(Translated by Pratik Ghosh)
Oh! the parading colors of the woods
From twigs to branches, on fruits and flowers and on leaves
At every shade and in all corners –
The sky dappled in colors ? the songs enveloping the universe!
New rustling leaves bring happy tidings.
Beholding the frolic of nature
The solemn sky is amused
At the strike of laughter, it can be silent no more –
Quivering incessantly.
The breeze rushes all throu? the woods, (as if) not knowing the flowers
Beseeching all, to be introduced
Over and over.