Sports are a great way to keep young people out of trouble, while instilling critical values such as discipline, work ethic, and respect. In the Ironbound neighborhood of Newark, N.J., Mike Steadman is teaching and coaching boxing to young people in his community for free.
Steadman, a United States Naval Academy graduate, is a three-time NCBA light heavyweight boxing champion. After graduating from the academy in 2010, he went on to serve as a Marine Corps infantry officer in Afghanistan, Japan, and the Philippines. After his service, Steadman moved to Newark and began coaching boxing at St. Benedicts Preparatory School. But he found he wanted to do more than just coach his students. He wanted to offer free boxing to more of the city's at-risk youth.
"When I moved to Newark I never wanted to just impact the kids at St. Benedicts. I wanted to impact the broader Newark community," Steadman said.
Growth
Over the last five years, 122 young men between the ages of 15 and 24 have been murdered in Newark. Steadman's primary mission is to provide a safe space for youth in the community to exercise, learn important life values, and have fun. After receiving a grant from the city and finding an old recreation space he outfitted the boxing gym himself.
As the gym has grown, it has given youth in the city a healthy outlet and has created a sense of camaraderie among the fighters, and their family members have become involved.
Steadman has also expanded the organization with a for-profit arm that teaches boxing classes focused on employee wellness and engagement to corporate clients such as WeWork and Spotify.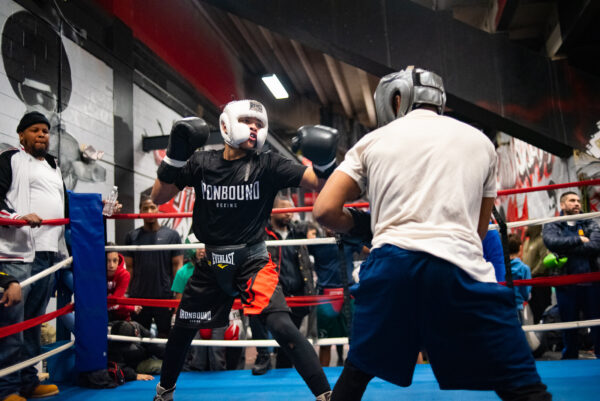 "I wanted to be more out in the community. I really wanted to get a feel for Newark and being an anchor of the city," Steadman said. "Over the last few years we've consistently proven ourselves that that's who we are and that's what we're about," Steadman said.
The mission is larger than boxing itself. Steadman uses the sport as a vehicle to put young people in a position to be successful in life. Steadman has sent one of his fighters to represent the United States in an Olympic qualifier boxing tournament in Spain. Another former Ironbound boxer is currently attending the United States Naval Academy, and another is now a professional trainer for the organization's for-profit arm. As the brand has grown, Steadman has been able to afford to travel to different cities with his boxers for competition, and represent Newark.
The Fighters
Two of Steadman's current fighters are 17-year-old Keith Colon Jr. and 15-year-old Wilkins "Nano" Candelario. At an early age Keith's father, who is a cofounder of Ironbound Boxing, was incarcerated. Growing up without his father was difficult at first, and violence in the neighborhood was commonplace. He always had to be aware of his surroundings, and try not to get mugged or caught in a crossfire.
"I always had to prove myself on everything just because I was the smallest kid," Keith said.
Keith had boxed before, but joined Ironbound after his father cofounded the organization with Steadman. Even though it can be challenging to have a coach who is also his father, Keith Colon Sr. looks out for his son and has his best interests in mind. The most rewarding part of boxing for Keith is the camaraderie.
"It's not just a gym. It's more like a family," Keith explained.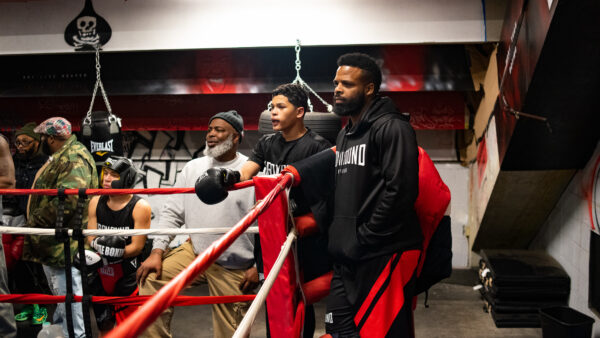 Before Nano started boxing, he focused on staying out of trouble. He would go to school, and then immediately come home and stay there. His parents didn't want him to leave the house because of his dangerous neighborhood. Like Keith, Nano too maintained a heightened sense of awareness when he was outside. In an effort to get out of the house and keep himself busy, Nano joined Ironbound Boxing. The relationships he has made with fighters and coaches have been one of the most rewarding parts of his time at Ironbound Boxing.
"Before that I didn't really have friends like that, but now I've got Keith to talk to and Mike and all my other friends from the gym," Nano said.
Both Keith Colon Jr. and Nano have learned the value of discipline, work ethic, dedication, patience, and focus from their time at Ironbound. Boxing has also impacted both young men's futures and life outlooks. Keith is currently an honor student at St. Benedicts Preparatory School, and he credits his success in school to boxing. Nano and one of his teammates aspire to open their own restaurant. Both young men look up to Shakur Stevenson, a professional boxer from Newark, who never forgot where he came from and often returns to the city.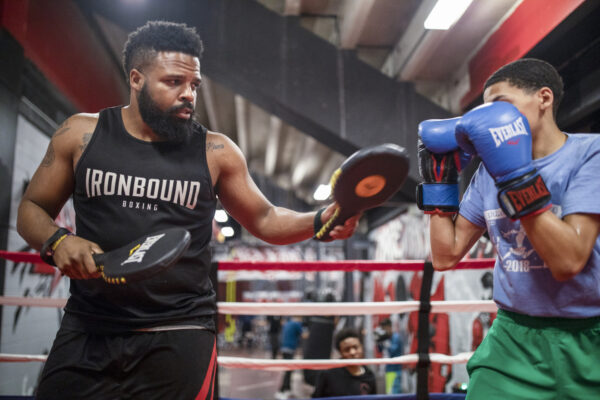 One of Steadman's proudest moments was at a competition in Washington D.C. at Head Bangers Boxing Gym when Keith fought in the main event against the gym's best fighters in 2019.
"When Keith Jr. got in that ring and they announced 'Fighting out of Newark, New Jersey,' I never felt so much pride," Steadman recalled.
In an age of social distancing and quarantines, Steadman has put one of the Marine Corps mottos into practice: Improvise, Adapt, and Overcome. Ironbound has now gone digital, with classes online for corporate clients as well as its young fighters.
"We're not going anywhere. We're going to figure this thing out to the end," Steadman said.