Cupid is making his rounds and love is in the air—but on the tiny island of Aruba, it doesn't take a special occasion to up the romantic ante. 
Touch down in Aruba and you'll be greeted with a warm "bon bini"—"welcome" in Papiamento, a language spoken only on the Dutch-Caribbean islands of Aruba, Bonaire, Curaçao, and Sint Eustatius. While Aruba presents an enriching blend of cultures, it's hospitable to Americans, too; English is commonly spoken, and while the official currency is the Aruban Florin, U.S. dollars are widely accepted.
If you're in need of an escape with a special someone, there's no better destination to visit in the name of romance than a place nicknamed "one happy island." 
On Aruba, natural pools are sprinkled throughout the rugged north coast and easygoing tropical vibes are the standard. Cooling trade winds blow through ceaselessly, and the island's location a smidge north of the equator—and outside of the hurricane belt—means that visitors can rely on encountering comfortable, vacation-friendly weather year-round: it seldom veers outside of sunny, breezy, and 82 degrees, and Aruba ranks as having the least rainfall in the southern Caribbean.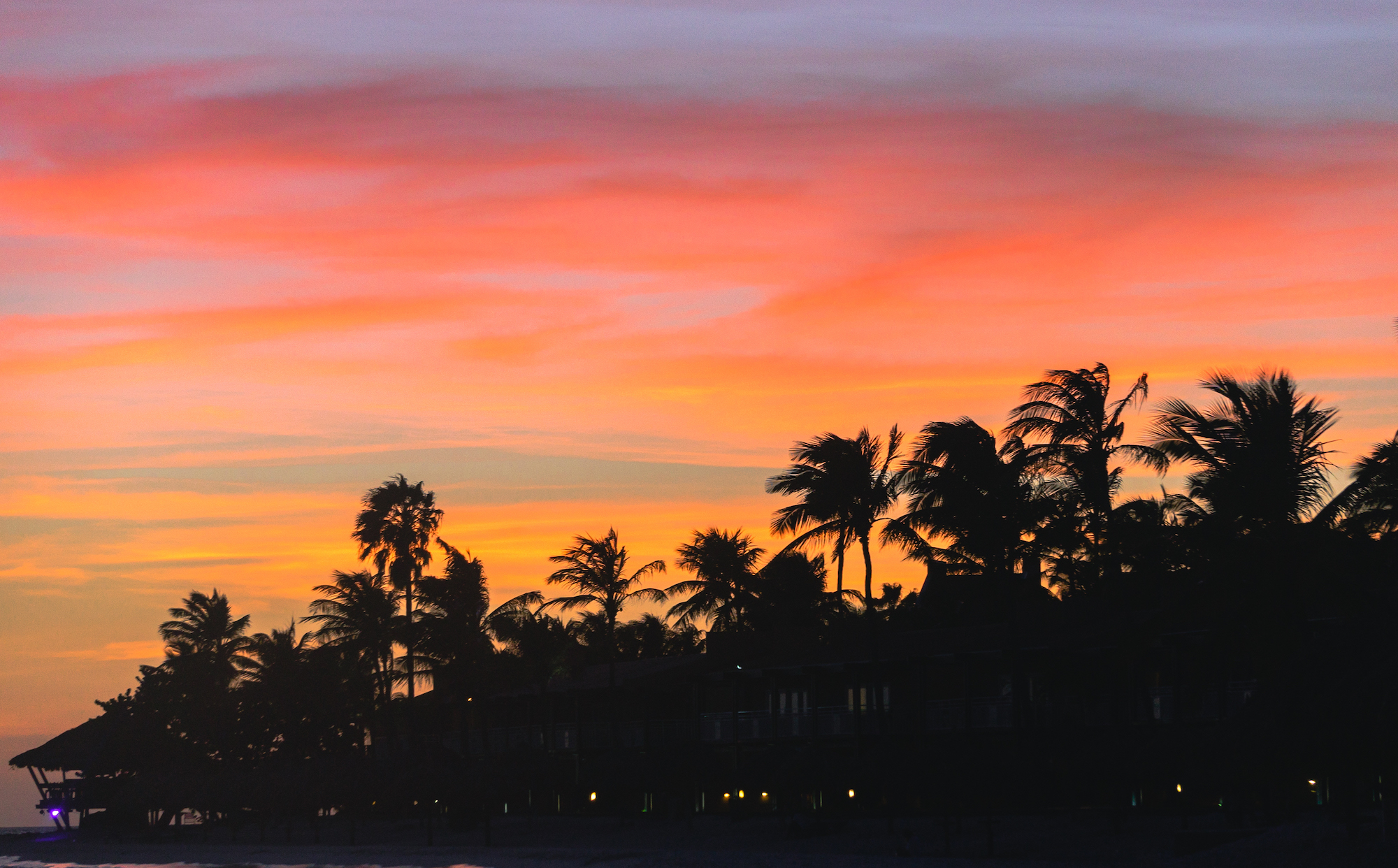 Aruba is also unique in that it's not all sandy beaches and palm trees: There's a dramatic interplay between Aruba's pristine expanses of calm turquoise water and its rocky, desert-like terrain on the remote north shore. The island provides much more than a carefree getaway—an invitation to relax coexists with opportunity for adventure in the great outdoors.
Understandably, for most people, one visit to this paradise just isn't enough: Aruba is the most re-visited island in the Caribbean.
Attend the Caribbean's Largest Vow Renewal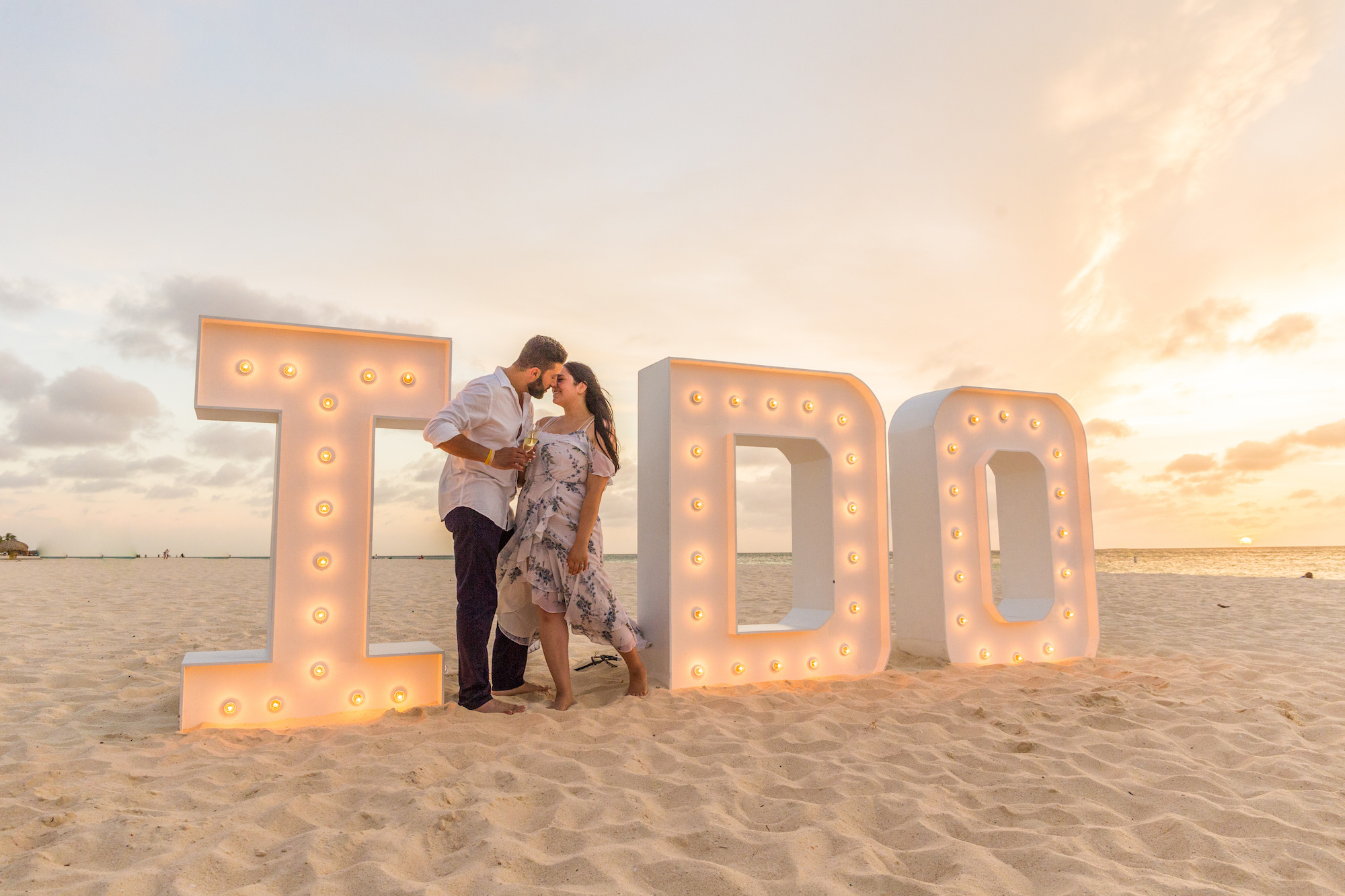 Adding to Aruba's allure is an annual celebration of love: Couples from all over the world converge each August to participate in the largest vow renewal ceremony in the Caribbean. Some are on their honeymoon, freshly yoked but starry-eyed and eager to again profess their love and devotion; others have walked side-by-side for 60 years or more, honoring a connection deeper than the ocean nearby. Aruba's vow renewal ceremony draws couples from each end of the spectrum and everyone in between. This year, it will take place on Aug. 19.


The island provides a dreamy backdrop for renewing your commitment to love. Imagine standing barefoot on a warm Caribbean beach with your soulmate, surrounded by the love stories of others, all dressed in white; a pastel sunset dances atop the glimmering sea before you, sealing the deal for eternity.
The ceremony takes place on Eagle Beach, consistently rated one of the best beaches in the world, and the area is adorned with twinkly lights, decorative arches, and photo props, and hundreds of couples in love. It's like attending one giant wedding where everyone is getting married and the pressure is off. Love both old and new is pledged before a sorbet sunset and gently lapping waves, and smiles and tears abound.
Following the ceremony, a procession of carnival performers—loud both in sound and in costume—arrives to kick off a time of dancing beneath a starry sky, celebrating renewed dedication to the loving ties that bind us.
The Romance of Aruba
Outside of the vow renewal ceremony, there are ample romantic activities for couples in Aruba. It's an island that's intense and serene; so while you'll want to set aside plenty of time to relax on Aruba's beautiful beaches, there's also lots of exploring to do.
For a thrilling way to get the adrenaline pumping, take the bumpiest ride of your lives on an off-road safari with De Palm Tours. With a daring guide, you'll traverse the rough and rugged landscape of Arikok National Park on Aruba's north shore to arrive at natural rock pools on the coastline that make for the perfect swimming holes.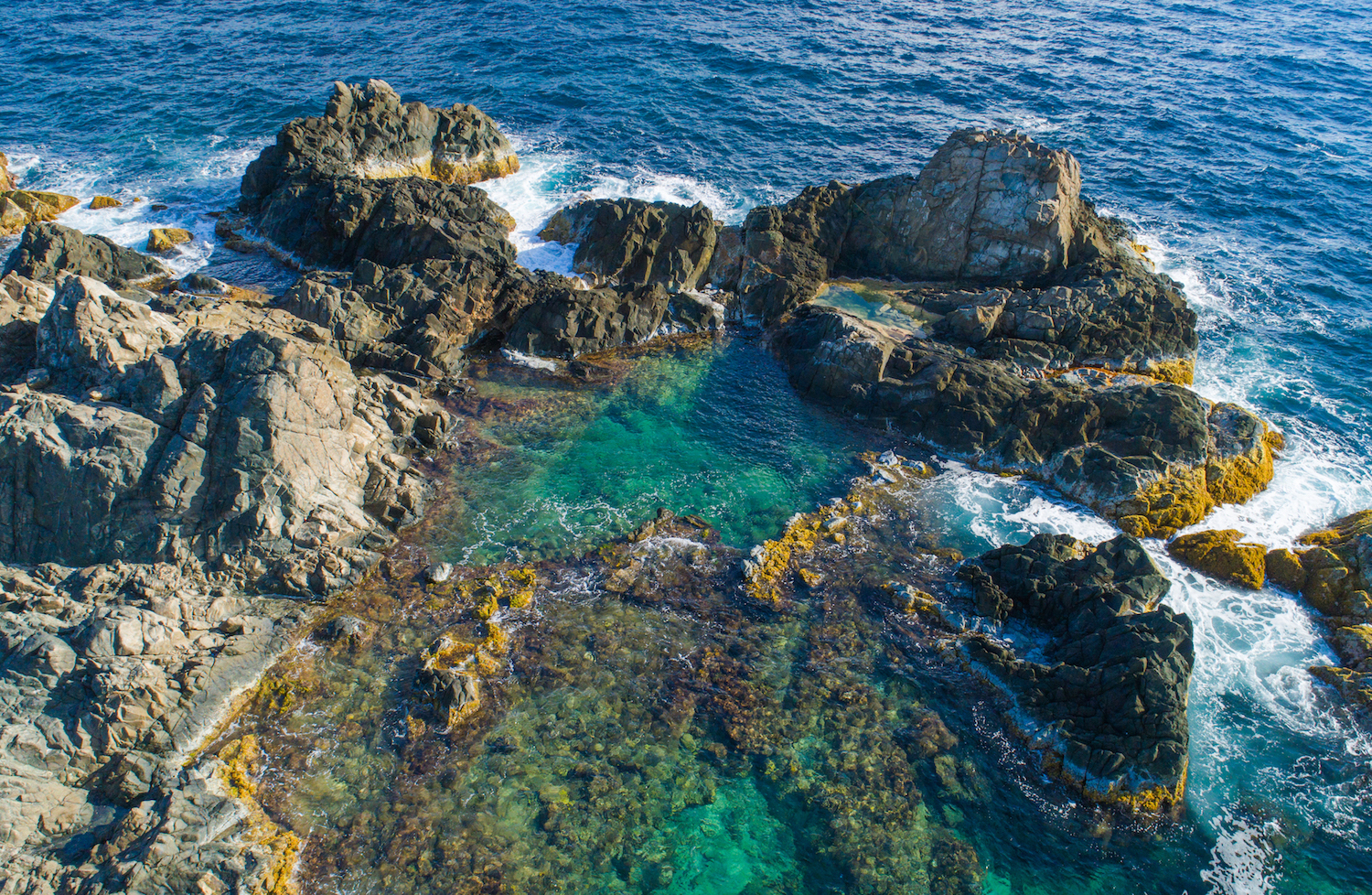 Aruba isn't a large island—it spans only about 70 square miles in all—so head up to the California Lighthouse or Casibari Rock Formation for a bird's-eye lookout over the arid, dusty island and its deep blues beyond.
Want to spend more time in and on the water? Aruba is a good spot to snorkel, scuba dive, or go stand-up paddleboarding with your favorite adventure buddy. Another romantic option is a sunset sail on a catamaran with Red Sail Sports. Tropical tipples flow freely and the living is easy as you glide over peaceful seas under the golden glow of the setting sun, wind in your hair and your lover by your side.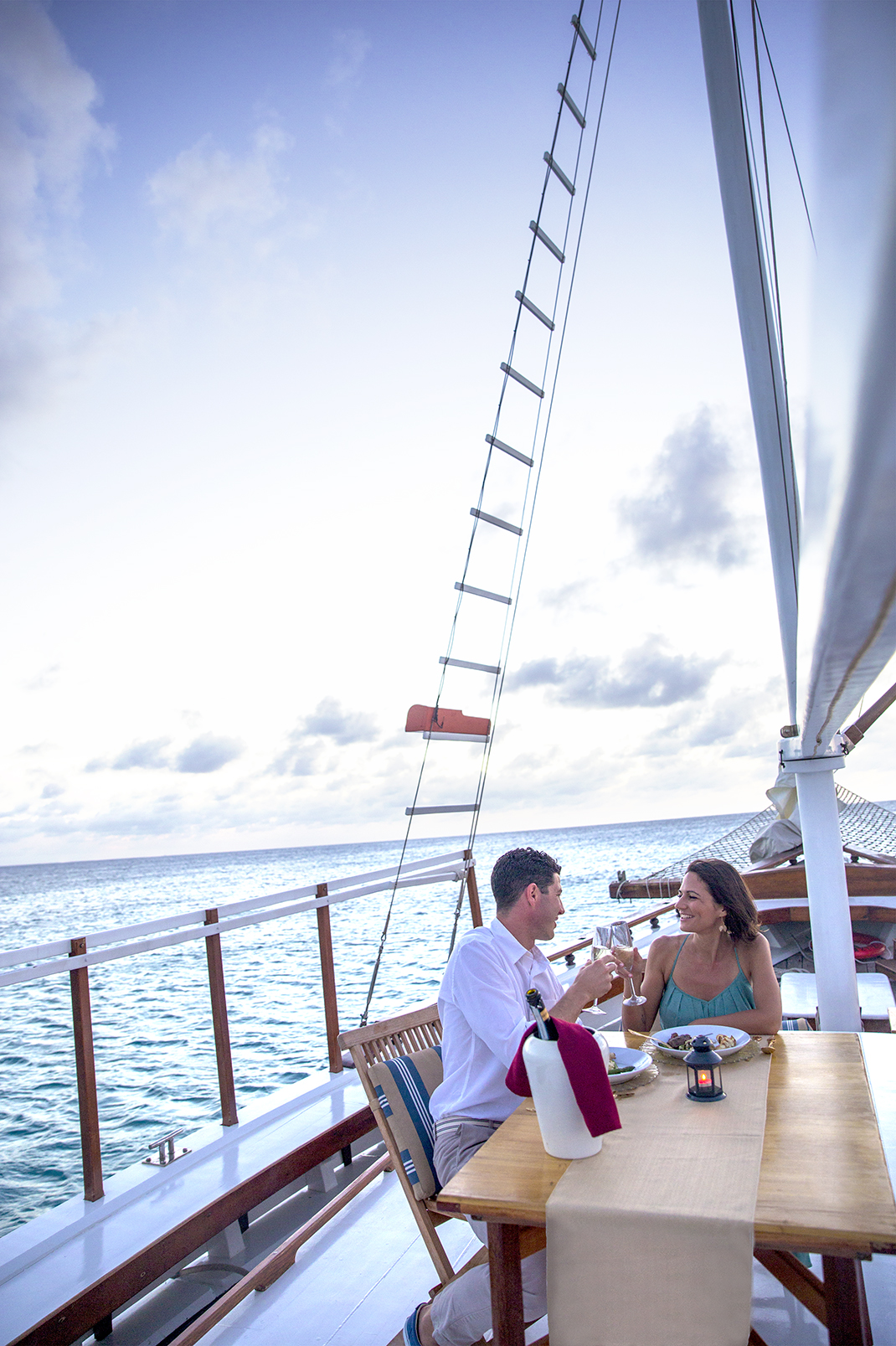 Taking a class at Island Yoga is a can't-miss. The largest yoga studio in the Caribbean, Island Yoga was founded by Instagram's original yoga celebrity, Rachel Brathen—better known as @Yoga_Girl to her 2 million online followers. Following your vinyasa, grab a bite at health-conscious Nourish Café in the wrap-around garden out back—juices, salads, and smoothie bowls will round out your practice and nourish you for the day's adventures.
Other romantic dining options include the dinner-in-bed experience at Screaming Eagle—it sounds odd, but it's a marvelously cozy way to dine with the one you love, and an experience neither of you will forget—as well as the candlelit gardens of Wilhelmina Restaurant, which feel a bit like dining in a tropical outdoor speakeasy.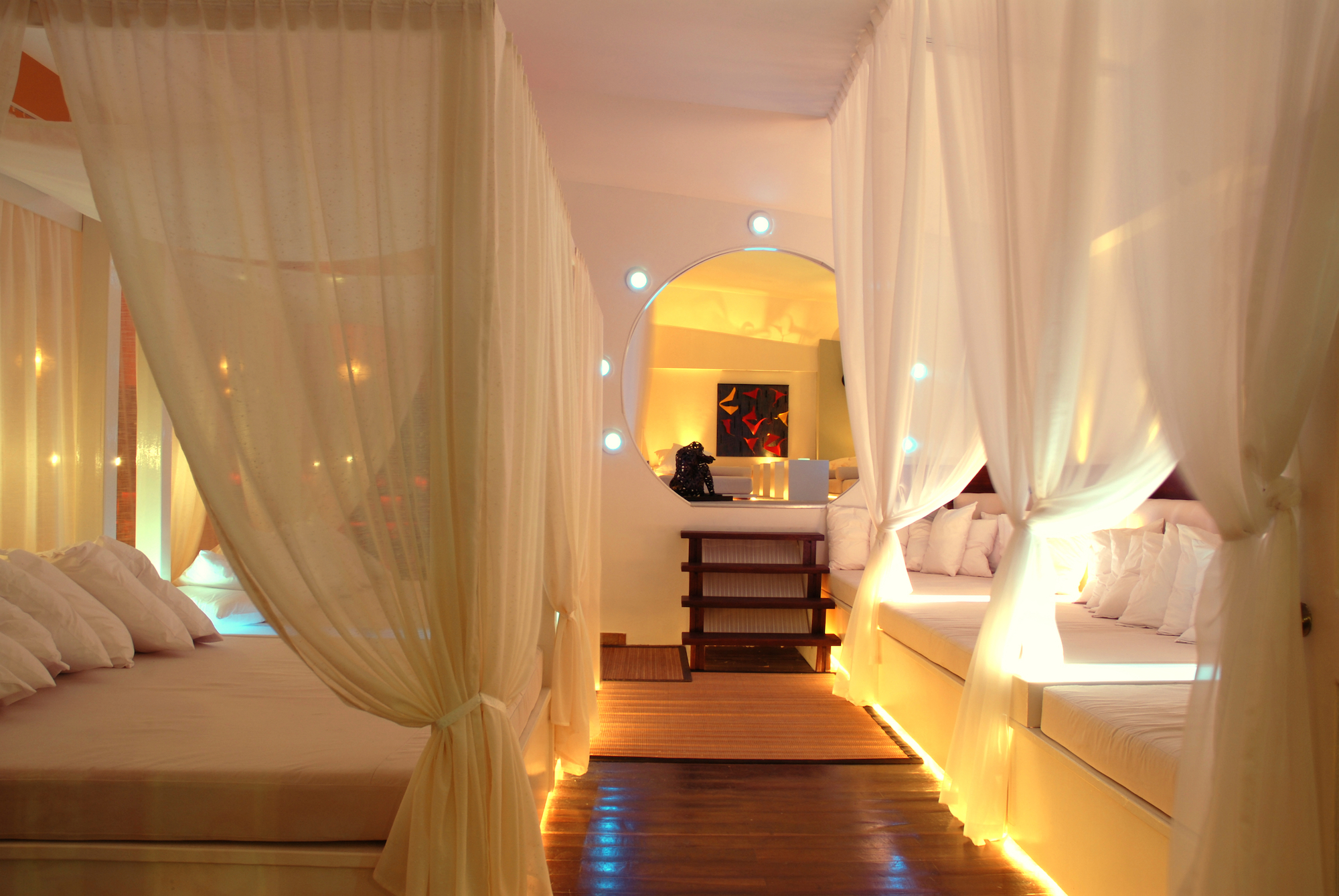 For meals with an unbeatable ocean view to boot, do lunch at West Deck—a laidback spot on the ocean where you can eat on a shaded outdoor deck—and dinner at Barefoot Restaurant, an iconic Aruban dinner spot offering "elegant dining in flip flops" on Surfside Beach. Request a table on the sand and you'll be escorted to a table placed directly on the beach, where you'll feast on fresh fish and other specialties while surrounded by flaming tiki torches, with the ocean a few footsteps away. No candlelit romantic dinner in the city could ever compare.
Book a Stay With Pink Flamingos and a Private Island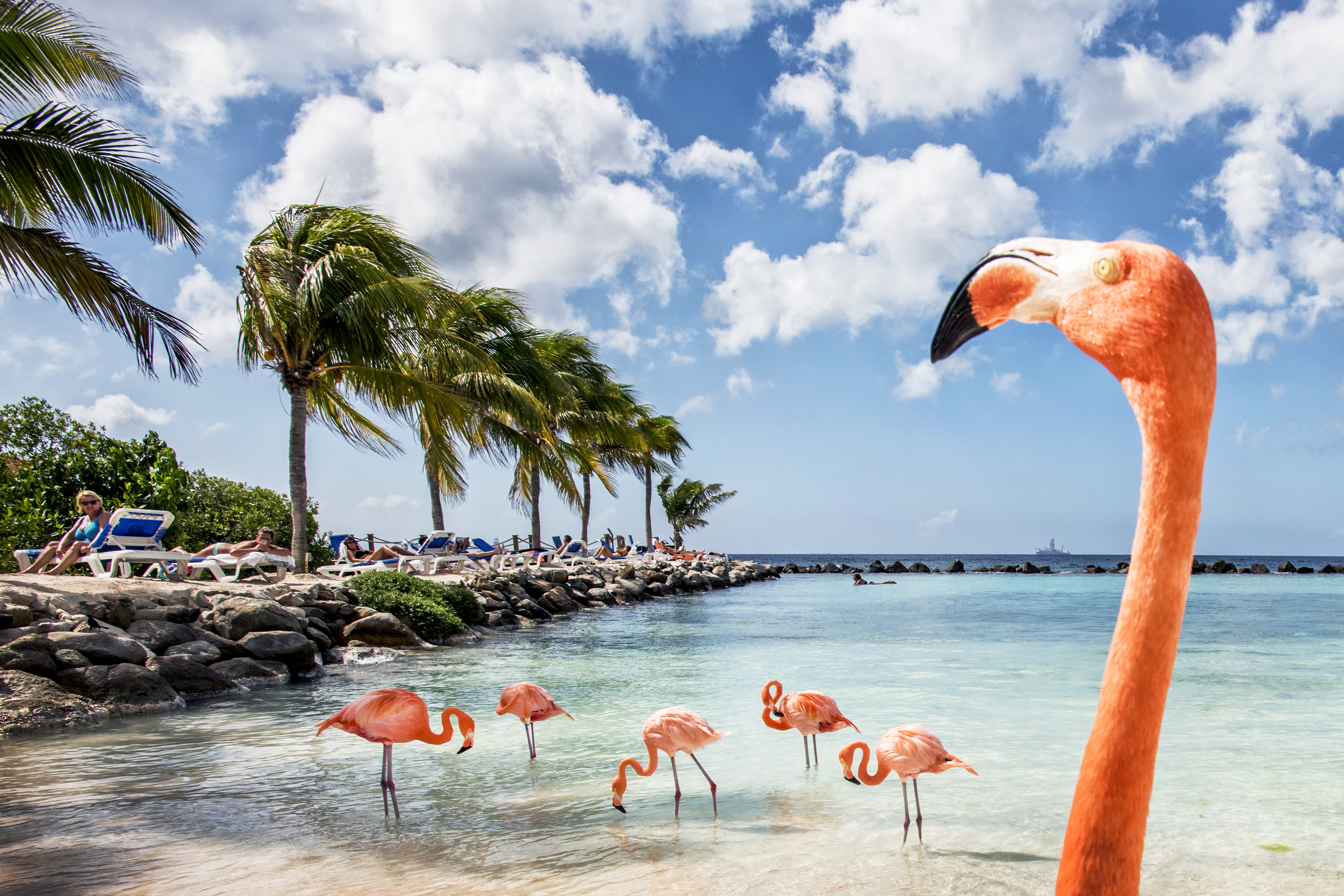 Of course, you'll want the romantic theme of your tryst to extend to your accommodations, too. Renaissance Aruba Resort & Casino in Oranjestad is an ideal choice because access to Renaissance's 40-acre private island is included in your stay. Most unique about the hotel is that water taxis leave from inside the lobby, Vegas-style, making regular trips to and from the island all day long.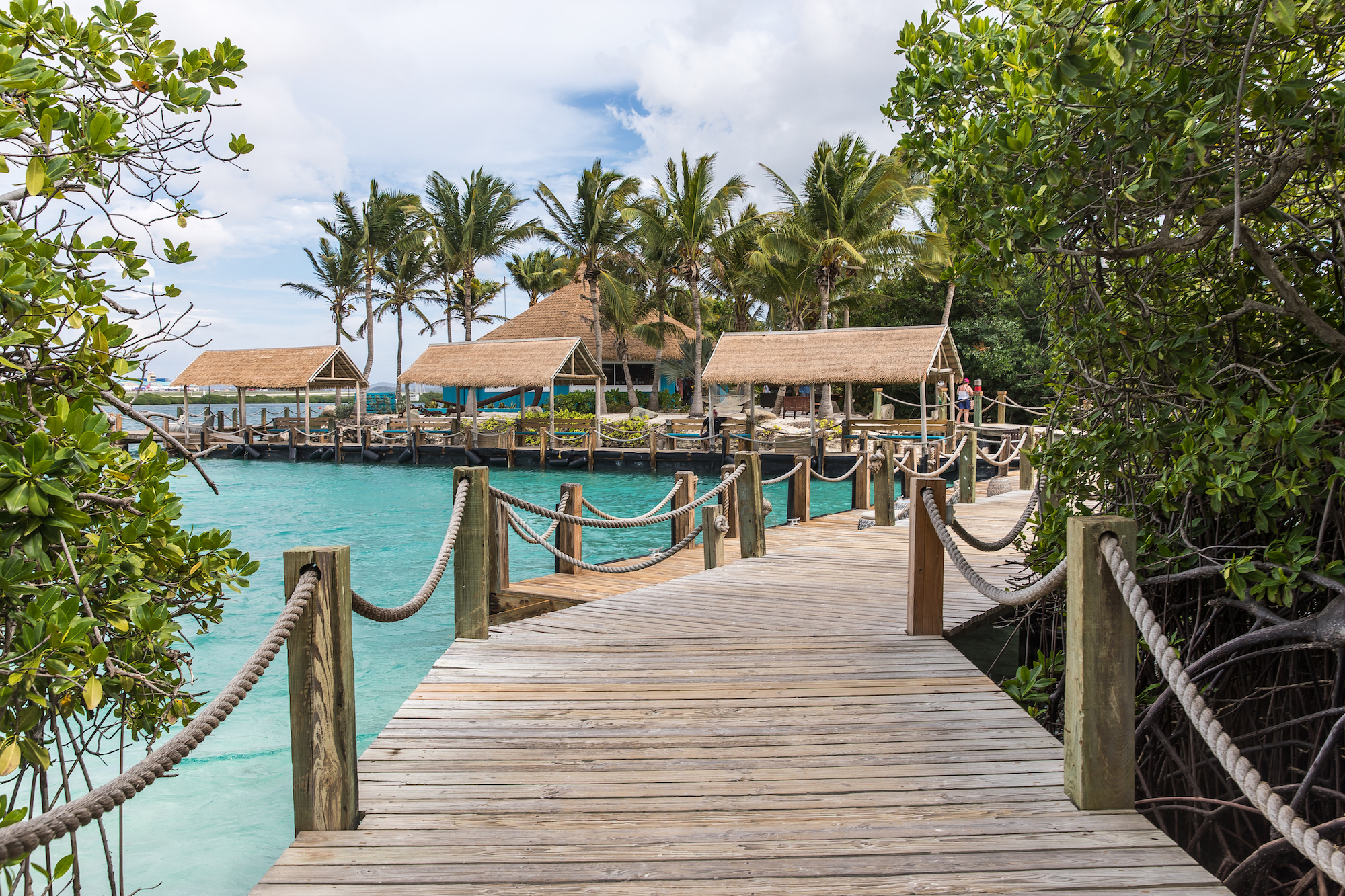 Best of all, that private island is populated only by iguanas and a famous flock of resident pink flamingos who are more than happy to pose for photos with their adoring fans. Book a beachside private cabana for the day to enjoy an overwater hammock, snorkeling gear, and a shady oasis from the hot Caribbean sun. It's the kind of over-the-top, only-in-paradise experience you'll both daydream about during your many years to come.
Skye Sherman is a freelance travel writer based in West Palm Beach, Fla. She covers news, transit, and international destinations for a variety of outlets. You can follow her adventures on Instagram and Twitter @skyesherman
The author was a guest of the Aruba Tourism Authority.