Tips for First-Time Opera Goers
September 29, 2013 3:40 pm Last Updated: October 2, 2013 2:41 pm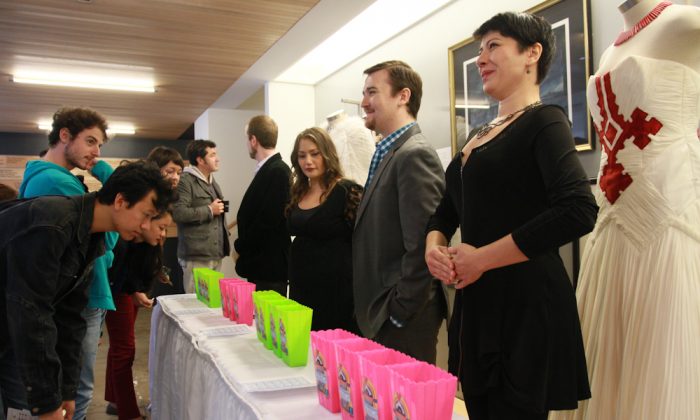 NEW YORK—Of jazz, classical music concerts, opera, musicals, plays, ballet, and art museums, opera has the lowest attendance, according to a 2002 Princeton University survey. Only one in 30 American adults attended an opera within a 12-month period.
Yet, technology is bringing opera to new audiences. Opera America estimates that nearly one in five of those who attend The Metropolitan Opera's Live in HD programs, which began in 2006, have not been to a live opera within two years.
The National Opera Center, which provides recital space and resources for opera professionals in its Seventh Avenue studios, opened its doors for Neighborhood Opera Day on Sunday, Sept. 29. 
Seasoned and novice opera lovers enjoyed a free afternoon of stage combat demonstrations, performances by professional singers, and a competitive round of opera trivia. The events celebrate the center's one-year anniversary. 
We asked attendees to share their passion and advice.

Some people think opera is obsolete. How does it speak to you?
Hugo Vera, 36, tenor: 
People don't understand what opera really is. … Opera is indeed a culmination of all the arts: dance, scenery, acting, singing. This is the original movie. 
Brianna Wells, 31, PhD candidate from Alberta, Canada: 
It can never be obsolete because it is always being performed live and [the singers] are communicating something to you through music. 
Michael Jerome Johnson, 57, professional actor and fight director: 
I started out hating opera. I thought it was boring. [But] an opera singer these days needs to be an actress, know stage combat—we train them in mask, mime, and dance—they need to do all of that. That's why I started falling in love with it. It is as viable today as much as it has been for hundreds of years. 
Steve Essig, 51, working at the Met Opera shop:
You see a lot of issues—wars, politics—that are relevant to the modern world. "Aida" is about a love triangle and a military conflict. If you look at opera, you can find one that deals with virtually any existential issue. 
What is your advice to someone who is new to seeing opera?
Vera: Go to something you can relate to. If you don't speak another language, go see something in English. 
Wells: Don't be afraid that you won't be able to understand all the details. Let the emotions, the beauty, and the power take you on a journey. Try more than one. People think of opera as one sort of art form but it's 400 years old and has many different styles. 
Johnson: Go experience it. See three or five before you make a decision [whether you like opera]. And see different opera companies—a small one, a large one, and see what it's really about. Then maybe you'll love it, like I do now.
Essig: Go with a friend who is more knowledgeable, someone who can introduce you. Read up in advance about the plot. Most companies have subtitles now but it's good to have a sense of the dramatic context beforehand so you can relax and enjoy what you're watching. 
To see full photo galleries of the event check out EpochSnaps Galleries: Neighborhood Opera Day at the National Opera Center.